20 Shows Like Euphoria That You Really Need To Watch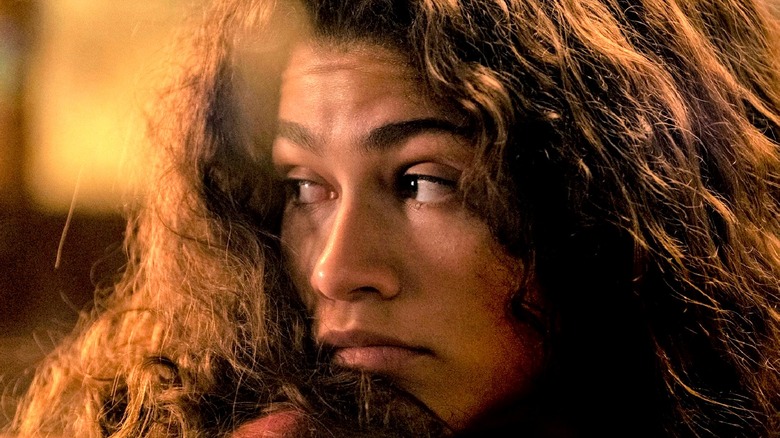 HBO
HBO's "Euphoria," which is based on the Israeli series of the same name, has struck a chord with American audiences. It has been heralded for its hyperrealistic, edgy storytelling and criticized for being provocative, especially when it comes to its frank depictions of sex, nudity, and drug use. 
But come on. "Euphoria" is not the first show about horny teenagers and addicts, and it won't be the last. Not every show set in high school needs to feel like an after school special or a Disney Channel Original Movie. Not all teen shows are "Gilmore Girls" and "Glee." Plenty of other series have an edge, and plenty of shows take teenagers seriously, no matter what their private lives are like. If you're a "Euphoria" fan who's looking for additional coming-of-age stories that are more mature than saccharine, I have some ideas for you.
Skins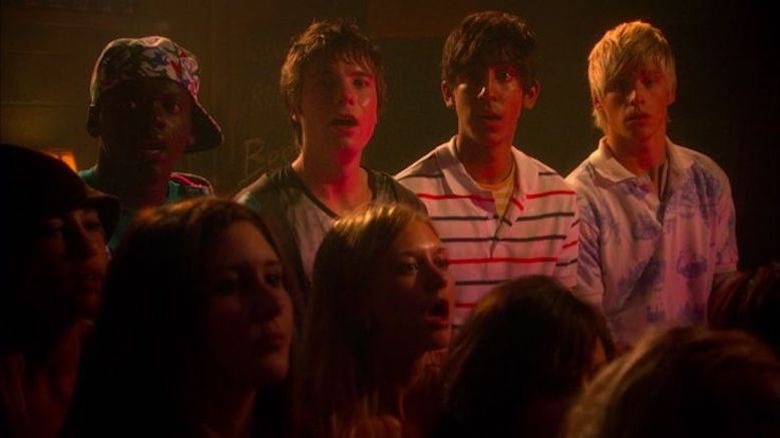 E4
The show that "Euphoria" is most often compared to is the scandalous British series "Skins." Like "Euphoria," "Skins" is colorful and provocative, featuring lots of nudity and every drug you can think of. The cast is broken up into "generations," with new characters replacing the old every two seasons so that nobody is ever too old, or too young, or overstays their welcome. Speaking of the "Skins" cast, the first generation included future critical darlings Nicholas Hoult and Dev Patel, eventual "Game of Thrones" actors Joe Dempsie and Hannah Murray, and 2021 Academy Award-winner Daniel Kaluuya, who not only acted in the show, but wrote some episodes of it, too.
What sets "Skins" apart from not only "Euphoria" but every other young adult show out there is that it's also a social satire. While the teenagers have real problems with legitimate stakes, the adults around them are cartoonishly over-the-top, commenting on how absurd adulthood feels when you're young and how the harmful aspects of society do not go ignored.
My So-Called Life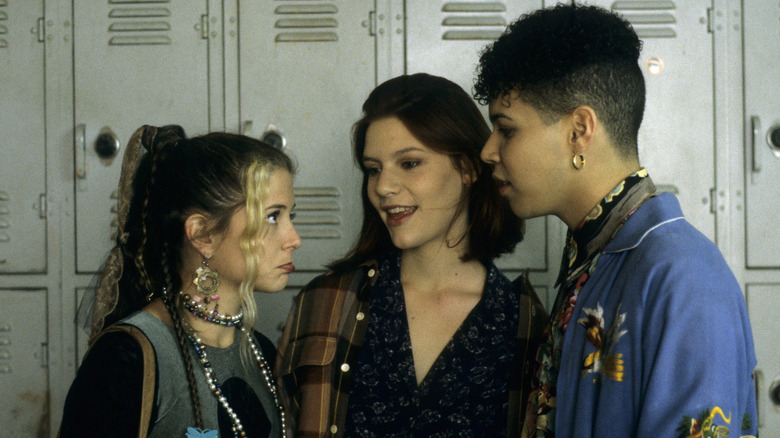 ABC
If you like Rue's moody narration on "Euphoria," you might like the deep thoughts of Angela Chase (Claire Danes), the introspective protagonist of "My So-Called Life." This short-lived series chronicles Angela's sophomore year of high school as she breaks up with her strait-laced friend Sharon and starts spending time with Rayanne Graff, a free-spirited addict with a rocky home life, and Rickie Vasquez, a mostly-not-closeted boy with an abusive upbringing. On the surface, Angela's married, working parents make it seem like she has it all ... but that's true of anyone, isn't it? 
"My So-Called Life" broke ground for the way it took teenagers seriously without resorting to clichés. The characters speak like real people, not precocious children or heightened stereotypes. "Euphoria" fans might also appreciate the 1994 fashion in "My So-Called Life," as grunge is back in a major way. There are so many plaids on this show.
Sex Education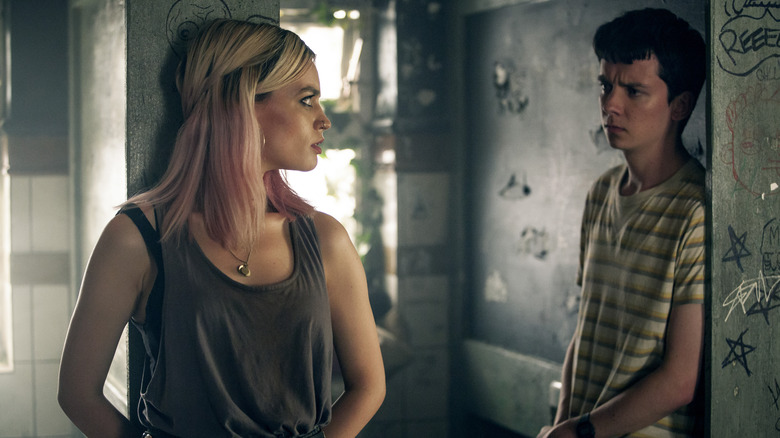 Netflix
The Netflix series "Sex Education" sometimes feels as fantastical as a fairy tale. What if you and your high school friends had access to a sex-positive therapist instead of pop quizzes on scary-sounding STDs — or, even worse, dangerous misconceptions bolstered by an abstinence-only education? Thanks to young Otis Milburn, who opens a clandestine sex counseling service on campus, the students at Moordale Secondary School are better-equipped for sexual relationships than other teenagers on television — and most teenagers in real life, for that matter. So, while there's as much so-called "explicit content" on "Sex Education" as there is on "Euphoria," it doesn't have that realistic edge.
However, that does not exempt the characters on "Sex Education" from heartbreak, confusion, conflict, and all the other trappings of an obsession-worthy young adult series. Its characters inspire loyalty the way that the "Euphoria" cast does. They're so complex and layered that you can't help but root for them, no matter what trouble they get themselves into.
Degrassi: The Next Generation and Degrassi: Next Class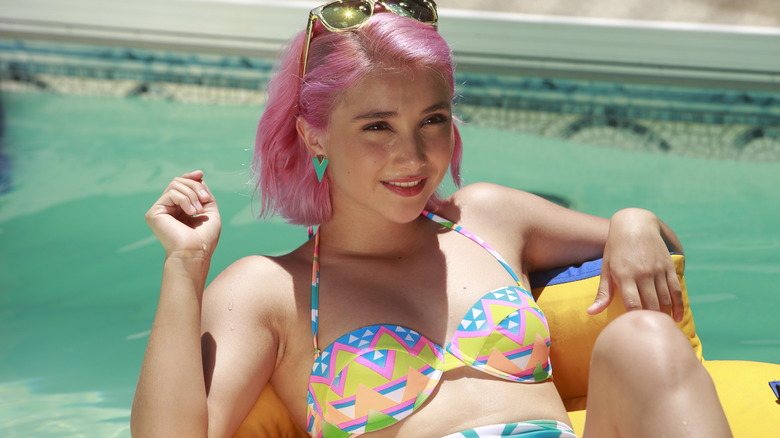 Netflix
The '00s series "Degrassi: The Next Generation" and its Netflix reboot — a loose application of the term, as "Next Class" picks up right where season 14 of "Next Generation" left off and includes many of the same characters — are often written off as melodramatic or, worse, preachy. 
I don't think that could be further from the truth. Sure, the odd episode will see a so-called "good kid" dally with darkness and find their way back to the light. But backstabbing and drug addiction are just as rampant at Degrassi High as they are at East Highland. The show similarly broke ground with episodes about gender identity, abortion, and mental health. Both series name their episodes after song titles. The biggest difference is that, unlike in "Euphoria," the students in "Degrassi" also go to class. 
I particularly recommend the Netflix series, "Degrassi: Next Class." I expect that people remember Jimmy getting shot and Manny wearing a thong in the early episodes of "The Next Generation," but "Next Class" represents Gen Z in a way that only "Degrassi" can, and tells some really nuanced stories that don't wrap up easily after one episode.
South of Nowhere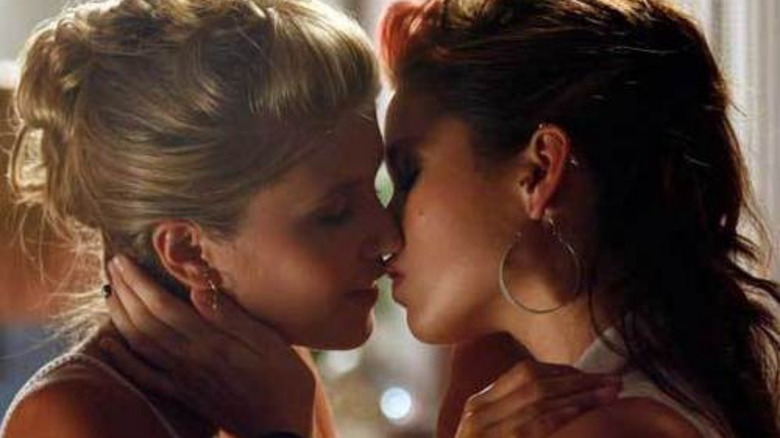 Noggin
That said, back in the days of The-N, "Degrassi" had an edgier rival in "South of Nowhere," a teen show set in Los Angeles that centers on the burgeoning (and sometimes tumultuous) romance between two girls named Spencer and Ashley. If you're watching "Euphoria" for the Rue and Jules 'ship, chances are you'll love the drama of Spashley — and ache at the homophobia they encountered 15 years ago. "South of Nowhere" also took drug abuse seriously by way of Spencer's brother Glen, who became addicted to painkillers after a sports injury.
The show was sexier and louder than "Degrassi," ran for three seasons in the '00s, and featured a lot of chunky highlights and swooping bangs. It was just a little grittier, grimier, and more glamorous than most of the young adult shows on the air at the time ... but hey, as "Euphoria" proves, that's LA for you.
Freaks and Geeks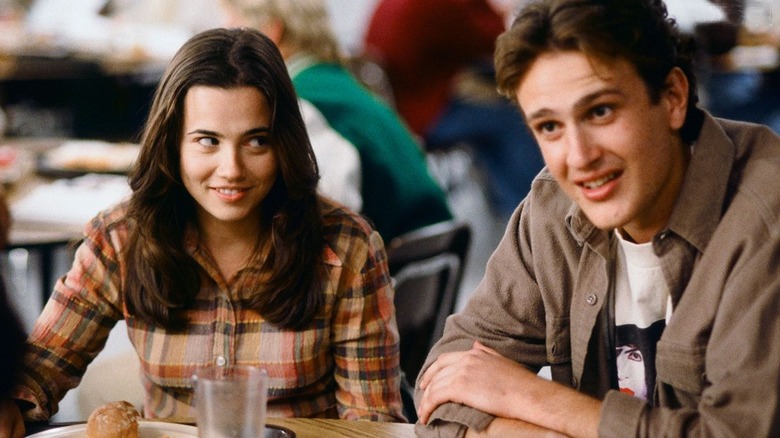 DreamWorks SKG
Paul Feig and Judd Apatow are known for big, brash comedies, but they got their start with a cult series that took teenagers seriously. It was also canceled after one stellar season, just like "My So-Called Life" before it. You know the cast. These days, James Franco, Seth Rogen, Jason Segel, Busy Philipps, and Linda Cardellini are all household names. 
"Freaks and Geeks" is about a girl named Lindsay Weir who rebels against her clean-cut reputation by making friends with her school's slackers and burnouts. Meanwhile, Lindsay's nerdy younger brother Sam and his friends try (and fail) to break into the popular crowd. The show is set in the '80s, so in addition to "Euphoria," it did "Stranger Things" first, too. 
Both "Freaks and Geeks" and "Euphoria" have female protagonists who are really Going Through It, so to speak. "Freaks and Geeks" is a realistic hangout comedy, featuring punks and dropouts and casual drug use, none of which is necessarily frowned upon. If you like the independent film vibes of "Euphoria," then this is the show for you.
Betty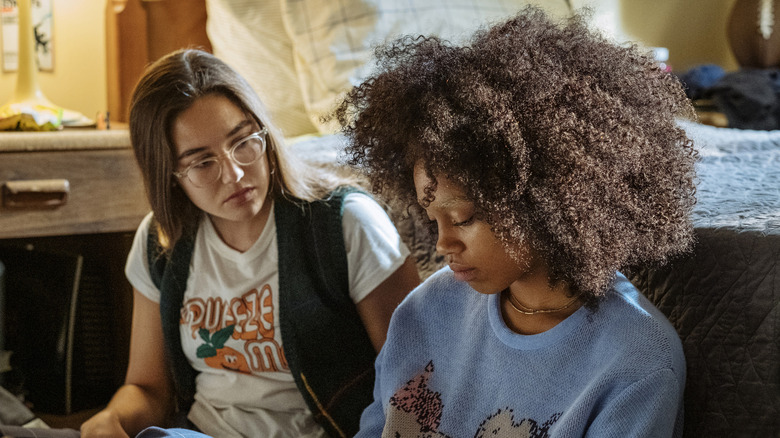 HBO
"Euphoria" is not the only show on HBO Max with drugs, teens, and a grunge aesthetic. "Betty," a spin-off of Chantal Moselle's 2018 film "Skate Kitchen," takes place in New York City and follows an all-female group of skateboarders. From a certain point of view, it's the East Coast answer to "Euphoria." 
"Betty" is a half-hour comedy, so it's not aiming to be a hard-hitting drama like "Euphoria." That said, it's worth noting that many of the cast members are part of the actual New York skating community, and are playing fictionalized versions of themselves. Before "Skate Kitchen" they were non-actors. So, if the show seems very real, that's because it sort of is!
The strength of "Betty" lies in its female friendships. Unfortunately, it was canceled after two short seasons. So, while 12 episodes and a movie is plenty impressive, it won't completely fill the "Euphoria"-shaped hole in your heart.
The Inbetweeners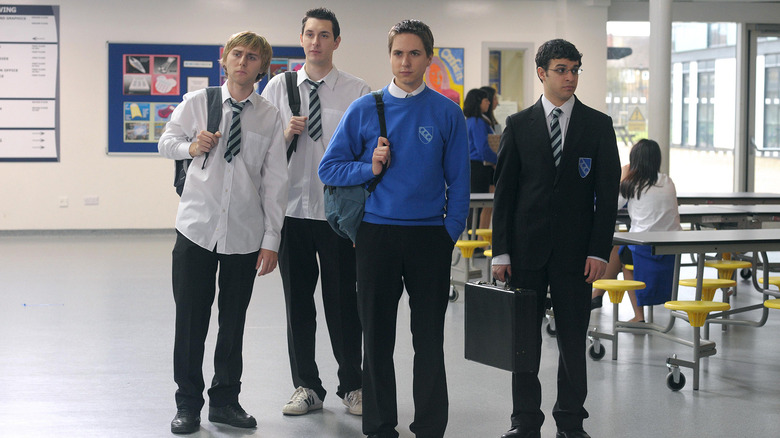 Banijay Group / Channel Four Television Corporation
"The Inbetweeners," another British series that had millennials in its grip, is about four suburban teenagers and their various misadventures. Its three seasons were followed up by two movies. It was pretty popular! It will remind you of "Superbad" and other hangout comedies. Notably, its characters don't lead glamorous lives in the slightest, which to many makes it more realistic than shows like "Euphoria" or "Skins." They have big dreams and wild schemes, but at the end of the day, they're more talk than anything else.
That said, your mileage may vary, given the casual misogyny and homophobia that the characters display. It's not unrealistic behavior for white, male, suburban teenagers, but for some, it may be unpleasant to watch. To put it politely, "The Inbetweeners" hasn't aged quite as well as some of the other shows on this list.
On My Block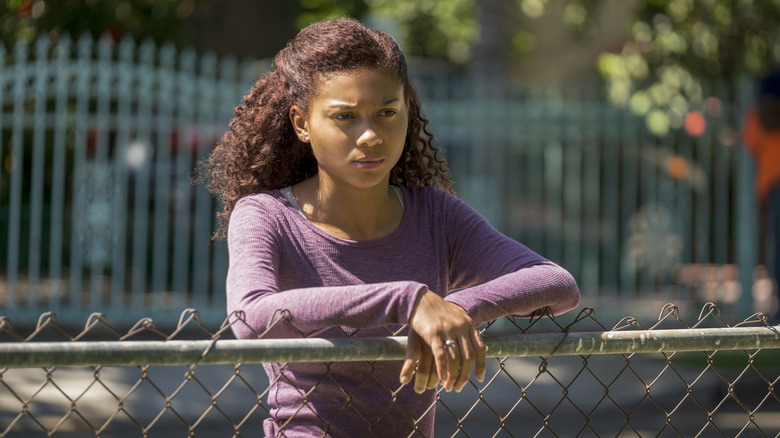 John O Flexor/Netflix
Despite running for four seasons on Netflix, "On My Block" still feels like a hidden gem. Not enough people watched it, and it was so good! The show's premise is relatively simple: Four friends have been attached at the hip since they were small, but start to naturally grow apart and change when they get to high school. It happens to everyone, no matter where or how you grew up.
Monsé, Jamal, Ruby, and Cesar couldn't be more different. They're like a reverse "Breakfast Club," in that they were friends before they joined other cliques. Some of them want to grow up faster, and some are forced to grow up faster due to circumstances beyond their control. It comes from a solid pedigree, too. The show's co-creator, Lauren Iungerich, also created "Awkward," an MTV series that wasn't quite as edgy as "Euphoria" or "On My Block," but that had a pretty steady following and ran for six seasons.
Everything Sucks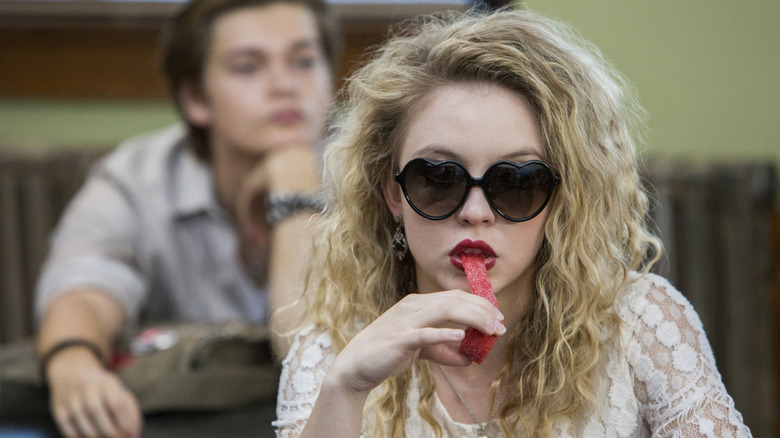 Scott Patrick Green/Netflix
Before "Euphoria," Sydney Sweeney was on the canceled-too-soon Netflix series "Everything Sucks." To be honest, between this, "I Am Not Okay with This," "The Society," "Atypical," "Elite," and my personal favorite, "Never Have I Ever," there are a ton of good YA shows on Netflix. However, Sweeney's role and the central queer romance make "Everything Sucks" the most comparable to "Euphoria."
The show is set in 1996 and takes place at Boring High School in Boring, Ohio — that's a real place, not a joke! It's about the members of an A/V club and a drama club, and how their lives intersect. I know that sounds incredibly dorky, almost like something the teens on "Euphoria" would make fun of. However, as a former drama club kid myself, I know what I'm talking about when I say that the show is nothing like "Glee." Just trust me.
My Mad Fat Diary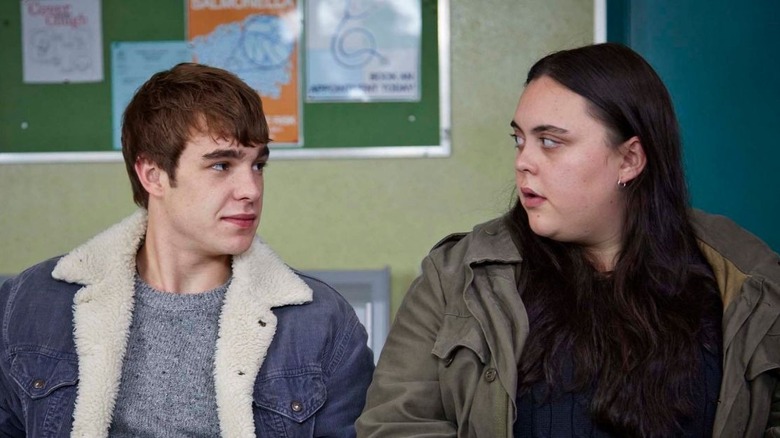 Endemol UK
Anglophiles on Tumblr between 2013 and 2015 — the ones who watched everything from "Skins" to "Sherlock" — whispered about this seemingly perfect series called "My Mad Fat Diary." It remained a cult classic, and never really crossed over into mainstream American consciousness. Sharon Rooney, the show's star, won a Scottish BAFTA for her performance and has worked steadily ever since, but not yet become a major star. However, Jodie Comer, who plays Rooney's character's best friend, did break out in a more traditional sense. If you like "Killing Eve" as well as "Euphoria," check this one out.
In the pilot episode, Rae (Rooney) returns from a stay at a psychiatric hospital where she was receiving treatment for body image issues and tries to fit back in with her friends. While this isn't 100% comparable to Rue on "Euphoria," who returned to her old life at the start of the series following a stint in rehab for drug addiction, it is similar.
End of the F***ng World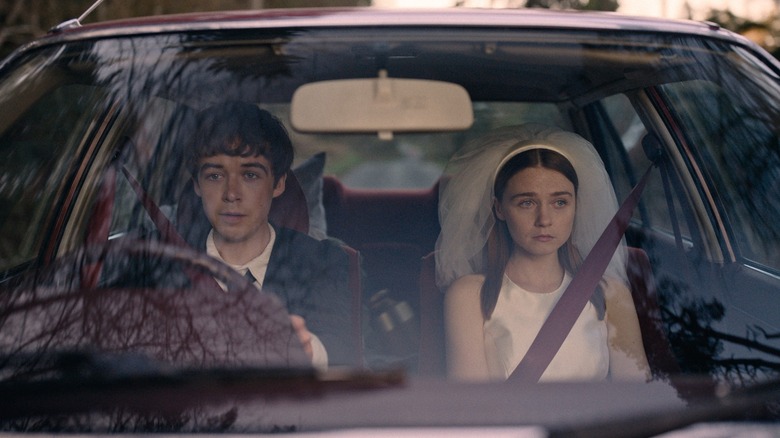 Netflix
This British series, which is streaming on Netflix, doesn't really resemble "Euphoria" in an obvious way. It's about teenagers who see themselves as outsiders, but it doesn't really take place at school. It's set in the English countryside, not the hills of California, and it's based on a comic book, not an Israeli miniseries. Still, the dark humor might be appealing to those who like the sultry stares of everyone at East Highland High School.
"End of the F***ing World" is about a boy named James who believes that he's a psychopath, and who runs away with an equally-troubled girl named Alyssa. He intends to kill her, but — spoiler alert — that doesn't happen. Instead, James and Alyssa grow closer, share some trauma, and question everything they thought they knew about themselves. The show's creator, Charlotte "Charlie" Covell, has a new show about Greek mythology called "Kaos" coming to Netflix very soon, so now is a good time to become a fan.
How to Sell Drugs Online (Fast)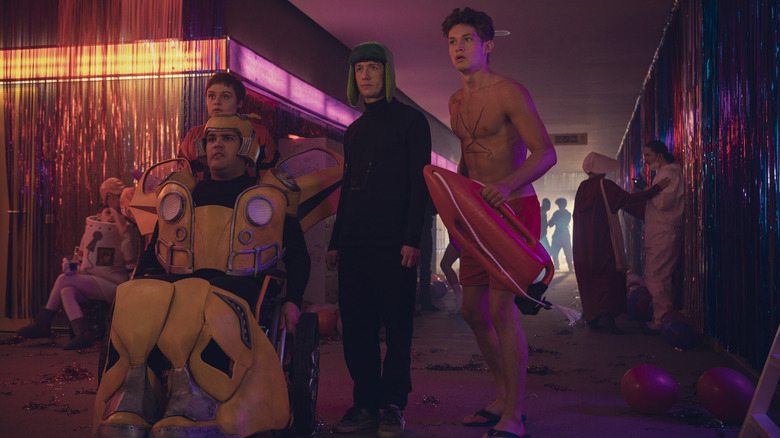 Netflix
Finally, this German show has a pretty self-explanatory title. It takes the premise of shows like "Weeds" and "Breaking Bad" and moves it to high school. Moritz Zimmerman is an unlikely drug dealer, but ultimately an effective one. And yet, things spiral out of control for Moritz from the very beginning, sometimes for the better and often for the worse. Is he in business to make friends, or to make money? That's the real question.
I will say that, if you're thinking about doing a social media cleanse, deleting your apps, and trying to unlearn everything you know about Bitcoin, this may not be the show for you. When they say "How to Sell Drugs Online (Fast)" they really mean online. While the stakes cross over into the physical world, there's a lot of viral warfare on this series, along with the requisite love triangles and parties.
Yellowjackets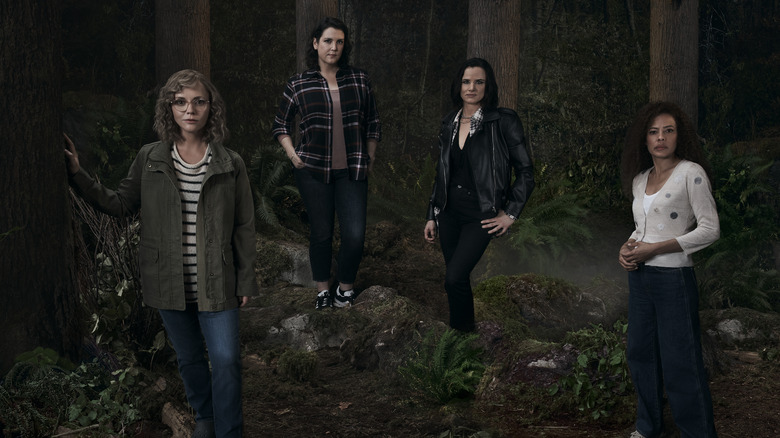 Showtime
Few teen drama series have gotten as gritty as "Yellowjackets." The Showtime series follows members of a high school girls' soccer team stranded in the Canadian wilderness after a plane crash. Before they're rescued 19 months later, the girls divide into rival clans, reverting to barbarism (and heavily hinted cannibalism) in a series of flashback scenes that make "The Lord of the Flies" seem like an episode of "Survivor." 
However, the big twist here is that viewers also meet several of the girls as adults 25 years later. We see how their experiences during those lost months reverberate in their still-traumatized psyches. Each episode follows their lives in the present while delving back into the past in flashbacks that slowly reveal what happened. The main characters are Shauna (played by Sophie Nélisse as a teen and Melanie Lynskey as an adult), a wife and mother who feels suffocated in a loveless marriage; Taissa (Jasmin Savoy Brown and Tawny Cypress), now an openly gay politician amid a state senate race; Misty (Sammi Hanratty and Christina Ricci), a quirky oddball seeking answers to some mysterious aspects of what took place in the woods; and Nat (Sophie Thatcher and Juliette Lewis), the tough-talking "bad girl" who's now shakily sober after decades of substance abuse.
As bonkers as "Euphoria" can get, there's never been a scene in which a teenage girl, wearing an antler crown, ignites a cult-like ritual by declaring, "Let the doomcoming begin!"
If you or anyone you know needs help with addiction issues, help is available. Visit the Substance Abuse and Mental Health Services Administration website or contact SAMHSA's National Helpline at 1-800-662-HELP (4357).
Gossip Girl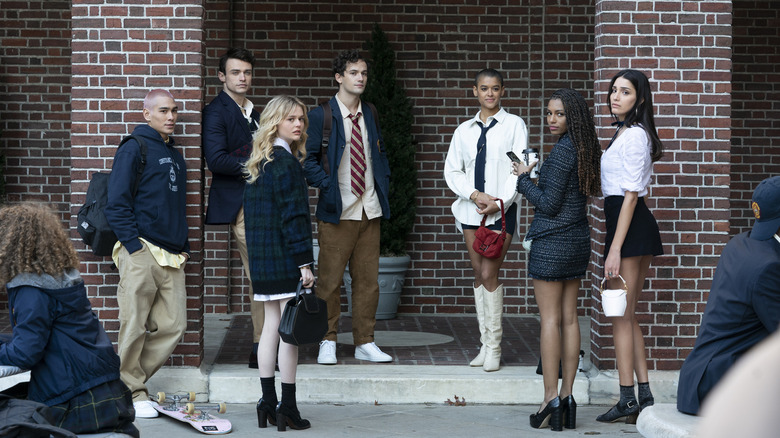 HBO Max
The original "Gossip Girl" aired for six seasons, from 2007 until 2012 — encapsulating the early aughts. The drama series follows a group of wealthy teenagers attending an exclusive private school in Manhattan. The 2021 reboot is also highly reflective of its era: The 2021 iteration of "Gossip Girl" is more aligned to the issues and sensibilities of a show like "Euphoria." Since the reboot streams on HBO Max, the subject matter is significantly edgier than the original series on The CW. The show features the kind of graphic nudity and profanity viewers never experienced in the original, with a large ensemble cast including characters that are gay, pansexual, bisexual, and trans. While both the storylines and characters vary wildly from the original, similar themes run through both shows. However, the biggest unifying thread is Kristen Bell, who provided the narration as the titular Gossip Girl and fills the same role in the new series, too. 
A deeper look at "Gossip Girl" indicates more similarities with "Euphoria" than differences. Both series feature teenagers exposed to the darker aspects of humanity — be it divorce, narcissistic and absent parents, mental illness, etc. Both shows also dip into the role that social media plays in the lives of teenagers — something that was still in its infancy during the OG series.
If you or someone you know needs help with mental health, please contact the Crisis Text Line by texting HOME to 741741, call the National Alliance on Mental Illness helpline at 1-800-950-NAMI (6264), or visit the National Institute of Mental Health website.
The Sex Lives of College Girls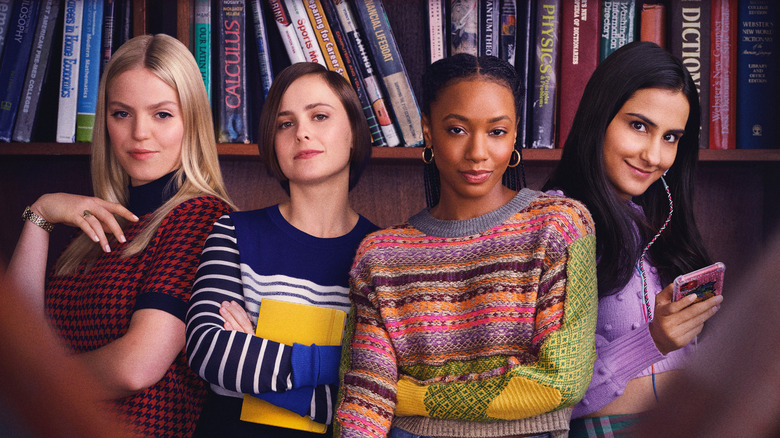 HBO Max
There are a lot of superlatives used to describe "Euphoria," but "uproariously funny" isn't typically one of them. For those seeking an edgy TV series focusing on female friendships, but with a few laughs too, look no further than the HBO Max comedy "The Sex Lives of College Girls." 
Co-created by Mindy Kaling and Justin Noble, the series follows four female freshmen thrust together when they're assigned to live in the same dorm during their first semester at Vermont's Essex College. There's Leighton (Reneé Rapp), a wealthy legacy student struggling with coming out as gay. Meanwhile, Whitney (Alyah Chanelle Scott) is a Black star soccer player who's the daughter of a powerful U.S. senator and is having a secret affair with her soccer coach. Rounding out the quartet are Kimberly (Pauline Chalamet), who comes from a working-class Arizona background, and Bela (Amrit Kaur), an Indian-American who dreams of becoming a comedy writer — and can easily be seen as something of a stand-in for Kaling.
While attending a prestigious college in picturesque Vermont may not be akin to everyone's college experience, "The Sex Lives of College Girls" is relatable on a basic level. The series dramatizes that fleeting time in life when someone leaves home and becomes inundated with new experiences and the friendships that form during this seminal period.
Genera+ion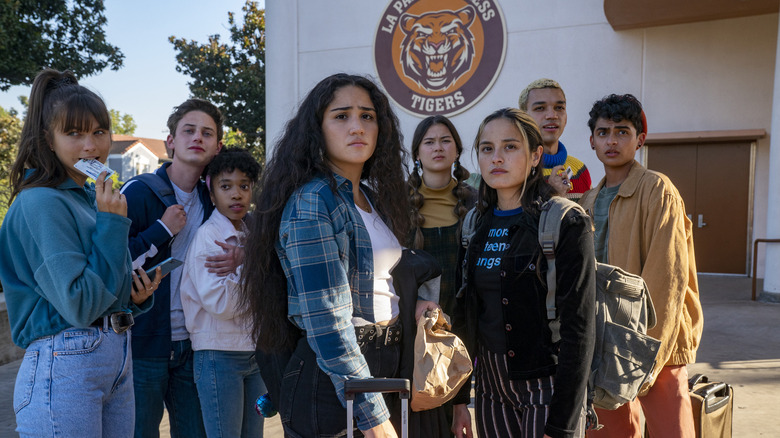 HBO Max
Produced by "Girls" creator Lena Dunham, "Genera+ion" has a somewhat unique origin. The series was co-created by writer-director Daniel Barnz and his daughter Zelda, who was 17 when the show was picked up by HBO Max. Deftly blending drama and comedy, "Genera+ion" focuses on a group of 17-year-olds attending a high school in affluent Orange County, California, as they all try to come to grips with their individual sexuality. Given its genesis, it shouldn't be surprising that "Genera+ion" nails its depictions of modern-day teens — thanks, in part, to sharp writing and a talented and diverse ensemble cast of newcomers (including Chase Sui Wonders, who later became tabloid-famous for being one of Pete Davidson's seemingly endless string of girlfriends).
The show's big storytelling quirk is to frame different scenes from the perspective of various characters, which can be both confusing and gimmicky. However, it also gives viewers insight into those characters that a more standard approach might not have offered. While comparisons toward "Euphoria" are pretty much inevitable, given that both shows cover similar terrain and come from the same streaming service, "Genera+ion" is less dark and less deep. Still, the show's secret weapon is the great Martha Plimpton, whose performance as an ultra-conservative O.C. mom is must-see TV — particularly when she goes off on a hilarious rant about kids these days and their pronouns.
Grand Army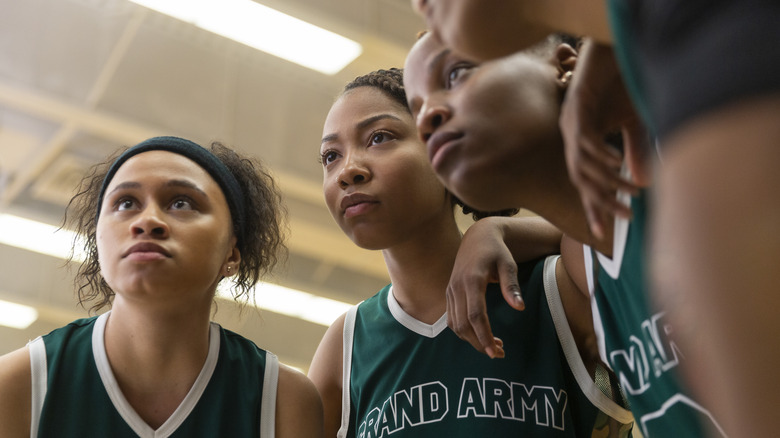 Netflix
Fans of "Euphoria" should check out "Grand Army," a 2020 Netflix series that ran for just one season. However, the series' cancellation is no reflection on its quality, offering a pointed yet occasionally overwrought look at the lives of a diverse group of teenagers attending a fictional Brooklyn high school. Like "Euphoria," "Grand Army" depicts the struggles of teenagers as they grapple with emerging sexuality, familial strife, forging their identities, the specter of sexual assault, and a range of hot-button issues. Yes, this also happens under the relentless and unforgiving microscope of social media. Raw, gritty, and unabashedly authentic, "Grand Army" is buoyed by an impressive cast of young actors, primarily Odessa A'zion (daughter of "Better Things" star Pamela Adlon) as Joey Del Marco, whose feminist activism results in a shameful episode of slut-shaming. "Grand Army" is far from a documentary and tends to revel in its melodrama.
There's an awful lot to unpack. The first episode includes a sexual assault, a Black student unfairly suspended, immigrant parents doing some serious arm-twisting to force their daughter into getting married for a Green Card, and a terrorist attack. Ultimately, it's the talent of the cast that drives the stories forward and makes "Grand Army" compelling to view
If you or anyone you know has been a victim of sexual assault, help is available. Visit the Rape, Abuse & Incest National Network website or contact RAINN's National Helpline at 1-800-656-HOPE (4673).
Elite
Netflix
"Elite" offers proof that a good teen drama can transcend cultures, borders, and language. Set in a prestigious prep school in Spain, the series is an unabashedly soapy take on a "Euphoria"-style teem drama with a distinctively European twist. The plot of the first season was driven by a murder mystery — always a juicy way to encourage binge-viewing — and a big part of what makes "Elite" so addictive. There's also an element of class warfare, with three scholarship students of modest means thrown in with the spoiled-and-wealthy kids. While it would be tempting to assume the dynamic to be akin to throwing a trio of guppies into a tank of piranhas, that's not quite what happens: Those three wind up becoming central to the expectation-defying storylines. 
One of the joys of watching "Elite" is its unpredictability. The first season offers a satisfying conclusion that viewers won't see coming while setting up a new plot for season 2. The fact that the series has run for six successful seasons is a testament to the series' skillful storytelling and its rabid fanbase. In 2022, season 7 of "Elite" was greenlit.
Mood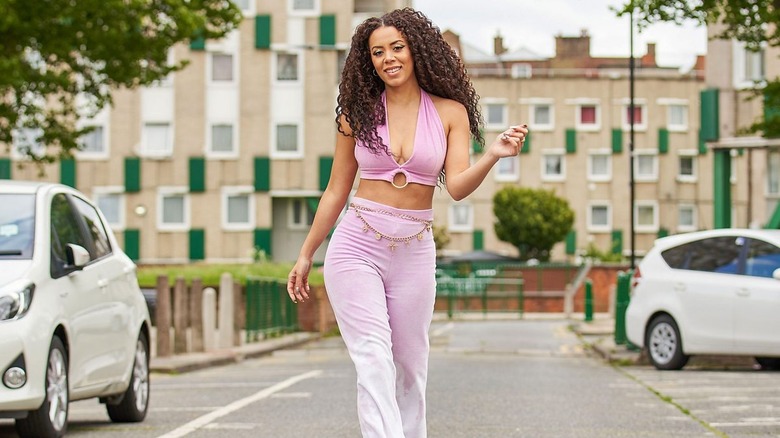 BBC America
"Mood" is neither a teen drama nor American (the show hails from the U.K.), yet still bears striking similarities to "Euphoria." The brainchild of creator Nicôle Lecky, "Mood" is based on her play, "Superhoe." The series tracks the downward trajectory of Sasha (Lecky), an aspiring singer in East London. Sasha dreams of hitting it big in the music biz. Her illusory dreams of stardom are cleverly brought to life as glossy music videos that pop up throughout the series, only to be punctured by the grim reality of her actual life filled with ample booze and marijuana. After a regrettable encounter with the cops, her parents kick her out of their house. Sasha is seriously stressed about being homeless when she has a chance encounter with Carly (Lara Peake), a seemingly successful social media influencer who knows all the right people. She offers Sasha entry into the glamorous world of glitzy parties full of D-list celebrities. Despite the undercurrent of desperation, Sasha feels like she's stumbled into paradise — finally gaining entry to what lies behind the velvet rope. 
As she becomes more deeply entrenched in Carly's life, she sees the seedy darkness simmering beneath stardom. Eventually, Sasha is led into sex work, with viewers following Sasha's sad descent to rock bottom. At just six episodes, "Mood" is a quick and compelling binge. As of March 2023, there's been no word about a second season.