Anatomy Of A Scandal First Look: The Creator Of Big Little Lies Makes A Courtroom Thriller For Netflix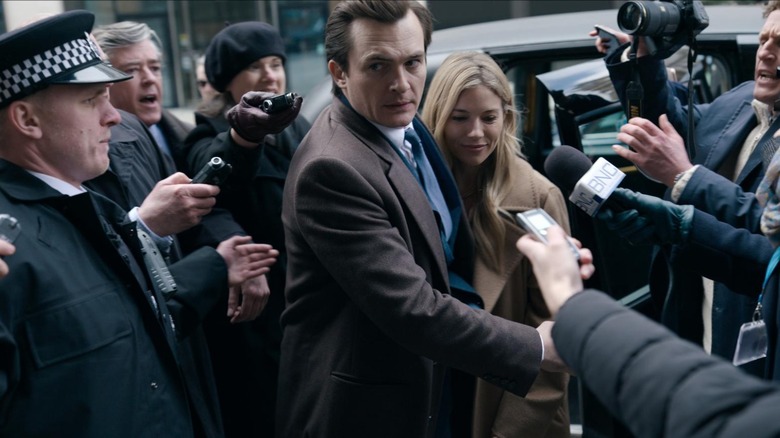 Netflix
"Big Little Lies" and "The Undoing" showrunner David E. Kelley continues to crank out limited series adaptations of high society thrillers like nobody's business. The latest one, "Anatomy of A Scandal," is set to drop on Netflix on April 15. New first look images give us a peek inside the moody-looking, Sienna Miller-led drama.
The series, which will include six episodes, is co-created by "House of Cards" executive producer Melissa James Gibson. "Anatomy of A Scandal" is based on a book by Sarah Vaughan, and is being billed as a courtroom drama about scandal, privilege, and justice. The story follows Sophie (Miller) and James Whitehouse (Rupert Friend), a couple whose success is threatened when a scandal rocks James' role as a Minister in Parliament. Michelle Dockery plays barrister Kate Woodcroft, whose life is also turned upside down by a legal case involving the Whitehouses.
They Were The Perfect Family – Or Were They?!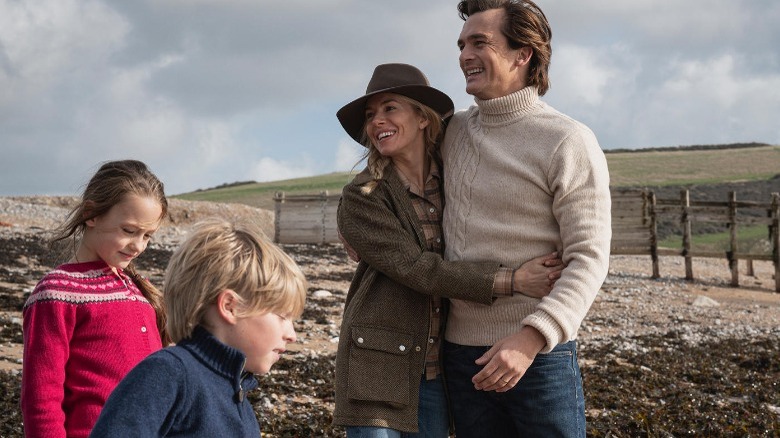 Netflix
Netflix has released several stills from the new show, and while they're all pretty solemn, they still offer plenty of clues to the series. The most enjoyable one features Michelle Dockery in one of those awesome white wigs that old-timey judges (and modern UK barristers) wear.
There's also an Instagram-worthy picture of the central couple and their kids out in nature. James has on a cream cable-knit sweater, while Sophie is rocking her own brown sweater and an Indiana Jones-ish hat. In the David E. Kelley world of storytelling, this picture screams "aspirational rich white family that has some major secrets."
Consent In The Courtroom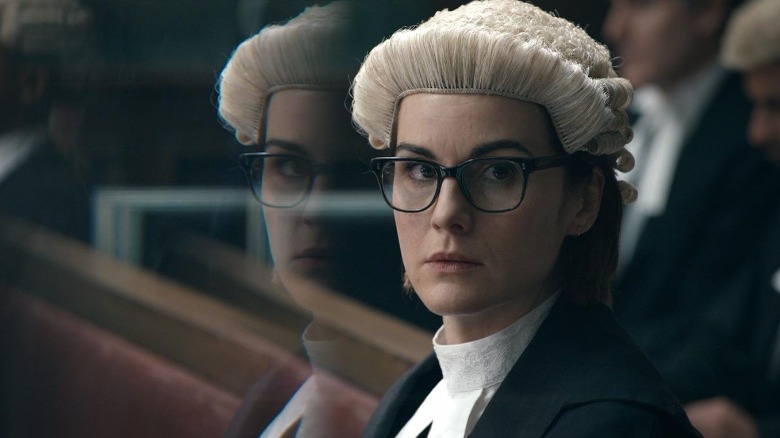 Netflix
Other photos show James and Sophie being hounded by press as they exit a car, and one even shows James on the stand in court. So what exactly is this scandal at the heart of the series? Kelley and Gibson's statement about the show hypes it up as follows: "Sex. Power. Privilege. Based on Sarah's addictive book, the show tackles entitlement, truth and the boundaries of consent." So it sounds like this is a #MeToo era story, in which one of the main characters ends up in trouble for crossing a professional or legal boundary.
Kelley's most-lauded recent work is the addictive, powerful Monterey-set series "Big Little Lies." But he's also been behind some lackluster adaptations recently–like "The Undoing" and "Nine Perfect Strangers," two Nicole Kidman-led projects that ultimately veered into melodrama territory. All of these crime dramas interrogate wealth and privilege, though some do a better job than others. Notably, though, none of these projects have been with Netflix. It'll be interesting to see if a different network (and a setting in a different country, for that matter) brings out a new flavor of Kelley drama.
"Anatomy of a Scandal" premieres on Netflix on April 15.