Nine Perfect Strangers Review: A Masterclass In Acting, But That's All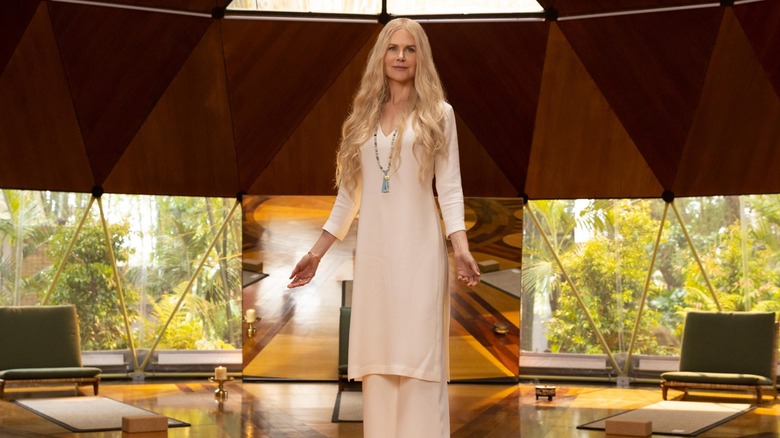 Hulu
What can broken people offer each other? 
"Nine Perfect Strangers" transports viewers to the breezy, ethereal world of Tranquillum House where it seeks an answer to this heavy question. But the light air of this wellness retreat is quickly disrupted by the arrival of its nine messy guests. The jagged edges that emerge never quite smooth down, but that's part of the show's allure. Just like the characters who inhabit its world, "Nine Perfect Strangers" is stunningly imperfect, and what it lacks, it makes up for in intrigue.
Based on Liane Moriarty's best-seller, "Nine Perfect Strangers" reunites the team behind "Big Little Lies." Led by the ever-powerful Nicole Kidman, the show does exactly as its title promises, bringing together nine complete strangers for a week of personal growth and self-discovery. The remote spa they've gathered at has a captivating sense of mystery to it. Before the signs have even begun to reveal themselves, you sense that something isn't quite right. The show certainly takes its time revealing the many hidden truths of Tranquillum, but its characters provide plenty else to focus on. Among the strangers are a grieving family, a self-loathing novelist, an on-the-rocks couple, a divorcee with anger issues, a mysterious journalist, and a retired athlete addicted to painkillers
Like an Agatha Christie mystery, the show pulls out a grab bag of eccentric characters and crams them into a single, isolated space. But unlike a whodunit, there is no specter of death — at least, not in the way we're used to. "Nine Perfect Strangers" is intentionally character-driven, allowing its strangers and their trauma to lead the way. The show is certainly on to something, as the star-studded cast has a fantastic time showing off their immense talent. But when there isn't a bickering breakfast scene or a devastating monologue, "Nine Perfect Strangers" feels shockingly empty.
Nine Strangers...And Then Some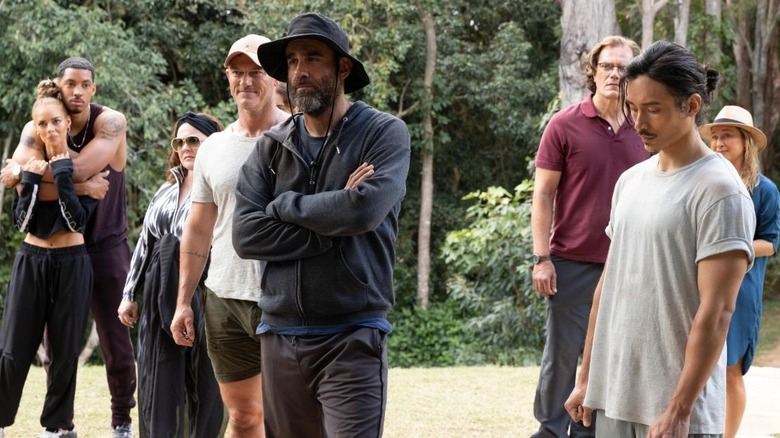 Hulu
Nine characters are an awful lot. Not only are we introduced to everyone's current crisis, but we also need to spend time getting to know each of them individually as well as the backstory that shaped who they are. In the process, so much gets pushed to the wayside. Characters are introduced, spend four episodes in the background, and just when we finally get some insight, they take a backseat again. Making matters worse, this show has more than nine important characters. 
Nicole Kidman's Masha is at the center of the story, along with her two staff members Yao (Manny Jacinto) and Delilah (Tiffany Boone). Sadly, Kidman's character is one of many aspects of the show that gets lost in the shuffle. Don't get me wrong, "Nine Perfect Strangers" certainly builds an atmosphere around Masha, making sure we understand her power and effect on the strangers. But other than being ethereal and intimidating, Masha isn't especially compelling. Much like Kidman's wig and Russian accent, Masha's characterization leaves much to be desired.
Otherwise, "Nine Perfect Strangers" is at its best when the actors are given space to breathe and blow us all away. Michael Shannon's grieving father, Napoleon, spends half his screen time being a vaguely annoying goofball, but his struggles with grief are aching, and in the rare moments that his joking composure crumbles, he devastates. Melissa McCarthy and Bobby Cannavale showcase their chemistry by bouncing off each other with ease. In fact, everyone does. A few scenes grant us the gift of the strangers sitting together in a hot spring or across from each other at a table. Their personalities clash perfectly, and all it takes is a single thoughtless comment to push everyone's buttons and send the conversation spiraling into an argument — or worse, a revelation.
Great actors being great, that's what "Nine Perfect Strangers" delivers on. It's never more thrilling than it is in those specific moments. Otherwise, it's just a collection of clunky flashbacks and awkward set-ups, drifting along until another performer can steal the spotlight.
Familiar Territory?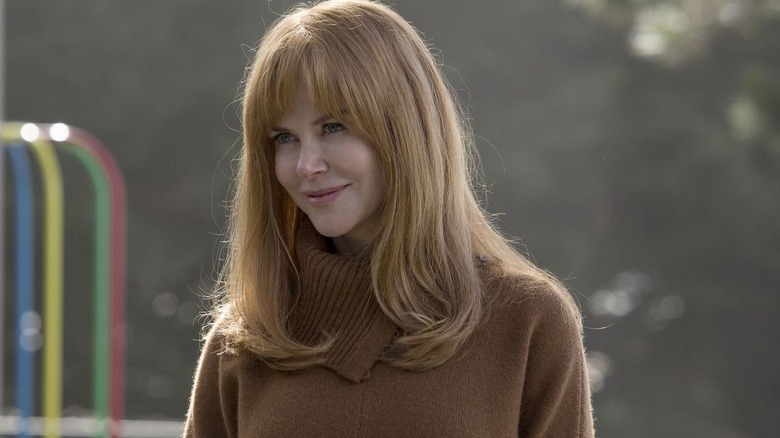 Hulu
"Nine Perfect Strangers" has been drawing unfortunate comparisons to the likes of popular HBO mysteries "Big Little Lies" and "The White Lotus." 
With "Big Little Lies," the show shares its star, the author of its source material, and its showrunner, David E. Kelley. But that's pretty much where the similarities stop. At best, you could argue that both shows center damaged rich people, but "Nine Perfect Strangers" frames its characters completely differently. It's less interested in critique and instead invests in their individual traumas.
Unlike "Big Little Lies" or "The White Lotus," there is no looming, mysterious murder. Sure, we have a character with anger issues who may or may not lunge at other characters' throats, but it's not like the entire series revolves around that moment. And though Masha receives threatening text messages throughout the show, it's just a footnote in the larger story.
"Nine Perfect Strangers" is nothing like these shows because it approaches its drama completely differently. It never quite matches up to their success, but it certainly delivers on its personal promise of showcasing an extremely talented cast.
The series also stars Regina Hall, Luke Evans, Samara Weaving, Asher Keddie, Melvin Gregg, and Grace Van Patten.
"Nine Perfect Strangers" premieres new episodes every Wednesday on Hulu.