The Meaning Of Ruth's Cookie Jar In Ozark Season 4 Explained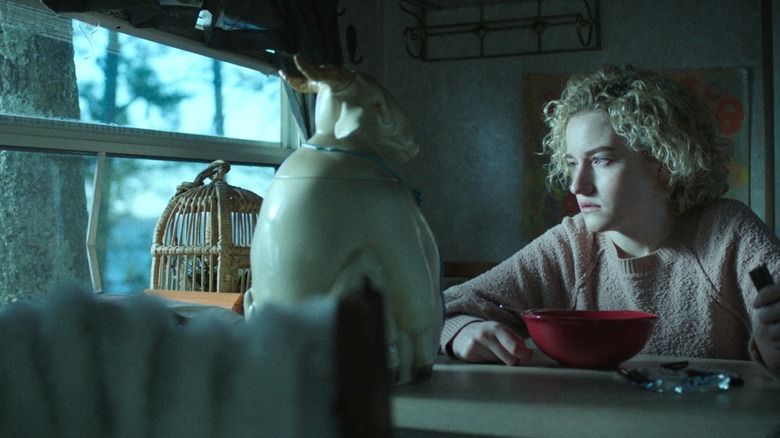 Netflix
This post contains spoilers for the new season of "Ozark."
Julia Garner's Ruth Langmore has always been a bright spot in the dark world of "Ozark." It's not that she's particularly happy — her family has been through one tragedy of their own making after another — but that she's worth rooting for. Ruth is ambitious, determined to make something of her life even if it's in the criminal underworld Marty Byrde (Jason Bateman) introduced her to.
She's also careful to seem strong, wavering in her emotions only occasionally. One of these moments comes up in the show's latest season, when Ruth buys a goat cookie jar for Ben's (Tom Pelphrey) ashes and bursts into tears.
Viewers should remember Ben as Ruth's former boyfriend and Wendy's (Laura Linney) brother. Ben was bipolar, and died last season after Wendy left him at a diner, knowing he would be picked up and executed by cartel associates. Pelphrey's performance was a high point not just of the season, but the entire series. Although he's gone in season 4, Ben's presence lingers over the show's penultimate stretch of episodes, bleeding through in Wendy's guilt and Ruth's grief.
Goats Were In Ruth and Ben's Future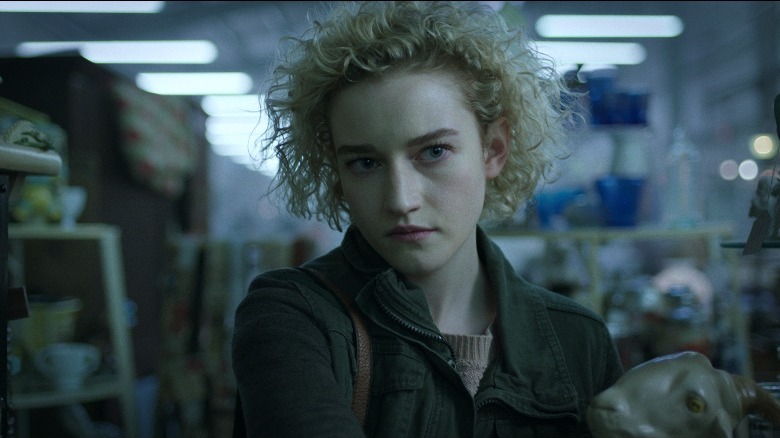 Netflix
The second episode of the new season, "Let The Great World Spin," sees Ruth shopping at a thrift store. When the employee asks, she says she's "just looking," but Ruth is deliberately opening jars and examining whatever ceramic containers she sees. She gravitates towards a funky-looking cookie jar in the shape of a goat. "You don't really think of goats and cookies together, do you?" the store clerk says. Ruth brings the goat jar home, carrying it like an unwieldy baby. When she gets to her trailer, she sets it on a table, stares at it, and breaks down crying.
So what's the deal with this ugly jar? We haven't seen it before, but its meaning is deep for Ruth. As Men's Health points out, it can be traced back to the final conversation Wendy has with Ben. She asks him what he wants for his life in five years. He's unaware that his life is about to end, and answers simply and with a laugh: "It's easy. Ruth. Dogs. House. Garden. Job. And I'd like goats, but I feel like that's more eight to ten years."
In the new season, Jonah (Skylar Gaertner) steals Ben's ashes from Wendy to give to Ruth. The goat cookie jar, then, will become Ben's final resting place. We didn't actually see him and Ruth discuss their future or the goats they wanted to buy, but they were very in love, so it's not a stretch to assume they discussed it. The store clerk mentioned her husband thinks goats are satanic; this, too, feels right for Ben, who often saw the best in bad situations.
This second episode cold open is a tragic moment made all the more absurd by the utter ugliness of the goat cookie jar. If Ben was there, he probably would've laughed at it with Ruth. But he's not, and Ruth can only cry for a moment, alone, before putting on a brave face for the world.