The Long-Awaited Studio Ghibli Theme Park Will Open In November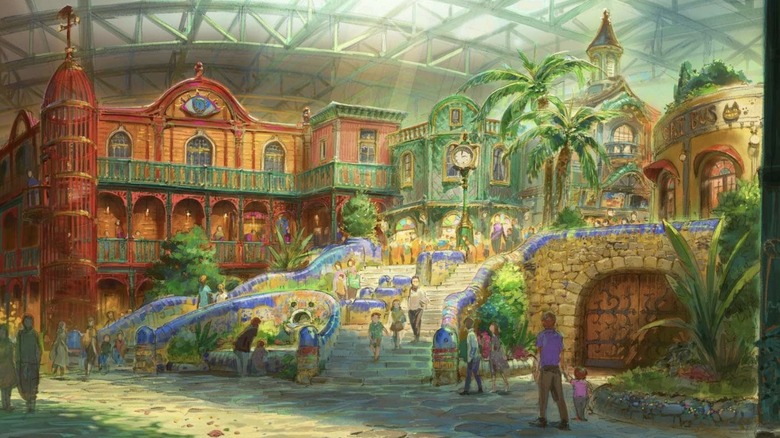 Studio Ghibli
Studio Ghibli has finally announced the opening date for its theme park in Japan later this year. We had a general idea that it would be opening in fall 2022, but now the studio has confirmed that the doors will open on November 1 alongside an image of Totoro, its mascot and the title character in Hayao Miyazaki's "My Neighbor Totoro" (who is technically also a Pixar character, since he popped up in "Toy Story 3.")
「ジブリパーク」の開園日が発表されました。 pic.twitter.com/weMpQjsyEV

— スタジオジブリ STUDIO GHIBLI (@JP_GHIBLI) January 27, 2022
We've been following the development of this theme park since back in 2017 when it was first announced. I wrote my first published /Film article about it, and even before that, we were dreaming about what a Ghibli theme park could be like.
Now, it's about to become a reality. The Studio Ghibli theme park will open in Aichi Prefecture in the Expo 2005 Aichi Commemorative Park, which already holds a recreation of Satsuki and Mei's house from "My Neighbor Totoro." Using the Shinkansen (bullet train) and local train lines, it's about a three-hour ride from Tokyo to Nagoya Station, and then another hour ride from there to the site of the park.
Eventually, there will be five areas or "lands" in the Ghibli theme park, but they'll have a staggered opening, so only the first one (Totoro-themed) will debut this year. Local officials have said (per Variety) that two other areas, including a "Princess Mononoke" section and a section themed to "Kiki's Delivery Service" and "Howl's Moving Castle," will open next year, while the final two areas are planned for a 2024 opening at the latest.
A Nature-Friendly Theme Park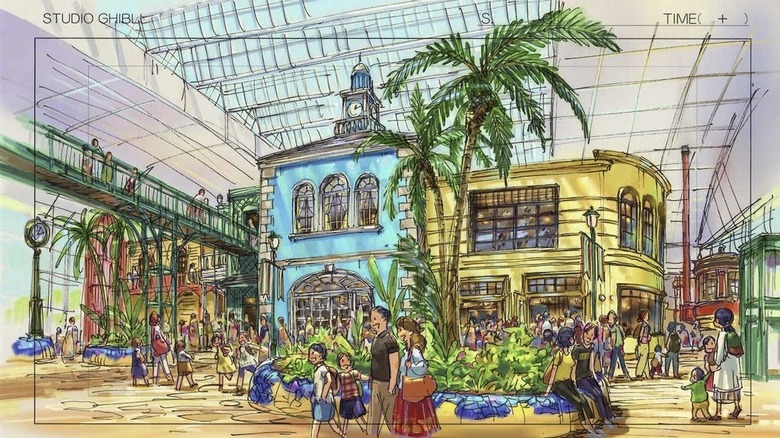 Studio Ghibli
Part of what makes the Studio Ghibli park different from other theme parks is that it aims to be less of a thrill-seeking experience and more of an immersive, nature-loving experience, in keeping with the environmental themes of Miyazaki's films. Its construction was planned around existing clearings to avoid cutting down trees, and the rides that it has planned are not the rollercoaster type.
Even though he's been busy working on a comeback film and is otherwise semi-retired, Miyazaki hasn't been content to sit on the sidelines. When the park held its groundbreaking ceremony in 2020, producer and former Ghibli president Toshio Suzuki joked:
"[Miyazaki] can't leave anything up to other people. He's a meddlesome old man [...] not the type to look on supportively from a distance. He starts in right away with 'do this' and 'don't do that.' "
Originally, the Studio Ghibli theme park was eyeing a 2020 opening, back when then Tokyo Olympics were still set to take place that summer. In recent weeks, Aichi, Tokyo, and other prefectures in Japan have been posting record daily numbers of Covid cases, such that many places are now under a state of quasi-emergency again. Tokyo Disney Resort temporarily suspended ticket sales and has been limiting the capacity in its parks, but hopefully, by the time the Ghibli park opens in Aichi, the situation will have improved. Current projections are for it to pull in around 1 million visitors in the beginning and eventually work up to almost 2 million once construction on everything is finished.
The Studio Ghibli theme park opens on November 1, 2022.