Frank Marshall On The Role Of A Producer, His New Picabo Documentary, And More [Interview]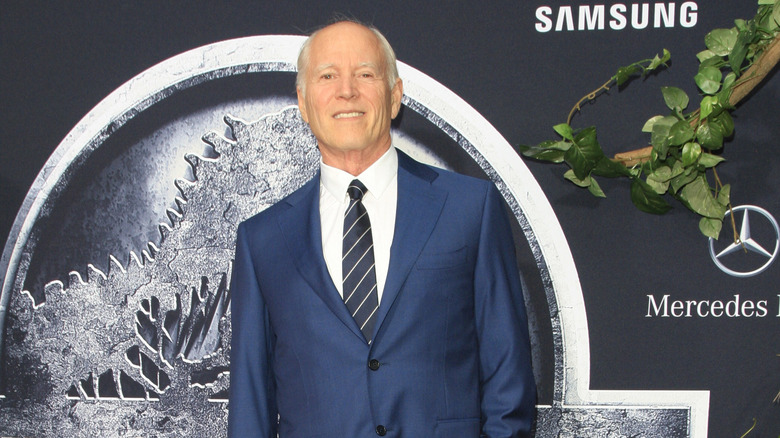 Kathy Hutchins / Getty Images
It would be tough to overstate just how important Frank Marshall has been to the story of Hollywood over the last several decades. As a producer, his credits are genuinely astounding, including many of the biggest hits in history, ranging from "Back to the Future" to "Signs" to "Jurassic World," with a ton of others in between. The man has nearly 150 producer credits to name and is showing absolutely no signs of slowing down.
Marshall does, on occasion, step into the director's chair, though he is far more selective in that department. He directed the 1990 horror flick "Arachnophobia" and, more recently, teamed up with Olympian skier Lindsey Vonn to direct "Picabo," a new documentary currently streaming on Peacock about Olympic gold medalist Picabo Street. In this case, Marshall co-directed with Vonn, who was making her directorial debut.
I recently had the good fortune of speaking with Marshall in honor of the documentary's release. We discuss how this came to be one of his select directorial efforts, what a producer actually does in his eyes, the future of the "Jurassic World" franchise, and much more.
"I like to direct things that I really feel that I can dive into and make a statement"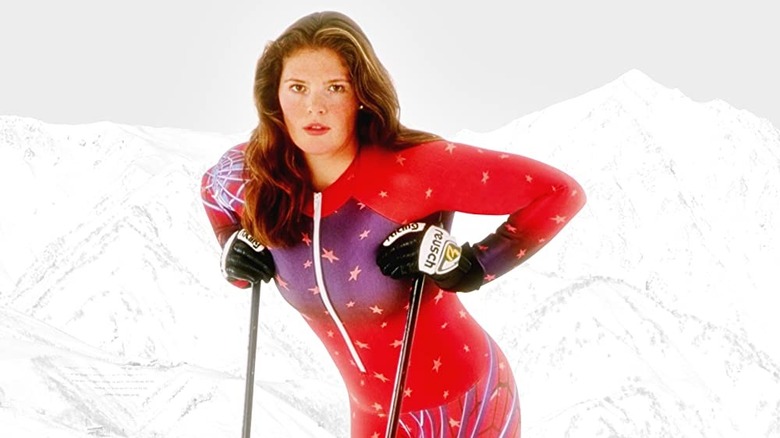 Peacock
This interview has been edited for clarity and brevity.
We're here to talk about your new doc, and you've produced some of the biggest movies of all time. Your output is truly prolific, but you seem to be quite a bit more selective about what you direct. So how did you decide this was something you needed to step up to that level for?
Well, I like to direct things that I really feel that I can dive into and make a statement, and feel that I am the right person to be telling the story. We have a series at the Olympic Channel called "Five Rings Films," and it's stories about Olympians told by different directors. Lindsey Vonn brought us this story about Picabo. And since Lindsey hadn't really directed anything before, it seemed like the right story for me to help tell and collaborate on because I love Picabo, I love the Olympics, I love skiing. There was a lot of loves there, and I felt it'd be a great way to collaborate.
This was Lindsey's first time directing, and you're alongside her, sort of being the experienced statesman there. So what was that relationship like between you two?
Well, it was kind of cool because Picabo was Lindsey's mentor. I sort of became her mentor in film. Picabo was her mentor in skiing, and I was her mentor in filmmaking. She's very quick and learns fast, has a great eye, and is very smart about things. What you really base your documentaries on are, you build a foundation. And the foundation, in this case, was really the interview that Lindsey did with Picabo. She did a brilliant job. She had great questions, she had empathy, and of course, her friendship with her made it so emotional and different. So it was really great to collaborate with her. She had terrific ideas. She came to the cutting room, she had notes, and she was able to see how some worked and some didn't. It was really a wonderful partnership.
I have my selective sports that I enjoy, but almost regardless of the sport, I find sports drama to be so compelling. This is a good example: I'm not big into skiing, but I found this to be incredibly compelling. As a filmmaker who's been doing this for so long, what do you think makes sports such fertile ground for compelling filmmaking?
I think it's putting yourself in the place of the athlete. I do feel that there are stories here in this particular film that you just can't believe. Jean-Claude Killy, for example. If somebody brought that in a film and a script, I'd say, "Well, that could never happen." But it did. Real life is, a lot of times, much more compelling than fiction. You know? I think in the case of these great Olympic athletes, people think they're superheroes and they're bigger than life. But they're really just human beings, and they're vulnerable, and they have feelings and insecurities just like the rest of us.
I think when you tell these stories that are centered around overcoming incredible odds and having tenacity and sacrifice and all these things that these athletes have to go through to get to the Olympics, I think that's what's really compelling, that journey.
"We obviously want to make quality, good movies with great storytelling"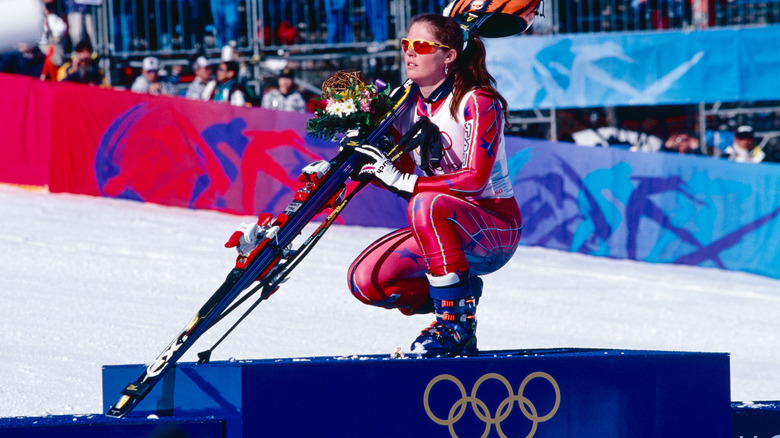 Simon Bruty/Anychance/Getty Images
This is an example of you directing, but you have spent a lot of your career producing. I think for a casual film fan, they'll hear the word "producer," and that's a nebulous term that doesn't always mean a lot to people. What is a producer's job, in your view?
My view is the producer is there to support the vision of the director. It's a creative role as well as a financial budgetary role. And to solve problems. I mean, that's why I like documentaries, because I kind of wear both hats. Even when I'm just producing a documentary, it's about solving problems again. How do we get that music? How do we get that shot? Where are we going to shoot?
In this case, both hats were really important because it was the first time I had been on a set in 18 months. When I flew to Park City back in September, that was kind of my breakout party. It really meant a lot to me to be there because I really feel that as a producer, you have to be there on the set in order to be of any help, because that's where the problems and the obstacles come up. By the time you're in an office, by the time you get the phone call, the problem's been solved. So I loved being there. I loved being able to be in support of Lindsey, but also be there to check on the camera. I hadn't seen Picabo in 25 years.
Well, actually I had. I saw her in 2002. That was the other incredible thing is when we were sitting there talking, the three of us realized that we had marched together with the U.S. Olympic team in 2002, in Salt Lake City. I was the vice president of the USOPC. So the officers get to march in with the athletes. So I had the outfit on. It was Picabo's last opening ceremony, and it was Lindsey's first opening ceremony. So the three of us were there together, which really made the whole thing special.
Oh, that's really awesome.
Isn't it crazy?
I guess sort of on that same note, there was a "Jurassic World Dominion" ad that was tied to the Olympics. Obviously, you're producing that movie as well. So that's another weird, full-circle thing. "Jurassic Park" is my favorite movie of all time, I should mention. You said, I think last year, that "Jurassic World Dominion," while a lot of us maybe thought that would be the last one, you said it was the start of a new era. So do you see there being more movies beyond this?
Yeah, absolutely. I think "Dominion's" going to wrap up this trilogy, but we're not resting on our laurels. We're going to sit down, and we're going to see what the future is. We have that wonderful series, "Camp Cretaceous" on Netflix. We obviously want to make quality, good movies with great storytelling, great writers and directors, but we're definitely looking to do more in the "Jurassic" world.
I don't want to press on this too much, but a lot of bigger franchises are moving toward premium streaming TV shows and stuff. Do you see any world in which a "Jurassic World" TV show could work? Or do you think that budgetary stuff would sort of prevent that from even being possible?
No, I'm really just focused on the movies. So I haven't really thought about that. There's been no discussion of that. As I say, we have the animated series. I think that's plenty for now.
I don't know that you can write the story of Hollywood without your name attached to it. You've been through several eras of Hollywood and a lot is changing. What advice would you have for someone who wants to be a filmmaker that's coming into the industry as it exists now?
Well, that's a tough question, Ryan. Obviously, I kind of see it as, each decade changes, and we're starting a new decade, and there are a lot of changes happening. My biggest advice is — it sounds simple — but tell good stories. That's what people want. Also, be flexible and adaptable. I think the reason that both [Lucasfilm president and Marshall's wife] Kathy [Kennedy] and I have survived as long is because we've adapted to each change every decade. I do think that's really important, to listen to what's happening and then find a way to tell the stories that you want to tell in whatever the world is of distribution at that time.
There's not really a question here, but I just want to let you know, because I don't know if I'm ever going to talk to you again, that "Arachnophobia" is genuinely one of my favorite genre films of all times. So I just want to thank you for making that exist.
Well, listen, it's my pleasure. That was a great one to start my directing career with. It had all the fun things that I had been learning and absorbing all those years, with the different, great directors and writers I worked with. The other important thing is, Ryan, look at movies. There's a filmmaking language, and there's a way to tell stories. Steep yourself in the history of movies. We just lost one of my close friends and my mentor, really, Peter Bogdanovich. All he did was watch movies all the time. That I think is a really important thing for me to leave you with: Watch movies.
"Picabo" is streaming now on Peacock.
From co-directors and executive producers Frank Marshall and Lindsey Vonn comes PICABO, the first career-spanning film chronicling the life of Picabo Street, the alpine skiing icon of the 1990s and Vonn's childhood hero. From her unorthodox childhood in Idaho to her Olympic successes, dramatic recoveries from ill-timed injuries and her arrest in 2015 due to false allegations, the film provides an intimate look at Street's fascinating life through an emotional interview with Vonn and behind-the-scenes footage of Street's life.