The 15 Most Anticipated Shows And Films Of February 2022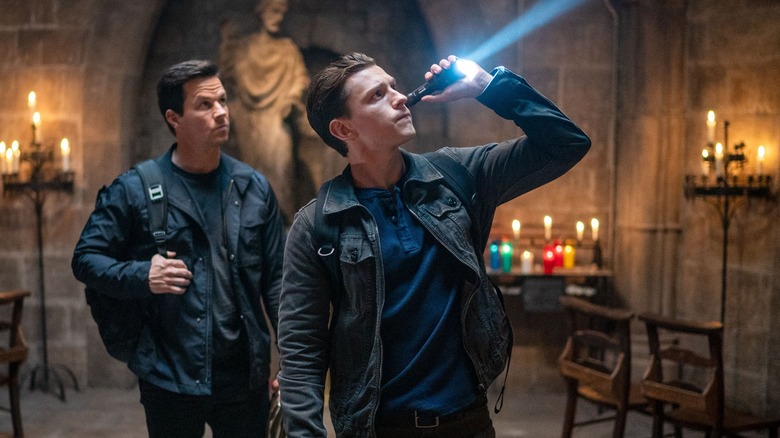 Sony Pictures
Deja vu is more than strawberry ice cream with one spoon for two — it's the disorienting feeling of having experienced the same situation already, of tedious and grating familiarity. And, if you care about movies, might have had deja vu a lot this month: With cases of Omicron surging nationwide and only Spider-Man soaring at the box office, movie studios started shifting release dates left and right once more. Jared Leto's "Morbius" moved to April Fool's (that's actually perfect). "Mission Impossible 7" left the 2022 calendar altogether, bumping back to 2023 and taking "Mission Impossible 8" along with it (far less perfect). And the Sundance Film Festival, which had planned on a grand in-person return to Utah, went fully virtual at the last possible moment. Deja vu. 
But with most states expected to reach Omicron peaks in February and with many major cities already past them, it feels safe to anticipate entertainment again. And it just so happens that February offers a full slate of potentially thrilling TV and movies, from long-delayed comedies to low-budget Soderbergh. Here are our 15 most-anticipated TV shows and movies of February 2022. 
15) Murderville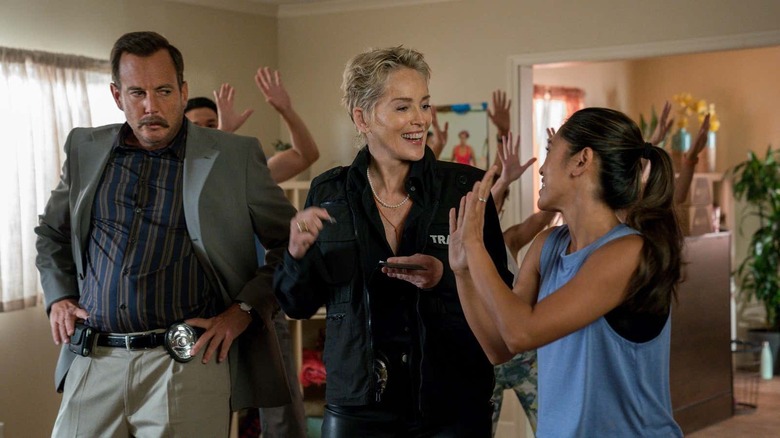 Netflix
"Murderville" was a late entry to this list, having barely been on our radar or hyped by the network that's dropping it on February 3rd. Oh, how one trailer changes things! Based on the BBC series "Murder in Successville," the latest from "Medical Police" and "Children's Hospital" producer Krister Johnson finds Will Arnett in noir mode as a detective tasked with solving a homicide. The catch? Each week, his partner is a celebrity who never got the script for the episode they are filming. What follows is a collision of high production-value cop procedural and barebones improv dragging Sharon Stone, Kumail Nanjiani, and "Beast Mode" Marshawn Lynch (among others) into its fold. 
Will it work? Honestly, who knows. But for fans of art that is genuinely audacious, "Murderville" already fits the bill. In a world where multiple superhero shows and medical dramas premiered last month alone, this improv-heavy series may prove to be a breath of fresh air — it's instantly unlike anything else on television, and the talent involved inspires confidence. At the very least, it promises Sharon Stone performing a bloody autopsy while speaking with a German accent, and that alone secures its spot on this list with authority. 
14) Catch The Fair One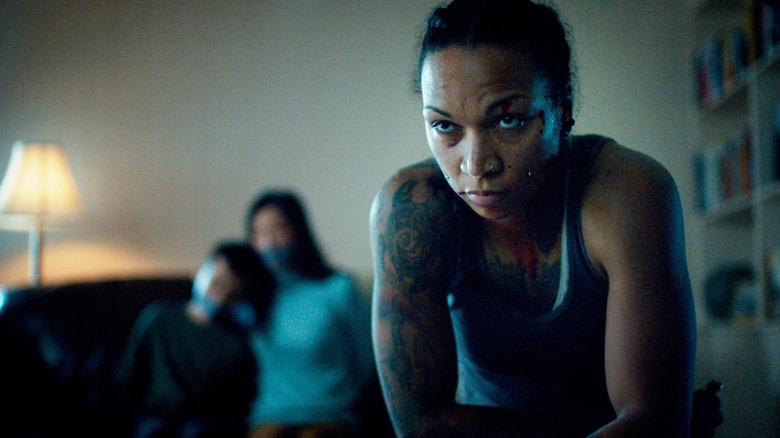 IFC
Already scoring an astonishing 95% on Rotten Tomatoes, "Catch The Fair One" feels ripe for further attention. The thriller about a female American boxer who infiltrates a sex trafficking ring in search of her missing sister made waves when it debuted at Tribeca, and the fact that it stars real-life boxer Kali Reis in a fearless debut performance only bolsters its authenticity. 
But the film is also more than the gender-flipped "Taken" redux it's pitched as. "Catch The Fair One" lends its voice, punches, and violent blows to women silenced by horror, never trading thrills for cold-eyed clarity. It submits that an artistic conscience can be thrilling. And as at least one interrogation sequence that may break the internet will prove, "Catch The Fair One" is both exciting and shattering in equal measure. January and February have long been dumping grounds for comfort food projects. "Catch The Fair One" is a meal that's tough to swallow but worth savoring. Get ready to eat up.
13) Super Pumped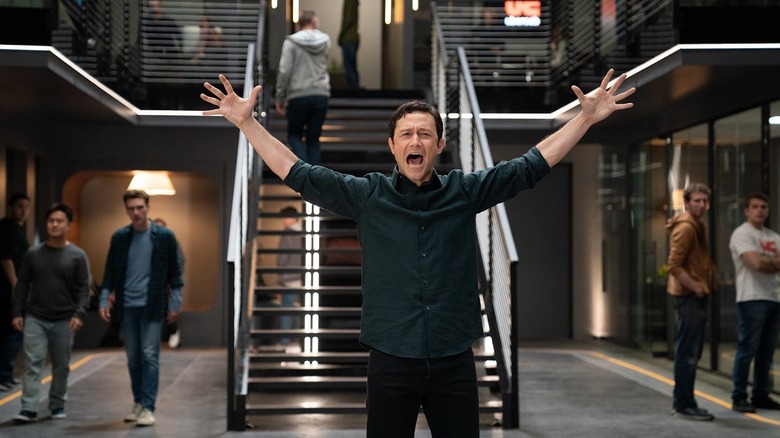 Showtime
"Super Pumped: The Battle for Uber" could barely be more primed for success. Like the ride-sharing company it chronicles, the show from Brian Koppelman and David Levien based on Mike Issac's massively successful nonfiction tome is arriving at an opportune moment — its network, Showtime, just received the most signups in its history thanks to the one-two punch of "Dexter: New Blood" and "Yellowjackets." Koppelman and Levien already gave the network a smash in "Billions," and the cast for "Super Pumped" is stellar across the board, continuing Joseph Gordon-Levitt's television renaissance in the titular role of disgraced Uber CEO Travis Kalanick along with Kyle Chandler, Kerry Bishé, and Uma Thurman.
But will the show be worth watching? That's a valid question. Premium cable is already rife with programs about white-collar criminals and companies breaking bad. That said, TV legend Allen Coulter ("Boardwalk Empire," "The Sopranos") helming the pilot is cause for reassurance, as is the chance to see Gordon-Levitt tackle darker material than he has in the recent past. Apologies for the truly terrible pun, but it sounds like a ride worth taking.
12) Jean-Yuhs: A Kanye Trilogy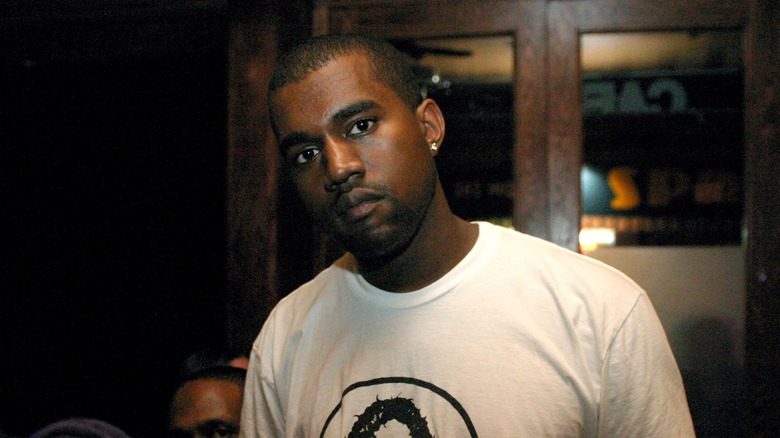 Netflix
Will "Jeen-yuhs: a Kanye trilogy" even be released? As of this writing, it's really not clear. The project was set to debut at Sundance before Kanye publicly demanded full creative control of the project. It subsequently did, but not without controversy. 
Then again, "Jeen-yuhs" directors Chike Ozah and Coodie Simmons know unexpected zigs and sudden quarrels come standard with the modern-day Kanye collaboration, and were clear about their film from the jump. Speaking to "The Hollywood Reporter," Simmons said that "When it came down to making it, I had to let him know to make this film authentic, he had to step back ... I had to take control of this narrative that God created — we didn't create this. And he said he trusted I would do a good job on it."
Kanye's trust is about to be put to the test. If the advance reviews are any indication, "Jeen-yuhs" is a close — maybe too close — look at the man who revolutionized this century's pop music, chronicling his rise from hip hop's hottest producer to mainstream star to red hat wearing presidential candidate. To call it sweeping is an understatement. To call it "important" is another. Like him, loathe him, or anything in between, it's impossible to call Kanye anything but generation-shaping, and a widescreen look at his life at work is instantly notable and worth getting excited for. Here's hoping it actually drops.
10) The Sky Is Everywhere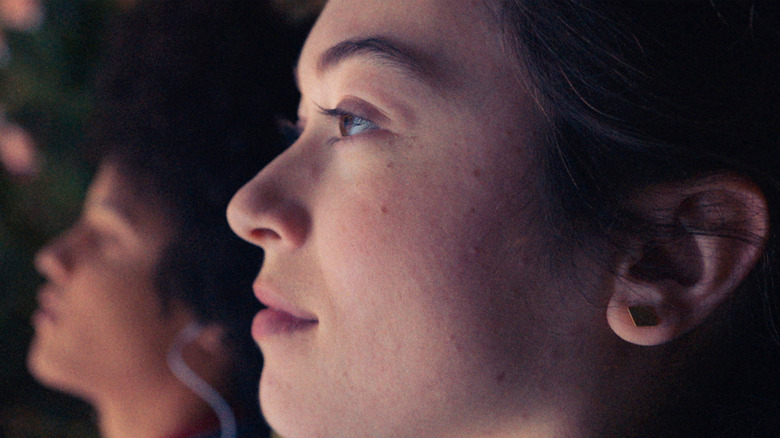 A24
A24's 2022 slate almost plays like a parody of an A24 slate. Multiversal movie with googley-eyed boulders?  Check. A Robert Eggers movie featuring WIllam Dafoe about vikings? Yes, they're releasing that, too. A brand-new Ti West horror film that also happens to be about pornography? Yup, "X" drops in March and we're all very excited about it. Whether this is a peak year for the hottest distributor on Earth remains to be seen, but there's zero question that they have their aesthetic down pat.
Which is what makes the somewhat quiet release of "The Sky Is Everywhere" on Apple TV+ so surprising. For all intents and purposes, this is the first film the company will drop in 2022. It has a sterling director in Josephine Decker, who's 2020 film "Shirley" was not only one of that year's best but one of this decade's most disquieting pictures to date. The cast is full of already established or ascendant stars (Jason Segel, Grace Kaufman, and Pico Alexander, just to name a few), and the film's hook — which explores the intersections of music and grief amongst a burgeoning teen love triangle — feels ripe for film fans of all persuasions. In that sense, "The Sky Is Everywhere" sounds both like an established and new strain of A24 film. Count us in. 
9) The Texas Chainsaw Massacre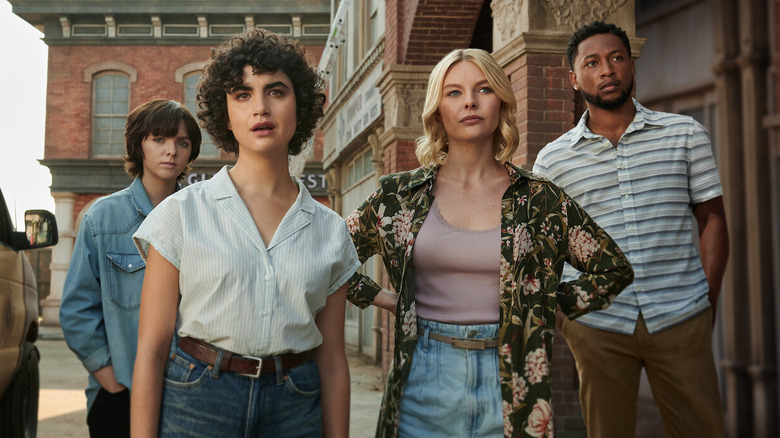 Netflix
It's not just that our first glimpses of "The Texas Chainsaw Massacre" look good (and they do) — it's that we know we're getting to see it. That's the best reason to anticipate the latest installment in a franchise that's yielded one of the most important horror films ever, some of the worst sequels ever, and a Platinum Dunes remake that the internet argues about with some regularity. David Blue Garcia's contribution to the saga of Leatherface is hitting Netflix on February 18th, regardless of what's happening with Omicron or theater chains. We're able to get excited for it without the possible disappointment of its date shifting. In 2022, that's a gift, especially for a tentpole-style, multiple quadrant picture.
That said, there are other equally strong reasons, mainly a trailer that's high on tension and a promised score by Colin Stetson ("Hereditary"), whose aural accompaniments for a legendary horror series might shift this picture into overdrive on their strength alone. Coupled with the screenplay credit to Fede Alvarez and the movie's ties to the 1973 original, the new "Texas Chainsaw" is worth getting excited for, whether it sticks the landing or not.
8) Pam & Tommy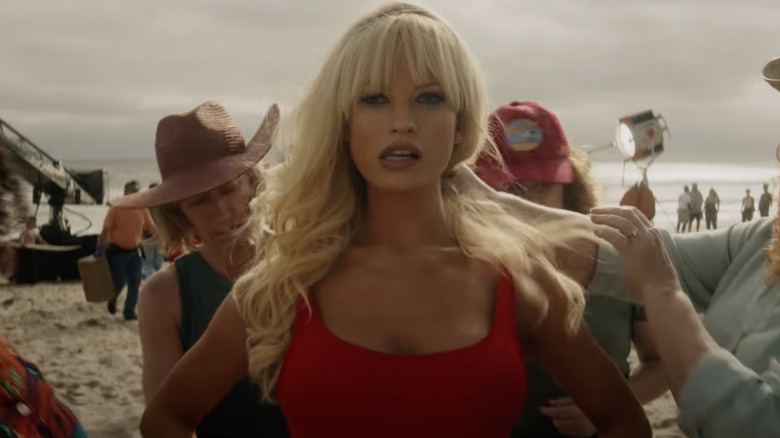 Hulu
We are headed for a referendum on Sebastian Stan. The "Falcon & Winter Soldier" actor has been a beloved personality and reliable MCU cog for a decade now, quietly making Bucky Barnes more nuanced all the while. But despite his Broadway bonafides, Stan has largely lacked for thespian clout. His performance in "I, Tonya" is mostly undiscussed. "The Devil All The Time" and "We Have Always Lived In The Castle," both of which Stan is excellent in, are all but forgotten. What could shift the needle? 
2022, apparently. Stan is already creating buzz for his work in the Sundance-breakout "Fresh." And then there's "Pam & Tommy," which not only features the actor as Motley Crue drummer Tommy Lee, but reunites him with his "I, Tonya" director Craig Gillespie, sports an eye-popping trailer, and also stars Jason Mantzoukas as Tommy Lee's penis (No, that's not a misprint; no, I can't believe I wrote it, either). There's little doubt that "Pam & Tommy" will fade from memory as quickly as some of Stan's other non-MCU efforts, and if Lily James channels Pamela Anderson as seamlessly as the first looks indicate, this show could be a stone-cold stunner. We Stan.
7) Killing Eve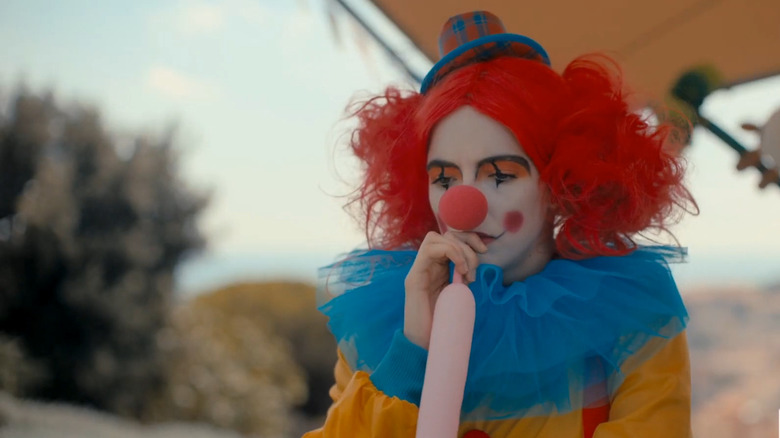 AMC
"Killing Eve" is something of a televised miracle. It was the brainchild of the iconic and idiosyncratic Phoebe Waller-Bridge, who wrote and oversaw its entire first season. Waller-Bridge then left the show, handing over the unenviable task of following in her footsteps to then-unknown Emerald Fennel; Fennel not only kept "Killing Eve" on track, but she also exceeded fans' wildest expectations. The second installment was a smash, and Fennel would later cement her bonafides further with the one-of-a-kind "Promising Young Woman." Over the span of two years, one show presented seasons spearheaded by two of the recent past's most iconic female authors while its cast racked up no less than seven acting awards between them. 
You'll notice I'm not mentioning the third season and that, sadly, is by design. Despite a valiant effort from new showrunner Suzanne Heathcoate, the latest installment of "Killing Eve" paled in comparison to those that had come before, embracing glaring lapses in logic more than the twisty and incisive plot developments the show had become known for. 
But the show is returning for one last shot at greatness under the stewardship of Laura Neal, whose work both on "Killing Eve" and "Sex Education" has threaded the needle between warm and transgressive. She's an enticing addition to a show that has elevated its female creatives to massive heights — and will hopefully take "Killing Eve" out with a bang, rather than a whimper. 
6) Moonfall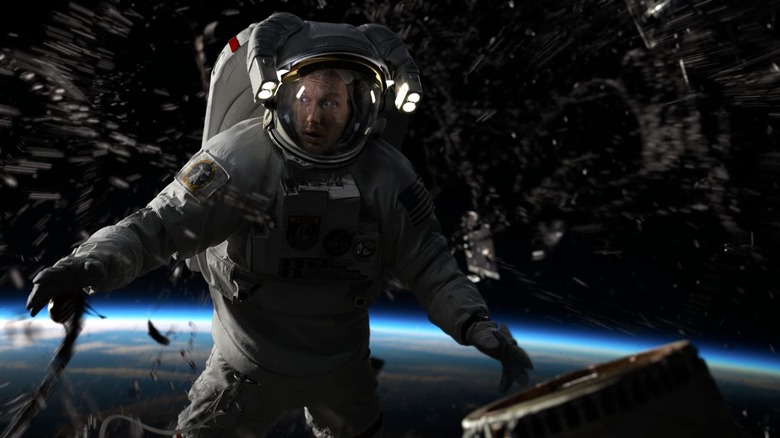 Lionsgate
Roland Emmerich's entire career has built to "Moonfall." It wasn't enough for the German filmmaker to blow up the White House. Nor was it enough to bury mountains under tidal waves, the Statue of Liberty under snow, or ostensibly remake "Pearl Harbor" and "Olympus Has Fallen" under slightly different titles. No. Roland Emmerich has decided to battle the moon and make it evil. Are you not entertained? 
I suppose time will tell, but let's be honest: pitting Halle Berry, Patrick Wilson, and Samwell Tarly from "Game of Thrones" against Earth's only natural satellite sounds like a deeply stupid blast. It doesn't hurt that this sort of thing is Emmerich's forte, nor does it hurt that Lionsgate spared no expense putting the film together (the reported budget is north of $140 million) or that the trailers suggest the moon has jet-black tentacles, maybe. After a year where conspiracy theories and climate change threatened to cripple democracy and the Earth, a film that invites us to laugh at and thrill in both feels either in poor taste or massively cathartic. Either way, I'm there on opening night. 
5) Fistful of Vengeance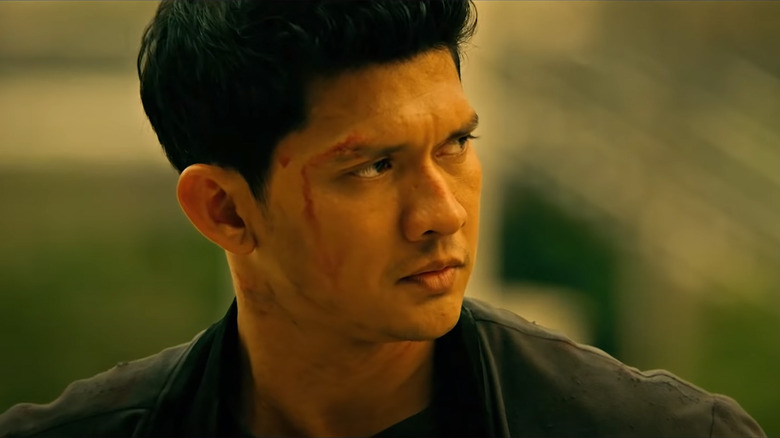 Netflix
At the risk of being hyperbolic, there's nothing I want to see more this month than whatever Iko Uwais is up to at the 0:40 second mark in Netflix's "Fistful of Vengeance" trailer. It involves the star of "The Raid" using a meat cleaver. At one point, the meat cleaver is jammed into a bad man's skull. Later, said cleaver is flung into a different bad man's neck. If this violent poetry was all I knew about "Fistful of Vengeance," I would already endorse it wholesale. Uwais may be the world's most compulsively watchable martial arts talent — any film making such glorious use of him demands our attention. 
But wait, there's more! "Vengeance" is actually a feature-length follow-up to Netflix's own "Wu Assassins," an awesome show about ancient amulets and mystically powered fighters. It reunites the core cast (including Lewis Tan and Lawrence Kao) on newly condensed terms, offering what looks like a season's worth of dazzling set pieces. Could "Vengeance" wind up feeling overcrowded? Absolutely. But it's just as likely to be an early contender for year's best action picture. That's more than enough reason to be hyped for it, no matter how your meat cleaver beatdown mileage varies.
4) Severance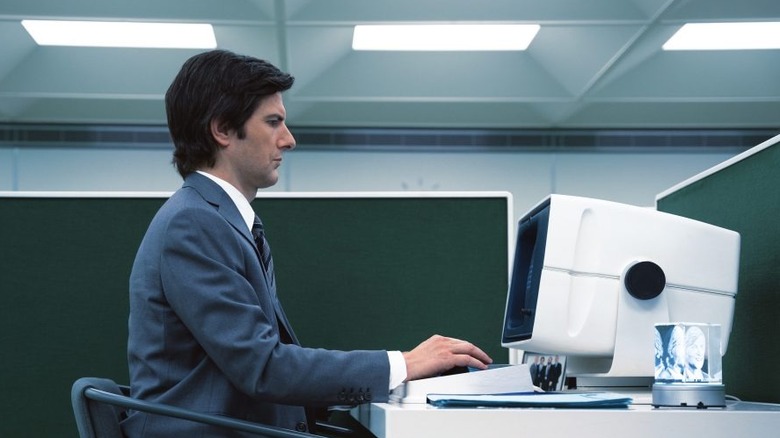 Apple TV+
Apple TV+ has arrived. Yes, the service debuted more than two years ago, but it has officially found its identity as a place where stars take risks. Watch their Super Bowl spot for proof. In it, Jon Hamm observes — with increasing ire — that he is the only A-list name who's not on Apple TV+, rattling off names like Chris Evans and Jason Momoa while grumbling "I could've played Ted Lasso." The ad is incredibly funny, but also unexpectedly incisive. No one expected Jason Sudekis to anchor a world-beating dramedy before "Ted Lasso" proved he could, nor do the relative failures of "Defending Jacob" or "See" undermine that both saw Evans and Momoa trying to expand their range by a game of feet, not inches. 
So the fact that Adam Scott, Patricia Arquette, and Christopher Walken feel slightly out of place in the "Severance" trailer seems on brand, as does the surprising involvement of director Ben Stiller. But "Severance" also looks excellent, appearing to tell its surreal story about a company whose employees are unable to remember what they do at work with unapologetic darkness and verve (which actually makes Stiller's involvement less surprising; see also, "The Cable Guy"). If the show's narrative twists and performances can coalesce into a satisfying cocktail, it will be the latest example of stars stretching themselves to satisfying lengths in the name of Apple. Except Jon Hamm, of course. 
3) Jackass Forever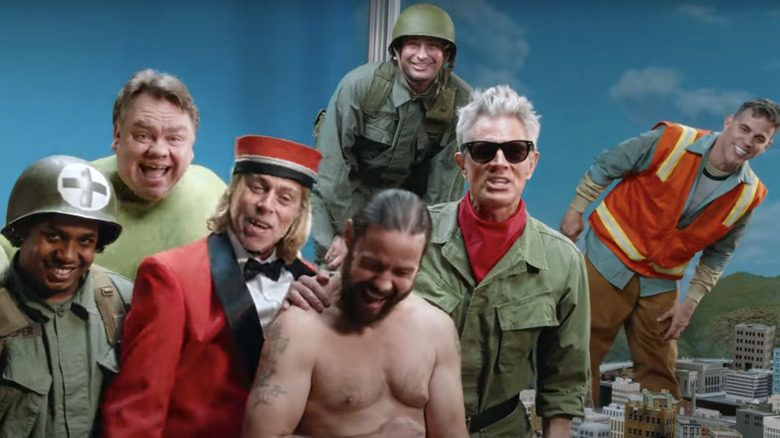 Paramount Pictures
When I wrote about 2021's best trailers for SlashFilm, I highlighted the overplayed "Jackass Forever" spot as one of them. It's not Johnny Knoxville's fault that his film's been delayed three times, nor is Paramount's marketing department to blame for a pandemic nearing its third year of existence. But the question posed by "Jackass Forever" grows more poignant with each passing day: When's the time you got together with old friends and laughed your ass off? 
At long last, the answer is "soon." The Jackass crew's magnum opus arrives in theaters shortly, and the potential rush of seeing Knoxville horn-smacked by a raging bull or Danger Ehren confront a bear while soaked nearly nude and covered in honey has only increased, promising less of a return to normal than a confirmation that "normal" should include inspired stupidity. It's a theatrical tradition as rich as any other, and the film's early bow could serve as an injection of life into theaters at a moment when they sorely need it. 
2) Better Things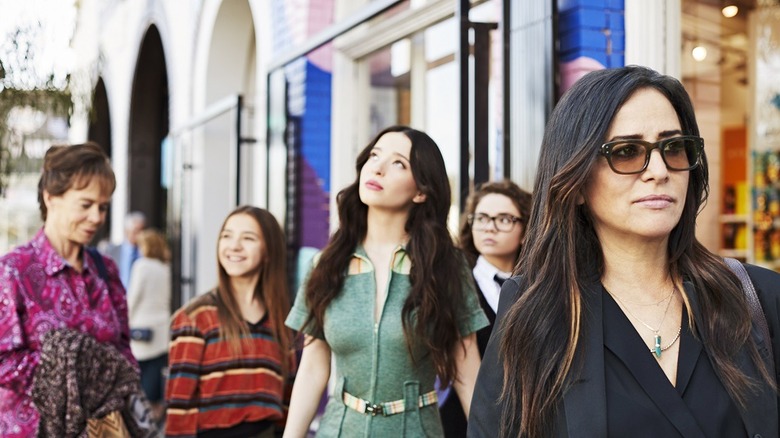 FX
"Better Things" is your favorite critic's favorite show. Now entering its fifth and final season, the brainchild (and maybe autobiographical story) of Pamela Adlon won a Peabody Award in 2017 and only upped its game from there. There's a universe in which "Better Things" is "The Office"-level famous, the sort of program which redefines the term "TV comedy." But emulating Adlon — who serves as the show's creator, executive producer, and star — might be a fool's errand. 
Therefore, it feels bittersweet to anticipate "Better Things." Is it fair to get excited for one of the most singular shows in recent memory shutting down? In so far as we get more of it. Is it fair to be sad? I'm not sure Adlon would want it any other way. Whether the last installment of "Better Things" can build on or even match the world-beating standard of the first four is almost irrelevant. What matters is that we have one last glimpse at a show that changed the way a handful of people watched television ... and might continue to for decades to come.
1b) Uncharted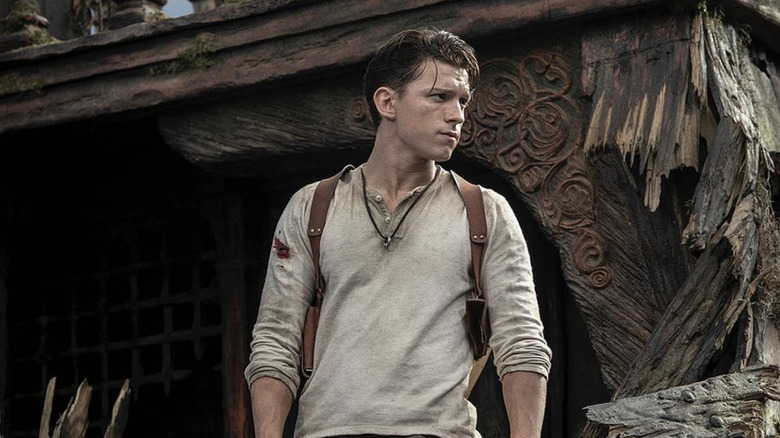 Sony
"Uncharted" is practically modern cinema's "Chinese Democracy," or at least its family-friendly Snyder Cut. There was a time when no one believed it would ever exist or get finished and, barring both, released — multiple changes of director begat a swarm of pre-production delays that muted the buzz of anticipation building over and over. By the time that project had (questionably) cast Tom Holland and Mark Whalberg in the roles of Nathan and Sully, respectively, skepticism was high. 
It still is, but perhaps less so. "Uncharted" arrives in theaters on February 18th as a major 2022 tentpole. Its star is all but king of the box office. Video game films and shows just keep improving. And if its trailer is any indication, Ruben Fleischer's film will faithfully adapt the game's famous set pieces, if not adeptly bring them to life. What does that all add up to? Hopefully, a thrill ride that's way more fun than "Chinese Democracy."
1a) Kimi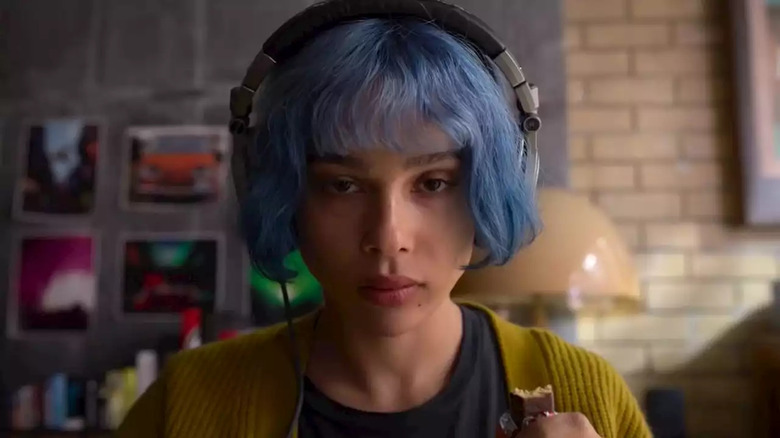 HBO Max
We are long past the point where any project from Steven Soderbergh should be only "highly anticipated". The auteur is bulletproof. He doesn't miss so much as make highlight-reel plays that aren't for everyone, whether they're surprisingly savvy sports world dramas ("High Flying Bird") or B-movie action riffs ("Haywire"). So if Soderbergh wants to make his version of Sandra Bullock thriller "The Net," I say let him and set about getting hyped for it. 
No, "Kimi" isn't a "Net" remake. But "Kimi" is written by 1990s screenwriting legend David Koepp ("Jurassic Park," "Mission Impossible") and does concern a deep-tech employee who discovers evidence of malfeasance and goes HAM trying to stop it. And given that said employee is played by Zoe Kravitz — whose career is hitting a '95 Bullock high mere weeks before she plays Catwoman — "Kimi" feels poised to have a cultural moment. The film looks timely, zeitgeist-courting, and awesome.
In other words, peak Soderbergh.