Star Trek: Picard Season 2 Will Answer The 'Personal Mysteries' Of Jean-Luc Picard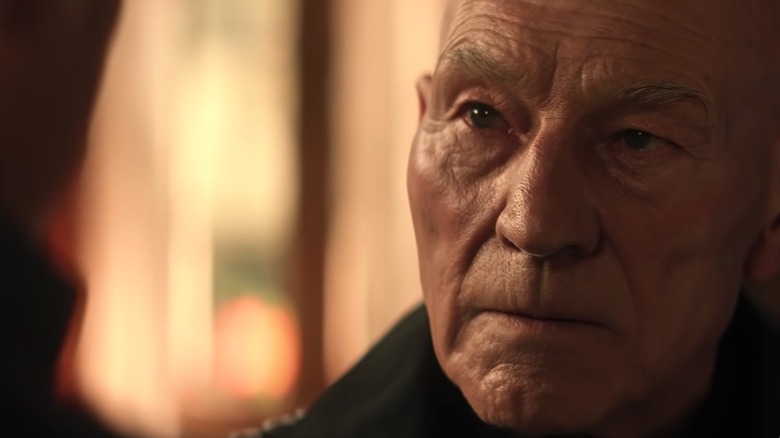 Paramount+
"Star Trek: Picard" recently got a trailer for its second season, and it's letting us see the road not taken. The gang is sent by Q (John De Lancie) to the year 2024 when a pivotal choice is made. They get a chance to see what their lives would have been if this small thing was different. We're also going to learn why Captain Picard (Patrick Stewart) never married. In an interview with SFX Magazine (via Screen Rant), showrunners Terry Matalas and Akiva Goldsman spoke about exploring that. Here is the official synopsis for season 2 of "Star Trek: Picard:"
Season two of STAR TREK: PICARD takes the legendary Jean-Luc Picard and his crew on a bold and exciting new journey: into the past. Picard must enlist friends both old and new to confront the perils of 21st century Earth in a desperate race against time to save the galaxy's future – and face the ultimate trial from one of his greatest foes.
The Road Not Taken
Matalas said of the new season:
"It's a time-travel story and all good time-travel tales are emotional at their core, and speak to something that's happening with your main character. So we started by asking ourselves the question of season one: how do we deconstruct Captain Picard? What don't we know about him? Why is he on a vineyard by himself with a dog? Why did he never marry Beverly Crusher and have a family of 10? Those are jumping-off points to answer some of those personal mysteries."
I've never been more intrigued. I was a diehard "Star Trek: The Next Generation" fan, and I shipped Picard and Crusher so hard! I'm thrilled to see Whoopi Goldberg back as Guinan in the new season. I'm also heartbroken by the fact that the third season is going to be the last. What I'm letting comfort me in that arena is the fact that I didn't want "The Good Place" to end, but it ended exactly where it needed to. I'm just glad everyone is well now after the on-set Covid outbreak. 
The cast of "Star Trek: Picard" includes Sir Patrick Stewart, Alison Pill, Isa Briones, Evan Evagora, Michelle Hurd, Santiago Cabrera, Jeri Ryan, Orla Brady, John de Lancie, Annie Wersching, and Brent Spiner.
"Star Trek: Picard" season 2 will premiere on Paramount+ on Thursday, March 3, 2022. After the premiere, each of the remaining nine episodes will debut weekly.