Clips Round-Up: Adrian Brody And RZA Get Clean, Alicia Silverstone Is Swept Up In The Requin, & More! [Exclusive]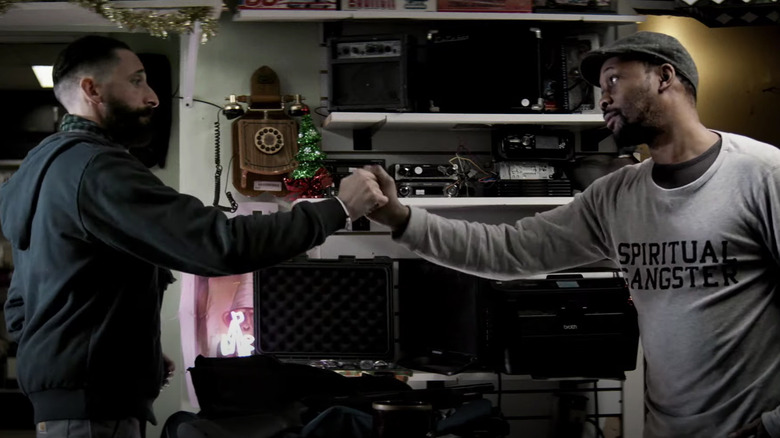 IFC Films
(Welcome to SlashClips, a series where we bring you exclusive clips from hot new Digital, Blu-ray and theatrical releases you won't see anywhere else!)
In this edition:
Clean
The Requin
Ghosts of the Ozarks
Clean
First up we have the kickass pairing of Oscar-winner Adrian Brody ("The Pianist") with hip hop superstar RZA ("The Man With the Iron Fists") in the crime drama "Clean," having a cool "buying the weapons" moment together. Extra props to RZA for rocking that very on-brand "Spiritual Gangster" sweatshirt while he gives Brody a flare gun on the house. The film is directed by Paul Solet, who previously helmed Brody in 2017's thriller "Bullet Head," and arrives in theaters and everywhere you rent and buy movies on January 28, 2022.
Here is the official synopsis:
Tormented by a past life, garbage man Clean (Adrien Brody) attempts a life of quiet redemption. But when his good intentions mark him a target of local crime boss (Glenn Fleshler), Clean is forced to reconcile with the violence of his past.
The Requin
Saban Films has provided us with an exclusive clip from "The Requin," which stars Alicia Silverstone ("Clueless") and James Tupper ("Big Little Lies"). Written and directed by Le-Van Kiet ("Furie"), the shark-infested thriller hits theaters, on-demand, and digital on January 28, 2022.
Here is the official synopsis:
There's terror in paradise when Jaelyn (Alicia Silverstone) and Kyle (James Tupper) arrive at a remote seaside villa in Vietnam for a romantic getaway. A torrential storm descends, reducing the villa to little more than a raft and sweeping the young couple out to sea. Suddenly, another danger appears: a school of great white sharks. With her injured husband watching helplessly, Jaelyn must battle the deadly predators alone in this tense thriller that rides an unrelenting wave of fear.
Ghosts of the Ozarks
Finally, XYZ Films has provided us with an exclusive clip from the period mystery thriller "Ghosts of the Ozarks," which is set to hit select theaters, digital, and on-demand on February 3, 2022.
Here is the official synopsis:
Tim Blake Nelson, David Arquette, Angela Bettis, Thomas Hobson, Phil Morris and Tara Perry star in this exciting new take on the southern ghost story. In post-Civil War Arkansas, a young doctor is mysteriously summoned to a remote town in the Ozarks only to discover that the utopian paradise is filled with secrets and surrounded by a menacing, supernatural presence.