This Is Every New Jackass Forever Cast Member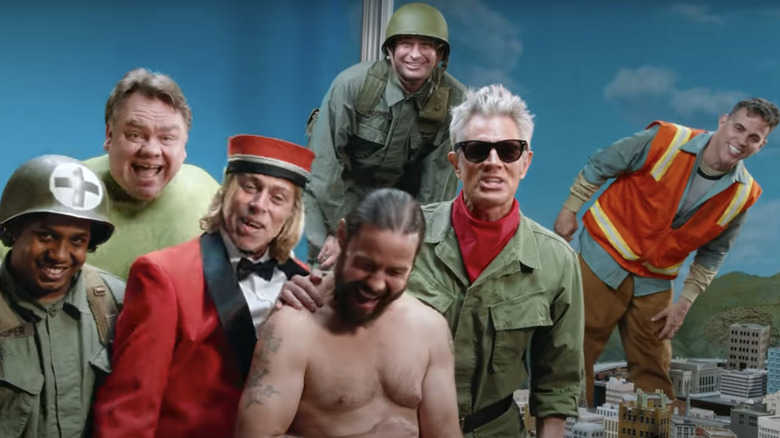 MTV Entertainment Studios
"Jackass Forever" is notable in several ways. First, it's allegedly the last "Jackass" we'll ever see, and one glimpse at Johnny Knoxville's salt-and-pepper hair provides plenty of reason for that. Any of these jokers can handle a fall, but as the years go on, it takes longer to get back up. Second, the movie contains two noticeable absences: Ryan Dunn, who died in 2011, and Bam Margera who, despite being removed from production after an alleged breach of his wellness contract, will still have one stunt seen in the final product. But a few new additions have been added to the roster with an eye towards keeping the party going for everyone, last film or not.
Early in January, Paramount dropped a featurette introducing us to some fresh meat in the troupe of jackasses. To recap, the regulars appearing in Jeff Tremaine's "Forever" are just who you're expecting, the OG's who have been there since the TV series dropped in 2000: Knoxville, Steve-O, Wee Man, Chris Pontius, Dave England, Danger Ehren, and Preston Lacy are ready to do their own stunts, as always. But now, they've recruited some younger, more durable bodies to share some of the bone-breaking load. Poopies, Zach Holmes, Eric Manaka, Jasper, and Rachel Wolfson join the team as new cast members, and boy, are they up for some fun. Read on to meet the new blood.
Poopies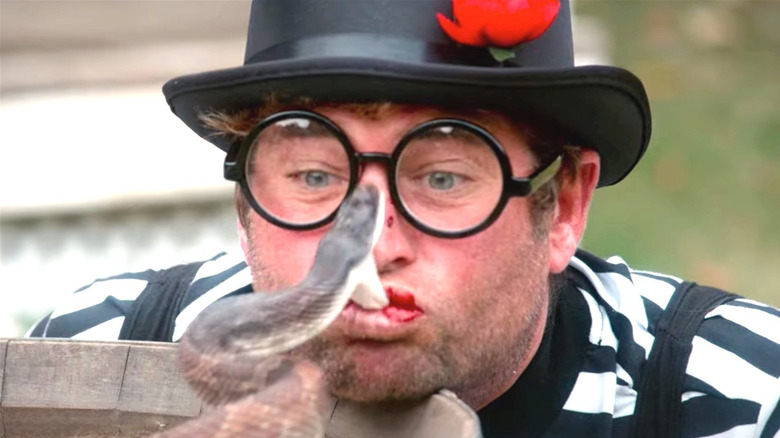 MTV Entertainment Studios
First of all, you're halfway hired with a name like "Poopies." But Sean McInerney was just as nervous as anyone would be, when asked to test out for the "Jackass" crew. Poopies is a pro surfer and vlogger who actually did some stunt work under the Jackass banner — and quickly spilled blood for the cause. During Discovery Channel's annual "Shark Week" event last summer (with which the "Jackass" party would collaborate), McInerney was supposed to perform a simple wakeboard stunt but accidentally found himself in the middle of a swarm of sharks, and caught a nasty bite on the hand for his troubles. The final damage toll was two severed arteries and several torn tendons, which required an airlift and emergency surgery. In McInerney's vlog of the incident, Steve-O calls it one of the "gnarliest" injuries sustained by the group entire. But, the man faced death head-on, survived, and made a name for himself faster than any other new crew mate, so raise a glass for Poopies.
Zach Holmes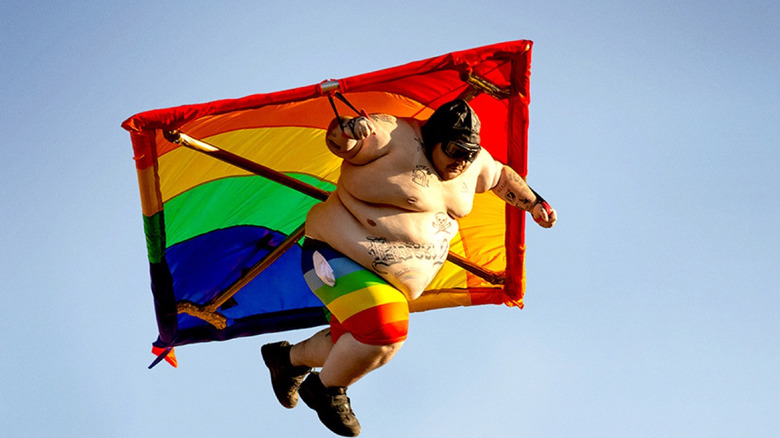 MTV Entertainment Studios
You can also call him, "Zackass," if you're wondering how well Zach Holmes can hang. A quick YouTube search pulls up a myriad of ill-thought-out but nonetheless impressive stunts, from a firecracker vest taped to his bare torso to having a volunteer shoot him in the face with thumbtack-tipped Nerf darts (both go poorly for Zach). Steve-O has gone on record as calling him "crazy," and "an idiot," which is high praise coming from the man who once allowed a leech to attach itself to his eyeball.
The young stunt performer co-created the cringe action-comedy MTV series "Too Stupid To Die," a sort of next evolution of the sort of hijinks that "Jackass," "CKY," and "Nitro Circus" popularized back in the day. Guess who served as cinematographer for the show? That would be Chris Raab, alum of both "Jackass" and "CKY" crews under the name Raab HImself. Further comedic crossover comes by way of a Snapchat series Holmes hosts called "Fail News," which features none other than fellow "Jackass" freshman Rachel Wolfson.
Eric Manaka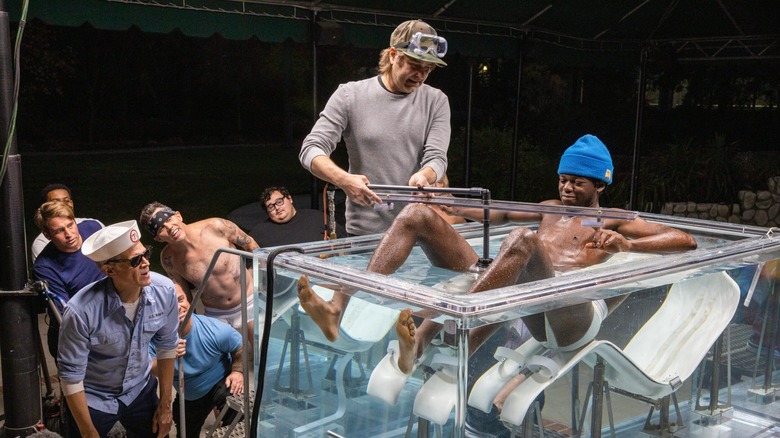 MTV Entertainment Studios
Eric Manaka is an actor and a skater from South London, but the only thing he really needs on his resume is "I love getting a bit hurt." Hawkeyed Knoxville fans may recognize him (as a camp staffer) from 2018 comedy "Action Point," which chronicles an insane New Jersey amusement park that set a new, low bar for recklessness by promising "minimum safety for maximum fun." Sounds like Manaka is already on the right wavelength, but just for funsies, the promo clips shown of him so far have poor Eric getting his wish and getting knocked off of various wheeled vehicles.
Jasper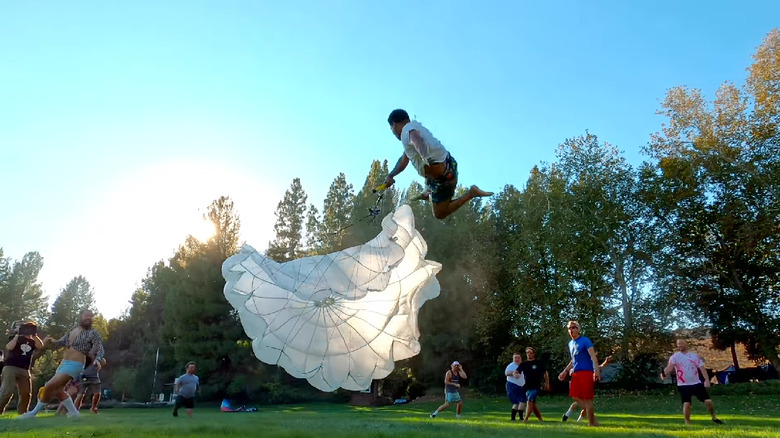 MTV Entertainment Studios
In the featurette, Jasper Dolphin comes out swinging with energy, asserting his name along with Zach's before body surfing down what appears to be a makeshift lube-filled slip n' slide. However, he admits that his first thought upon getting the call-up to join the crew was, "I hope I don't die. But then I was like, 'At least I'll die on camera.'" Fair enough; that's one of the best qualifications one could have for this position. Like many of the Jackass fellows, Jasper is a multi-hypenate: he is a founding member of LA hip hop collective Odd Future, which also sports Tyler the Creator as a founder. Together, the duo would star in Adult Swim sketch show "The Loiter Squad" with a cadre of guests and Odd Future members. Bonus: "The Loiter Squad" happens to share a production company with "Jackass" in Dickhouse Productions, and Jeff Tremaine directed the series which included its own "Blackass" segment.
Rachel Wolfson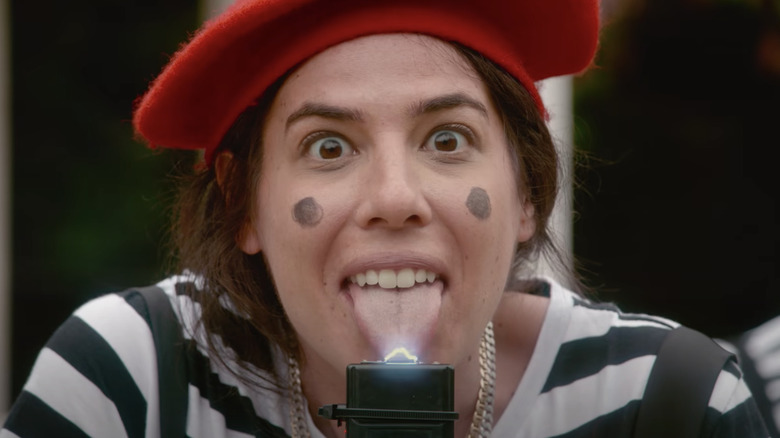 MTV Entertainment Studios
Comedian Rachel Wolfson calls the "Jackass" crew her childhood heroes, which might make some of us feel ancient but as the first woman to officially join Knoxville and Co., Wolfson just might become a hero hooligan to a new crop of rowdy kids. She can be seen in the featurette playing the straight man to another humiliating prank, and again taking a taser directly to her tongue, but this isn't her first shenanigan; Wolfson could be seen on the Snapchat series "Fail News" with her fellow "Zackass." All together, this band of merry maniacs aim to build the "Jackass" legacy in the best way they can: dumb pranks and dumber stunts.
"Jackass Forever" hits theaters on February 4, 2022.