The Deleted Jackass: Number Two Scene That Featured Luke Wilson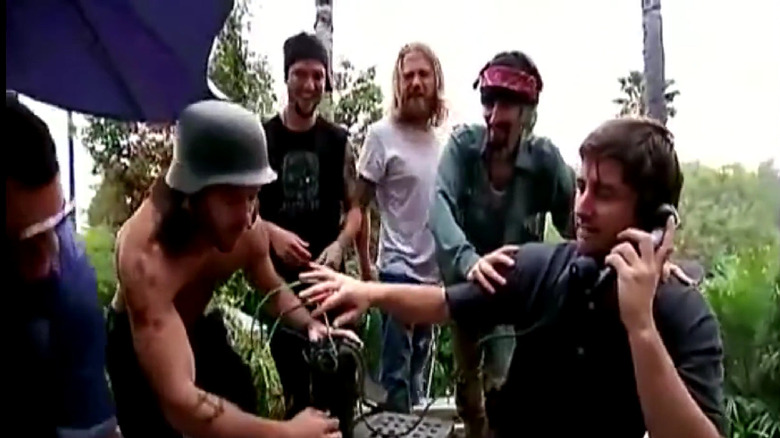 MTV Entertainment Studios
You ever hear about the time the "Jackass" boys gently requested to zap Luke Wilson's balls?
It was a beautiful, balmy day in an undisclosed location — the production team worried about fan interference and so kept details of their whereabouts under wraps during shooting. The reckless boys of the "Jackass" crew — by now Johnny Knoxville, Bam Margera, Steve-O, Chris Pontius, Ryan Dunn, Dave England, Jason "Wee-Man" Acuña, Danger Ehren, and Preston Lacy — were enjoying the fruits of success. The reality comedy series "Jackass" had only lasted three seasons in the early aughts, but gathered enough purchase in the pop culture conversation to launch an entire franchise based on the hasty stunts and gross-out hooliganism of a core group of madmen with a death wish. Following the commercial success of "Jackass: The Movie" in 2002, the fruit was ripe for plucking and a sequel was inevitable.
For "Jackass: Number Two," director and executive producer Jeff Tremaine had his crew shooting some incredible moments: Steve-O chugs beer through a tube inserted into his butthole; director John Waters makes Wee Man "disappear" with the wave of a magic wand and a friend; and some of the boys narrowly escape a bull goring whilst clinging for life onto rickety seesaws. There are often scenes and pranks that are left on the cutting room floor due to budget constraints or controversy, but one deleted scene from "Jackass: Number Two" has a special guest appearance from "Bottle Rocket" star Luke Wilson.
'Any Chance of You Putting it on Your Balls?'
This bit of tomfoolery started with Knoxville, Pontius, and Jackass regular Loomis Fall, who launch the segment, "The Shock Phone." In it, a WWII-era field phone is rigged to deliver a nasty little electric current to whomever is foolish enough to allow its leads to be attached to them. First up is Loomis, who is shocked speechless after getting a jolt to his fingertips. Bam Margera follows, getting a zap to his toes and pleading to his friends, "Ohh, don't do it!" Not to be outdone and unable to turn down any dare ever, Steve-O reluctantly takes his voltage to the bare lips like a champ before the phone receiver is finally handed to Luke Wilson.
"Any chance of you putting it on the balls?" Knoxville asks. Wilson curtly declines, but offers his hand up to Johnny with a casual practicality. As the current courses its way through the Emmy award-winning actor's hands (with the leads clamped onto the webbing between his fingers, no less), his face registers a curious pain level not unlike the existential anguish he displays as the dispirited Richie in Wes Anderson's "The Royal Tenenbaums," no demoralizing Elliott Smith needle drop needed. Ultimately, though, it gave him the pick-me-up he needed that day. "Wow, I actually feel energized after that," he says. One can see why it was deleted: in order to be a worthy Jackass stunt, someone really should have put the leads on their own testicles. Even a taint placement would be acceptable, as it was with the muscle stimulant electrode party of "Jackass: The Movie." Ultimately, the scene was deleted from the film ahead of its September 2006 premiere, but the final product does have Wee Man lured into sitting on an electrified stool, so how mad can we really be?