This Jackass Stunt Was So Expensive, They Had To Scrap It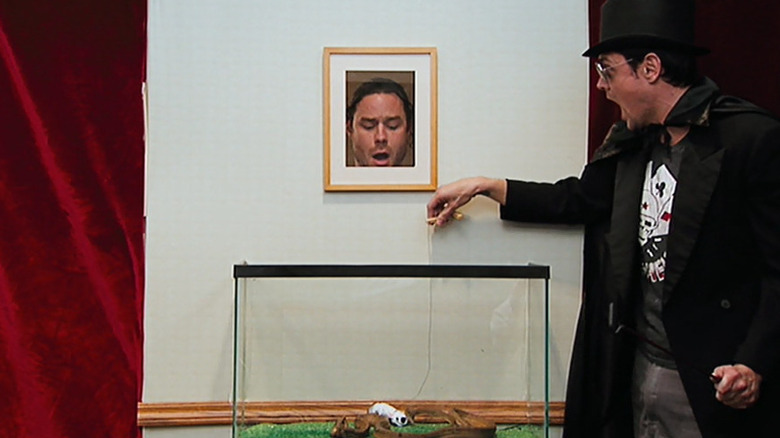 MTV Entertainment Studios
Watching the trailer for "Jackass Forever," you'd think that this band of merry stuntpeople had infinitely loose purse strings in order to enable the rowdy madness that director Jeff Tremaine teases for the upcoming reality-based comedy film: there are exploding toilets, ball taps from heavyweights, and, of course, someone gets shot out of a cannon in their underwear. Danger is the business of these hooligans, and business is booming.
The troupe — who, in "Forever," are comprised of creator Johnny Knoxville, Steve-O, Wee Man, Chris Pontius, Dave England, "Danger" Ehren, Preston Lacy, Sean "Poopies" McInerney, Jasper Dolphin, Zach Holmes, Rachel Wolfson, Eric Manaka, and Compston "Darkshark" Wilson, plus celebrity guests — have come a long way from the early days at '90s skateboard culture magazine Big Brother, where the high-liability rumblings began with Knoxville offering to do nutso stunts like testing tasers on himself. A zeitgeist TV series, countless spin-off shows, five movies, and a video game later, and the "Jackass" franchise has secured a hard-earned but beloved spot in the pop culture consciousness.
In a GQ interview from May of 2021, Knoxville revealed that along the way to fame and bone-busting notoriety, some stunts were so risky that they had trouble getting them insured, and were thusly left in the drafts while less expensive stunts came to fruition on the big screen. The "Jackass" crew's first feature effort in 2002, aptly titled "Jackass: The Movie" operated on a modest budget of $5 million. It contained the expected slapstick and mayhem: Steve-O snorted lines of wasabi sauce, while Pontius took an open-paw slap to the face from a mountain lion. But one planned humiliation never made it to audiences. According to Knoxville, Pasadena native Chris Pontius was supposed to take part in the rural religious rite of snake handling, by strolling into a Pentecostal church and greeting death like an old friend. Johnny tells GQ:
We wanted some silly bit. I think it was, like, Pontius was going to dress like the devil and handle snakes in one of the Pentecostal churches. And it was going to be, like, $5 million to insure. We're like, 'Okay, we're not doing that bit!' You hear that we're going to be number one, and it's just ridiculous. What a ridiculous feeling. What a silly film to be number one.
Do Not Try This at Home, Dummy
Pontius is no stranger to reptiles or boneheaded decisions: as longtime "Jackass" character Bunny the Lifeguard (he has many, to include the gyrating Party Boy and Pontius the Barbarian), the "Wildboyz" co-host has previously tussled with alligators, and even had the tip of his penis bitten by a snake. Nothing is ever really off the table for the Jackass crew until the budget has a say, it seems.
In the same piece, Steve-O says that he raised concerns about his friend Knoxville going up against a bull (again) for the new installment, but failed to persuade the daredevil to do anything but move forward full speed ahead. The result: a broken rib, a broken wrist, a concussion, a brain hemorrhage, and — most important to Knoxville — some great footage for "Jackass Forever." It's the same entertainer's drive that brought forth some of the most bonkers stunts the millennial generation had ever seen, from Johnny's short bout with the 350-plus pound fighter Butterbean (which ended in a brutal concussion for exactly who you'd expect) to Steve-O's excruciatingly metal "Off Road Tattoo." No bar is too low for the rambunctious boys of the Jackass crew, but sometimes a budget can be.
"Jackass Forever" arrives in theaters on February 4, 2022.