Raising Dion Season 2 Clip Offers A Tour Of A Tween Superhero's Lair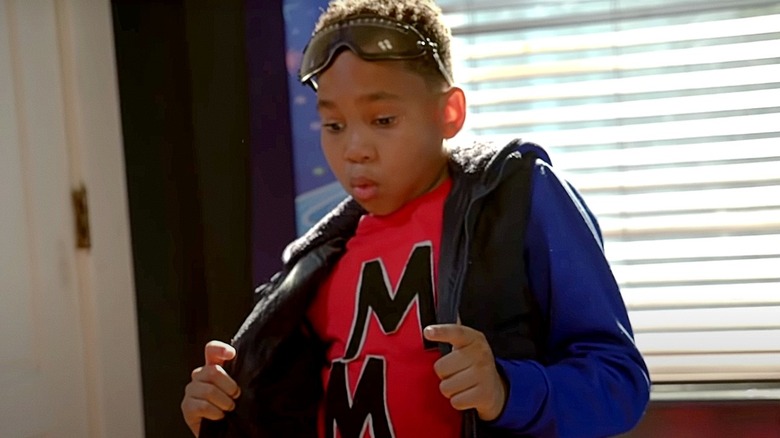 Netflix
Anyone who has ever dreamed of being a superhero has wanted the best superhero lair. Batman has his Bat Cave, Doctor Strange has the Sanctum Santorum, and the X-Men have Xavier's School for Gifted Youngsters. If you ever set up your bedroom as a secret headquarters as a kid, you're going to want to watch this new featurette from the Netflix series "Raising Dion." 
Last week we got some key art and a new trailer for "Raising Dion" season 2, giving us a look at Dion's continuing superhero training at Biona. Today we have a featurette giving us a tour of Dion's secret superhero lair.
There is all sorts of cool stuff in there, from Pinchy the crab (who is also a super) to a picture of Dion's best friend Esperanza (Sammi Haney), weather books to work out energy issues, because of some advice from Dion's dad (Michael B. Jordan), a picture of Dion saving a cat in a tree, and — most importantly — an extra springy bed. Superheroes need their rest, you know.
Welcome to My Lair
Here is the official synopsis for "Raising Dion" season 2:
Raising Dion follows the story of Nicole (Alisha Wainwright) and her son Dion (Ja'Siah Young) after Dion starts to manifest several mysterious, superhero-like abilities. Two years after defeating the Crooked Man (Jason Ritter), Season Two follows Dion as he continues honing his powers with the support of his mom and Tevin (Rome Flynn), his Biona trainer who catches Nicole's eye. After befriending new student Brayden (Griffin Robert Faulkner) – a fellow powered kid – a series of alarming events unfold, and Dion learns that danger is still looming. Navigating twists, turns, and surprise visitors, Dion and Nicole must prevail again — not just to save themselves, but the entire city of Atlanta.
It looks like Dion has his work cut out for him, from what we've seen in this featurette and the new trailer. I don't know about you, but I'm very happy young Dion is fighting the baddies for us! Of course, I now want to own my very own superpowered hermit crab like Pinchy.
The "Raising Dion" cast includes Alisha Wainwright (Nicole Warren), Ja'Siah Young (Dion Warren), Jason Ritter (Pat Rollins), Jazmyn Simon (Kat Neese), Sammi Haney (Esperanza Jimenez), Griffin Robert Faulkner (Brayden Mills), Ali Ahn (Suzanne Wu), Gavin Munn (Jonathan King), Rome Flynn (Tevin Wakefield), Aubriana Davis (Janelle Carr), Tracey Bonner (Simone Carr), and Josh Ventura (David Marsh).
The new season of "Raising Dion" premieres February 1, 2022, on Netflix.