The 15 Best Humphrey Bogart Movies Ranked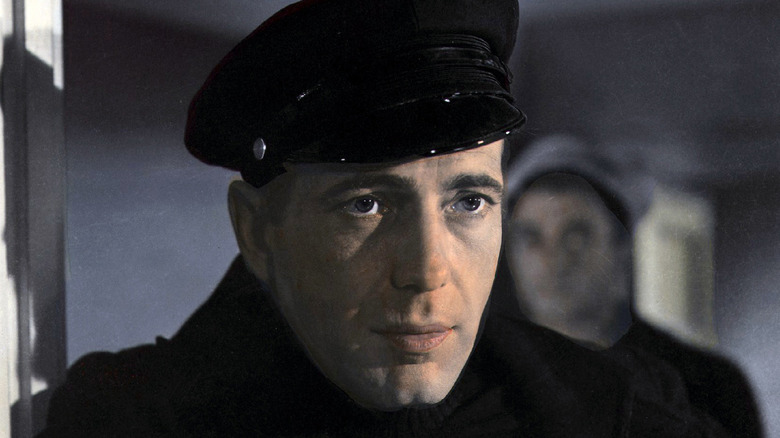 United Archives/Getty Images
Compared to the stars of today, Humphrey Bogart looked different. He talked different. This was not a man of this time, which tracks for a star born in the 1800s. The icon's wealthy New York family members were direct descendants of the city's first Dutch settlers, and welcomed baby Bogie to the world on Christmas Day, 1899.
Like many actors, Bogart started on Broadway. He made his stage debut in 1921, playing a Japanese waiter who had one line, according to the Associated Press. Through the 1930s he would become a respected character actor, but it took him 20 years to land the role that changed film history: Sam Spade in John Huston's 1941 film, "The Maltese Falcon."
After that, Bogart became a genre unto himself. While his career was cut short when he died of throat cancer in 1957 at age 57 — his fourth wife, actress Lauren Bacall, outlived him by nearly 70 years — before that tragic end, the actor made over 80 films, including numerous classics. Bogart embodied the Americana of his time. His heroes were fast-talking tough guys with dark but incorruptible souls. His rise coincided with World War II, and embodied the character of a country that stood up to the Nazis. He's a bit older than that greatest generation, but that kept him on the home front, where he played avatars for rugged American virtues, and his best works are time capsules that preserve how his country saw itself in its most triumphant hour.
15. Dark Passage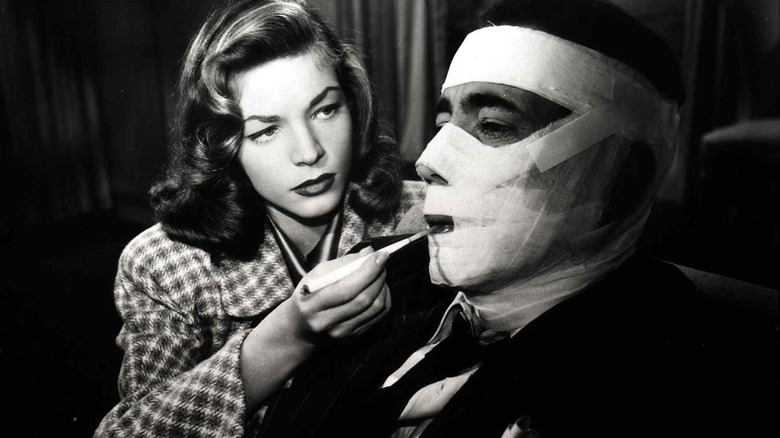 United Archives/Getty Images
Oddly, the opening act of 1947's "Dark Passage" is shot in first person, almost like a video game. The stylized acting of 1940s films hilariously compounds the effect, as characters talk directly to the camera and move stiffly like bots from "Grand Theft Auto." You half expect to hear, "Can I help you escape from prison and recover your good name?"
In this melodramatic film noir, Humphrey Bogart plays a convicted murderer, Vincent Parry, who escapes from San Quentin. Just as he tastes freedom, Lauren Bacall swoops him up. She thinks her own father was wrongly sentenced for murder, too, and is determined to help.
"Dark Passage" is the only so-bad-it's-good film on this list. After Parry has plastic surgery to evade capture, the film switches to a conventional perspective, but since we don't get eyes on the legendary lead until act three, Bogie gets nip-tucked to look exactly like Bogie. The story only gets more absurd from there. This film is an amusing encapsulation of noir's twisty tropes, and one of the funnier pieces of accidental satire from the studio era.
14. The Desperate Hours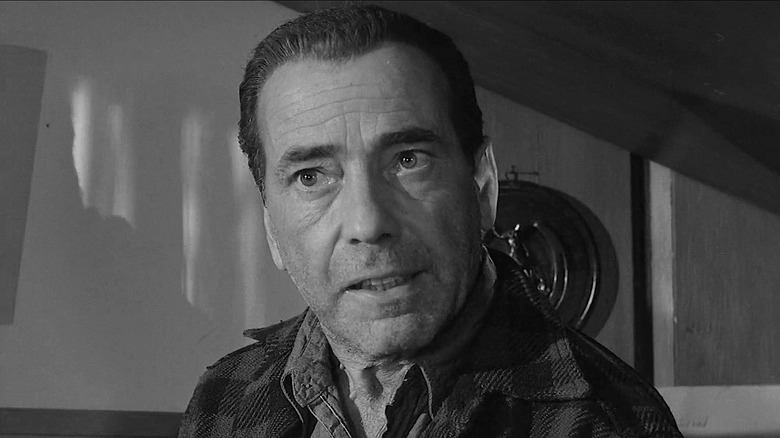 Paramount Pictures
In 1978, "Halloween" got a lot of buzz for introducing a horror movie slasher to an ordinary suburb, but in 1955 Humphrey Bogart brought a more plausible criminal terror to a comfy nuclear family and their plush home in "The Desperate Hours."
In this unflinching film, Bogart is no lovable rogue. The aging actor plays Glenn Griffin, a prison escapee on the run. He and two ruthless accomplices hole up inside the home of an idyllic family as the trio waits for a delivery of cash. This is Bogart's second-to-last film, and features his most unrepentant villain since he played a gangster on the lam 20 years earlier in "The Petrified Forest." Griffin has nothing good in him. He's full of rage at this upper-middle-class family, and makes a mess of things in their pristinely carpeted mid-century sanctuary.
The film's concept was called "not entirely original" by The New York Times in 1955. Maybe it's not fresh, but given that the prime of Bogart's career came in the 1940s, he only made a handful of films that were shot in a crystal-clear widescreen aspect ratio. It's nice to get a clean look at the legend that upscales to 4k, if only to approximate his stature at the grand old movie palaces of his heyday.
13. Key Largo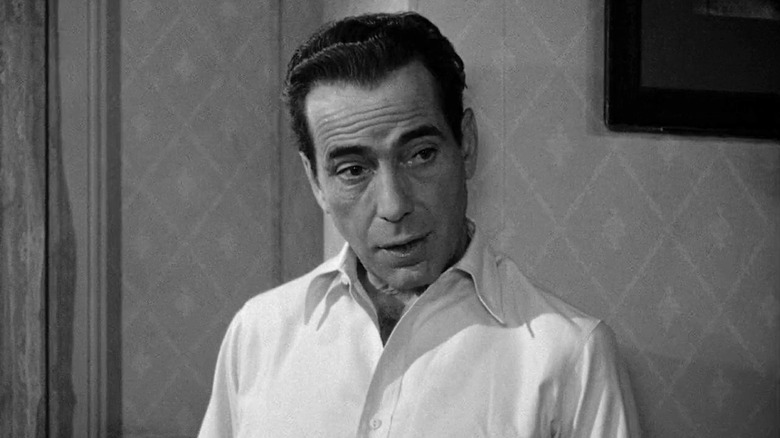 Warner Bros.
In 1948, Humphrey Bogart teamed up with his fourth wife, Lauren Bacall, for their fourth and final collaboration, "Key Largo." John Huston, Bogie's other definitive creative partner, directs as the craggy-faced star and fresh-faced Bacall play guests trapped in a Florida hotel during a hurricane who are taken hostage by a menacing gangster named Johnny Rocco (Edward G. Robinson).
Films where an ensemble of stars hunker down during a storm could be a genre of their own. At the very least, it's a great set up for inciting a tense atmosphere. The screenplay for "Key Largo" was adapted from a play by Maxwell Anderson. As such, it's a dialog-driven story that inspired another famously talky director, Quentin Tarantino, as he wrote "The Hateful Eight," which also features a claustrophobic script in which strangers wait out a storm in cramped quarters.
"Key Largo" brings the tension to a boil as Rocco's sadistic nature is exacerbated by his boredom. Bogart's character, Frank McCloud, is a former soldier, and with encouragement from Bacall's Nora Temple must decide how much bullying he's going to take from this grubby little thug. Notably lifting the group's courage is a disabled senior played by Drew Barrymore's great uncle, Lionel Barrymore, the man who two years earlier portrayed the miserly Mr. Potter in "It's A Wonderful Life." If you don't mind films that are staged like plays and shot almost entirely on the Warner Brothers lot, the stellar cast and thrilling finale make "Key Largo" worth a look.
12. Sabrina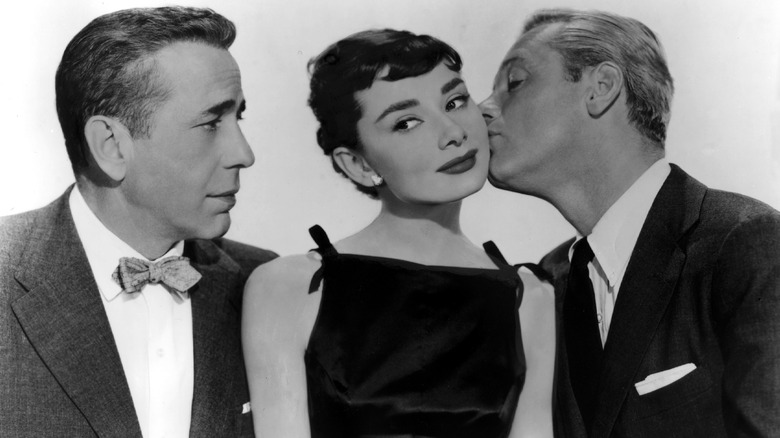 United Archives/Getty Images
An aging Humphrey Bogart (54 years old) clashed with his much younger co-stars Audrey Hepburn (age 24) and William Holden (age 35) on the set of 1954's "Sabrina." Hepburn and the married Holden were having a real affair, and suddenly Bogart was "feeling unsure of himself," according to the book "Audrey and Bill" (via Mail Online).
The chain-smoking Bogart wears a toupee for the role, and unlike many modern actors looks his years. The film is about a love triangle between the three stars, but the age gap was so big that the crew claimed that Bogie "looked old enough to be Audrey's grandfather." To avoid some of the May-December awkwardness, much of this amusing screwball comedy is wildly convoluted, seemingly to keep Hepburn and Bogart apart.
Bogart plays Linus, the dutiful eldest son of a patrician family that lives on a Gatsby-esque estate. This is the icon's only film with Hepburn, who plays the titular Sabrina, his chauffeur's spirited daughter. She only has eyes for the handsome, thrice-wed younger son, David, played by Holden. The brothers have very different reasons for courting Sabrina, but the film's romantic tension falls flat, maybe because Hepburn was actually in love with her co-star. But it's not just the palace intrigue that makes "Sabrina" a must-see; there are some genuinely funny scenes, and the film has period style in spades.
11. Sahara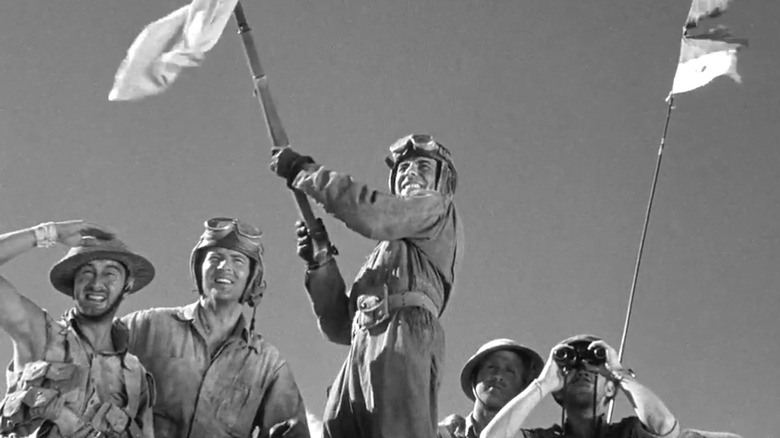 Columbia Pictures
Humphrey Bogart's career took off just as World War II hit its crescendo. Likewise, the fast-talking tough guy eventually had to move from the conflict-adjacent characters in movies like "Casablanca" to the heroes in actual war films. In 1943's "Sahara," Bogart's famously rugged, plain-spoken grit makes him the perfect can-do soldier.
The film opens with a note that an American tank battalion has joined the French in Africa, fighting against German forces to gain some battle experience. Bogart is a tank sergeant, but when he and his sputtering piece of artillery are surrounded, his crew picks up some French stragglers. This new mixed company must navigate a perilous tactical retreat so that they can get back into the fight.
As they navigate the way, Bogart picks up even more men: a Sudanese corporal and a captured Italian. Along with the Brits, French, and Americans on board, this tank represents a very global coalition against the Nazi threat, which is mostly saved for the thrilling climax; the more pressing concern is the relentless desert heat. In this remarkable war film, which brims with nostalgia for the period, a motley brotherhood of allies takes on the whole of an inhospitable world.
10. The Petrified Forest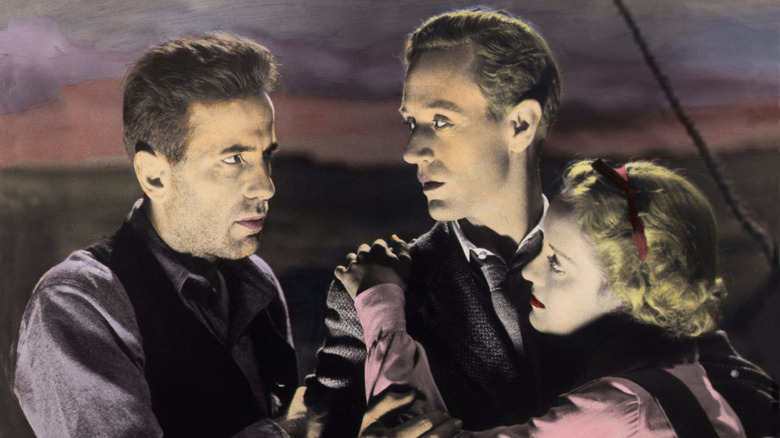 United Archives/Getty Images
You have to admire the studio filmmaking of the 1930s. 1936's "The Petrified Forest" is set largely in the desert of Arizona, but takes place entirely inside a Warner Brothers sound stage.
Until rather recently, Hollywood films required consistent and extremely bright conditions. The matte paintings that stand in for the stark setting are gorgeous, especially when compared to modern green screen sets that simulate realism but seem all the falser for their efforts. The film is adapted from a Broadway play, and the handcrafted mise en scène captures the spirit of the stage. The suspension of disbelief is up to you, and this crime thriller quickly rewards the effort.
The plot follows a penniless European hitchhiker (Leslie Howard) who meets a plucky small-town girl with big dreams, played by Bette Davis. He's left the grandeur of the old world for a rugged American adventure, and gets his wish when he runs into a ruthless gangster on the lam, played by Humphrey Bogart. Before Bogie was a leading man, these character roles were the actor's niche. Bogart is somewhat underused, but this intimate drama, set almost entirely inside a rural gas station, was so compelling that it vaulted the actor and his sad eyes into the roles that put his name on the Hollywood Walk of Fame.
9. The Big Sleep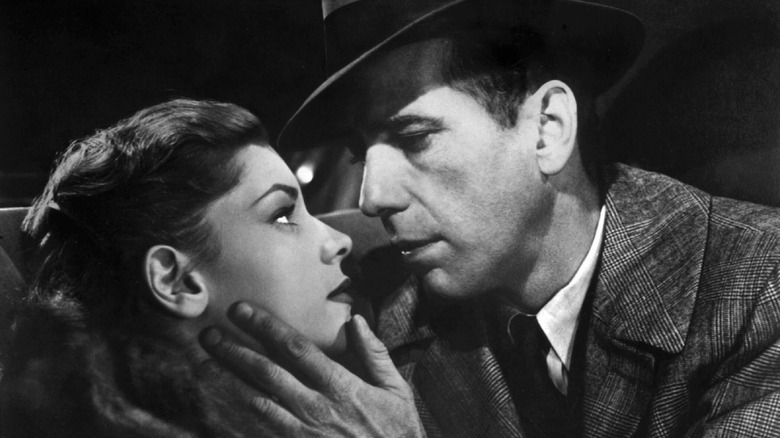 United Archives/Getty Images
Howard Hawks' "The Big Sleep," released in 1946, is based on the novel by legendary hard-boiled detective writer Raymond Chandler. The story is so convoluted that during filming Hawks famously contacted the author to clarify a plot point; even Chandler wasn't sure what had happened, notes The Guardian. Neo-noirs like "The Usual Suspects" have twisty plots too, but, counterintuitively, they nimbly jump around to make the exposition clear. But here, Humphrey Bogart's motor-mouthed double-talk is your only guide to the long list of suspects that propel the mystery forward.
This is also Bogart's second outing with Lauren Bacall, following "To Have or Have Not." The duo's onscreen chemistry is no mystery. Though Bogart was 45 and Bacall was 20 (per Biography), they were married three months after filming concluded.
The phrase "the big sleep" is a gangster's euphemism for death. Appropriately, this film combines elements of film noir with the gangster films of the '30s. Bogart plays Chandler's iconic private eye Phillip Marlowe, who is hired to help a young woman resolve a gambling debt and is pulled into a labyrinthine plot of blackmail and murder so notoriously confusing that it remains an open question whether or not the film actually makes sense. But Chandler's novels were always more about mood than the underlying puzzle, so famously muddled in this essential classic.
8. The Harder They Fall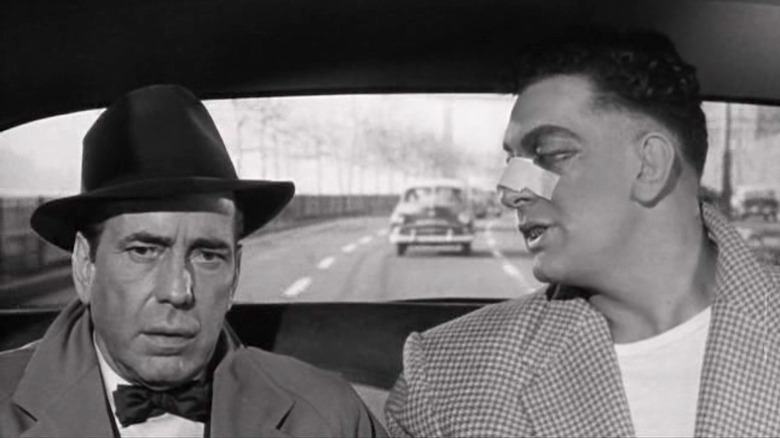 Columbia Pictures
In 1956, Humphrey Bogart released his final film, "The Harder They Fall." He died seven months later, according to The New York Times. The stricken star lacks his usual pep, but if Bogart was feeling unwell, he channeled it into the most understated, naturalistic performance of his career. In the film, he's Eddie Willis, a New York sportswriter who becomes a promoter for a heavyweight boxing prospect with the stature of a Greek god, but the punching power of a Greek salad.
Willis justifies becoming a fight-fixing grifter for this paper tiger with one of his signature streetwise musings. "Money is money," he says. "What does it matter where you get it?" But, as it turns out, corruption is a slippery slope. In addition, Willis has a crucial flaw as a promoter: a conscience. In this morality play, that weakness will cost him almost as much as his greed. 
In the best boxing film, Martin Scorsese's "Raging Bull," Jake LaMattoa can't get a title shot because he won't bend the knee for the mob that once ruled the sweet science. The dark thing about "The Harder They Fall" is that there aren't any gangsters behind the scenes — just ruthless bookkeepers in suits, expertly organizing the crime. This isn't Bogart's best film, although it's a very fine one.  It does, however, contain by far his best performance, making it a fitting send-off as his last outing under the bright studio lights.
7. To Have and Have Not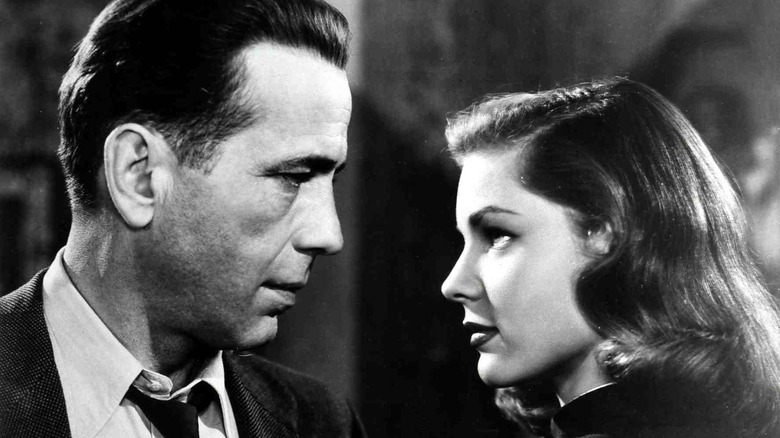 United Archives/Getty Images
1944's "To Have or Have Not" came two years after "Casablanca" and might as well be a prequel. Set just before the events of its famous predecessor, all the elements are there: World War II, the French, a mysterious dame, a swanky bar with a piano player who takes requests, and Bogart, running a local business while desperately trying to appear neutral to the Nazi scourge.
This is also Lauren Bacall's debut film, but she doesn't act like it. Here, she takes over from Ingrid Bergman as Bogart's love interest. The two began a real love affair behind the scenes, and were married just over a year later.
Based on a novel by Ernest Hemingway, Howard Hawks' "To Have or Have Not" was made when the actual "brothers Warner," as Variety called them in 1943, were still running the studio. The film was derided as a "Casablanca" copy, but became a big hit anyway. Visually, it's a film noir, but it isn't all grit. There's a touching relationship between Bogart and his "rummy" sidekick, an alcoholic but avuncular figure who commands Bogart's loyalty for no self-interested reason. 
The classic Bogart role is the American anti-hero who is so believably corrupt that he convinces his often-European interlocutors the new world is the same as the old. Both "Casablanca" and this film are allegories for the United States' involvement in World War II, and reflect the era's optimism about the hard-nosed virtue of the American character.
6. The African Queen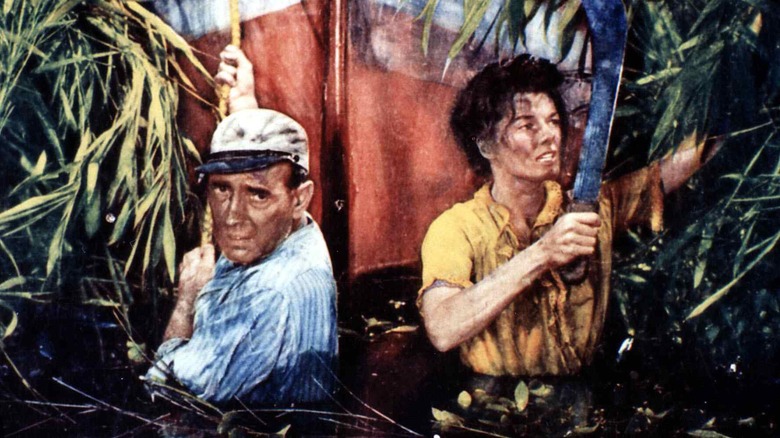 United Archives/Getty Images
Humphrey Bogart's only Oscar win was for 1951's "The African Queen." In this adaptation of the C.S. Forester novel of the same name, Bogart plays a boozy riverboat captain in Africa just as World War I is breaking out. Katharine Hepburn is a buttoned-up English missionary who lives with her brother, singing hymnals to the natives. When German soldiers kill her sibling, it's clear that the war is coming to Africa, and Hepburn's force of personality convinces Bogart's blue-collar river rafter to make a run for it.
From there, a light take on "Heart of Darkness" unfurls as the missionary and the drunken sailor, the ultimate odd couple, must navigate this impossible river — and their unlikely feelings for each other.
Romantic adventure films rarely work. After a mere two hours of screen time, you need to somehow feel nostalgic for the perilous journey, events that you saw unfold only a few minutes ago in real time. Thankfully, John Huston's direction and the performances from Bogart and Hepburn get you into that headspace. 
Films from this era were finally moving out of the studio and into the real world. This movie was actually shot largely in Africa (via The Guardian), and the real locations are a huge leap forward for a film that never stops moving. Many later films, including "Indiana Jones and the Temple of Doom" and "Romancing The Stone," try to capture the same magic, but fall short of the simple pleasure of this daring downstream cruise.
5. The Treasure of the Sierra Madre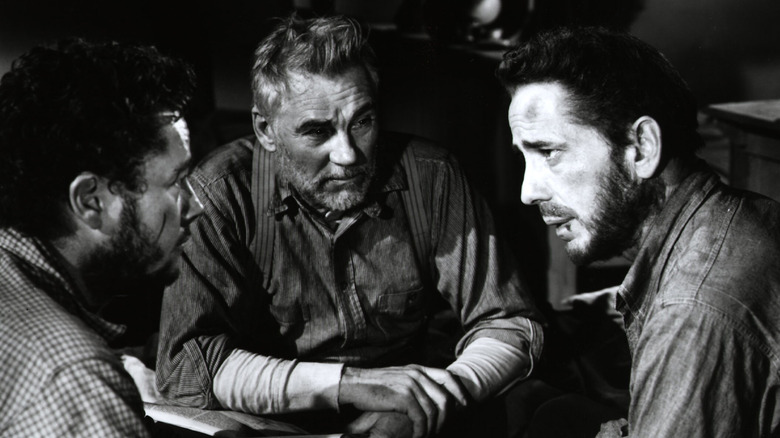 United Archives/Getty Images
In John Huston's "The Treasure of the Sierra Madre," Humphrey Bogart plays Dobbs, a compulsive gambler in 1920s Mexico on a serious cold streak. That's when he meets a like-minded wanderer named Curtin (Tim Holt) and an old prospector, Howard, played by director John Huston's father, Walter. "I know what gold does to a man's soul," Howard warns, but the three ignore this foreshadowing and set out into the wilds of the Mexican desert to search for their fortune.
This study of greed also struck gold at the Academy Awards, with a nomination for best picture in 1949. Walter Huston won the Oscar for best supporting actor, while John Huston won for direction and for adapting B. Traven's 1927 novel.
The film makes it apparent that Dobbs and Curtin have earned their hard luck. They're foolish, careless with the money they do have, and mock Howard at the first sign of hard work, even as he easily outpaces them. When they do strike it rich, suspicions quickly grow. Dobbs' green-eyed turn is particularly stark and not totally justified by the script, but it follows a simple course: The closer he gets to being rich, the more his paranoia and avarice make that impossible.
4. In a Lonely Place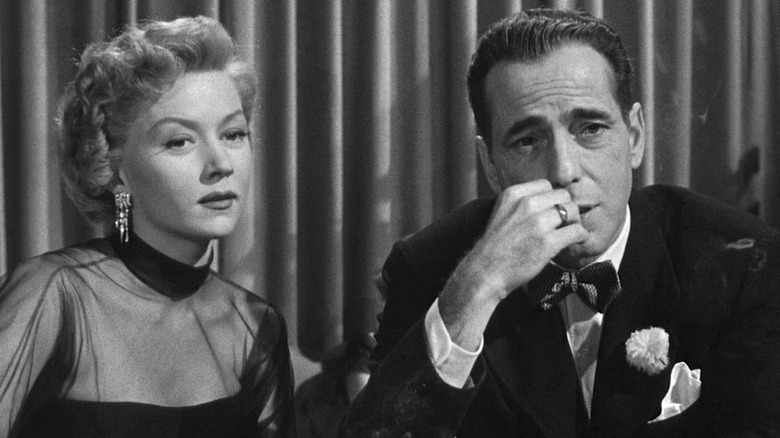 Columbia Pictures
Humphrey Bogart and Alfred Hitchcock never worked together but 1950's "In a Lonely Place" in 1950 is the actor's most obviously Hitchcockian thriller, with nods to films like "Rope." Bogart plays a semi-washed-up Hollywood screenwriter with a hair-trigger temper and hilariously phallic name: Dixon Steele. This talented but troubled Tinseltown cad becomes the obvious suspect when he takes home a coat-check girl who winds up murdered.
Steele treats becoming the prime suspect in a violent slaying like a joke, and Bogart's trademark unflappability suddenly reads like a killer's callousness. A film noir hero is always flawed, but generally, Bogart's bad boys don't mistreat women. He intrigues them, flirts with them, pours them drinks, and lights their cigarettes. He'll even stick his neck out for the right girl — after he complains about it some. Bogart's best characters are good men keen on keeping their more gallant virtues a secret. They only pretend to be ruthless.
A decade into the actor's prime, "In A Lonely Place" threatens to invert this formula. It thrillingly toys with the expectations created by the star's onscreen persona to create tension in a dark and twisty love story, one that surely pushed the Hays Code to its limit.
3. The Maltese Falcon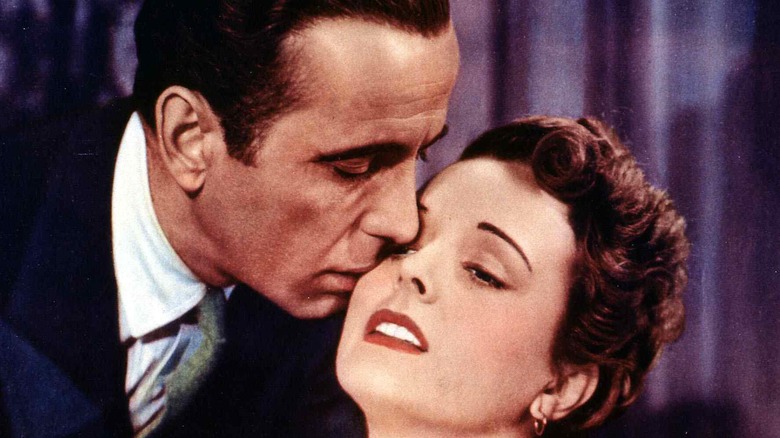 United Archives/Getty Images
American pop art is American high art. The rebellion that founded the country established an indelible ethos that permeates all of the nation's mythologies. Nowhere outside of the actual Constitution is this spirit more enshrined than in the films of Hollywood's golden era. That means that there's something more profound going on in this twisty detective story than a search for a missing statue.
Dashiell Hammett's "The Maltese Falcon" was first published as a serialized story in the pulpy weekly periodical "Black Mask." The magazine was created to subsidize the publisher's more high-brow literary magazine, "Smart Set." But, of course, it's the gritty detective stories that have endured.
1941's "The Maltese Falcon" made both Humphrey Bogart and director John Huston Hollywood institutions. Arthur Edeson's iconic cinematography, inspired by German expressionism, more or less invented the shadowy noir aesthetic. Bogart plays private eye Sam Spade, a quintessential American anti-hero. PIs are the era's chivalric urban cowboys. Like earlier figures of revolutionary lore, a group that includes everyone from George Washington to the white-hatted gunslingers of the American West, they operate just outside the law. That's what it takes to find the goods. 
In the film, Spade clashes with a loquacious European treasure hunter and must outwit this dishonest and rotund figure of Continental decadence. As lean and mean as the new world he embodies, Bogart's fast-talking flourishes mimic his adversaries' corruption, but he'll only triumph if higher ideals remain his guide.
2. The Caine Mutiny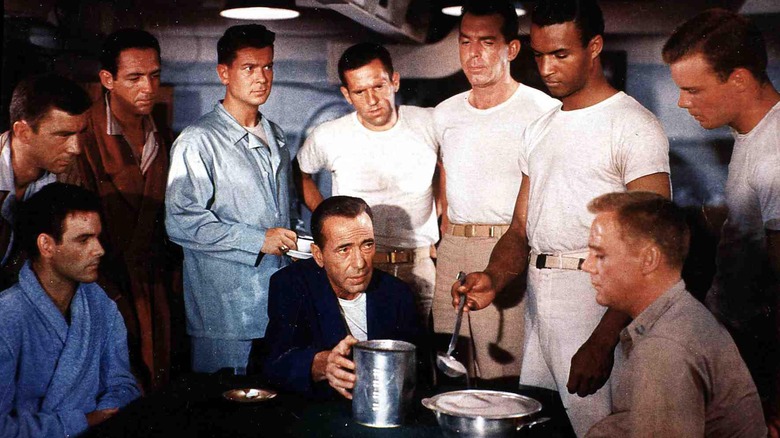 United Archives/Getty Images
In 1954's "The Caine Mutiny," Bogart plays a hard-charging World War II Navy captain who takes command of a rag-tag ship whose code of conduct has fallen below the waterline. But, when it turns out that it's really the captain who isn't seaworthy, the crew faces a life-or-death dilemma.
All large ships are societies unto themselves, and "The Caine Mutiny" is a study of power on board a floating fiefdom. Bogart's Commander Queeg thinks military regulations and his own erratic caprices should rule, but he's an emperor with no clothes. In war, it's hard to survive that level of detachment from reality.
"The Caine Mutiny" is a taut war drama, not an epic. The story is terrifically focused, and the film features Bogart's near-best performance as its tragic, larger-than-life villain. Be warned, however, that this fantastic film may put grief in your heart for the way that sloppy CGI has gutted the genre. The movie expertly deploys a subtle use of miniatures, matte effects, and epic panoramas filmed on real, titanic U.S. warships. But what starts as a war movie evolves into a tense courtroom potboiler. If you loved "A Few Good Men" but always wanted to see what led to that code red, "The Caine Mutiny" will float your boat.
1. Casablanca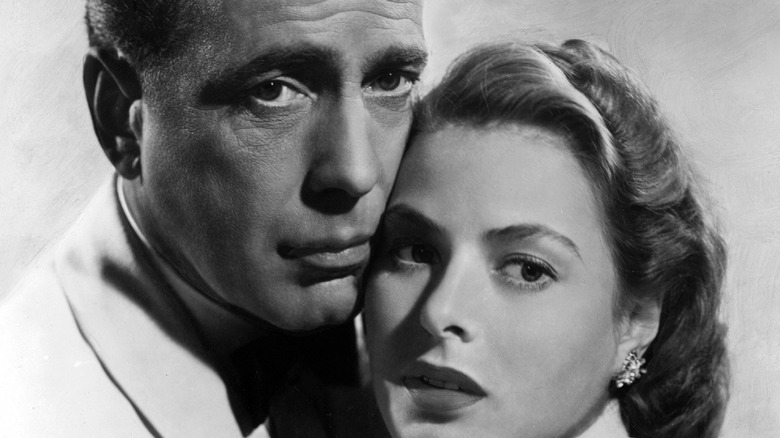 United Archives/Getty Images
1942's "Casablanca" may be the best film ever made, but it's better to think of it as the greatest achievement of Hollywood's Golden Age.
That's not to say that it's perfect. Bogart plays Rick, a straight-talking American expat running a classy bar in the North African port town of Casablanca, the inspiration for the Mos Eisley spaceport in "Star Wars." Rick is a former freedom fighter turned self-interested businessman in this wretched hive of scum and villainy. The incandescent Ingrid Bergman plays the woman who ghosted him years earlier. When she shows up looking to escape Hitler's thugs, Rick refuses and has a big cry about it. The iconic tough guy won't lift a finger against the Nazi's occupation because a girl once hurt his feelings.
This puzzling flaw in Rick's tough-guy façade is merely his dilemma, though. After all, he must refuse his initial call to action on some pretense, and if you can peer through the layers of silken gauze covering the lens to get a clean look at Bergman, maybe Rick's disappointment isn't so far-fetched. Besides, Rick's job is to embody American neutrality. This film was made in 1942, two years before D-Day, and Rick's reluctance stands in for America's initial isolationist instincts. When our hero finally decides to join the fight, it's the beginning of something very beautiful indeed.