The Daily Stream: Parker Posey Finally Experiences The Big Oh In The Oh In Ohio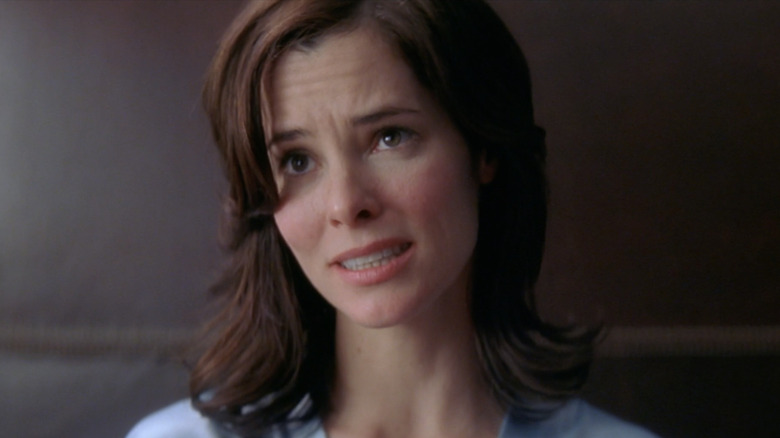 Cyan Pictures
(Welcome to The Daily Stream, an ongoing series in which the /Film team shares what they've been watching, why it's worth checking out, and where you can stream it.)
The Movie: "The Oh in Ohio"
Where You Can Stream It: Peacock, The Roku Channel
The Pitch: Priscilla Chase (Parker Posey) is the hottest, most magnificent woman in Cleveland, Ohio, and married to miserable public high school teacher, Jack (Paul Rudd). Their marriage is failing, Jack is growing resentful toward his wife's increasing success, and struggling with the fact he's never actually given his wife an orgasm. Frustrated with his wife's "sexual dysfunction," Jack moves out of their family home and begins a questionable (and super illegal) relationship with Kristen (Mischa Barton), one of his students. With Priscilla left alone, she sets off on a path of discovering the pleasure she's been lacking, encountering the hot girl who works at the adult mart (Heather Graham), and developing an unlikely relationship with Cleveland's legendary "pool guy," the twice-her-age Wayne (Danny DeVito).
Why It's Essential Viewing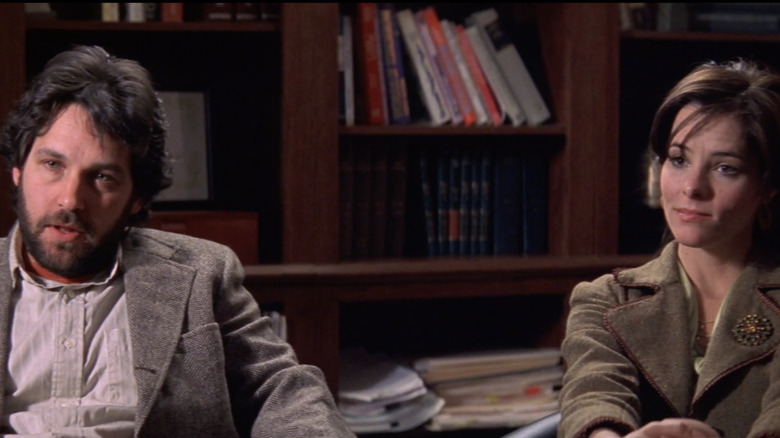 Cyan Pictures
Shortly after my wife and I relocated to Los Angeles from Cleveland, we came across this film on Peacock and were drawn in by its hastily photoshopped poster, boasting names of some of our most favorite actors. A quick Google search showed the film was a financial flop and a critical failure, which only made us want to see it even more. There was no way this film could be good, right? Wrong. "The Oh in Ohio" is a spunky, forgotten, indie aughts comedy that was wholly misunderstood upon its release, and unfairly maligned by people who couldn't believe for one second that someone who looks like Danny DeVito could provide better sex than someone who looks like Paul Rudd.
Paul Rudd runs his marriage into the ground due to his perceived failure "as a man" knowing he's never brought his wife to climax. During a therapy session, he starts rattling off how good he was with previous partners and brags about being "above average" in penile size, even going so far as to admit that if he were in a car crash and lost the ability to use his member, he'd end it all right then and there. "It's not my inability to give her an orgasm, it's her inability to have one," he says, placing blame on his wife for their marital strife, while Priscilla, the one who isn't experiencing pleasure, has never once complained about it.
Rethinking Pleasure and Calling Out Garbage Dudes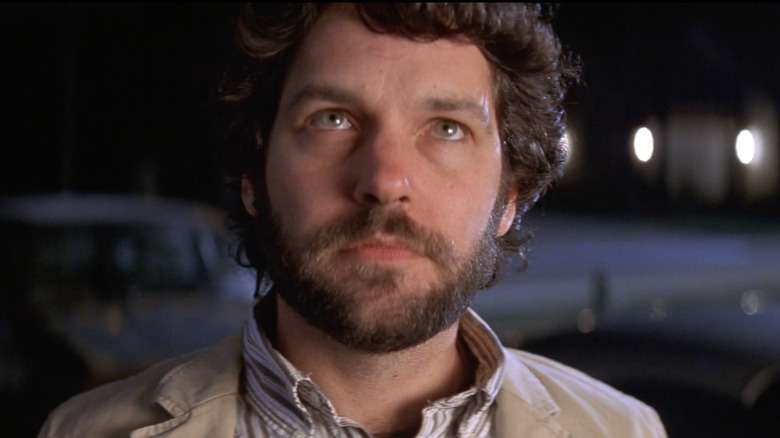 Cyan Pictures
Priscilla does everything she can think of to try and remedy her marriage, trying out different toys and attending a sexual art therapy session hosted by a blonde Liza Minelli wearing a pink cape with "MASTURBATION" bedazzled on the back. At no point does Jack believe that the reason his wife can't come to completion is due to his lack of ability, and does nothing to try and figure out what his wife needs. Instead, once he walks in on her reaching orgasm thanks to a vibrator, he storms out of the house and preys on an eager high school senior who has no qualms about having an affair with her teacher. He goes as far as moving into an apartment building for eligible bachelors called "Manly Arms," because this movie really, really wants you to know that toxic male insecurity is the problem here, not Priscilla.
While Priscilla manages to find success with self care, she does still struggle with new partners. Men, women, it doesn't matter, Priscilla struggles to let go and allow herself to feel pleasure from someone other than herself. The film doesn't blame her though, it instead highlights how quickly people are willing to give up on new relationships and new people if things aren't perfect from day one. Priscilla needs someone to take the time and help her get there, and no one is willing to do so. That is, until she finally goes on a date with Wayne.
Danny DeVito: Sex God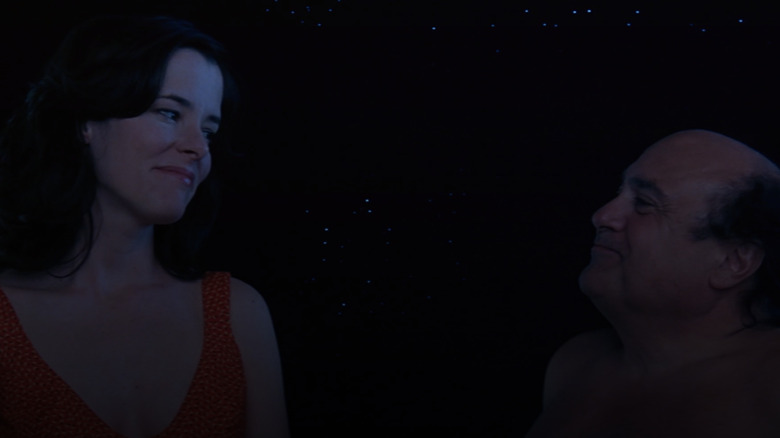 Cyan Pictures
Wayne the Pool Guy is one of those local business owners that everyone in the city knows, complete with TV commercials that haven't changed for 20 years. She invites Wayne for dinner to discuss the possibility of her finally giving in and having a pool installed and he in turn invites her over to see the remarkable pool and water slide he created for his late wife. They have an immediate chemistry, and end up not just swimming together in the pool, but doing exactly what one would think in a movie about a woman's quest for orgasm. As it turns out, there isn't anything wrong with Priscilla, because Wayne is able to give her the one thing no one before has ever been able to provide. The moment is life-changing, it is reaffirming, and according to a lot of the critics who trashed this movie when it came out, it is completely unbelievable.
Danny DeVito has made a career playing goofy characters and cartoonish men, but he has an unteachable charisma in this film that makes complete sense as to why Priscilla would find him so captivating. So many critics criticized the film's third act, with one particular (and notoriously curmudgeonly) critic calling the sexual moments between Posey and DeVito to be "revolting." A shame that a man finally taking the time to please a woman is viewed as impossible to believe just because he's not considered as Hollywood Handsome as Paul "the ageless wonder" Rudd.
How Did This Get Made?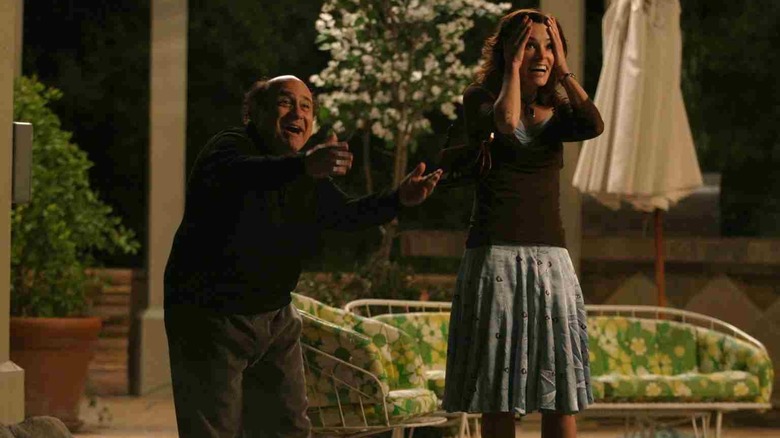 Cyan Pictures
If you didn't know by now, I live to encourage people to check out films that are a bit more off the beaten path, and ones that would likely go unseen unless someone dropped it right on your doorstep. "The Oh in Ohio," is absolutely one of those movies. The more I think about it, the more I can't believe a movie really exists where Paul Rudd is an unlikable villain who never reaches redemption, and Danny DeVito is the answer to all of Parker Posey's sexual problems. It's a film that feels like it shouldn't exist, but is a testament to the ingenuity and spirit of independent cinema. 
A huge studio would never make a movie like this, which leans into the ridiculousness of the circumstances and allows the space to poke fun at very real problems that people are still too hung up to talk about. It's a weird comedy that will make you feel weird just about the whole time you're watching it, but hopefully will inspire you to rethink your own relationship with pleasure, and realize that maybe the key to your personal happiness is a night with Danny DeVito.