Murder Mystery 2 Adds Mark Strong, Jodie Turner-Smith To Its List Of Suspects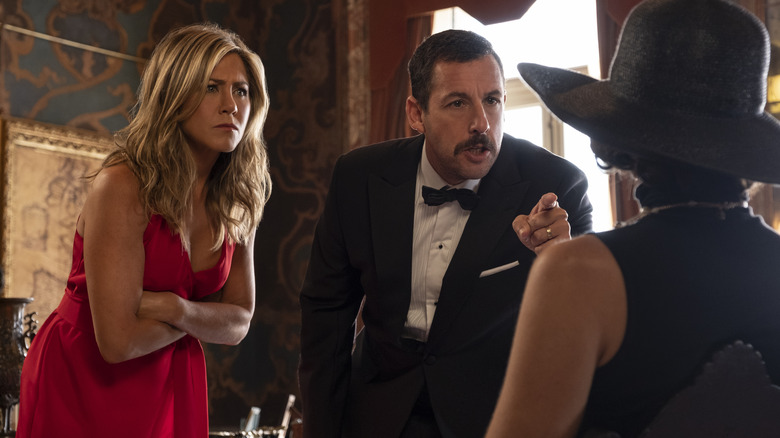 Netflix
Murder mysteries are back and glitzier than ever, thanks to Netflix top earners Jennifer Anniston and Adam Sandler. After breaking some famously vague Netflix records, the crime-solving duo is returning for "Murder Mystery 2," and they're bringing a couple of big-name stars along for the ride. 
Get ready for a second shot at solving a Netflix whodunit, now featuring (per Variety) Jodie Turner-Smith ("Queen and Slim"), Mark Strong ("Kingsman: The Golden Circle"), Mélanie Laurent ("The Mad Women's Ball"), Kuhoo Verma ("Plan B") , Enrique Arce ("Money Heist"), Tony Goldwyn ("King Richard"), Annie Mumolo ("Barb and Star Go To Vista Del Mar"), and Zurin Villanueva ("The Marvelous Mrs. Maisel").
The best part about this exciting roster of stars is that any one of them could spend the entire film lying on the ground as a dead body! I'd like to believe that everyone's audition process included a lengthy "play dead" routine. And for those that didn't nail that authentic stillness, one (or more) of these actors will be the nefarious murderer. Fingers crossed for a villainous turn from Mark Strong! 
So far, both plot and character details have been kept under wraps, but the movie is currently filming in Hawaii. Just like the original, the screenplay for "Murder Mystery 2" comes from James Vanderbilt, this time with Jeremy Garelick taking over directing duties. Executive producers on the project include Barry Bernardi, Kevin Grady, Kyle Newacheck, Tim Herlihy, Beau Flynn, Julie Goldstein and Lucas Smith.
The Whirlwind Whodunit Returns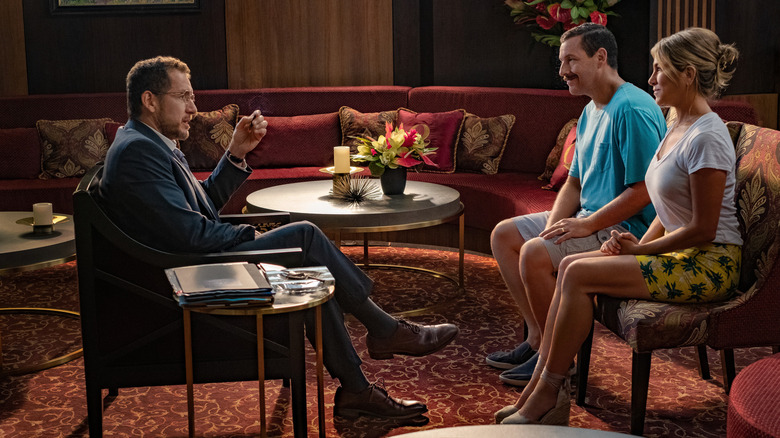 Netflix
"Murder Mystery 2" also sees the return of the two stars at its center: Jennifer Anniston as mystery-novel enthusiast Audrey Spitz and Adam Sandler as her detective husband, Nick. Given the life threatening chaos they endured the first time around, these characters may not to be thrilled to find themselves at the center of yet another murder, but at least they'll be better prepared! They'll also have some familiar faces for comfort (or possibly more chaos), as ​​Adeel Akhtar and John Kani are set to reprise their roles from the 2019 film. Kani played Colonel Ulenga aka "Crazy Eye Patch Guy" and Ahktar was The Maharajah.
The first "Murder Mystery" was a whirlwind whodunit experience that clearly caught the attention of many Netflix viewers. Based on some very specific Netflix numbers, the film debuted to great success, earning itself a spot on Netflix's most popular movies of 2019 list by garnering an audience of over 30 million households in the first 3 days of release. You can see why the streamer was quick to green-light a sequel.
Based on the numbers, everyone loves a good star-studded mystery. It probably helps that "Murder Mystery" memorably reunited Sandler and Aniston, who previously starred as romantic leads in 2011's "Just Go With It." In the Netflix flick, the extra spark their relationship needed was apparently murder — the film sees the bumbling couple scramble for answers when a chance encounter leads to them being framed for the murder of an elderly billionaire. The film also featured Luke Evans, Terence Stamp, and Gemma Arterton, who aren't currently expected to return.