How Alan Tudyk Helped Create The Peacemaker Dance Sequence [Exclusive]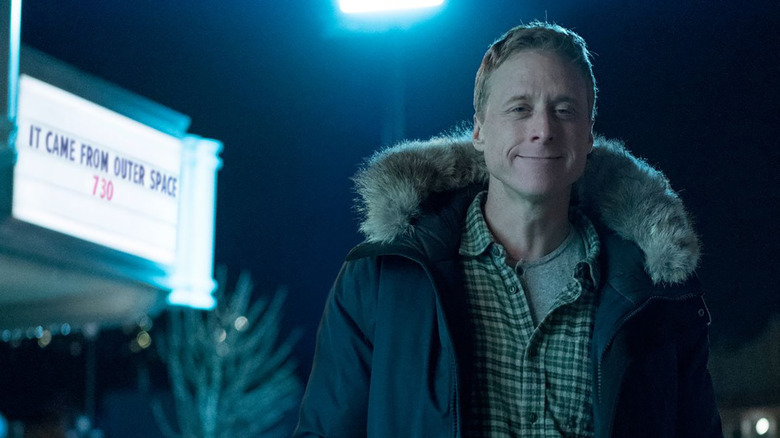 USA and Syfy
Did you really think we were done talking about how ridiculously awesome the opening credits for "Peacemaker" are? THINK AGAIN! We, like pretty much everyone else in the world, can't get enough of the moving and shaking of James Gunn's "Peacemaker," finally giving fans in the streaming era an excuse to not hit the "Skip Intro" button on HBO Max. We're so obsessed that we recently sat down to interview the remarkable Charissa Barton, who choreographed the opening number, and y'all are not going to want to miss the deep insider knowledge she was able to provide regarding the dance number's origins, execution, and production. Charissa Barton is a decorated dancer and choreographer (the woman went to The Juilliard School!) and she's also married to one of the most universally beloved genre actors in the biz, Alan Tudyk.
Getting to talk with Barton was an absolute delight (seriously, keep your eyes peeled for that interview very soon), but getting confirmation that Tudyk is just as wonderful off-screen was equally gratifying to discover. In the age of COVID, it wasn't possible to be in-person as much as one normally would, so Barton showed her progress to Gunn by recording videos of the choreography as she designed it. Obviously, not everyone in the cast of "Peacemaker" was going to have the massive dance background that Barton does, but being married to Tudyk meant she had a non-dancer/actor in her own home to test the dances out.
"He Was Such a Willing Partner"
Eventually Barton would record videos of herself and Tudyk doing the choreography so Gunn could see the moves on two different dancers, and Gunn would provide feedback accordingly. Tudyk was even the stand-in for John Cena's Peacemaker on a day he was working, because after all, he already knew the choreography, because he was part of its very creation.
he don't joke:) https://t.co/xIyRhrzQ30 pic.twitter.com/NrdkL5Jqnb

— alan tudyk (@AlanTudyk) January 14, 2022
With the entire cast participating in the opening scene, Barton needed to choreograph something that was accessible to a wide variety of skill levels, ages, body types, and comfort levels with dance. As a pro dancer, it's not always obvious what the average person can handle, and Tudyk was a perfect sounding board for Barton. She told us:
"But luckily I had my husband Alan present with me through a lot of it. Sometimes he would get home late and it'd be like 11 o'clock at night. I'd be like, 'Hey, can you try something? I need to see if this is accessible to a non dancer.' Because it is hard for me to gauge sometimes. And he was such a willing partner. He was able to really help me find that line, as I feel like he was an average, like the mid level actor-non-dancer-person."
"Peacemaker" actor Steve Agee recently shared some photos he took of Tudyk on set, doing his very best. James Gunn also joked that he has "hundreds of videos" of Tudyk dancing, so maybe if we're lucky, one day we'll get a special look at his full performance.
More pics I took of @AlanTudyk standing in (dancing in) for @JohnCena in the #peacemaker opening dance number (choreographed by @charissabarton1 ) #PeacemakerParty pic.twitter.com/IkrYOMHz7S

— Steve Agee (@steveagee) January 14, 2022