Celebrate The Batman With A Bat-Shaped Little Caesar's Pizza, What Else?
Being a superhero is one part heroics, one part masking up, and one part branding. Just ask Kate Bishop about Hawkeye's branding, or lack thereof. Batman doesn't have that issue. He's got the Bat Signal, the Batmobile, the Bat Phone, the Bat Pole, Bat-Darts, Bat-Bolas, Ace the Bat-Hound, and most recently, Batman Oreos. 
Being dark means eating dark, of course. So, how does this superhero stay on-brand when he's craving some non-cookie fast food? The Batman Calzony, of course. This is not a joke. Little Caesars is combining a calzone and a pizza and naming it after the Dark Knight himself. They do refer to it as a "dynamic duo," but that's obviously a very different version of the caped crusader than we're going to see in "The Batman." 
The Dark Dinner (my name, not theirs) is described this way:
This bat-shaped product features a tantalizing flavor profile of buttery-tasting, calzone crust filled with garlic white sauce, cheese, and julienned pepperoni, combined with a pepperoni pizza and served with a side of Crazy Sauce®. The new menu item will be available for $7.99 starting January 24.
Bring Me the Bat Wings!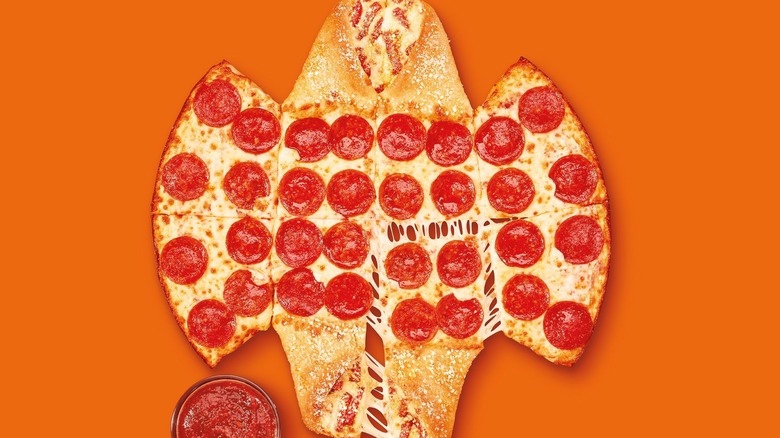 Little Caesars
I mean, it sounds great if you love pizza and calzones, but I'm sorry, did no one think of adding in Bat Wings? BAT WINGS! Anyone? Is this thing on? These are the jokes, people!
"Anyone can now bring superhero vibes to pizza night by trying the new 'The Batman' Calzony, "said Jeff Klein, chief marketing officer at Little Caesars, "It's the most delicious part of our partnership with the upcoming film 'The Batman.'"
You can order The Batman Calzony on you Little Casear's Bat App (not really called that), pre-pay and collect it using the Pizza Portal pickup, or head over to Little Caesars between 4:00 p.m. and 8:00 p.m. to grab one without preordering. While you're out, if you're not in the U.S., you can grab those Bat Oreos as dessert. Maybe pick up an extra Calzony for Alfred. Batman isn't always so nice to him and he deserves a yummy treat.
FYI: Batman's favorite food is mulligatawny soup, according to Alfred in Batman Vol 1. #701, and he orders a "steak, well-done" in the classic comic story "Kingdom Come." With all of this information plus the Bat Oreos, you can have a veritable Bat Feast™! (You'd better remember to share that steak with Ace the Bat-Hound.)