The Morning Watch: Stuntmen React To The Phantom Menace, NYC Locations Movies Love To Use Repeatedly & More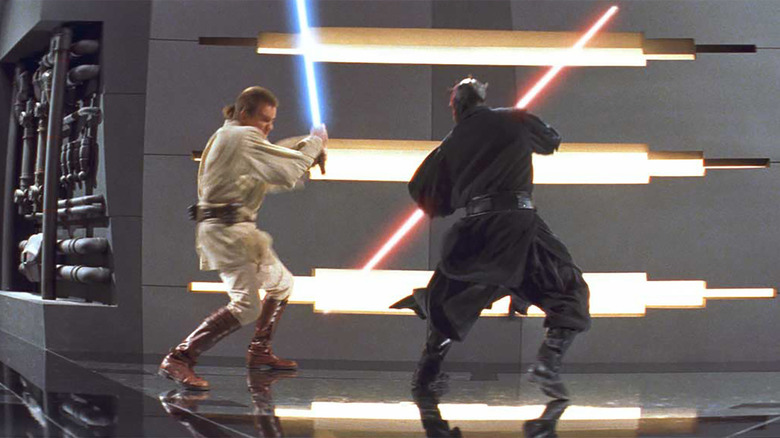 Lucasfilm
(The Morning Watch is a recurring feature that highlights a handful of noteworthy videos from around the web. They could be video essays, fan-made productions, featurettes, short films, hilarious sketches, or just anything that has to do with our favorite movies and TV shows.)
In this edition, see what stuntmen think of the lightsaber battle from "Star Wars: The Phantom Menace," as well as clips from movies like "The Matrix," "Shaolin Soccer," and more. Plus, find out some of the New York City locations that movies love to feature over and over again and meet the location scouts who figure out how to use them. And finally, watch as "MacGruber" stars Will Forte and Kristen Wiig try out gadgets over at Wired headquarters.
Stuntmen React to The Matrix & More
First up, the gang at Corridor Crew brought in their stuntmen friends Chris Cowan and Yung Lee (who have worked on "Shang-Chi" and "Kingsman") to talk about a bunch of action sequences in movies. They start off with "The Matrix" before running through scenes from "Shaolin Soccer," the video game adaptation "Monster Hunter," and John Carpenter's "They Live." And finally, they break down some lightsaber fighting from "Star Wars" video games and "The Phantom Menace."
New York City Locations the Movies Use Over and Over
Next, with so many movies and TV shows taking place in New York City, audiences have come to recognize a lot of familiar locations that keep being used over and over again. Insider brought in five location scouts to provide a closer look at eight locations in NYC that you've likely seen in a bunch of movies. Maybe next time you're in the Big Apple, you can check out locations from "The Avengers," "In the Heights," "The Many Saints of Newark," "Uncut Gems," "Spider-Man: Far From Home," and many more.
Will Forte and Kristen Wiig Try Out Gadgets
Finally, "MacGruber" co-stars Will Forte and Kristen Wiig popped into "Saturday Night Live" last weekend, with the former hosting and the latter making a few appearances throughout the evening. If you just can't get enough of the comedy duo, you can see them testing out some gadgets for Wired, such as the Wallet Ninja, a paracord bracelet, and a robot flashlight. Can we get comedians to do this all the time?