Billy Eichner's LGBTQ+ Rom-Com Bros Has Moved Release Dates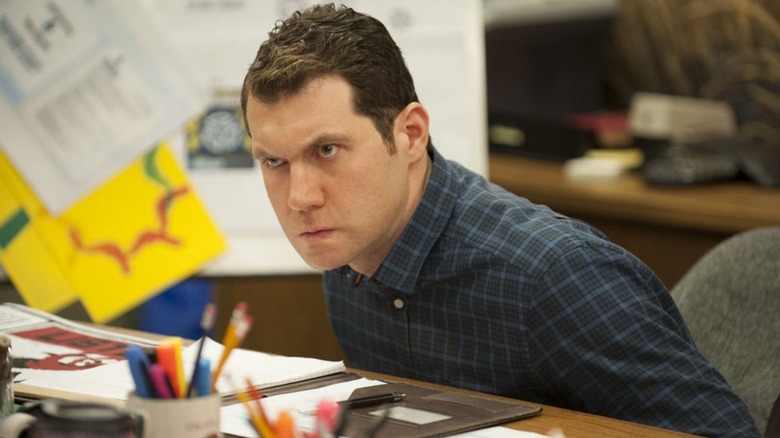 NBC
When Paramount announced that its 600lb gorilla (which we call "Mission: Impossible 7") moved to 2023 earlier this week, it seemed to cause a bit of a reshuffle. That tends to happen when a franchise film moves off its date, because so much of the thought process that goes into a movie studio's release schedule involves avoiding getting dwarfed by one of the giants. So, if a "Star Wars" or Marvel or DC or "Avatar" film shifts its release date, you'll always see the rest of the studios scrambling to either get out of its way or fill in the void it left behind.
After "Mission: Impossible – Fallout" grossed $791 million at the box office, the action-driven spy franchise secured its own place as one of the Hollywood titans that no one wants to compete with. In the wake of the "Mission: Impossible" movies being delayed Billy Eichner's LGBTQ+ rom-com "Bros" has claimed "M:I 7's" vacant September 30th slot (per Deadline). 
Finally, A Big Studio LGBTQ+ Rom-Com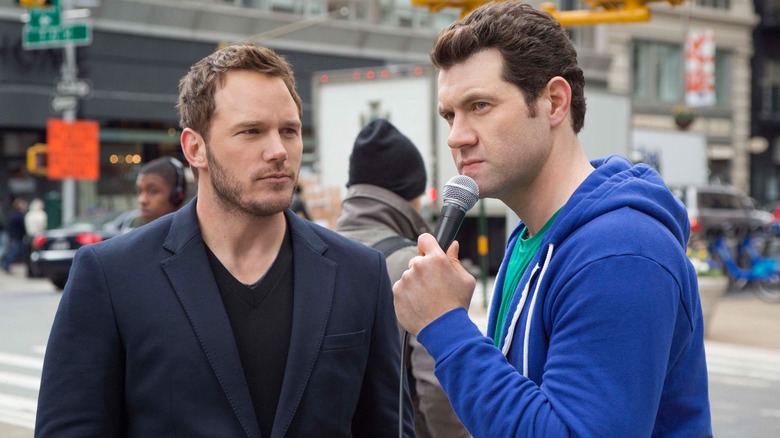 Fuse
"Bros" is produced by Judd Apatow (which shouldn't be a shock considering Apatow has had his finger in pretty much every comedy pie for almost 20 years now), directed by Apatow regular Nicholas Stoller ("Forgetting Sarah Marshall," "Get Him to the Greek," "Neighbors") and stars Eichner, Luke Macfarlane, Harvey Fierstein, Jim Rash, and Amanda Bearse (Marcy from "Married... with Children!"). The only thing really out there about the movie right now is that it's about two guys with commitment issues who give a relationship a try anyway. Yeah, a tried and true rom-com formula, but not one explored as thoroughly as heterosexual couples have gotten to do in this genre.
This September 30, 2022 date is wide open after Ethan Hunt's departure and should give "Bros" a week to pull in some cinema-goers before "Spider-Man: Across the Spider-Verse" opens the next week and certainly takes up all the movie theater screens. I wouldn't be surprised if another title tries to slide into that weekend alongside "Bros" before all is said and done. Any lull between these superhero movies is prime real estate and that late summer/early fall window is very attractive for all kinds of genres, especially horror. 
All this depends on the status of the ongoing pandemic, of course. That's reportedly the reason behind "Mission: Impossible" pulling up stakes in the first place, although given the insane success of "Spider-Man: No Way Home" at the box office and the early reports that Omicron is on its way to burning itself out, I'd bet there's something else going on with that "Mission: Impossible" move. 
But for now that weekend has been claimed by "Bros" and that means Billy Eichner is getting to shine in a lead role in a studio comedy, so that's only good news. In the meantime, go binge-watch "Billy on the Street" if you want to laugh your butt cheeks off.