Sweet Magnolias Season 2 Trailer: Wow, These Magnolias Are Even Sweeter Than Before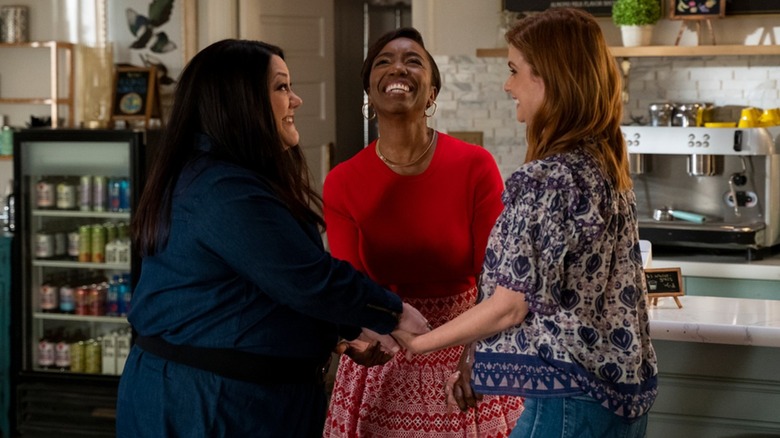 Netflix
"You never have to go through anything big or small on your own," promises Maddie Townsend (JoAnna Garcia Swisher). Sisterhood, brotherhood, and shared faith are the major staples of Netflix's romantic drama series "Sweet Magnolias," based on Sherryl Woods' novel of the same name.
 The show centers on three longtime besties in South Carolina: Townsend, a single mother of three going through a divorce from ex-husband Bill (Chris Klein); chef Dana Sue Sullivan (Brooke Elliott), who owns Sullivan's restaurant; and ambitious attorney Helen Decatur (Heather Headley), who bought a whole mansion and turned it into a spa with Maddie and Dana Sue. Together, they are the Sweet Magnolias, and they weather many trials and tribulations together. The supporting cast includes Logan Allen, Anneliese Judge, Carson Rowland, Justin Bruening, Chris Klein, and Jamie Lynn Spears. As a bonus, Spears ("Zoey 101"), Dion Johnstone ("Stargate SG-1") and Brandon Quinn ("The Fosters") have re-joined the cast as series regulars for "Sweet Magnolias" season 2, set to drop on February 4 of this year.
Last summer, Netflix renewed "Sweet Magnolias" for a second season, and the streaming giant has finally dropped a trailer to show us what's to come.
Sweet Magnolias Season 2 Trailer
MIRA Books published Sherryl Woods' "Sweet Magnolias" eleven-book series centered on small town drama, and the fact that MIRA is a Harlequin imprint should clue newcomers in to what to expect.
The last season of "Sweet Magnolias" ended with the requisite amount of messiness to keep viewers hooked: Bill Townsend's former pregnant mistress Noreen Fitzgibbons (played by Spears) skipped town after dumping him, and though it seemed like that was the end of her story, Spears is officially attached for a second season, so Noreen is likely coming back to stir the pot some more. 
Meanwhile, Helen and Ryan are over; Helen reasonably left because Ryan didn't want children with her, but the girls are supportive of Helen's desire to consult specialists and move forward with childbearing on her own. Bill tries to turn his franchise around and improve his fatherhood skills, but every person he pissed off is keeping him humble at every turn. There's a ton of drama between Ty, Annie, Kyle, Jackson, and CeCe, leading to a climactic car accident where Ty's car flips and Kyle is rushed to the hospital, unconscious. Out of the aforementioned group, the driver and their status remains unknown.
Sheryl J. Anderson continues as showrunner of the series, executive producing with Woods and Dan Paulson, the latter under his Daniel L. Paulson Productions banner.
"Sweet Magnolias" season 2 premieres February 4, 2022, on Netflix.