The Best TV Shows And Movies Coming To HBO Max In February 2022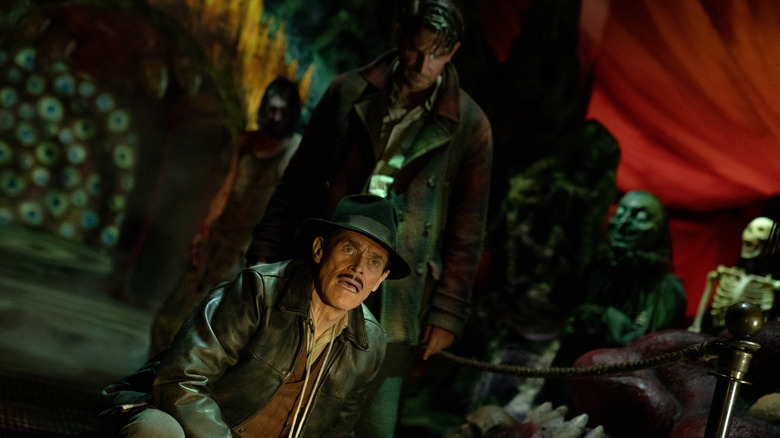 Searchlight Pictures
As we keep trucking into 2022, we're saying goodbye to some bangers on HBO Max. "Dunkirk," "Blade Runner 2049," and the trilogies for the "Beverly Hills Cop" and "Rush Hour" franchises are departing from the streaming service, but HBO Max balances the scales with plenty of worthwhile movies and shows for your viewing pleasure. The most anticipated in the batch is Guillermo del Toro's spectacular "Nightmare Alley," which didn't get its due love at the box office amid the pandemic and a moviegoing crowd that opted for the comforts of "Spider-Man: No Way Home." 
Now's your chance to see one of the best films of 2021, along with a varied assortment of genres and vibes to choose from on movie night. There are a few romances in time for Valentine's Day, hard-hitting action to motivate you to keep that New Year's resolution at the gym, and a classic or two that may have flown under your radar. Let's get to it.
Nightmare Alley (2021)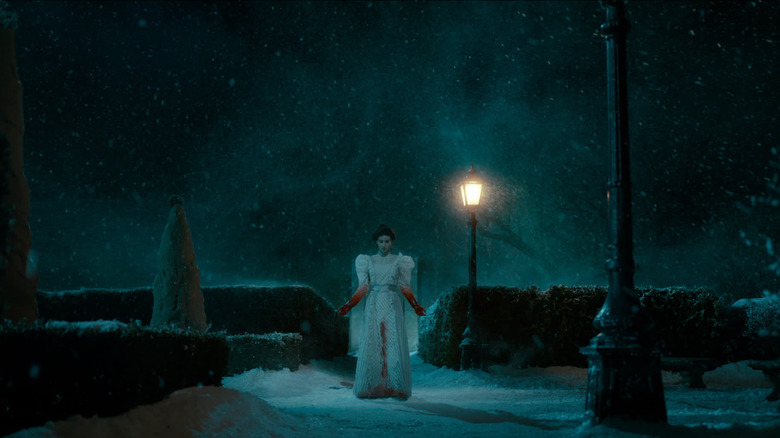 Searchlight Pictures
Guillermo del Toro's latest is not a remake of Edmund Golding's 1947 noir feature of the same name, but an adaptation of the 1946 novel that inspired both. Co-written with Kim Morgan, the film is what this writer called "a joyride in a hearse" as we witness a man hurtling towards his own undoing in a spellbinding exploration of the darkest elements of William Lindsay Gresham's book. 
This is hard "R" territory due to del Toro's jarring brand of violence, but its application is disciplined and he fires for effect with hard-earned third act bloodshed. Bradley Cooper turns in a phenomenal lead performance as Stan Carlisle, a rootless man who digs his own hole and can't help but dig himself deeper with every passing moment; Cooper is matched blow-for-blow by a smoky, stunning Cate Blanchett in a femme fatale role, impeccably costumed by Luis Sequeira. In fact, all of the costumes, all of the set pieces, and all of the immaculate production design add up to precisely the type of picture that makes one fall in love with the movies all over again.
Black Dynamite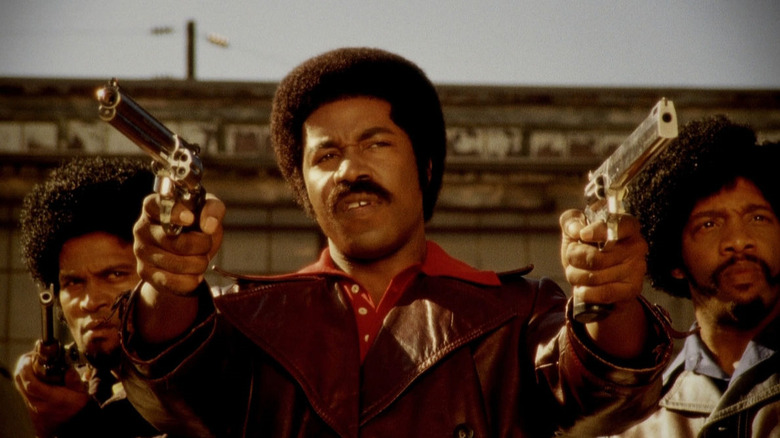 ARS Nova
Who is Black Dynamite? Well, whenever there's injustice, wrongs to be righted, innocents to be defended, Black Dynamite will be there delivering ass-whoopings, and he will not hesitate to lay the hammer down on any clown that comes around. 
This 2009 blaxploitation comedy (shot on 16mm, to boot) sits right up alongside "I'm Gonna Git You Sucka" in the pantheon of clever, hilarious, embracing send-ups of a wild and wonderful subgenre of cinema. Michael Jai White is Black Dynamite, a Vietnam vet and former CIA operative who takes on the task of cleaning up the drug-ridden streets after his younger brother is killed under suspicious circumstances. The movie boasts a star-studded cast of Black actors having the time of their life no matter how small the role, including Tommy Davidson, Arsenio Hall, Obba Babatundé, Byron Minns, Phil Morris, Bokeem Woodbine, Cedric Yarbrough, Mykelti Williamson, and Miguel A. Núñez Jr. Truly a festival of riches here. 
Those who enjoyed the underseen 2019 Rudy Ray Moore ode "Dolemite Is My Name" may remember Eddie Murphy's Moore lamenting that the film he saw had "no titties, no funny, and no Kung Fu." This writer is thrilled to announce that "Black Dynamite" checks all three boxes and is thus doubly worth a watch.
Antlers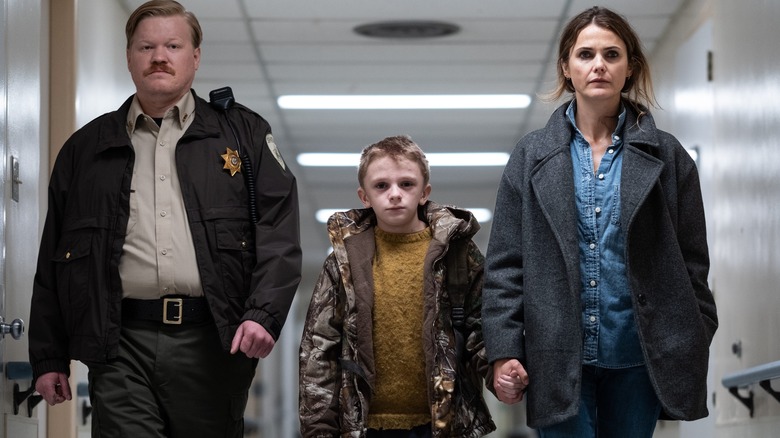 Searchlight Pictures
Not sure if you'd be into Scott Cooper's "Antlers"? Or did you catch it last year and want to read the original story it's based on? You're in luck; Nick Antosca's short story "The Quiet Boy" (which "Antlers" adapts) is still available on Guernica. Antosca is most known for his television work, acting as creator and showrunner in dark, strange offerings like the outstanding horror anthology "Channel Zero," Hulu's true-crime drama "The Act" (based on the Gypsy Rose Blanchard case), and last year's horror series on Netflix, "Brand New Cherry Flavor." The shows are grim, gorgeous, and absolutely not for children. 
"Antlers" follows in this thread, though the plot concerns kids. Keri Russell stars as Julia Meadows, a schoolteacher who grows concerned for a student of hers; she suspects abuse, but the truth is far more maddening. Featuring magnificent creature effects and a taut, unforgiving pace, "Antlers" has the sort of big-budget that most horror movies deserve (but don't get), and the dividends are plentiful. 
Remember the horror rule for home viewing: lights out, volume up.
TV and Movies Coming To HBO Max in February 2022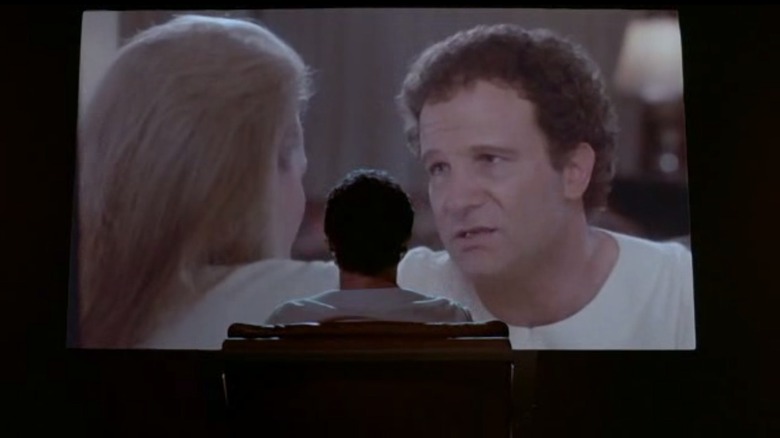 Geffen Pictures
February 1:
3:10 to Yuma, 2007 (HBO)
12 Years A Slave, 2013 (HBO)
21 & Over, 2013 (HBO)
A Bridge Too Far, 1977 (HBO)
After The Sunset, 2004 (HBO)
Airheads, 1994 (HBO)
Alex & Emma, 2003 (HBO)
Amistad, 1997
An American Haunting, 2005 (HBO)
Army Of One, 2020 (HBO)
Bad Milo!, 2013 (HBO)
Black Dynamite, 2009
The Book Thief, 2013 (HBO)
Broken English, 2007 (HBO)
The Butterfly Effect, 2004 (Director's Cuts) (HBO)
The Butterfly Effect 2, 2006 (HBO)
Calvario, 2019 (HBO)
Casa De Mi Padre, 2012 (HBO)
Chinatown, 1974 (HBO)
Chuck
The Dark Half, 1993 (HBO)
Defending Your Life, 1991 (HBO)
Donnie Darko, 2001 (HBO)
Dr. Seuss' How The Grinch Stole Christmas, 2000 (HBO)
Escobar: Paradise Lost, 2014 (HBO)
The Falcon And The Snowman, 1985 (HBO)
Fame, 1980
Free Willy 2 The Adventure Home, 1995 (HBO)
Free Willy 3 The Rescue, 1997 (HBO)
From Paris With Love, 2010 (HBO)
Good Deeds, 2012 (HBO)
The Hunter, 2011 (HBO)
Hyde Park On Hudson, 2012 (HBO)
Kick-Ass 2, 2013 (HBO)
La Foquita, 2020 (HBO)
The Life Before Her Eyes, 2007 (HBO)
The Loft, 2014 (HBO)
Love & Mercy, 2014 (HBO)
Master of Disguise, 2002 (HBO)
The Mighty Quinn, 1989 (HBO)
Monsters, 2010 (HBO)
My Blue Heaven, 1990 (HBO)
National Lampoon's Van Wilder 2: The Rise of Taj, 2006 (HBO)
Network, 1976
Night Owls, 2015 (HBO)
Nightmare Alley, 2021 (HBO)
No End In Sight, 2007 (HBO)
Ondine, 2009 (HBO)
The Ones Below, 2015 (HBO)
Presenting Princess Shaw, 2015 (HBO)
Rabbit Hole, 2010 (HBO)
Rango, 2011 (HBO)
Red 2, 2013 (HBO)
Return To Me, 2000 (HBO)
Riddick, 2013 (Director's Cuts) (HBO)
Rob Roy, 1995 (HBO)
Rules Of Engagement, 2000 (HBO)
Runaway Train, 1985 (HBO)
Santa's Slay, 2005 (HBO)
School Ties, 1992 (HBO)
The Searchers, 1956
The Secret Garden, 2020 (HBO)
Shake!: Otis at Monterey, 1987
Shrink, 2009 (HBO)
Splinter, 2008 (HBO)
Sugar, 2008 (HBO)
Sweeney Todd: The Demon Barber Of Fleet Street, 2007 (HBO)
Terry Bradshaw: Going Deep, Documentary Premiere (HBO)
This Is Where I Leave You, 2014 (HBO)
Uncommon Valor, 1983 (HBO)
Unlocked, 2017 (HBO)
The Intouchables, 2011 (HBO)
West Side Story, 1961 (HBO)
Yun, 2018 (HBO)

February 2:
Tacoma FD, Season 3

February 3:
40 Means Nothing (40 No Es Nada), Max Original Season 1 Premiere
And Just Like That..., Max Original Season 1 Finale
Cracked, 2021 (HBO)
Cry Macho, 2021 (HBO)
Looney Tunes Cartoons Valentine's Extwavaganza!, Max Original
Mass Ave, 2021 (HBO)
Pure, 2021 (HBO)
Raised By Wolves, Max Original Season 2 Premiere
The Snakes, 2021 (HBO)
When the Sun Sets, 2021 (HBO)
February 4:
Double Cross
Rhodes To The Top
Sin Senas Particulares
February 5:
Rick and Morty, Season 5
Shaq Life, Seasons 1 and 2
February 6:
Big Trick Energy
February 7:
Backyard Bar Wars
February 9:
Smiling Friends, Season 2
February 10:
About Last Night, Max Original Season 1 Premiere
Adventure of the Ring, Max Original Season 1 Premiere
The Girl Before, Max Original Season 1 Premiere
Just Call Out My Name, Max Original Documentary
KIMI, 2022 (Made for Max film)
ODO, Max Original Season 2 Premiere
February 11:
Antlers, 2021 (HBO)
Apple & Onion, Season 2C
February 13:
The Bachelor Winter Games
February 15:
Icahn: The Restless Billionaire, Documentary Premiere (HBO)
February 16:
Off The Air, Season 11
February 17:
Craig of the Creek, Season 4A
Dream Raider, Max Original Season 1 Premiere
The Many Saints of Newark, 2021 (HBO)
Peacemaker, Max Original Season 1 Finale
Yabba-Dabba Dinosaurs, Max Original Season 2 Premiere
February 18:
La Foquita El 10 De La Calle
Top Gear, Season 30
February 20:
Last Week Tonight, Season 9 Premiere (HBO)
February 22:
Real Sports with Bryant Gumbel (HBO)
February 23:
Free Guy, 2021 (HBO)
Robot Chicken, Season 11 A
February 24:
Bilardo, Max Original Documentary Premiere
Bing, Season 1
Las Bravas, Max Original Season 1 Premiere
February 25:
The French Dispatch, 2021 (HBO)
February 27:
Euphoria, Season 2 Finale (HBO)
The Righteous Gemstones, Season 2 Finale (HBO)
Somebody Somewhere, Season 1 Finale (HBO)