Star Wars Bits: The Mandalorian, The Book Of Boba Fett, LEGO Star Wars: The Skywalker Saga, The High Republic, Crimson Reign, And More!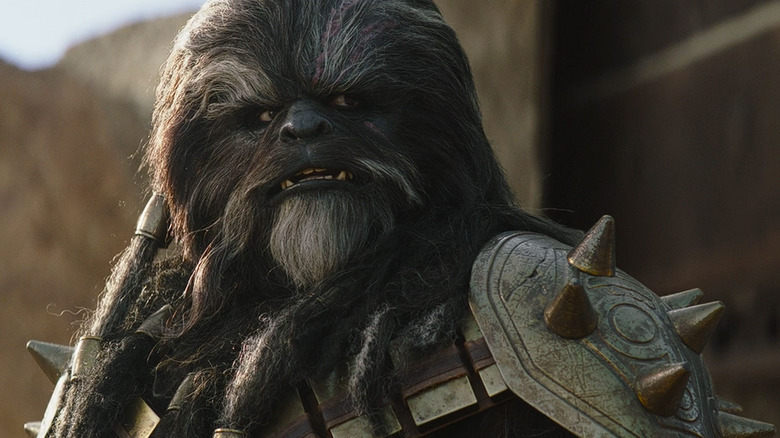 Lucasfilm
In this edition of Star Wars Bits:
"The Art of The Mandalorian (Season 2)"
"LEGO Star Wars: The Skywalker Saga" Updates
Claudia Gray Talks "The High Republic: The Fallen Star"
Marvel's Upcoming "Star Wars" Comics
And More!
The Art of The Mandalorian (Season 2)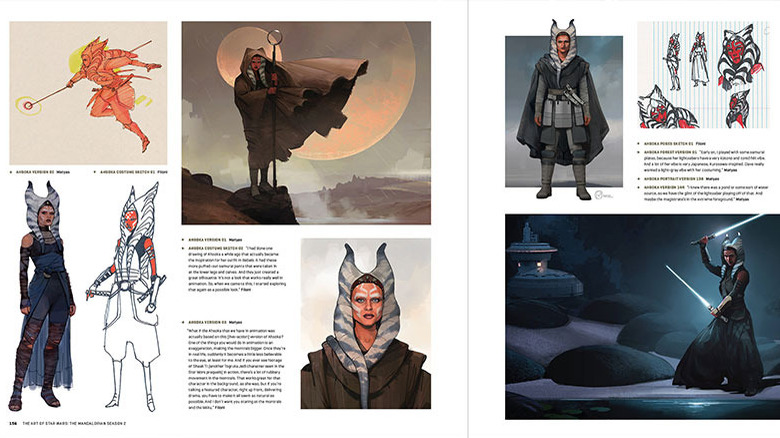 Abrams Books
Lucasfilm creative art manager Phil Szostak's new book, "The Art of The Mandalorian (Season 2)," explores the designs and concepts behind "The Mandalorian" season 2's most memorable moments. In an exclusive interview with StarWars.com, Szostak discusses the design of the krayt dragon, the challenges of bringing characters like Bo-Katan, Ahsoka Tano, and Luke Skywalker to the series, and how he defines the visual aesthetic of "Star Wars." Here's a snippet:

"One of the most important aspects of it to remember is that 'Star Wars' is space fantasy. It's not science fiction. It's not futuristic. It's not something that's hard to relate to, because it's so alien and so wildly modern and futuristic, like a lot of science fiction that preceded it. That's because it's science fantasy, or space fantasy. It's historic in nature and cultural in nature. So, it's got to be something that's relatable, which then makes it easy to visually read. And that's, I think, the core of the 'Star Wars' aesthetic."
Check out the full article for more insight and some fantastic preview images. "The Art of The Mandalorian (Season 2)" arrives February 15 and is available for pre-order now.
Tuskens: From a Certain Point of View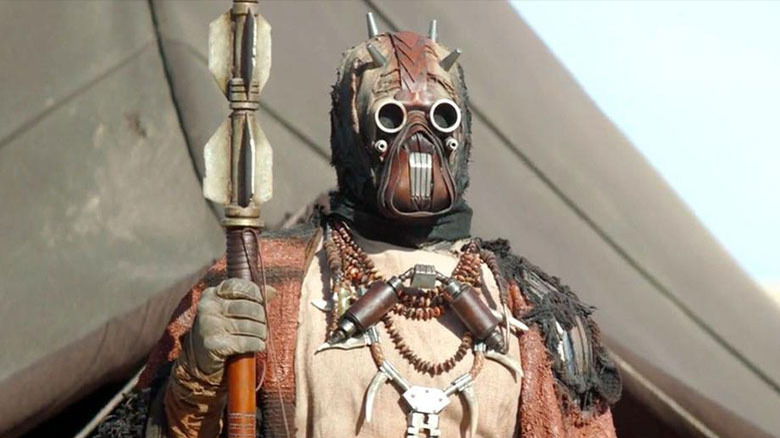 Lucasfilm
At Polygon, Jordan Maison has an excellent piece on the portrayal of Tuskens in "The Book of Boba Fett" from the perspective of a Native American. I'd highly encourage you to check out the full article, of which you can read an excerpt below:
"I think the thing I've loved most about the Tuskens we've dealt with in 'The Book of Boba Fett' so far is how distinctly different they are from any other iteration of the people we've seen before. From the way they dress, even to the types of tents they utilize (triangular rather than rounded), it's clear they aren't the same kind of Tuskens any of our heroes—or villains—have dealt with. At one point, the Chieftain even makes mention of "other tribes" who resort to more aggressive tactics to survive. While they all share many of the same cultural aspects, they are also unique–just like the many Native American tribes, and other Indigenous communities around the world.

When you have a government in place who systematically wipe entire people off the face of the planet, it's easy to lump all Natives into a singular category. It's something movies, shows, and books have been doing for well over a century; perpetuating the idea that all of us are the same. The truth, as with any race, is significantly more complicated. While many tribes share familiar cultural aspects (similar food, shared mythologies, etc), each of them are undeniably different. Hell, even based on the history we have now, we know of at least 200 different languages, not including divergent dialects, utilized across the country! In many ways, the early history of the Americas isn't too dissimilar to the European history we learn about in schools. With those, we're taught the constant wars over various kingdoms and theologies were to be romanticized, the same kind of wars fought between tribes were considered barbaric. This mindset comes down to treating all Natives as a singular group rather than being from a diverse continent, full of unique peoples."
LEGO Star Wars: The Skywalker Saga Updates
Lucasfilm Games recently announced that "LEGO Star Wars: The Skywalker Saga" will arrive April 5, 2022. Here's the official spiel:
"Coming to the Xbox One family of devices, Xbox Series X/S, PlayStation 5, PlayStation 4, Nintendo Switch, and PC, 'LEGO Star Wars: The Skywalker Saga' allows fans to play through all nine Episodes of the core saga, travel through hyperspace and explore over 20 unlockable planets, and experience an exciting mix of gameplay, from chaining attacks in lightsaber combat to space battles. Players can also unlock and choose from over 300 characters, the most ever in a 'LEGO Star Wars' game."
Check out a six-minute gameplay trailer above! Also, our friends at Star Wars News Net are reporting that much of the planned DLC content previously announced for "LEGO Star Wars: The Skywalker Saga" will be available immediately for players to purchase when the game hits shelves this spring. The seven DLC character packs are:
"Rogue One: A Star Wars Story"
"Solo: A Star Wars Story"
"The Mandalorian" Season 1
"The Mandalorian" Season 2
"The Bad Batch"
Trooper Pack
Classic Characters
SWNN also points out that a Microsoft-focused outlet Aggiornamenti Lumia has indicated that the latest build of the game has 20 available options to purchase DLC with. In time, we might get additional packs based on "The Clone Wars," "Star Wars Rebels," "The Book of Boba Fett," and future "Star Wars" films and series. 
You can pre-order "LEGO Star Wars: The Skywalker Saga" now at GameStop, Amazon, Target, and other retailers.
Claudia Gray Talks The High Republic: The Fallen Star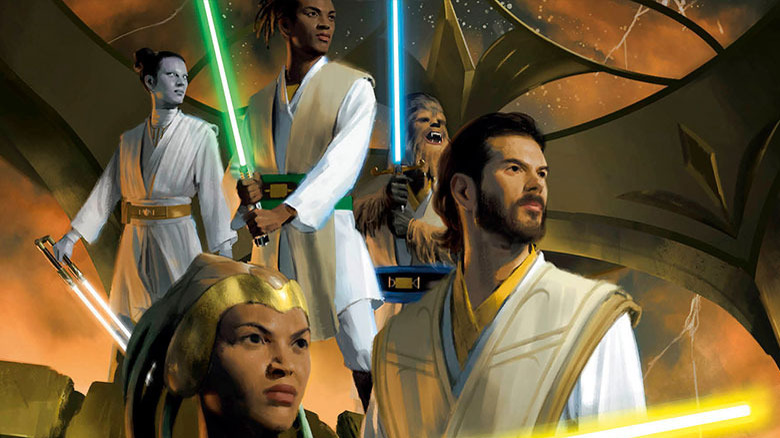 Del Rey
In a recent interview with SYFY Wire, author Claudia Gray discusses her new book "The High Republic: The Fallen Star," which takes place 230 years before the events of "Star Wars: Episode IV – A New Hope." If you haven't read the novel yet, you may want to do so before reading the spoiler-filled excerpts below:
For the destruction of the space station Starlight Beacon, Gray drew inspiration from her love of classic disaster movies.
"My whole life I've been a fan of the great '60s and '70s disaster movies. The number one for me is The Poseidon Adventure. That's one of my top ten films, and sometimes I find it hard to put a finger on exactly why. There are things about it that are really campy and of course, it does get at one of the fundamental questions of human existence, which is: What would I do if my cruise ship turned upside down? But those movies, they're not slow paced, but they make it very immediate because there are all these little crises within the huge crisis and you don't get that same feeling if you're not in it with the people and actually experiencing them like, 'okay, that chance is gone. Okay, that didn't work.'"
As you may know, Phase 2 of "The High Republic" multimedia project jumps back 150 years instead of progressing the story forward. While this was a surprise to many fans, Gray says it was always part of the plan:
"That was always part of it from the very, very earliest stages. We always knew that Phase 2 was going to be going back in time. And it is a risk. We talked about this, too. It was like, we've just asked everybody to invest in this. And now we want to go back and do more. But I think when people see Phase 2, and they see what's being set up and the ways in which that era and that mood are different, I think they're really going to enjoy that adventure. And they're going to learn a lot that is going to be very vital in Phase 3."
Be sure to check out SYFY Wire for the full interview. You can also read excellent reviews of "The High Republic: The Fallen Star" at SWNN and Arezou-Deetoo.
Marvel's Upcoming Star Wars Comics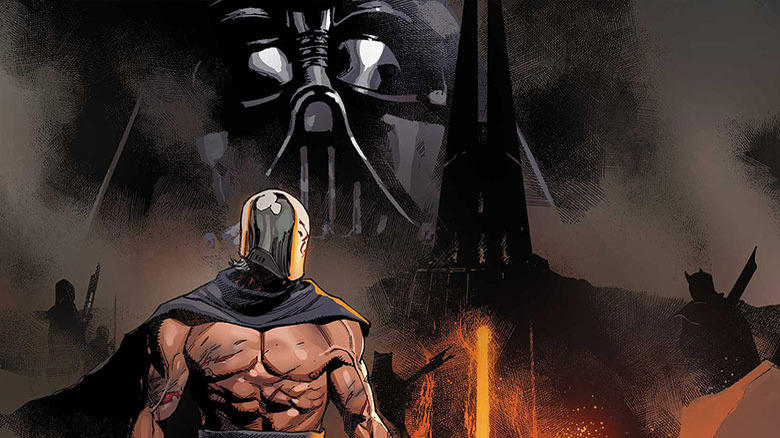 Marvel
In "Star Wars: Crimson Reign" #4, written by Charles Soule and illustrated by Steven Cummings with a cover by Leinil Francis Yu, the Knights of Ren are on a mission to retrieve something from Darth Vader's fortress on Mustafar. 
StarWars.com has an exclusive first look at the upcoming issue as well as other Marvel titles coming April 2022, including "Star Wars: The Halcyon Legacy" #4, "Star Wars" #23, "Star Wars: Han Solo & Chewbacca" #2, "Star Wars: Doctor Aphra" #20, "Star Wars: Bounty Hunters"#22, and "Star Wars: Darth Vader" #22.
The Book of Boba Fett Reviews & Reactions
Above, Nerdist guides us through the gathering storm with their breakdown and Easter eggs video for Chapter 4 of "The Book of Boba Fett."
Over at Star Wars Explained, check out "The Book Report," where Alex and Mollie Damon discuss the latest episode with guests Clare and Jaxxon from Broaxium! You can check out SWE's video about Easter eggs and references for Chapter 4 here.
Our friends at Live Action Star Wars share their thoughts on "Chapter 4: The Gathering Storm" with special guest Ken Plume.
Our friends Aubree and Corey at The Convor Call react to the latest episode as well!
Hot Toys Artillery Stormtrooper
Justin's Collection has an unboxing and review video of the Hot Toys Artillery Stormtrooper from "The Mandalorian."
New Star Wars: Galaxy's Edge Items
Peter and Kitra at Ordinary Adventures visit Disneyland's Star Wars: Galaxy's Edge and show us all the new items that can be found on Batuu!
Ne Ganna Dateel Jabba?
Speaking of Batuu, Mighty Jabba's Collection reviews "Ne Ganna Dateel Jabba," a wall plaque that is only available at Star Wars: Galaxy's Edge.
Jabba the Hutt: Full Circle
In other Hutt news, Star Wars Kids has a fun "Full Circle" video that takes us from the mighty Jabba to ... Grand Moff Tarkin? 
This Week! in Star Wars
And finally, on This Week! in Star Wars, host Kristin Baver gives us the lowdown on all the latest news from that galaxy far, far away.
"This week in Star Wars, we check out the brand new bricktastic 'LEGO Star Wars: The Skywalker Saga' trailer for the game releasing April 5, 2022, give a round of applause to Claudia Gray for topping the New York Times Best Seller List with 'Star Wars: The High Republic: The Fallen Star,' and get a first look at Marvel's upcoming 'Trail of Shadows' #4. Plus, Temuera Morrison and Ming-Na Wen pop in to tell us what it was like stepping back into their roles for 'The Book of Boba Fett,' streaming exclusively on Disney+."