Scream Directors Had Serious Doubts About That Surprise Character Return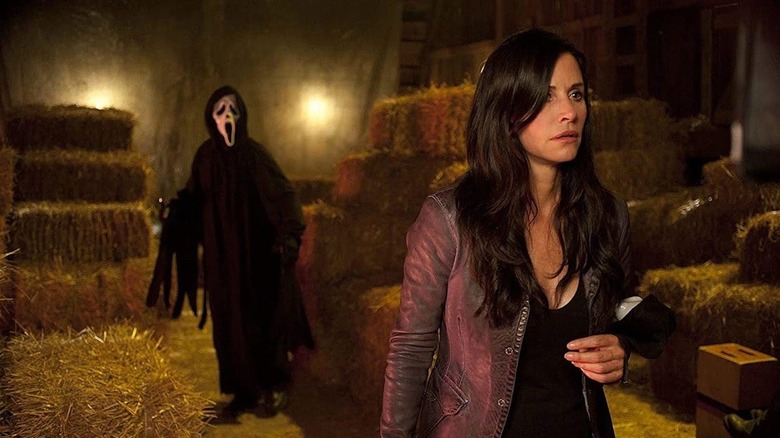 Paramount Pictures
Massive spoilers for "Scream" (2022) follow, read on at your own peril.
Those who caught the new "Scream" re-quel were shocked to see the return of OG "Scream" slasher Billy Loomis, played by Skeet Ulrich in both films. Ulrich reprises his role as the "pansy-ass mama's boy" who tried to kill legacy star Sidney Prescott (Neve Campbell) back in Wes Craven's 1996 original film. Directed by Matt Bettinelli-Olpin and Tyler Gillett, the nu-"Scream" is the fifth in its franchise; while Sidney has been in every entry, this is Ulrich's first appearance in 25 years. Here, Loomis is the hallucinated passenger of Samantha "Sam" Carpenter, played by Melissa Barrera. Upon discovery that she is Loomis' secret daughter, Sam struggles with anxieties surrounding her identity, and Loomis encourages her to give in and become who she was meant to be, an extension of the franchise's running theme of women reclaiming their narrative from others who would write it for them.
Speaking to The Wrap, co-director Matt Bettinelli-Olpin divulged the details of Ulrich's appearance in the film. As many fans have pointed out on social, Loomis' ethereal spot in the plot felt foreign to the franchise, something "Scream" (1996) screenwriter Kevin Williamson pointed out early on. Bettinelli-Olpin elaborates:
The two things that were up for debate throughout the process were Billy and the Dewey death. I think everybody kind of knew the Dewey one wasn't going to change, even though we always had that conversation, but the Billy one was one that even when we were in the edit, it was a lot of like, is this really going to make it? Is this going to be too jarring? Is it outside the bounds of "Scream"?

And in the process, in pre-production at some point, Kevin Williamson said that Billy in the movie is the one thing that doesn't feel like "Scream." And that's why I think you guys need to do it. I think he told that to Jamie. And we were like, yes, agreed. And for us we loved it and thought it just makes the whole story so rich and it helps inform Sam in such a big way. And then in terms of getting him involved, he came out for one day. The last thing we shot was with Billy, with Skeet and, he came out and he was just into it, he just loved it.
Bring Back the Curtain Haircut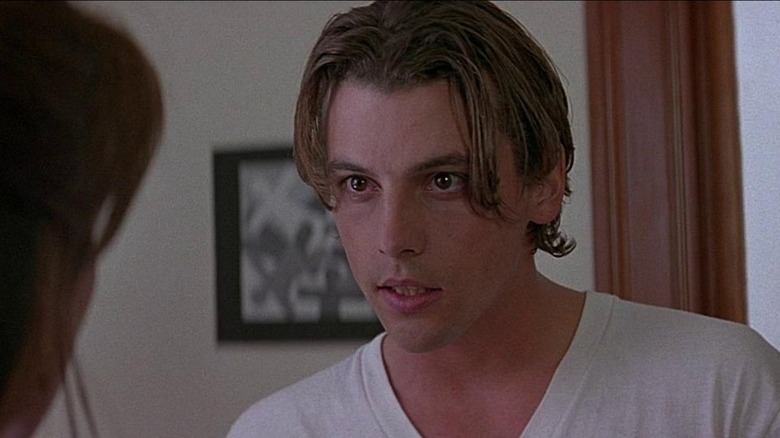 New Line Cinema
While Billy looked largely the same is he did in the original, down to the blood-stained tee and the ominous smirk, that's not really a Skeet Ulrich style. Anyone who watched "The Craft" in 1996 knows good and well that Ulrich's hair has some neutral texture to it, more so than the curtain hairstyle he sported in Craven's film. Again, Bettinelli-Olpin elaborates:
And his hair doesn't naturally do that. That's not his real hair. Even on the original "Scream," that was him sitting in the chair every day, getting it to do that cool '90s thing. We did that on him and instantly you're like, oh, you kind of already looked like Billy, this is wild. You shave him. And he hadn't shaved for like five years and we put him in the costume and it was surreal. Cause we were shooting crime scene photos. We have new canon crime scene photos. It was a trip, but Skeet was incredible and he also managed to keep it a secret for the last almost year, a year and a half however long. And he didn't say anything until I think yesterday.
Ulrich kept the news mum for over a year? Somebody tell Tom Holland to take notes.