Disney Is Giving The Aristocats The Live-Action Treatment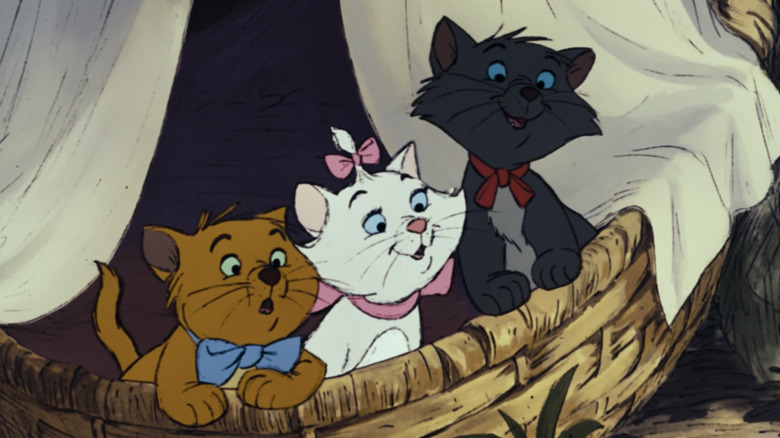 Disney
Here's a novel idea: a live-action movie about talking cats. Even better? It's a live-action Disney remake!
Disney is going back to the well of its 1970s animated slump with a live-action remake of "The Aristocats." The original film, which Wolfgang Reitherman directed between "The Jungle Book" and "Robin Hood," centered on cats in Paris who stand to inherit money until their owner's butler kidnaps them and strands them in the French countryside.

Deadline reports that a live-action take on "The Aristocats" is indeed in development. Things are still in the early stages, but writer-director Will Gluck and screenwriter Keith Bunin are attached to it and will pen the script. Gluck has a background in rom-coms like "Easy A" and "Friends with Benefits," as well as musicals like "Annie," and yes, a couple of other films centered on talking animals, "Peter Rabbit" and "Peter Rabbit 2: The Runaway." He usually directs scripts that he's co-written, so presumably, that might also be the case here, once this project gets further off the ground.
There's no word yet on whether "The Aristocats" will be a theatrical release or whether it will go straight-to-streaming on Disney+, but the movie will reportedly "have a similar look to the 'Lady in the Tramp' pic that bowed on Disney+ in 2019." For comparison's sake, below, you can see the trailer for said "Lady in the Tramp" pic, which features photorealistic live-action animals moving their mouths, not unlike what we saw in Jon Favreau's remake of "The Jungle Book" in 2016. Just substitute cats for dogs and imagine actual cats singing, "Everybody Wants to Be a Cat" like in this official acapella version with live-action singers.
Going the Lady and the Tramp Route
Together with "Peter Pan," "The Aristocats" is one of the films (via The Independent) that now merits a content warning from Disney+ about "negative depictions and/or mistreatment of people or cultures." It features a cat that Disney itself has described as "a racist caricature of East Asian peoples with exaggerated stereotypical traits such as slanted eyes and buck teeth." Obviously, the live-action "Aristocats" will need to shy away from such stereotypes.
I've lost count of how many times Disney has raided its vault for animated titles to remake as live-action or pseudo-live-action features in recent years, but this is at least the umpteenth time. It's worked out pretty well for them in some cases: the 2019 version of "The Lion King" was the second highest-grossing film of that year, and the only reason it lost the top spot is that it was bested by "Avengers: Endgame," which briefly reigned as the highest-grossing film of all time.
Disney has previously dabbled in live-action cats movies, such as the 1965 film, "That Darn Cat," starring Haley Mills and Dean Jones. It's also dabbled in other romps with real animals, such as the 1993 film, "Homeward Bound: The Incredible Journey," which used voiceover to give a Golden Retriever an appropriately wise and gentle voice.
I've actually met three of the Aristocats (along with a whole lot of other bipedal critters) in several Disney theme parks worldwide, and I'll shoot you straight: never once did any of them speak a word to me. As we bask in the novelty of another live-action Disney remake — with talking felines — it's worth remembering how well this sort of idea panned out for Universal Pictures when it distributed Tom Hooper's adaptation of the Andrew Lloyd Weber stage musical, "Cats," in late 2019.
"Cats" was a critical and commercial disaster for Universal. Technically, it wasn't live-action, since it transformed its actors to CG cats with visual effects, but clearly, someone at Disney was paying attention, and they thought, "We need our own movie with talking cats." And so you shall get it.