Clips Round-Up: Queen Latifah Is A Tiger Rising, Jackson Rathbone On A Warhunt & More! [Exclusive]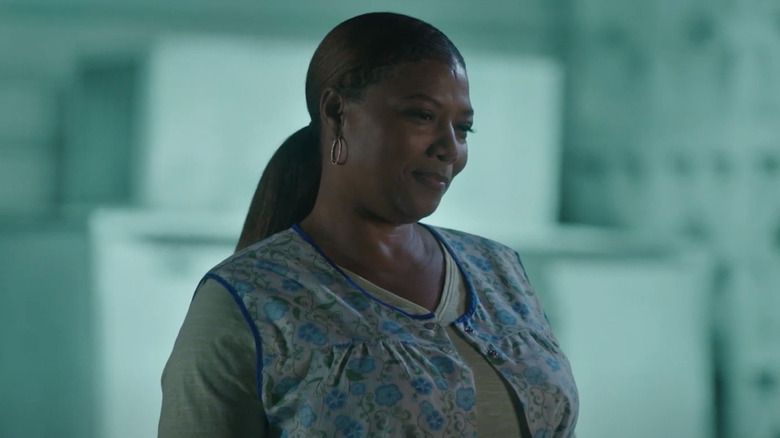 Highland Film Group
(Welcome to SlashClips, a series where we bring you exclusive clips from hot new Digital, Blu-ray and theatrical releases you won't see anywhere else!)
In this edition:
"The Tiger Rising"
"Two Deaths Of Henry Baker"
"Warhunt"
"Last Radio Call"
The Tiger Rising
First up we have an exclusive clip from Highland Film Group's new movie "The Tiger Rising," featuring Academy Award nominee Queen Latifah ("Hairspray"), who is also an executive producer on the film. Written and directed by Ray Giarratana, the movie also stars Christian Convery ("Sweet Tooth"), Madalen Mills ("Jingle Jangle: A Christmas Story"), Tony Award-nominee Sam Trammell ("True Blood"), Katharine McPhee ("Smash"), and Golden Globe-nominee Dennis Quaid ("Far From Heaven"). It is scheduled to hit theaters on January 21, 2022, and on-demand and digital on February 8.
Here is the official synopsis:
Queen Latifah and Dennis Quaid star in this beloved tale based on the New York Times best-selling book by Kate DiCamillo. When 12-year-old Rob Horton (Christian Convery) discovers a caged tiger in the woods near his home, his imagination runs wild and life begins to change in the most unexpected ways. With the help of a wise and mysterious maid, Willie May (Queen Latifah) and the stubborn new girl in school (Madalen Mills), he navigates through childhood memories, heartache, and wondrous adventures in this heartwarming adaptation.
Warhunt
Saban Films provided us with an exclusive clip from their supernatural military thriller "Warhunt," which stars Robert Knepper, Jackson Rathbone, and Mickey Rourke and is scheduled to hit theaters, digital, and on-demand on January 21, 2022. 
Here is the official synopsis:
1945. A US military cargo plane loses control and violently crashes behind enemy lines in the middle of the German black forest. Immediately ruthless Major Johnson (Mickey Rourke) sends a squad of his bravest soldiers on a rescue mission to retrieve the top secret material the plane was carrying. Led by Sergeant Brewer (Robert Knepper) and Walsh (Jackson Rathbone), the soldiers venture deep into the forest near the crash site. They soon discover hanged Nazi soldiers and other dead bodies bearing ancient, magical symbols. Suddenly their compasses fail, their perceptions twist and straying from the group leads to profound horror as they are attacked by a powerful, supernatural force. Fighting for their sanity and struggling to survive, they must uncover the shocking truth behind the force before the Nazis and do everything they can to remove all evidence it ever existed, even at the cost of their own lives.
Two Deaths Of Henry Baker
Saban Films and WellGo have also provided an exclusive clip from the Gil Bellows thriller "Two Deaths Of Henry Baker," which will be available on digital, DVD, and on-demand on January 25, 2022.
Here is the official synopsis:
A decades-long family feud pits two brothers and their sons in a bloody battle for possession of a fortune in gold. On the outskirts of a dusty, rural town, a young boy watches as his father buries a cache of stolen coins. The secret stash is entrusted alone to his favored son, Henry. Thirty years later, a corrupt cop (Tony Curran) and his crew descend on the now-adult son (Gil Bellows) to snatch the treasure. A bloody ambush ensues, leaving several dead or maimed and Henry being sent away to prison. His only son, Hank (Sebastian Pigott), is now in possession of the riches. After a long stint behind bars, Henry is released and plans to reunite with Hank and the fortune he left behind. Henry's brother, Sam and his own son (Joe Dinico) have resurfaced to exact revenge and claim the riches as their own.
Last Radio Call
Lastly, we have a clip from the found-footage horror film "Last Radio Call," which will be available across digital and VOD platforms on January 21, 2022, one week after it debuts on the Terror Films Channel. Written and directed by Isaac Rodriguez, the film stars Sarah Froelich, Jason Scarbrough, June Griffin Garcia, Ali Alkhafaji, KeeKee Takatsuki, Bert Lopez, and Makayla Rodriguez. 
Here is the official synopsis: 
"Last Radio Call" centers around Officer David Serling, who went missing inside the abandoned Yorktown Memorial Hospital. One year later, his wife has hired a film crew to help bring light on what really happened that night. Using recovered body cam footage, she discovers a dark secret that sends her spiraling down a horrific path of ancient evil. She must now face an unknown terror to find the answers she desperately seeks.