Every Song We Heard In Peacemaker Episode 4
HBO Max
This article contains spoilers for "Peacemaker" episode four. Proceed with caution.
It's Thursday and you know what that means: We get to return to the small town of Evergreen and catch up with John Cena and the gang in "Peacemaker." Episode four brings a real emotional gut punch (or more appropriately, gut stab) to the team as Peacemaker is forced to confront his past and his exceedingly terrible white supremacist father. Plus, Leota Adebayo shows some serious signs of being her mother's daughter in this chapter of the story.
Due to all the tense moments and important dialogue, the rocking soundtrack takes a back seat this week. The traditional tunes are much more spread out to allow Clint Mansell and Kevin Kiner's score to take center stage. However, when the side stages are active, James Gunn and co. continue to deliver new and lesser known hair metal to add to your playlist.
Episode 4: The Choad Less Traveled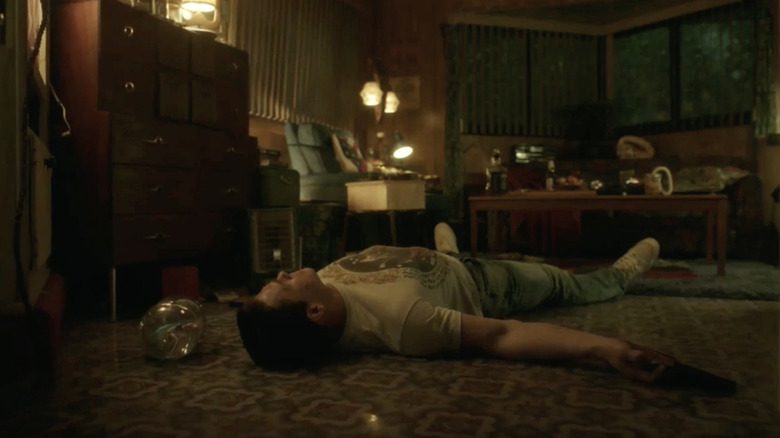 HBO Max
Track 1: "Beat the Bullet" by Vain
The episode opens with this track as the team returns home from their mission to assassinate Senator Royland Goff and his family. John Economos, who is driving the van, likely picked the song since, as we've said, every road trip needs road trip jams. But the radio grows more faint as we transition to the rest of the team in the back of the van. Vigilante and Peacemaker recount the events of their torture from the last episode, including Goff's fate in the cave. When Judomaster's unconscious body falls over, Adebayo and Harcourt have to stop their costumed cohorts from unloading their clips on the prisoner.
Track 2: "I Wanna Be With You" by Pretty Boy Floyd
The next track kicks in around 7:43 when Vigilante and Peacemaker are in the car. Following their debriefing at the team's headquarters, they head to August Smith's house so that Chris can grab another helmet. On the ride there, they have an incredibly passive aggressive conversation about Peacemaker allowing Vigilante to be tortured by Goff, which resulted in part of one of his pinky toes to be cut off. Chris also calls Adrian a candy ass, which is funny because that phrase is typically used by Cena's former foe in the squared circle Dwayne "The Rock" Johnson.
Track 3: "Jawbreaker" by The Cruel Intentions
We don't get another needle drop moment until 29:47. Now that Vigilante has landed in jail thanks to Adebayo's manipulative conversation, he's ready to initiate his plan to take out Peacemaker's dad. Adrian Chase enters the White Dragon's den with a dramatic-slow motion walk down a hallway filled with inmates taunting him. Meanwhile, back at Peacemaker's house, we learn that Goff wasn't actually eliminated. Separated from its fleshy vessel, the butterfly that previously inhabited Senator Goff's body is now in a jar in Chris' backpack. Also, bonus Eagly appearance!
Track 4: "House of Pain" by Faster Pussycat
After finding out what the team knows about his past, Peacemaker heads home to unwind at the 38:52 mark by putting on a record, hotboxing Butterfly Goff, and dancing around his living room. Back at the jail, Economos managed to get Vigilante out of custody. Harcourt arrives to pick him up, but he reveals that he may have made things worse with White Dragon while he was in there since he failed to kill the supervillain. Then, through flashbacks, we see a young Chris Smith torturing a prisoner under the guidance of his father, Rick Flag's last words, and hints at what happened to his brother.
Track 5: "Enemy in Me" by Vains of Jenna
Finally, around 44:23 right before credits roll, Adebayo is going through the belongings of Annie Sturphausen, the rocker chick/one night stand/butterfly that Peacemaker met in the first episode. She uncovers an important clue that should help the team in their fight against the butterflies. When she calls Murn to come back to the office to check it out, it is revealed that he himself is a butterfly.
You can find the official "Peacemaker" playlist on Spotify, where all these songs are currently available. It will be updated every week with the songs from new episodes that debut Thursdays on HBO Max.