Netflix's Most Watched Films Last Week Took A Surprising Turn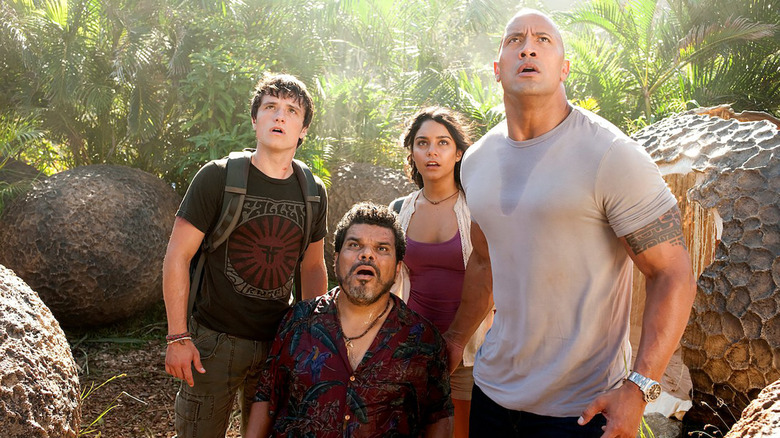 Warner Bros.
I can't believe I'm saying this, but "Don't Look Up" has finally been kicked out of the top spot on the Netflix top 10. The film enjoyed a consistent reign of domination for three weeks but didn't quite make the full month due to a newfound obsession with a movie that, quite frankly, I am shocked dethroned the highly-debated satire. 
This week's chart toppers are predominantly titles we've seen for a few weeks now, with only three films making a first-time appearance. Kids' fare is surprisingly light this week with only "Charlie and the Chocolate Factory" and "Journey 2: The Mysterious Island" making the list, both returners with "Journey 2" now in its third week. Between the two, my vote is definitely for "Journey 2," because I'm an easy mark for adventure films with Dwayne Johnson. As for the rest of the list, they all fall into three very weird and oddly specific categories. Let's dive in and break it down, shall we?
Stuff Parents Are Watching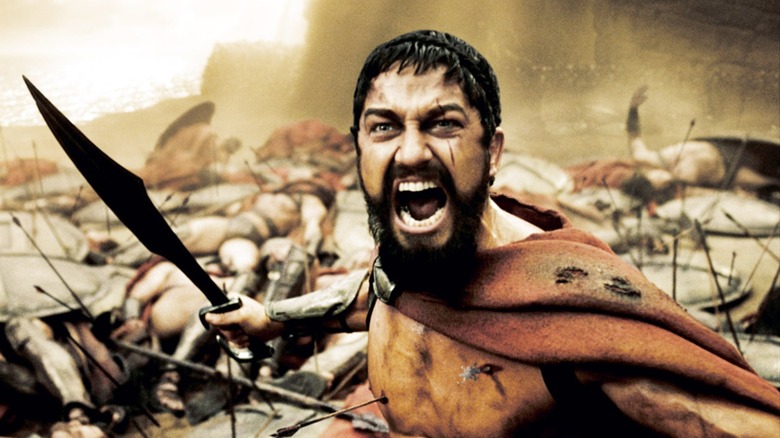 Warner Bros.
After last week's emerging category of "Films Starring Actors Your Mom Likes," this week the category has expanded a bit to a more general "Stuff Your Parents Are Watching." Adam Sandler's films "Just Go With It" and "The Longest Yard" took the fourth and fifth spots respectively, continuing to prove why Netflix made that lucrative partnership deal with him in the first place. Admittedly, neither of these films are from the strong side of his filmography, but I guess we can't expect our dads to be willing to unpack the toxic masculinity of "The Meyerowitz Stories."
Returning from last week is "First Sunday," David E. Talbert's directorial debut that helped earn him a first-look deal with Netflix. It's got a lot of heart but isn't nearly as funny as it could be considering the amazing talent in the cast like Katt Williams, Tracy Morgan, Regina Hall, and Ice Cube. A newcomer did emerge this week, the film adaptation of Frank Miller and Lynn Varley's comic series of the same name, "300." The action film may seem out of place in this category, but I regret to inform you all that this movie came out in 2007 and was SUPER popular with teen boys, who are now in their early-to-mid 30s and are likely parents themselves. As cool as "300" absolutely is, this is officially a dad movie now.
Stuff About the End of the World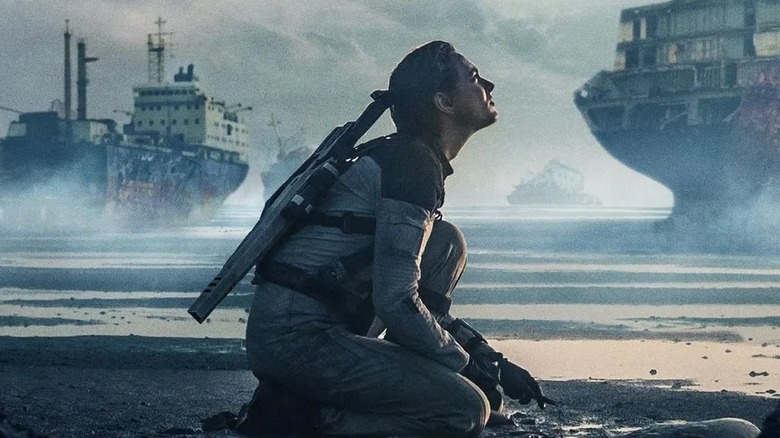 Netflix
Miss Omicron has seriously put folks in a weird headspace. After what seems like everyone on the planet has seen "Don't Look Up," the need for end-of-the-world movies is apparently still pretty high. I stand by my prediction that it's gonna be a long while before "Don't Look Up" is off the board for good, but the "movies like this" algorithm suggestion must be working overtime because the German-Swedish film "Tides" (previously known as "The Colony") shot up to the third most-watched film last week. 
The film is about an astronaut who ends up trapped on a post-apocalyptic Earth during a research mission and is forced to decide the fate of the wasteland's remaining populace. 
Are we okay? Should we call someone? I really hope we're finding catharsis in these films right now because, otherwise, we need to call our therapists. Both films are worth watching given the state of the world but know that it may make you feel some kind of way.
Stuff Social Media Is Responsible For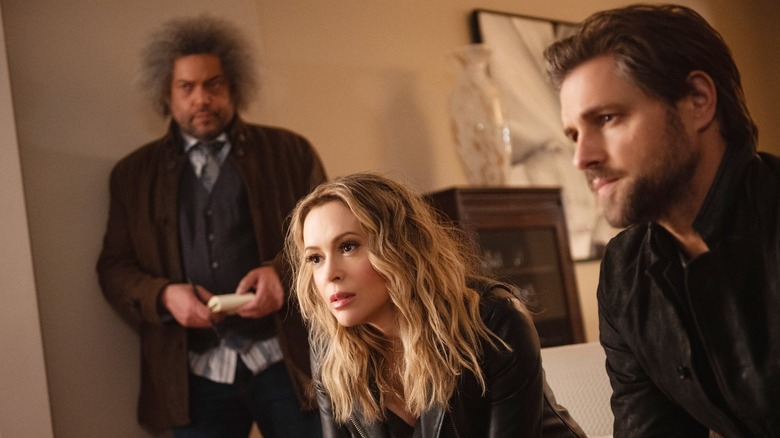 Netflix
Someone call up whoever runs the account "Is The Town on Netflix?" and let them know that thanks to their due diligence, "The Town" is in the top 10 for the second week in a row. The Ben Affleck crime thriller dropped from the fifth spot to the seventh this week, proof that memes do have an expiration date but there will always be people arriving late to the party. This film has a weirdly aggressive fanbase, but a mostly-harmless one that just wants more people to watch "The Town" and enjoy the chaos.
The biggest surprise, however, is the romantic thriller "Brazen" jumping in and taking over the top spot. Based on Nora Roberts' romance thriller, the Alyssa Milano-starring film has only been on Netflix for six days, but it still managed to knock out "Don't Look Up." 
You may be curious why a seemingly random release is the most popular film on the platform, and part of it is due to an overwhelming surge of support to combat jerks. When Milano was cast, Roberts was inundated on Facebook with members of her fanbase who hate Milano due to her participation in the #MeToo movement and her criticism of the Trump administration. Roberts stood by Milano's casting and didn't care what a bunch of bigots had to say, and there's been a push from progressives to support the film in an attempt to combat the hate campaign started by the #GoWokeGoBroke crowd. Well, it worked, because "Brazen" is the most-watched movie this week.