Severance Trailer: Office Culture Turns (More) Dystopian In New Apple TV+ Thriller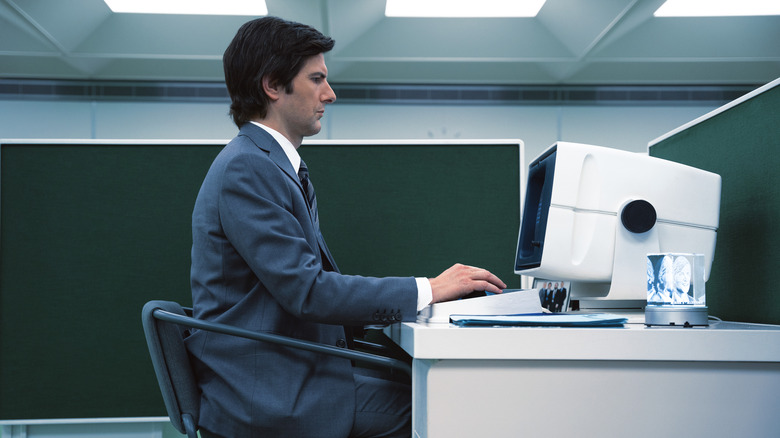 Apple TV+
Once upon a time, actor Adam Scott auditioned for a role in a certain show called "The Office." He didn't get the part (which ultimately went to John Krasinski. That's right, Ben Wyatt could've been Jim!), but Scott hardly missed a beat and moved on to the very obviously "The Office"-influenced "Parks and Recreation." For those fans who have wondered just how well he would've acquitted himself in the long-running workplace comedy, well, this might be a case of being careful what you wish for.
In the new Apple TV+ series titled "Severance," office drone Adam Scott willingly submits himself to a memory-altering surgical procedure that effectively divides his life into two halves: his work life and his home life, with absolutely no crossover between either one. While America and much of the world continues to prioritize a "Return to work!" narrative over safely containing the ongoing pandemic, fiction once again comes through to give us a hefty dose of farce and help us make sense of our barely less ridiculous reality.
Check out the new trailer for the series below.
Severance Trailer
Shady corporations, disturbing examples of productivity-minded workplace culture gone horrendously awry, employees who are mysteriously punished for stepping even the slightest bit out of line ... no, this isn't a news article about Amazon's reprehensible workplace conditions. "Severance" is the farcical story of Mark Scout, a loyal office worker for Lumon Industries who signs up for a radical medical procedure that supposedly makes for the ideal employee — someone who thinks of nothing but work in the office and physically can't bring that work home with him after he clocks out. After Apple released the first trailer for this new series, /Film's Shania Russell rightfully pointed out that this premise could easily have been ripped right out of an episode of "Black Mirror."
Created and written by Dan Erickson and directed by Ben Stiller and Aoife McArdle, "Severance" certainly appears like it will bring the dystopia uncomfortably close to home. In addition to Scott, the rest of the cast includes John Turturro, Patricia Arquette, Britt Lower, Zach Cherry, Dichen Lachman, Jen Tullock, Tramell Tillman, Michael Chernus, and Christopher Walken. The first two episodes of the series will premiere on Apple TV+ on February 18, 2022, with the remaining seven episodes of the season releasing in weekly installments every Friday.
In 'Severance,' Mark Scout (Adam Scott) leads a team at Lumon Industries, whose employees have undergone a severance procedure, which surgically divides their memories between their work and personal lives. This daring experiment in 'work-life balance' is called into question as Mark finds himself at the center of an unraveling mystery that will force him to confront the true nature of his work... and of himself.