The Alfred Hitchcock Cameo You May Have Missed In Psycho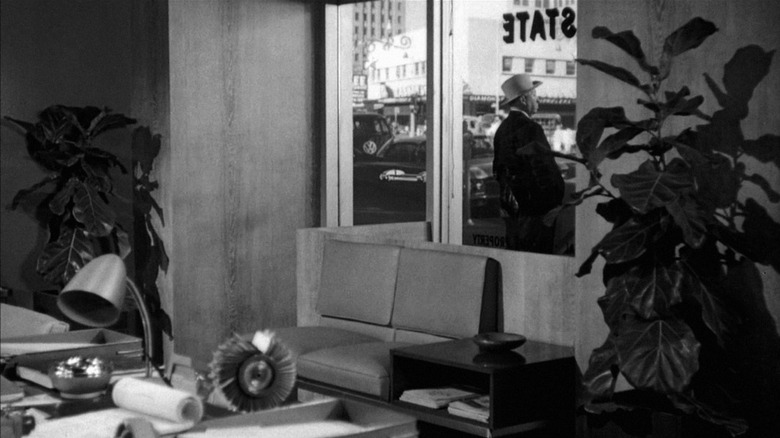 Paramount Pictures
Tarantino does it. Shyamalan does it. Wes Craven, John Carpenter, and Eli Roth have done it. The director cameo is a time-honored tradition in cinema, and it's a fun one. Catching a glimpse of the person behind the curtain rarely breaks engagement with a movie — in fact, it can enrich the experience. He wasn't a director, but for Marvel fans, a Stan Lee sighting is not only a treat, but while he was alive, a brief appearance was expected in any comic book movie based on his co-creations. One of the most prominent (but by no means the first) filmmaker to do it was Alfred Hitchcock, whose 40 cameos in his completed 54 feature films became a trademark over his six-decade career.
Some appearances by the "Master of Suspense" were more prominent than others, though all were in non-speaking roles; he was such a known figure by 1948 that one of his two cameos in the Leopold-Loeb case retelling, "Rope," is of his recognizable silhouette in a red neon light (the same that would feature in the opening credits of the director's "Alfred Hitchcock Presents" series). While not everyone has watched "Rope," enough moviegoers have seen his 1960 proto-slasher "Psycho" that it's considered both one of Hitchcock's best and one of the greatest horror movies of all time. Having come in the wake of a successful decade for the director with bangers like "Dial M For Murder," "Rear Window," and "To Catch A Thief," "Psycho" heralded a darker departure from his earlier work in a tale of an embezzler who meets the wrong mama's boy. Hawk-eyed cinephiles can spot the auteur within the first seven minutes of the Paramount feature, rocking a Stetson cowboy hat outside as Marion Crane (Janet Leigh) enters an office building.
A Cameo King
Hitchcock frequently put his cameos front and center. His tenth film, "Blackmail," already starts from a position of prominence, credited as the first British "talkie" upon its 1928 release; in it, Hitchcock grabs nineteen seconds of screen time as a small boy annoys him on the London Underground. Early in his career, he would play the role of the extra, a journalist with a camera in the background, or a musician carrying some large instrument in the background — someone who might be easily missed. But as the English filmmaker gained purchase in the public eye, he found he was too distinguishable at a certain point and that audiences would take too much time trying to spot him. As such, Hitchcock would begin putting his cameos earlier in the runtime so that viewers could focus on the story. With the exception of "Topaz" and "Family Plot," all Hitchcock features after 1958's "Vertigo" clock his cameos within the first ten minutes of the runtime, cementing him as a feature in his films alongside voyeuristic framing and methodical suspense-building.
Hitchcock's Favorite Cameo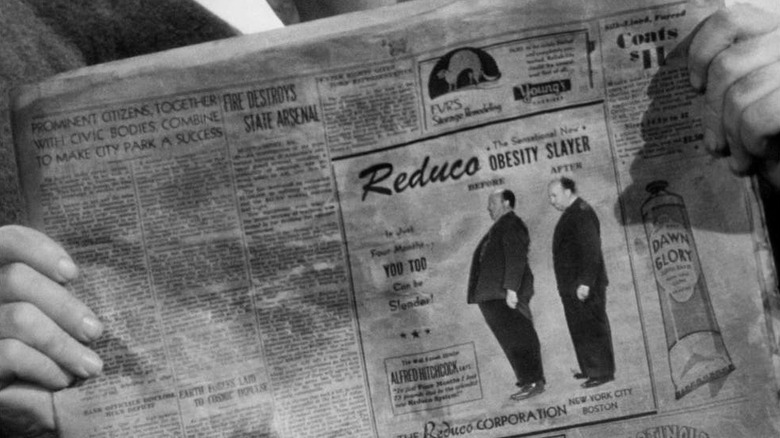 20th Century Fox
Alfred Hitchcock has shown up the background to wind clocks and in the foreground to catch buses, and sometimes he's only lent his voice as his cameo. But which is his favorite? The answer lies with another auteur. In the beloved book "Hitchcock/Truffaut," filmmaker Francois Truffaut sat with the "Spellbound" director to discuss the latter's filmography and creative approach. When the conversation worked its way to "Lifeboat," Hitchcock pointed to his bit part, in which a newspaper ad uses his distinct profile as the before and after for a weight-loss product, as the cream of the cameo crop. He told Truffaut:
"That's my favorite role and I must admit that I had an awful time thinking it up. Usually I play a passer-by, but you can't have a passer-by out on the ocean. I thought of being a dead body floating past the lifeboat, but I was afraid I'd sink. I couldn't play one of the nine survivors, since each had to be played by a competent performer. Finally, I hit on a good idea. At the time, I was on a strenuous diet, painfully working my way from three hundred to two hundred pounds.

So I decided to immortalize my loss and get my bit part by posing for "before" and "after" pictures. These photographs were used in a newspaper ad for an imaginary drug, Reduco, and the viewers saw them — and me — when William Bendix opened an old newspaper we had put in the boat. The role was a great hit. I was literally submerged by letters from fat people who wanted to know where and how they could get Reduco."
From hawking an "Obesity Slayer" to rocking a Stetson, Alfred Hitchcock's own image is as "Hitchcockian" as that of the bombshell blonde.