The Best Movies Streaming Right Now: The Last Duel, Eternals, And More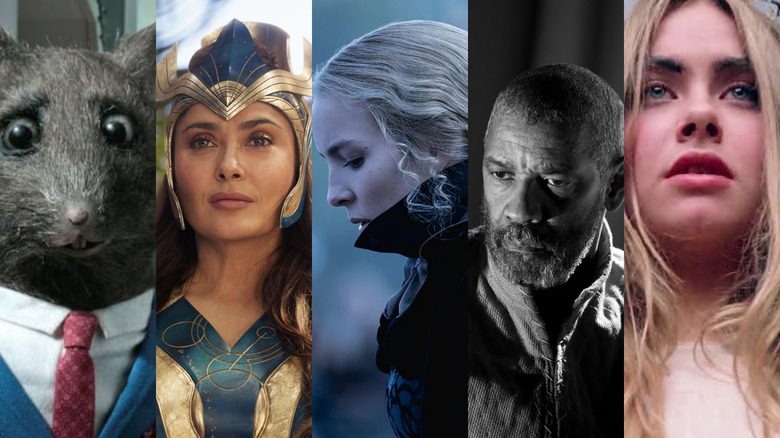 Netflix, Marvel, 20th Century Studios, Apple TV+, Severin Films
(Welcome to Now Stream This, a weekly column dedicated to the best movies streaming on Netflix, Amazon, Hulu, and every other streaming service out there.)
As another week draws to a close, it's time to stream some movies. And I gotta say, this is the best Now Stream This in a while. No, I don't mean because it features more brilliant, unparalleled writing from me, your humble author. I mean the line-up is pretty damn solid, folks! Some great stuff awaits you on various streaming services this week, and I hope you can carve out the time to watch them. In this edition of Now Stream This, we have an underseen historical epic from Ridley Scott, a creepy stop-motion anthology film, Joel Coen doing Shakespeare solo, a divisive Marvel flick, and a lengthy-but-must-see horror documentary. Let's get streaming. 
The Last Duel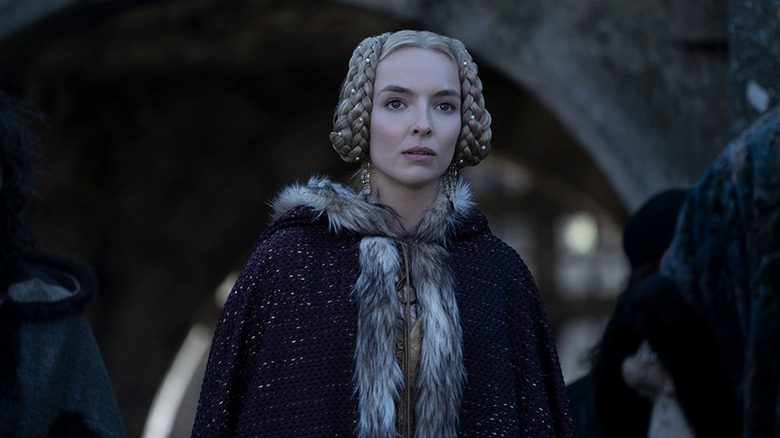 20th Century Studios
Now Streaming on HBO Max.
Ridley Scott released two movies in 2021. One was the goofy-but-enjoyable "House of Gucci." The other was "The Last Duel," the far superior film that nonetheless flopped at the box office. If you skipped the film in theaters, now's your chance to see what you've been missing. Scott's film deals with the true story of the last officially recognized judicial duel fought in France, and features a fantastic script from Nicole Holofcener, Ben Affleck, Matt Damon. What makes their script so good is the rather ingenious way it breaks up the story into perspectives, similar to "Roshomon." We get the same story told from three different points of view, and each time there's something different. 
The story concerns a knight, played by Matt Damon, his wife, played by Jodie Comer, and a squire, played by Adam Driver. Driver and Damon's characters start off as friends but grow apart as Driver rises in the ranks thanks to the patronage of a count (a scene-stealing Ben Affleck). Things come to a head when Comer's character accuses Driver's character of rape. Driver, for his part, says they had consensual sex. Damon challenges Driver to a duel to sort things out – and it's not just the men's lives in danger here. If Damon loses the duel, that will mean in the eyes of the law, Comer's accusation was false – and the punishment for a false accusation of rape is death. 
This is heavy subject matter, and I should point out the sexual assault plays out twice – once from Driver's POV and once from Comer's POV. If you feel you can't handle that material, I certainly won't fault you. If you can, though, I urge you to check out "The Last Duel" because it's so much more than a simple historical epic about knights in armor. It's ultimately the story of terrible men who think they're noble. Even Damon's character, who is first set up as a heroic figure, is eventually revealed to be rather awful. Everyone is doing good work here, but Comer deserves to be singled out for her difficult, emotionally resonating performance. 
The House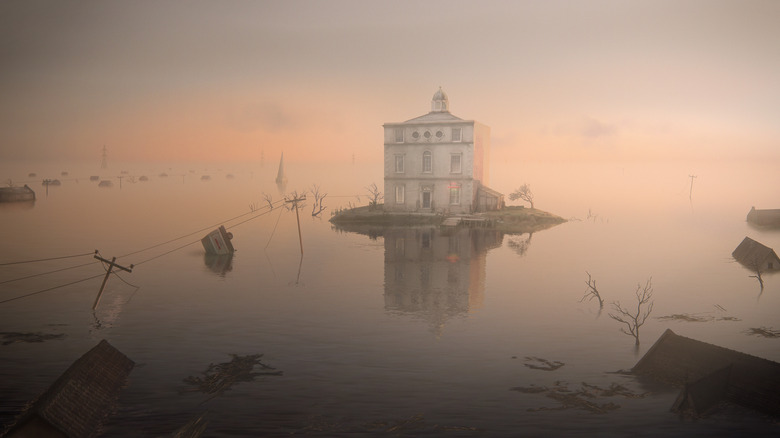 Netflix
"The House," now streaming on Netflix, might just be the first great movie of 2022. This creepy, strange, lovely stop-motion anthology film tells three different stories set in the same weird house. In story one, a family of human characters are invited to move into a newly built house sometime in the 1800s. Once inside, they learn there's something very sinister about this place. In story two, it's the present day, and an anthropomorphic rat now owns the house, trying to restore it and flip it for a profit. This is easier said than done, as the house is overrun with both bugs and unwelcomed guests. Story three jumps forward to the future, where most of the world has been flooded and an anthropomorphic cat is now trying to restore the house to its former glory. The stop-motion animation is hypnotic, the stories are unique, and nearly everything about this film is a true gem. 
As I wrote in my review:
What lurks in "The House"? This utterly enchanting, frequently disturbing stop-motion anthology arrives on Netflix today, and while the year just started, I think it just might be the first great movie of 2022. Hyperbole? Perhaps. But when a film comes along from seemingly nowhere and bewitches me so, I get excited. Featuring three wholly unique tales from different directors, "The House" exists in some kind of netherworld. It's like a series of stories trapped in some dusty picture book tucked away on a shelf in a haunted mansion, waiting to be pulled down and read by a crackling fire. It's creepy, strange, and, in the end, altogether lovely.
The Tragedy of Macbeth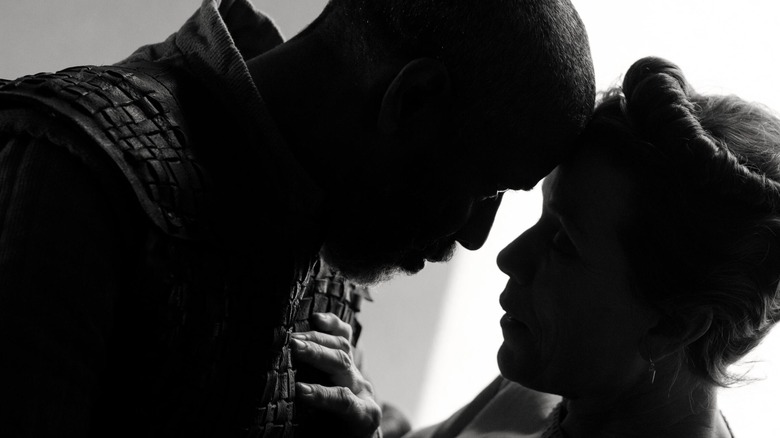 Apple TV+
Now Streaming on Apple TV+.
Joel Coen heads out on his own with "The Tragedy of Macbeth," his first feature made without brother Ethan. Adapting Shakespeare's Scottish Play, Coen and Bruno Delbonnel create a noir-ish, impressionistic take on the material. You probably know the story: a man and his wife scheme to seize the throne of Scotland – and lots of blood is shed. To pull this off, Coen has put together two incredible actors: Denzel Washington and Frances McDormand, and watching the two of them together is a genuine treat.
Washington has done Shakespeare on stage before, but he's only been in one other film adaptation based on the work of the Bard – "Much Ado About Nothing." And that's a damn shame because listening to Washington deliver that dialogue is akin to a religious experience. Even if you're familiar with every damn line in this play, Washington delivers them in ways that seem fresh and exciting. McDormand, meanwhile, creates one of the more sympathetic takes on Lady Macbeth. Don't get me wrong: she's still responsible for plenty of dastardly stuff, but the way McDormand handles it all is fascinating and empathetic in ways I haven't really seen before. 
Eternals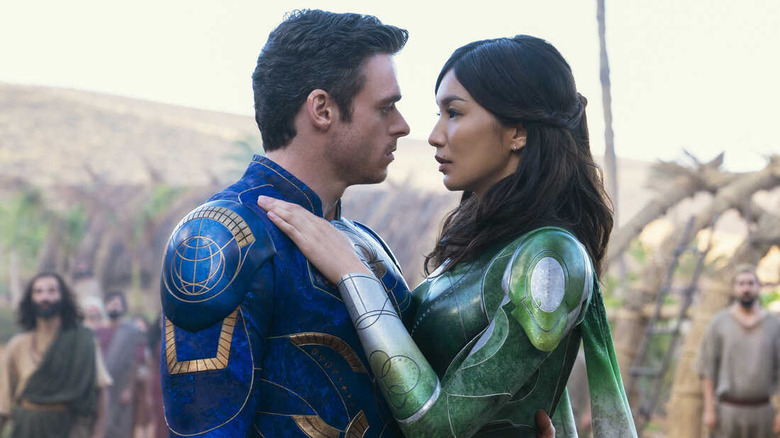 Marvel/Disney
Now Streaming on Disney+.
"Eternals" had a lot of hype around it, primarily because it was a Marvel movie directed by "Nomadland" filmmaker Chloé Zhao, who doesn't seem like your typical Marvel director. When the film arrived it ended up being rather divisive – it landed itself a "rotten" rating on Rotten Tomatoes, and even the hardcore Marvel fans didn't seem to know what to make of it. I skipped it in theaters, but now that the movie is streaming on Disney+, I decided to give it a go. And you know what? It's not so bad!
To be clear: the film has issues. The final scene (I'm talking before the credits, none of that post-credit nonsense) is a dud. And the central romance between characters played by Gemma Chan and Richard Madden is surprisingly flat (even though this is the first MCU movie to feature a genuine sex scene). But ultimately, this is a kind of hang-out movie – a film that takes its time, showcasing several different characters through thousands of years. It's also ultimately a film about true believers turning against their god, and that's kind of a risky concept to put in a Marvel movie, so kudos, "Eternals"!
The story involves immortal, ancient, superpowered beings sent to Earth to fight CGI monsters. After all the monsters are seemingly defeated, our heroes, the Eternals, are free to roam about the world – and they do. Eventually, though, they must get the band back together when a new threat rears its head. Not everything here works, but I genuinely appreciate the ambitious approach Zhao was going for here, and I feel like time will be kind to this film – in a few years, folks will reappraise it as better than its reputation suggests. 
Woodlands Dark and Days Bewitched: A History of Folk Horror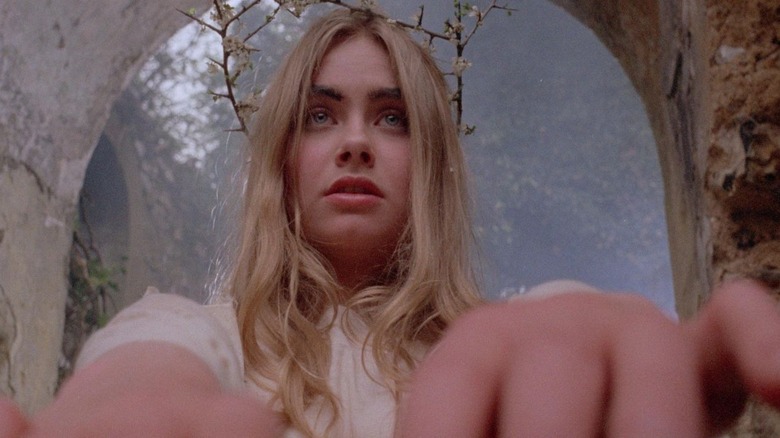 Severin Films
Now Streaming on Shudder.
Do you have a spare 3 hours and 13 minutes to spare? I hope so, because I urge you to check out Kier-La Janisse's fantastic, exhaustive documentary Woodlands Dark and Days Bewitched: A History of Folk Horror. As I'm sure you can tell by the title, this documentary is all about folk horror – think "The Wicker Man." Think "The Witch." Think "The Blood on Satan's Claw." Think the traditional English Christmas ghost story. Think – well, I'm sure you get the idea. 
Using every single second of its 3+ hour runtime, "Woodlands Dark" delves into just what makes folk horror folk horror, from its origins to its influences, and beyond. The doc is broken up into sections covering folk horror from different locals – the United Kingdom, the United States, and beyond. It's both a great introduction to folk horror for those who aren't entirely familiar with the genre and a great supplement to those who are. By the time this thing ends you'll probably have a whole list of titles you'll want to check out. And you're in luck, too, because to coincide with the documentary, the folks at Shudder have added several of the titles mentioned therein.