The Best Movies Streaming Right Now: The Lost Daughter, Encanto, And More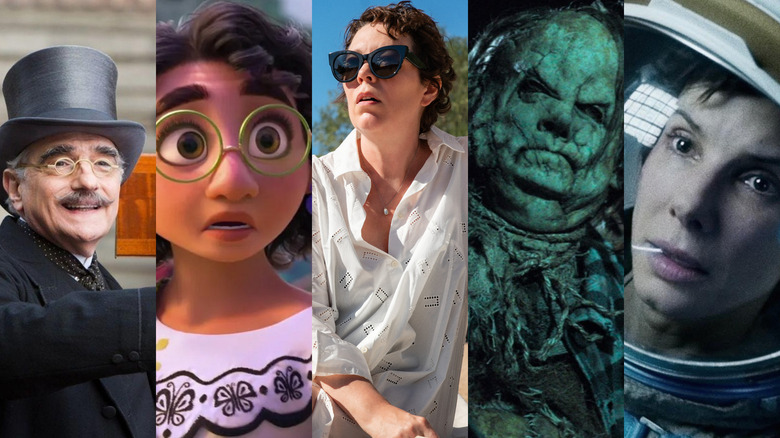 Paramount, Disney, Netflix, Lionsgate, Warner Bros.
(Welcome to Now Stream This, a weekly column dedicated to the best movies streaming on Netflix, Amazon, Hulu, and every other streaming service out there.)
Happy New Year! Now Stream This took some time off for the holidays, but now we're back with a whole new line-up of titles you can, and should, stream right now. This week's Now Stream This brings you the fantastic feature directorial debut from Maggie Gyllenhaal, a wonderful Disney pic from 2021 that sort of got overlooked, an underrated gem from Martin Scorsese, Sandra Bullock trapped in space, and a film adaptation of a series of creepy books for kids. Let's get streaming.
The Lost Daughter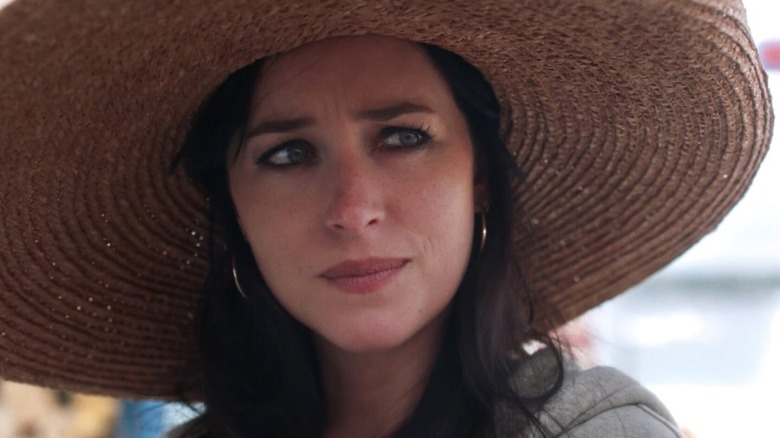 Netflix
Now Streaming on Netflix.
"The Lost Daughter" often looks, and feels, like a horror movie. There's a real sense of dread coursing through this film like a raging river, and there's an abundance of close-ups that make the entire experience claustrophobic even when characters are outside. Making her feature directorial debut, Maggie Gyllenhaal writes and directs the pic based on the novel by Elena Ferrante, and turns it into a strange drama-thriller hybrid. 
Olivia Colman is fantastic (which shouldn't be a surprise at this point; saying so is kind of like saying "water is wet" at this point) as Leda, a college professor on holiday in Greece. Leda is solitary by nature, and she'd really like to just sit on the beach and be completely alone. But the small beach near the place she's staying is frequently overrun with an obnoxiously loud family. Leda is clearly annoyed by this group but also zeroes in on Nina (Dakota Johnson), a young mother who loses her child one day, sending shockwaves throughout the beach and leading to a search party. 
But despite that setup, and despite the title, this is not really a movie about a missing child. There's a lot more going on here, and Gyllenhaal does a wonderful job conveying it all visually, trusting her audience to figure things out for themselves. Colman's Leda slowly comes undone throughout the course of the film, and Gyllenhaal understands that it's best to just sit back and let Colman work her magic, conveying so much with just her furtive glances. 
Encanto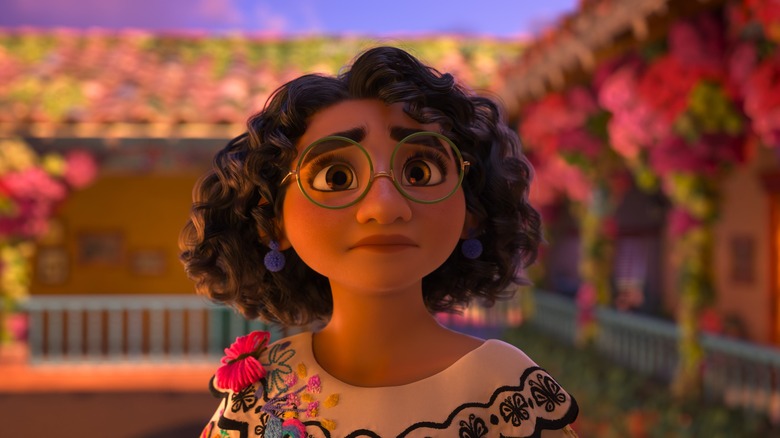 Disney
Now Streaming on Disney+.
"Encanto" underperformed at the box office, and while I know that's just the way things are right now, what with the pandemic and all, it's still a bummer. Because this is a rather wonderful film, and now that it's on Disney+, I hope more people will give it a shot. Set in Colombia, "Encanto" introduces us to the Madrigal family. The large group lives in a magical house, and when members reach a certain age they're gifted with magical powers. Except Mirabel (Stephanie Beatriz). For reasons no one can quite understand, Mirable was never granted any gifts. She tries to keep a sunny outlook on life, but the truth is her lack of magic has caused a subtle rift between her and the other Madrigals.
That rift grows bigger when Mirabel becomes convinced the Madrigals are about to lose their powers. The head of the family, Abuela Alma (María Cecilia Botero), won't listen, though. She thinks Mirabel is simply acting out because she's jealous of everyone else's power. To save the day, Mirabel decides to track down her uncle Bruno (John Leguizamo), another family outcast who mysteriously disappeared a few years ago.
The vibrant animation and great musical numbers (courtesy of the always-busy Lin-Manuel Miranda, result in a lively, spirited film that throws in a good message about accepting who you are. There's a lot to love here. 
Hugo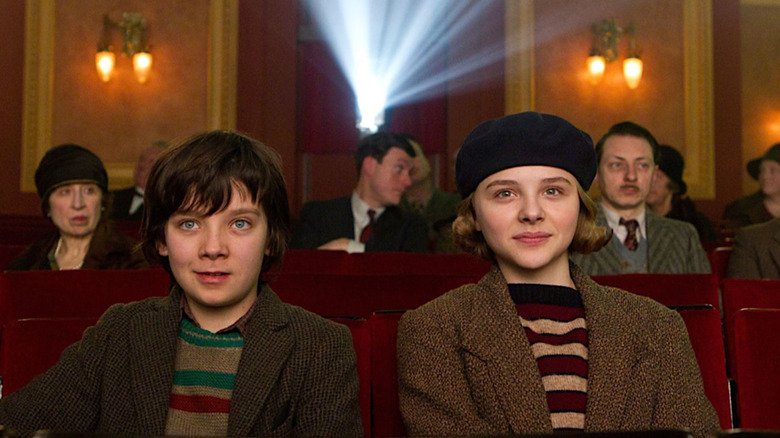 Paramount
Now Streaming on Hulu.
I've seen more than a few people say that "Hugo" is a "lesser" work from Martin Scorsese. I've even seen some dare to say it's one of his worst movies. And I am here to tell you that is nonsense! Rubbish! Crap! Other words! "Hugo" is a delight; a love letter to cinema from a man who loves the movies. It's 1913, and young orphan Hugo (Asa Butterfield) lives at the Gare Montparnasse railway station in Paris. Hugo hides out to avoid detection but soon runs afoul of an angry shopkeeper, played by Ben Kingsley. 
As it turns out, that shopkeeper is none other than Georges Méliès, one of the earlier pioneers of film. But Méliès has grown bitter, assuming the world forgot all about him and his movies. Can young Hugo melt the filmmaker's icy heart, with a little help from Méliès' granddaughter (played by Chloë Grace Moretz)? Watch and see! This was Scorsese's first film shot in 3D, and while you won't get the 3D experience on Hulu, you'll still get to see all the inventive, sweeping shots Scorsese composed to fit the 3D format. 
Gravity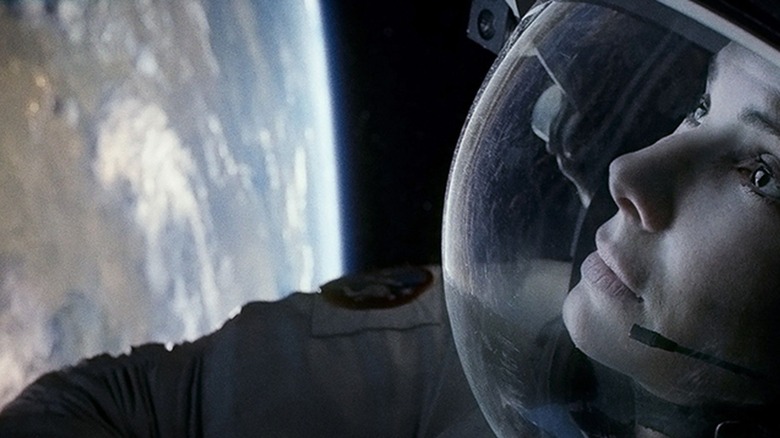 Warner Bros.
Now Streaming on HBO Max.
Alfonso Cuaron's "Gravity" is often considered to be a film that was only good on the big screen. I get that – seeing "Gravity" on a huge screen was truly memorable. But having rewatched the movie at home recently, I can tell you it's just as good on a smaller scale. Cuaron's direction, specifically the way he has his star interact with the heavy special effects, is damn great. Sure, some of the things that happen here seem a bit far-fetched. But so what? 
Sandra Bullock plays a doctor on her first space mission, and as bad luck would have it, space debris slams into her shuttle and kills one of the two other crew members. This leaves Bullock's character and the mission commander, played by George Clooney, hurtling through space. Soon, Bullock is on her own, and "Gravity" never lets up as Bullock's character drifts from one space-based location to the next in her quest to survive and get home. It's incredibly thrilling. 
Scary Stories to Tell in the Dark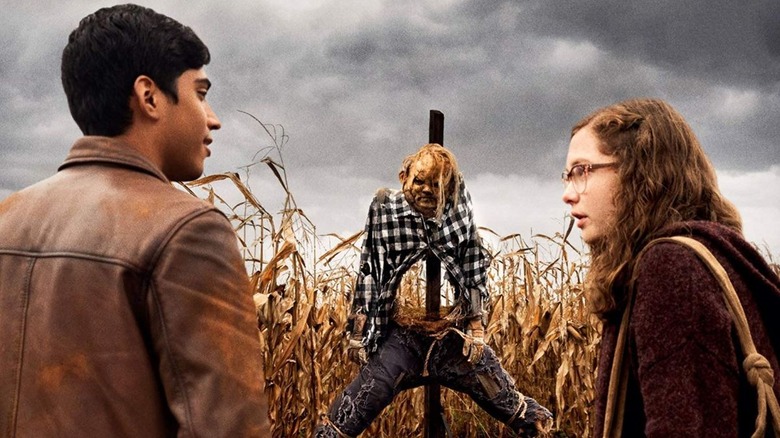 Lionsgate
Now Streaming on Netflix.
I was a big fan of the "Scary Stories to Tell in the Dark" books growing up. While the books were aimed at younger readers, writer Alvin Schwartz – drawing on folklore and urban legends – never sugarcoated his tales of terror. And as a bonus, the stories were enhanced by the nightmarish artwork of Stephen Gammell. So when news arrived that a "Scary Stories" movie was on the way, produced by Guillermo del Toro and directed by "The Autopsy of Jane Doe" filmmaker André Øvredal, I was pretty darn excited. 
The end result? Good, not great – but still worth seeing. It probably would've been best to take an anthology approach here, but del Toro and Øvredal decided against that, instead telling a new story about teens in the late '60s dealing with a curse involving – you guessed it – scary stories. The film uses the backdrop of the Vietnam War to heighten the doomed vibe haunting these youngsters – if ghosts and ghouls don't kill them, getting drafted might. Throw in some cool creature make-up and you have yourself a respectable horror film to serve as a gateway to bigger and better things.
Still, there are things here that bother me – specifically the way the film takes ideas from the books and completely reworks them. Why even bother making a "Scary Stories" movie if you're going to change what made the stories so special? I know it sounds like I'm griping a lot, and I want to make it clear that I do like this movie (that's why I'm recommending it). I just wish it had been a little better.