The Legend Of Vox Machina Trailer: A Super High-Intensity Team Of Heroes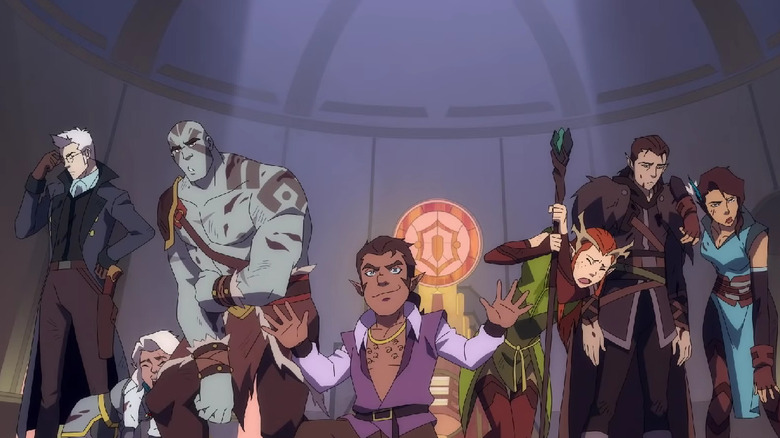 Amazon Studios
A brand new campaign begins for fans of Dungeons and Dragons and tabletop RPGs in general, no dice needed. The folks behind D&D web series "Critical Role" have created a new animated fantasy series based on the first campaign played on the show from 2015 to 2017, over 115 episodes. "The Legend of Vox Machina" is coming to Amazon Prime this month; the streaming giant ordered two seasons, totaling 28 episodes about a ragtag group of adventurous guns for hire — and they curse, flip the bird, and bleed profusely. The first season (with 12 episodes) drops on Prime Video on January 28, 2022.
Trailer for The Legend of Vox Machina
The series is a labor of love; Critical Role fans, or "Critters," turned out en masse to back a Kickstarter campaign that broke records, netting $11,385,449 in pledges from over eighty thousand backers. Amazon Studios caught wind of the incredible Critter support and added the show to its already impressive adult animation slate that includes "Invincible," based on Robert Kirkman's comic of the same title.
Returning to their respective roles in the "Critical Role" campaign are stars Matthew Mercer as Sylas Briarwood, Ashley Johnson as the gnome Pike Trickfoot, Travis Willingham as the barbaric Grog Strongjaw, Laura Bailey as half-elf ranger Vex Vessar, Liam O'Brien as half-elf rogue Vax Vessar, Taliesin Jaffe as (deep breath) Percival "Percy" Fredrickstein Von Musel Klossowski de Rolo III, Marisha Ray as the druid Keyleth of the Air Ashari, and Sam Riegel in the role of the gnome bard Scanlan Shorthalt.
Mercer serves as showrunner and executive producer of the series, which was created in 2012 for his own Dungeons & Dragons campaign before becoming a live play web series. The eight Critical Role founders and stars also executive produce along with Brandon Auman and Titmouse's Chris Prynoski. "The Legend of Vox Machina" is further backed by Amazon Studios, Critical Role, and animation studio Titmouse, the folks behind Adult Swim series' "Metalocalypse," and "The Venture Bros.," and Netflix series "Big Mouth."
The synopsis, per Amazon:
They're rowdy, they're ragtag, they're misfits turned mercenaries for hire. Vox Machina is more interested in easy money and cheap ale than actually protecting the realm. But when the kingdom is threatened by evil, this boisterous crew realizes that they are the only ones capable of restoring justice. What began as a simple payday is now the origin story behind Exandria's newest heroes.
"The Legend of Vox Machina" arrives on Amazon Prime on January 28. 2022.