How I Met Your Father Review: An Immediately Likable New Chapter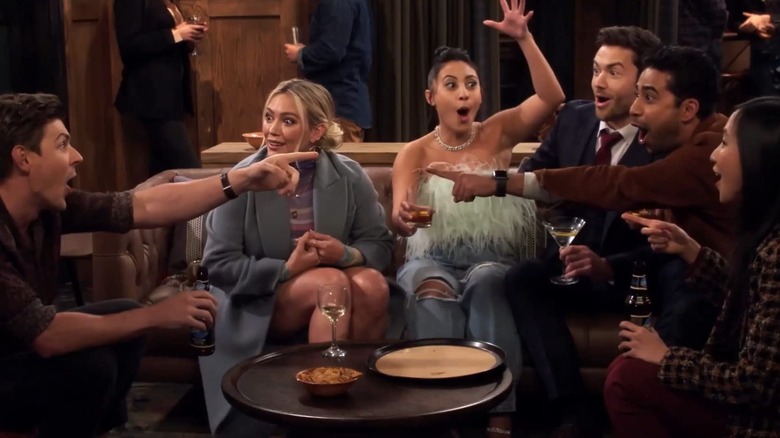 Hulu
The story of "How I Met Your Father" was a long one, even before Kim Cattrall's Sophie sat down in the year 2050 to tell it to her son. The idea of a "How I Met Your Mother" spin-off series was first announced in 2013, before the much-loved sitcom even ended, but didn't come to fruition until nearly a decade later. Now, "How I Met Your Father" is finally here, and it brings with it both the exhilaration of a brand new story, and the easy familiarity of one we already loved. It feels like sliding back into the well-worn bar booth, but this time, with a new group of friends.
Even as the bright light of retrospect illuminates some of its flaws, it's clear that "How I Met Your Mother" did a lot well across its nine-year run. The series followed Ted Mosby (Josh Radnor) and his friends as they navigated the New York dating scene, but it was also basically a show about time-traveling through memory. By framing every episode around the long-winded story older Ted (Bob Saget) was telling his kids, the show could freely maneuver through its multi-year timeline, building up a complex and enjoyable mythology around Ted and his friends.
A Frame Narrative With A Twist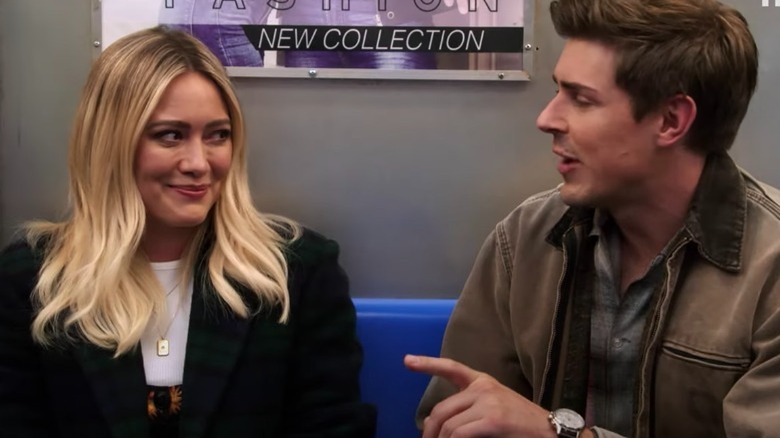 Hulu
"How I Met Your Father," which reveals itself to be a direct sequel to the series in as-yet minor ways, takes that endearing frame tale even further. Its pilot episode chronicles a wild night for Sophie (Hillary Duff), as she meets a group of people for the first time who all become fast friends and the core of the series. This gimmick would be exhausting if it wasn't executed well, but with the original series' Carter Bays, Craig Thomas, and Pamela Fryman returning to executive produce, the show is able to assemble an effortlessly dynamic cast of characters from the jump.
There's Ian (Daniel Augustin), Sophie's long-awaited Tinder date who's moving to Australia. Then there's Jesse (Chris Lowell), Sophie's rideshare driver who just suffered a humiliating break-up. His best friend, Sid (Suraj Sharma), gets engaged in the first episode, while Sophie's roommate, Valentina (Francia Raisa), goes to London Fashion Week and brings home a rich British guy, Charlie (Tom Ainsley). Jesse's wonderfully awkward lesbian sister, Ellen (Tien Tran), rounds out the main cast. They're an immediately likable bunch.
One might feel a certain natural resistance to taking on a new sitcom in 2022. The format feels played out. The laugh track distracts, and, even for excellent exceptions like Netflix's "One Day At A Time" reboot, there's some traditional element of overacting involved. Plus, the final season of "How I Met Your Mother" still lingers after all these years, like a bad taste in one's mouth. Somehow, the early episodes of "How I Met Your Father" sidestep all of these problems. There is a laugh track, but it's unintrusive. As with its predecessor, actors play the scenes with a naturalism that's rare for a show masquerading as a multi-cam sitcom. The series also seems to learn from the mistakes of "How I Met Your Mother": it seems careful to cast a wide narrative net that won't paint it into a corner later on.
A Good Story Goes A Long Way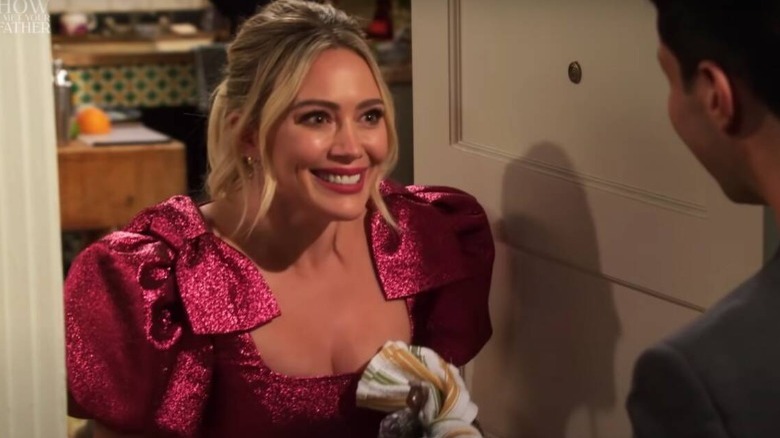 Hulu
There are a few choices in the first two episodes of "How I Met Your Father" that may raise alarm bells for erstwhile fans of the original series. It imagines a modern dating scene that's a far cry from our pandemic-era reality, which is fine, but certainly reads as odd in a series that will no doubt use reference points in time. Sophie is also, like Ted Mosby, searching for a soulmate. She's a lot more grounded than the prior series' irritatingly lovestruck protagonist, and her roommate Valentina's penchant for talking about "crushing d**k" counterbalances Sophie's dreamy approach to love. In the show's early episodes, though, she reveals a rom-com-inspired view of the world that's, so far, the only part of the new series that feels like it may wear out its welcome.
After nine seasons of "How I Met Your Mother," I honestly wanted to be done with its world. But "How I Met Your Father" arrives on the scene, after an appropriate amount of time, with a fresh, ingratiating take and a team of storytellers who appear to have learned from the sins of their sitcom forefathers. Though a few of the new show's characters echo others from the previous series — like college sweethearts Sid and Hannah (Ashley Reyes) — the group as a whole is refreshingly unique. As a direct sequel set in the same neighborhood as "How I Met Your Mother," the show will no doubt have opportunities to revisit characters we've seen before, an urge writers should mostly curb for the sake of avoiding too much nostalgic retread.
In the end, this franchise works because it's about a cultural practice that's more satisfying and simple than most any other: telling a story about a cool thing that happened one time with some friends. It's a fool-proof, timeless premise, one that has kept bars and parties and friendly dinners going long after everyone should have retired for the night. If "How I Met Your Father" continues the amiable momentum of its initial episodes, and more importantly, knows when to end its story, it'll be more than worthy of our captive attention.