How I Met Your Father Trailer: This Is The Story Of How Hilary Duff Starred In The Sitcom Spin-Off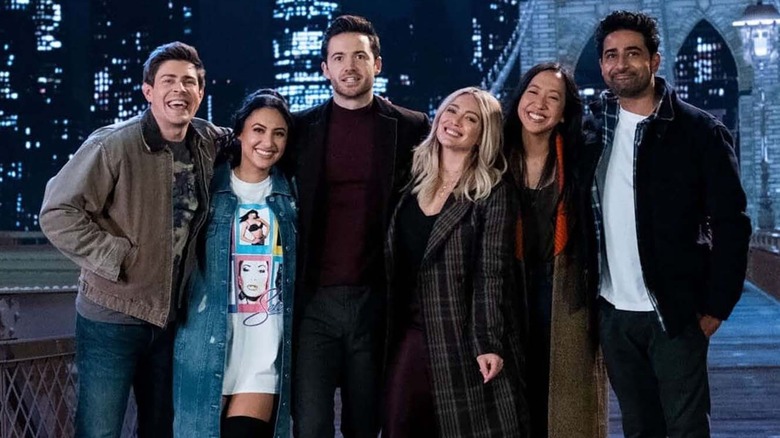 Hulu
Enjoying a run of nearly a decade, "How I Met Your Mother" was one of the most popular sitcoms of the late aughts and into the 2010s. Now, the series is getting a femme-forward spin-off appropriately named "How I Met Your Father" starring Hilary Duff as Sophie, and her close-knight group of thirtysomething friends, Jesse (Chris Lowell), Valentina (Francia Raisa), Charlie (Tom Ainsley), Ellen (Tien Tran) and Sid (Suraj Sharma) as they try to figure out who they are, what they want for their futures, and how to navigate the dating landscape in the era of apps and seemingly limitless options.
Kim Cattrall is playing the older version of Sophie, and the trailer features her onscreen, a major difference compared to the original show which only featured Bob Saget as an unseen narrator retelling the story to his children. In addition to Cattrall, Daniel Augustin ("David Makes Man"), Josh Peck ("Turner & Hooch") and Ashley Reyes ("American Gods") are all set to appear in recurring roles.
The series comes from showrunners Isaac Aptak and Elizabeth Berger, executive producing alongside Carter Bays, Craig Thomas, Pam Fryman, and Adam Londy, with Hilary Duff serving as a producer.
How I Met Your Father Trailer
There were definitely a lot of skeptics leading up to the trailer, but it looks like they totally nailed the energy and sensibilities of the original show. Chris Lowell's Jesse feels like he'll be the group's Marshall (Jason Segel) but with the longing looks he's giving to Duff's Sophie, maybe he'll be more like Robin (Cobie Smulders)? Now that it's 2022, Sophie is struggling to "live in the moment" especially after 87 unsuccessful Tinder dates. Sophie and her friends galavant around New York City in a world that doesn't seem to be still impacted by the pandemic, something that feels simultaneously relieving and a bit idealistic. At least for sitcom fans, the show may be a nice escape from our current hellscape.
"How I Met Your Father" really lucked out grabbing Duff whose availability cleared up after Disney+ put the kibosh on their "Lizzie McGuire" reboot because they weren't comfortable with the possibility of adult themes. This is the third attempt at a "How I Met Your Mother" spin-off following the Greta Gerwig-led project which was shelved by CBS, and another attempt in 2017 that failed to get off the ground. There's been no word on whether or not any of the cast of "How I Met Your Mother" will show up in the spin-off, but fans already have their fingers crossed for some cameo appearances.
The highly anticipated series is set to hit Hulu on January 18, 2022.