At Disney, It's Time To Meet The New Bob – Same As The Old Bob?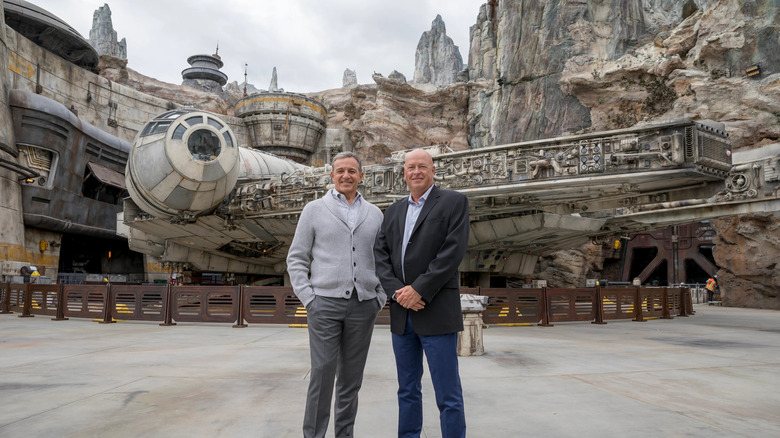 Disney
It took Bob Iger all of four months after he became the CEO of the Walt Disney Company to create the first part of an impossible legacy. In January of 2006, thanks to some wheeling and dealing on his end, Disney announced that it had bought Pixar Animation Studios, the crown jewel of modern animation, for more than $7 billion. For most of the time in which Pixar was working under contract for the larger Disney apparatus up to that point, they butted heads with prior CEO Michael Eisner. Iger, on the other hand, inherently understood that Pixar's value was immense beyond even the consistently profitable films they made. So he brought them in-house. And Iger himself is fully aware of the significance of that purchase — when speaking to CNBC last month on the eve of his complete departure, he noted that Pixar "was probably the best" choice he'd made.
Last week, the first week after Iger's departure and with new CEO Bob Chapek at the helm, Disney announced that a third original Pixar film, "Turning Red," would be skipping theaters and going straight to streaming. If there is no better sense of how different these men were, or will be, in their leadership, it may be in that decision. The COVID-19 pandemic has highlighted so many inequities and challenges within the world of entertainment, and people — including those at /Film – have already noticed that the optics of films like "Soul" and "Turning Red" skipping theaters and also being squarely about people of color are, to quote the wonderful "Mad Men" ... not great, Bob.
The 2022 Version of Disney Magic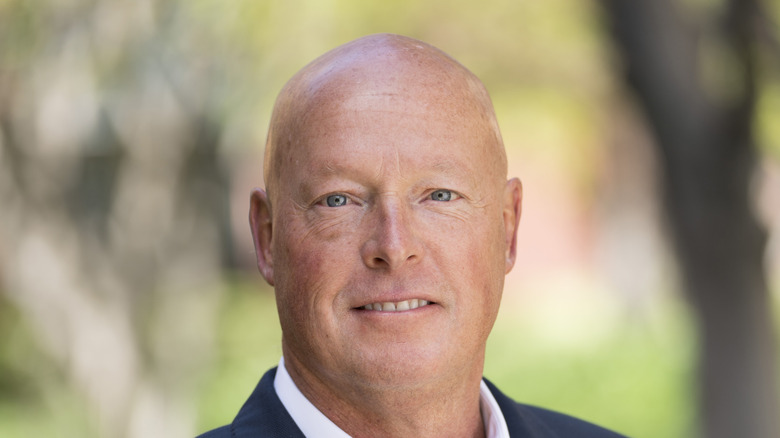 Disney
As much as some Disney fans seem to outwardly dislike Chapek during his still-fairly-brief tenure as CEO — and it's gotten to the point where people are mocking him at Walt Disney World marathon events — part of the problem is something anyone would face. Bob Iger, during the 15 years in which he served as Disney's CEO, presided over the acquisitions of Pixar, Marvel, Lucasfilm, and 20th Century Fox. Leave aside your opinion of whether it's a good thing for one entertainment studio to gobble up so many entities (spoiler alert: it's not): Iger raised the bar so impossibly high as the head of Disney, while maintaining an avuncular air among fanatics, that basically no one following in his footsteps could have ever cleared it or even matched it.
So far, what Bob Chapek is presiding over feels less like the first bold steps in a new reign of power as much as the slow and steady decline of "Disney magic" in favor of increased revenue. You'd have to be Pollyanna-ish to presume that Bob Iger wasn't in favor of increased revenue either, but there was a much more effective balance of making money while also delivering creative storytelling in film, TV, and the worldwide theme parks, instead of leaning on one over the other. With Chapek, we've seen things like prices rise on theme park food and drinks wholesale, the shuttering of a well-liked and free bus service from Orlando's airport to the Walt Disney World hotels, and an entire slate of films from Fox and Searchlight Pictures, from "West Side Story" and "The Last Duel" to "The French Dispatch" and "Nightmare Alley," seemingly tank because of, yes, the COVID-19 pandemic, but also because they were marketed and sold to fail.
Maintaining the Status Quo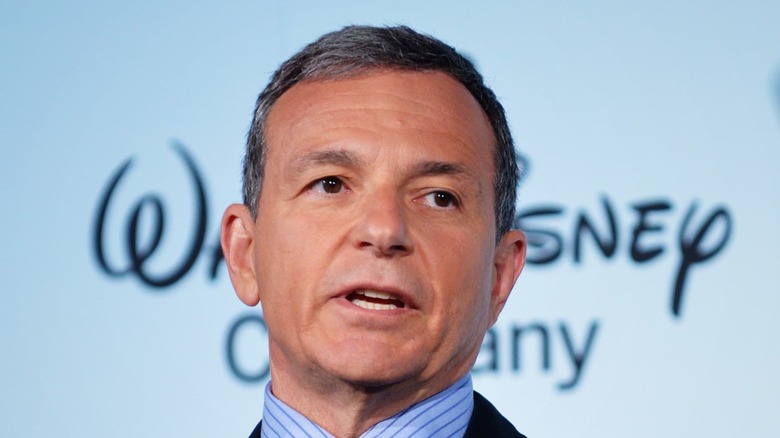 Disney
In many ways, the pieces of Bob Iger's legacy are what Bob Chapek is focused on maintaining. That's why we're getting a slew of shows on Disney+ — the streaming service that serves as yet another crown jewel of Iger's tenure, perhaps the climactic capper to his career — from the Marvel Cinematic Universe. And while Lucasfilm hasn't been as consistent in its feature-length success, the world of "Star Wars" is leading to new shows with Obi-Wan Kenobi, Ahsoka Tano, Lando Calrissian, and more franchise characters. Fox remains, at best, a question mark, as its long-term slate is mostly unknown outside of James Cameron's "Avatar" franchise, which is, itself, a question mark that should become more clearly understood at the end of 2022 ... presuming the long-delayed sequel actually arrives in theaters then.
The same is true at the Disney theme parks, which are leaning more and more on the MCU through Avengers Campus at Disney California Adventure; Lucasfilm with Star Wars: Galaxy's Edge and the upcoming gamble known as Galactic Starcruiser; and Pixar with the countless themed areas across Disney's worldwide parks. At this early juncture, if Chapek has any guidance or drive, it's to keep things running as financially successfully as possible, from a bottom-line standpoint.
Into the Metaverse?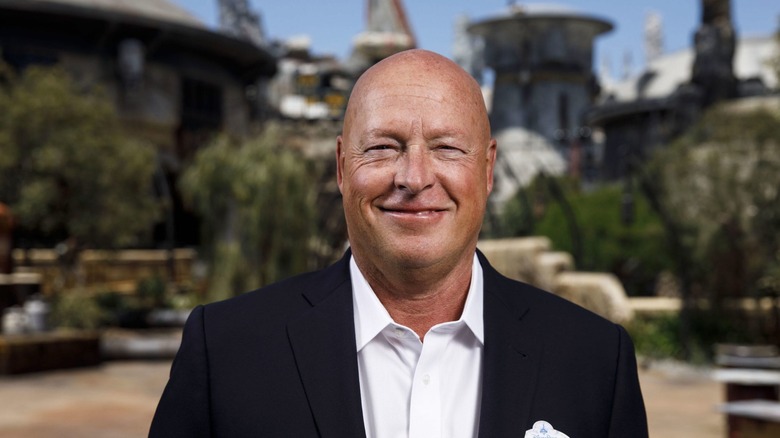 Disney
But a recent memo from Chapek, essentially serving as his state of the union address, implied that he is all-in on what is fast becoming the goofiest buzzword of the year: the metaverse! Who's ready for Mickey Mouse: Into the Metaverse? Well, Bob Chapek is, as that memo emphasized that "as technology evolves ... our creative teams [have] new canvases like the metaverse on which to paint." The memo states that Chapek has three pillars for the company to succeed strategically moving forward: storytelling excellence, innovation, and a relentless focus on the audience. (All of which seem ... well, par for the course for Disney or any entertainment conglomerate, even if they're being spelled out directly now.)
Though the memo is heavy on buzzwords, it's notable which ones bubbled up most of all: things like Disney's "franchise ecosystem" and a "focus on the consumer" stand out. Note that Chapek shifts from the "audience" to the "consumer," implying a focus on the financial output of said audience. This isn't surprising coming from a man in charge of a very big business, but telling all the same as a hint of being laser-focused on how much money can be wrung from said audience, come hell or high water. And the memo also includes, of course, a handful of mentions of the Disney+ streaming service, which does seem like the most valuable piece of the Disney puzzle at the moment.
Chapek notes that "...[consumer] behavior tells us and our industry that the way they want to experience entertainment is changing–and changing fast thanks to technology and the pandemic." This acknowledgment is coupled with recent stalled Disney+ subscriber numbers — the most recent quarterly announcement revealed that the streaming service had grown by 2.1 million subscribers, a number that is far below the expectations even for a service that rocketed past 100 million subscribers far quicker than originally expected.
Which brings us back to Pixar and "Turning Red." Pixar occupies an interesting place in Disney's set of recognizable brand names. Almost all of their films, over nearly 30 years, have been big hits with audiences and critics. 15 of the 22 Pixar films released in theaters were either the biggest animated film of their respective years or Disney's biggest film of that year, if not both. Among the outlying seven, one is the pandemic-stricken "Onward," four made over $200 million (including the massively popular "Toy Story 4"), and just two failed to hit with audiences. Pixar is, and always has been, a very sure bet.
Though Pixar employees are reportedly, and understandably, bothered that "Turning Red" is yet another original film being punted to a streaming service instead of theaters, Chapek may yet be trying to make his version of Bob Iger's purchase of Pixar. (That said, it seems pretty safe to assume that Pixar's next film, "Lightyear," will either be in theaters this summer or, should COVID hit another big wave, get delayed.) Chapek may see Pixar as an equally important piece of the puzzle as Marvel or Lucasfilm, and as another way to boost Disney+, whose long-lasting success would be his major legacy if its launch was Iger's.
It's a gamble. Bob Iger gambled often for Disney, and his gambles almost always paid off. Bob Chapek has a couple of gambles of his own in 2022, as he attempts to drag Pixar and Lucasfilm into his own version of the metaverse. His yearly goals seem ambitious in their own way. But he's got a much harder road ahead than Iger ever had.