James Gunn Says Marvel And DC Don't Push A Master Plan Or Story Mandates For Their Movies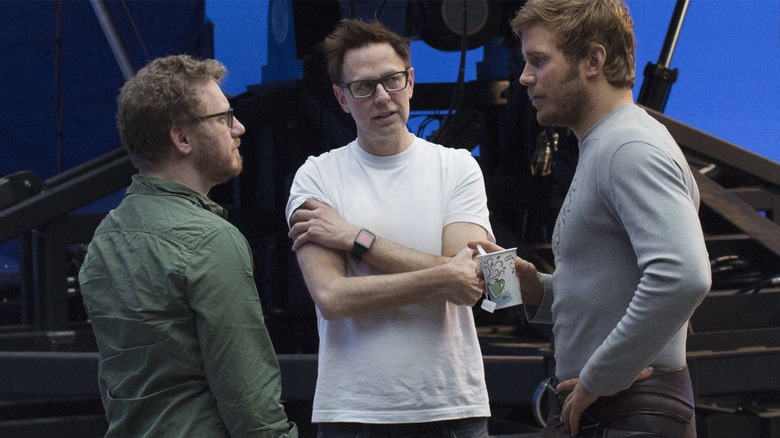 Marvel Studios
It's not hard to find all sorts of opinions from fans about how Marvel or DC run their movies. One quick trip through social media and you'll immediately be besieged with all sorts of grand proclamations and sweeping generalizations about how these major studios supposedly operate behind the scenes. Depending on who you talk to, Marvel is either holding all their directors at gunpoint and forcing them to follow the whim of every corporate higher-up or allowing complete and total free rein for any filmmaker to do whatever they want. Meanwhile, Warner Bros. once enjoyed the sterling reputation of serving as a director's dream studio to work with ... that is, until the Zack Snyder saga put a quick end to that reputation among its superhero franchise, and Christopher Nolan enacted a messy and very public divorce in the aftermath of the HBO Max day-and-date snafu.
Typically, it helps to actually hear candid and forthright comments from the perspectives of the actual filmmakers who would know best. Imagine that! Few filmmakers are more intimately familiar with the process than James Gunn, who has worked with both major studios in recent years and continues to work with them to this day. While promoting the release of his upcoming HBO Max series "Peacemaker," a spin-off of his DC film "The Suicide Squad," James Gunn sat down for a press conference and shed some light on his unique experience of working on these major productions for both Marvel and DC.
"They Kind of Let Me Go Hog Wild"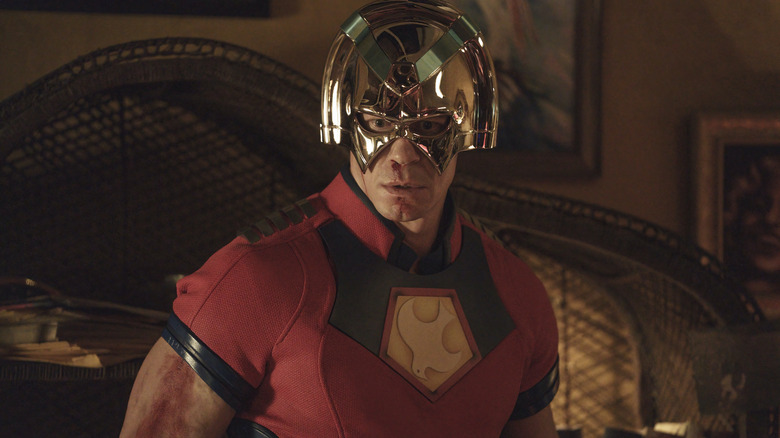 HBO Max
James Gunn has seen it all. Many of us rubbernecking onlookers watched in real-time as he was fired by Marvel, subsequently recruited by WB/DC in the most brazen studio heist you'll ever see, hired back by Marvel in an equally as shocking move, and subsequently courted for even more DC projects. "Peacemaker" is the final result of that improbable chain of events, and /Film attended a recent virtual press junket for the newest HBO Max series. The conversation inevitably turned to how both Marvel and DC run their respective superhero universes. A popular refrain among fans is that Marvel has their overall storyline locked down and planned out years ahead of time, but Gunn disputes that entirely and sheds some light about the creative process along the way. According to the man himself:
"People tend to think that there's a master plan for Marvel. But the truth is, Marvel never asked me to do anything other than, in the first 'Guardians,' to put Thanos in there and to come up with what the Infinity Stones were. Other than that, Marvel has never, ever asked me to do anything, and the same thing has basically been true of DC. There was one thing that maybe I pushed a little too far in the original scripts of 'Peacemaker,' which I pulled back on this much. But other than that, they kind of let me go hog wild."
I would point out that including Thanos and the very forced set-up for the Infinity Stones in the first "Guardians of the Galaxy" was quite a concession to make at Marvel's behest, but otherwise I'm inclined to take Gunn at his word here. Obviously, directors like Zack Snyder or David Ayer (or Patty Jenkins and Edgar Wright for Marvel) would likely have a word or two to say about the smooth sailing that Gunn has experienced. Whether it be a perfect fit between studio concerns and filmmaker personality or simply a matter of the right leadership in charge at the time, the results speak for themselves.
"Peacemaker" premieres on HBO Max on January 13, 2022.