The 90s Cult Classic Brendan Fraser Missed Out On, But Would Have Been Perfect For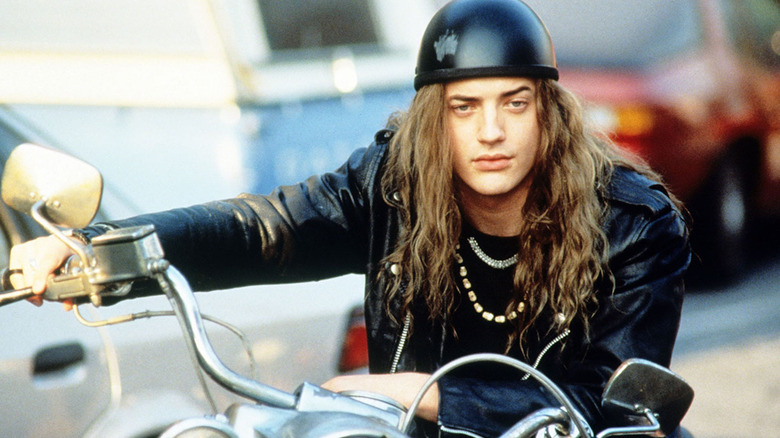 20th Century Fox
We may receive a commission on purchases made from links.
Brendan Fraser is a cherished actor whose resume consists of iconic films from the '90s and early 2000's. After his heartbreaking retreat from the spotlight, he's now on the verge of a cinematic comeback — and we're all cheering him on. Many of us know Fraser from eccentric comedies like "Blast From the Past", "Encino Man", "Airheads" (my personal favorite, seen above), "The Mummy" franchise, and "Bedazzled". He's mostly known for playing characters that are fish-out-of-water types immersed into a new world-experiencing situations through a fresh (often innocent) perspective. With such a familiar and nostalgic film history, it's no surprise to learn that Fraser was considered for another iconic '90s film that millions of us still revisit and love today.
Speaking as a native Texan, Richard Linklater's stoner coming-of-age comedy, "Dazed and Confused" is not only a cult classic but also a way of life, especially down here in Austin. According to an article from Mental Floss, there are a lot of fun facts that many of us don't know about Linklater's 1993 gem. For one, a lot of popular celebrities auditioned for the roles that eventually went to actors like Matthew McConaughey, Parker Posey, Joey Lauren Adams, and Jason London. Casting director Don Phillips stated "every actor in [Los Angeles] wanted to be in it" and it's easy to understand why. Linklater wrote "Dazed and Confused" as a way to make the teenage experience feel more relatable than revolutionary and more laid back than urgent.
The line-up of contenders featured rising stars like Claire Danes, Elizabeth Berkley, Ashley Judd, and Vince Vaughn (who was up for the role of Fred O'Bannion that went to Ben Affleck instead). And yes, Brendan Fraser was among those who were considered for the film,  but he ultimately did not get invited to the party. While I would have loved to see Fraser among the students at Lee High School in 1976 getting stoned and celebrating the last day of school, Phillips knew what he was doing. The cast of "Dazed and Confused" each played their roles perfectly, and Phillips himself also assembled the crew for "Fast Times at Ridgemont High" and "Mallrats". Unfortunately, Phillips passed away in November of 2021, but his legacy for casting some of the most memorable teenage characters within the comedy genre remains unparalleled.  
It'd Be A Lot Cooler If You Did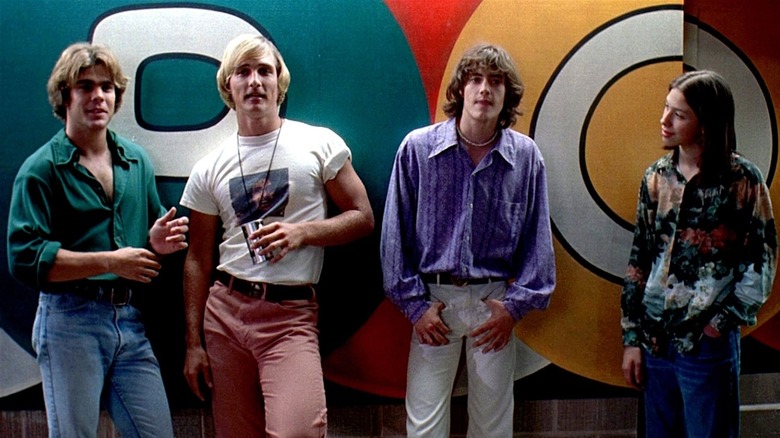 Gramercy Pictures
Out of all the actors that were turned down for roles in "Dazed and Confused", Brendan Fraser is the most baffling. I can see him lighting up a joint in some tight blue jeans, his long hair hanging down past his shoulders, sporting a Led Zeppelin or Black Sabbath shirt and sipping a beer at the moon tower with his boys. I'd peg him for more of a contemplative and quiet type like Floyd as opposed to a prowler such as Don Dawson or Wooderson, whose primary objectives are to either get babes or beat some freshman ass. Fraser just as easily could have been a background character as he could a leading man. With those blue eyes and pouty lips? Come on. 
While it hasn't been disclosed what specific role Fraser was auditioning or considered for, I can't imagine him as one of the guys who is obsessed with hazing incoming freshman because there's this kind of purity about Fraser on screen. In a film that embraces the culture of sex, drugs, and rock n roll, it's hard to think that Fraser would fit in as a bully or villain. It's much easier to picture him rolling joints while hanging out at Pickford's house and listening to Dark Side of the Moon or pouring the popular girls a drink at a kegger.
Casting fact aside, there are a lot of cool behind-the-scenes tidbits about "Dazed and Confused" that make it just as special as the plot and characters itself. Linklater is all about the local Austin community and has a certain authenticity to his films while also giving back to the places where he films. Author Melissa Maerz recently published a book entitled "Alright, Alright, Alright: The Oral History of Richard Linklater's Dazed and Confused" that I've heard is fantastic and worth checking out. And if you ever find yourself in Austin one day, you can still visit many of the sites featured in the film. I would have loved for Brendan Fraser to be a part of this iconic piece of Texas film history and all the fun stories behind the camera. Alas, we'll soon get to see him on screen soon in films like Martin Scorsese's "Killers of the Flower Moon" and Darren Aronofsky's "The Whale," not to mention HBO Max's "Batgirl" movie. So, that's definitely something I'll raise a glass to.