The 10 Most Iconic Moments Of Bob Saget's Career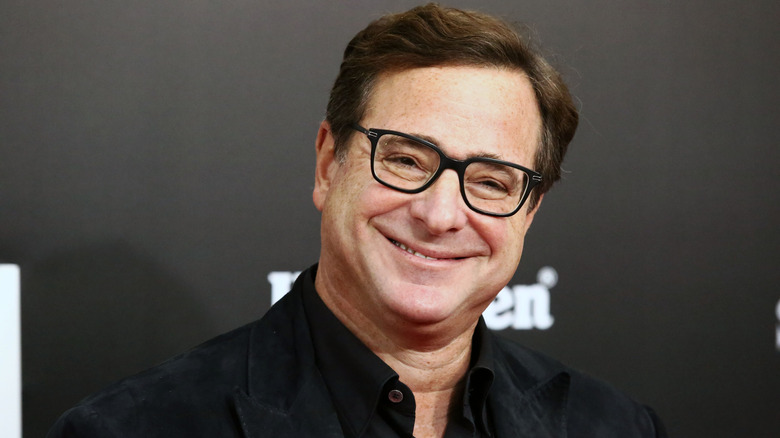 Astrid Stawiarz/Getty Images
2022 continues to bring us heartbreaking news, as revered comedian-actor Robert "Bob" Saget has died at the age of 65. Many grew up watching Saget play the adorkable patriarch Danny Tanner on the beloved sitcom "Full House" in the 1980s and '90s, as well as watching him crack bad jokes as the host of "America's Funniest Home Videos." Those same viewers would then grow up to learn what their parents may've already been well aware of: That when he wasn't keeping families entertained, Saget was delivering all sorts of off-color, filthy punchlines to the adults of the world.
There's a whole lot of ground to cover when it comes to Saget's career, from his standup work to his TV sitcom roles (including his uncredited run as the narrator on "How I Met Your Mother"). For our purposes, though, we're going to zero in on 10 moments that spoke to the essence of Saget as a performer, and not just one who excelled at the art of poor taste comedy, either.
When He Performed for Rodney Dangerfield
Three years before "Full House" debuted on ABC, a pre-fame Bob Saget took to the stage for HBO's "9th Annual Young Comedians Special" with Rodney Dangerfield. Over the course of a three-minute routine, Saget rapidly cracked all kinds of bad taste jokes to his audience's approval, even playfully scolding the crowd for laughing at one point. 
As you would expect, not all of his punchlines land when revisited from the vantage point of the present (like his bit towards the end about a "half man, half woman" doll, which he dubs "G.I. Don't Know"). All the same, Saget does a decent job of punching up with many of his jests and, more often than not, makes himself the butt of his own gags. There are even hints of his more family-friendly comedic persona on display, making this routine a good primer for Saget's career to come over the next four decades.
When He Cameoed in Half Baked
Director Tamra Davis' 1998 stoner comedy "Half Baked" only did modest business at the box office and earned negative reviews, yet has gone on to achieve cult status over the decades since. It also birthed the popular "Boo This Man!" meme thanks to a scene where Saget makes an uncredited cameo as "Cocaine Addict."
The scene in question centers on the film's lead, Thurgood Jenkins (Dave Chappelle, who also co-wrote the movie), going to rehab to try to quench his desire to smoke marijuana. However, when his fellow patients learn why he's there, they quickly turn on him, with Saget's character matter-of-factly insisting, "Marijuana is not a drug." Saget then reveals he used to "suck d*** for coke," which gets a horrified reaction from Chappelle. It's a joke that comes across as pretty homophobic watching it now, but it does lead into the famous "Boo this Man!" moment — a gag that holds up better than a lot of '90s-era stoner movie comedy in general.
When He Went on Comedy Central Roast
2008's "Comedy Central Roast of Bob Saget" remains one of the most notorious TV roasts of all time, and for valid reason. Many of Saget's friends and fellow comedic legends (Gilbert Gottfried, Cloris Leachman, Norm MacDonald) participated in the event, with his "Full House" co-star John Stamos serving as Roast Master. What followed was a series of punchlines and jokes that, in keeping with Saget's standup career, go to about just every shocking and taboo place under the sun.
As with his own routines, much of Saget's roast focused on him being a pervert and sexual predator, especially when it came to his time working opposite Mary-Kate and Ashley Olsen on "Full House." Once again, the better gags made Saget the target and not the Olsen twins or any of the other women he had acted opposite over the years. Not all the jests do this, and some of them are just hackneyed attempts at shock value, but no can accuse Saget's peers from holding back on him.
When He Told His Version of The Aristocrats
The idea behind the infamous "Aristocrats" joke is simple: A family tries to get an agent to book their new stage act, which turns out to be an unreservedly crude and gross routine that, as the punchline reveals, they refer to as "The Aristocrats." Comedians are then meant to come up with the body of the joke on their own, using the basic setup as an excuse to imagine all the comically distasteful things the family does over the course of their act.
Comedians Penn Jillette (of "Penn & Teller" fame) and Paul Provenza's documentary "The Aristocrats" helped to bring greater public awareness to this dirty joke-telling tradition upon its release in 2005. The movie features appearances by many comics, all of whom either weigh in on the gag's long history and/or deliver their own version of the bit. And while plenty of them manage to leave their stamp on it, Saget's take on "The Aristocrats" is (no surprise) one of the raunchiest and most outrageous.
When He Played Himself on Entourage
I would say that "Entourage," a show loosely inspired by executive producer and occasional guest star Mark Wahlberg's early days as a movie star, hasn't age well since its premiere in 2004, but the truth is that HBO's ode to cishet white male friendship was always bad when it came to its gender politics. With that being said, the best appearances by A-listers and celebrities as "themselves" on the series were the ones where the guest stars spent more time poking fun at their own personas and Hollywood bro-culture than anything else.
Enter Saget playing "Bob Saget," an aging comedian who thinks he's far more famous and hip with the youths than he really is. Case in point: In his first cameo on the show, he welcomes Vincent Chase and his pals to their new home with a gift basket and a DVD collection of "Full House" before engaging in some painfully awkward bro-hugging and hand-shaking. As was his practice, when Saget popped up on the series, he tended to mock himself as much, if not more, than those around him.
When He Told His Donkey Story on Conan
Anybody who invited Saget onto their talk show knew better than to expect him to keep things classy, particularly while he was sharing anecdotes about his work over the years. Sure enough, when Saget guest-starred on an episode of "Conan" back in 2013, things took a turn for the tasteless very quickly.
After touching on his then-upcoming memoir "Dirty Daddy" (which was published the year after the episode), Saget and host Conan O'Brien got to talking about "Full House," and Saget's memories of filming the hit family sitcom. This, in turn, led to him recounting a story about the time the series had a live donkey named Eeyore on-set and his futile efforts to deflate the situation when the animal became, ahem, excited. Things only got more uncomfortable from that point on, but such was the risk of having Saget guest star on your late-night series.
When He Shared His Dad's Dirty Jokes
So where did Saget get his foul-mouthed sense of humor from, anyway? Well, as he explained in the 2013 recorded version of his live stage show in Seattle, "Bob Saget: That's What I'm Talkin' About," the blame lies more or less squarely with his old man.
As Saget revealed to the attending crowd, his father was "a walking rim shot" who would make crass jokes about everything from what was on the menu at a restaurant where he and the young Saget were dining to his private life with Saget's mother, and even major newspaper headlines detailing otherwise tragic events. To cap it off, Saget then retold a long-winded "joke from the [Great] Depression" that further showcased his dad's twisted comedic sensibilities. Needless to say, Saget shared these various filthy anecdotes with a loving air, clearly aware of just how much he owed his career to his father and his incorrigible ways.
When He Appeared on The Masked Singer
Did you know Saget was a pretty good singer? He got a chance to prove as much when he appeared on "The Masked Singer" season 4, disguised as the six-legged, seven-eyed being known as the Squiggly Monster. Viewers were then (at first, unknowingly) treated to his rendition of Creedance Clearwater Revival's hit 1971 single "Have You Ever Seen the Rain?" and it's honestly quite decent, the matter of who's behind the costume aside.
Saget followed that by performing the Rolling Stones' classic 1965 single "(I Can't Get No) Satisfaction," once again to the delight of those watching "The Masked Singer" live. But of course, between his all too well-known voice and the clues that connected him to his earlier work on TV in the '80s and '90s, the show's judges didn't have all that hard a time figuring out who was behind the multi-eyed mask. Still, it was fun while it lasted.
When He Ate Spicy Wings for Hot Ones
The YouTube web series "Hot Ones" has provided the world with a number of amusing gif-able moments of celebrities answering questions while snacking on spicy chicken wings. Famous examples include Idris Elba looking increasingly pained and sweaty as he makes his way through his interview, as well as Paul Rudd cheerfully declaring, "Hey. Look at us..." as he chugs along.
In Saget's case, his efforts to spend his time on "Hot Ones" talking nonchalantly about his similarities to "the lady on the Cholula bottle," his love of Johnny Carson, and his thoughts about the future of stand-up comedy are all too often sabotaged by the ever-rising temperature in his mouth, which leads to him developing a bad case of hiccups. And while Saget was far from his most outrageous during this interview, it's a memorable moment for a comedian who spent much of his career leaving onlookers struggling for words and not the other way around.
When He Paid His Respects to Norm MacDonald
In addition to being close friends, Saget and his fellow comedian-actor Norm MacDonald were longtime collaborators. Saget directed MacDonald in the 1998 comedy "Dirty Work" (which MacDonald co-wrote and starred in) and teamed up with him on projects like the 2006 mockumentary film "Farce of the Penguins" (which Saget wrote and directed, with MacDonald serving as a voice actor).
As such, when MacDonald passed away from leukemia in 2021, Saget paid his respects to his old friend by posting a 37 minute YouTube video comprised of screenshots and photos from their time together (both on and off-screen), along with a vocal commentary in which he saluted MacDonald for his honesty, his art, and for being "a great friend," among other things. After a career spent delivering jokes both family appropriate and naughty for the masses to enjoy, it was genuinely touching to hear Saget express his sincere gratitude for someone who meant so much to him in his real life.