5 Best Bob Saget Roles That Weren't Danny Tanner, And Where You Can Watch Them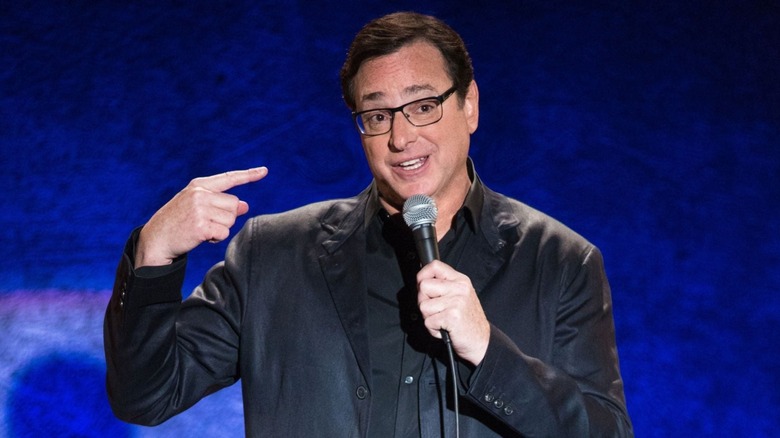 Prime Video
As an actor, comedian, host, and our collective TV dad, Bob Saget spent decades making us laugh before unexpectedly passing away last night. In honor of his memory, we're revisiting his long and storied career through some of the performances readily available for our viewing pleasure. Many of us knew him primarily as Danny Tanner, the epitome of a sitcom dad — always one second away from pulling his daughters close with heartfelt advice that was simultaneously cheesy and quick to make the audience tear up. All eight seasons of "Full House" are available to stream on HBO Max, while its sequel series "Fuller House" is available on Netflix. But this is just the tip of the iceberg when it comes to Saget's work.
Another well-known Saget performance is his time on "America's Funniest Home Videos," for which he was the original host. This led to a myriad of hilarious moments as the man who doubled as an X-rated comic was forced to commentate on hilarious fails whilst trapped in the confines of ABC's family-friendly approach. Saget also continued his work as a TV dad outside of "Full House," including the short-lived sitcoms "Raising Dad" and "Surviving Suburbia." Unfortunately, many of these beloved roles are difficult to find in the age of streaming (though YouTube has an endless supply of old clips). As everything is these days, Saget's work is spread across a variety of streaming services — so below you'll find career highlights from Saget, which are available to stream, rent, or buy.
How I Met Your Mother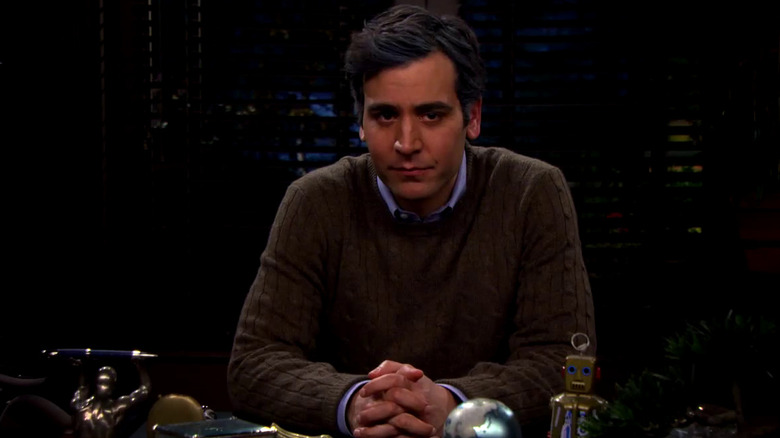 Hulu
Where You Can Watch It: Streaming on Hulu and Prime Video
If you don't remember catching a glimpse of Saget during the nine-season run of "How I Met Your Mother," that's because he never appeared. Saget instead served as the series narrator, opening each episode with an intro or words of wisdom from an older Ted Mosby (Josh Radnor), the lead character. As the title hints, the series follows Ted as he tells his children how he eventually met their mother — but boy does he take the long way around. No such story should hold children captive for nine seasons (i.e 10 years of television) but Ted finds a way. Still, how can we resent him when he grows up to sound like Bob Saget? The series wouldn't be complete without Saget's narration bookending each chapter of the story! Used in almost every episode, his voice portrays an older and wiser Ted, with all the Dad-like tendencies we'd expect from our Danny Tanner.
The Comedy Central Roast of Bob Saget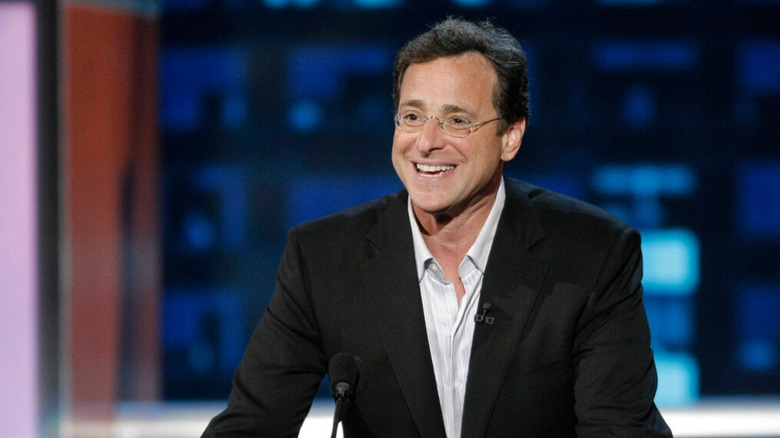 Comedy Central
Where You Can Watch It: Streaming on Paramount+
Is there a better way to celebrate a man than to watch his roast? Given Bob Saget's place in comedy history, he would probably appreciate the gesture. Especially because — as all good roasts do — this Comedy Central special proves how much his friends revered him. As I previously alluded to, Saget was much more than the square Danny Tanner: comedy fanatics know him to be one of the filthiest and most hilarious comics on the scene. So naturally, his friends rose to the occasion when the time came for his roast.
Stamos serves as the headlining roastmaster, joined by Gilbert Gottfried, Jon Lovitz, Norm Macdonald, Cloris Leachman, and more. If you primarily know Saget for his role as a TV dad or AFV host, then this is a good way to ease yourself into his more X-rated leanings. The special sees his fellow performers taking on his career with foul mouths and very family-unfriendly jokes. At the end, Saget steps forward for a rebuttal, which will really give you a sense of his comedy stylings. A standout set comes from Norm Mcdonald, who confounded the audience by taking a different approach. While everyone else came ready with their A-game, preparing the raunchiest one-liners possible to take down Saget, McDonald said he didn't have the heart to insult his friend and instead threw the audience a curveball by reading a series of extremely corny punchlines from a '40s joke book. This includes saying things like, "​"Bob has a beautiful face, like a flower ... a cauliflower!" The sheer absurdity sends ripples of confusion through the audience, but Bob Saget never stops laughing. You can watch the clip here but the entire special is available to stream on Paramount +.
Zero To Sixty and That's What I'm Talkin' About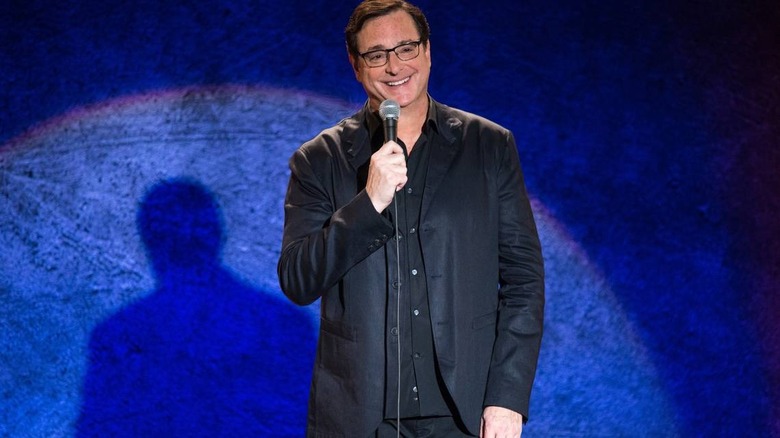 Prime Video
Where You Can Watch It: Streaming on Prime Video
Outside of his sitcom days, Bob Saget was a comedian of the not-so-family-friendly variety. Over on Prime Video, you'll find two excellent examples via his 2013 special "Bob Saget: That's What I'm Talkin' About" and his 2017 special "Zero To Sixty." His raunchy comedy has always surprised those better familiar with his sitcom resume, which is something Saget discussed throughout his career. In his 2014 memoir, "Dirty Daddy," Saget wrote:
"In my career I've had the fortune of being able to work continually in radically diverse creative worlds. By day I've done some of the most family-friendly TV imaginable. Then, often in the same day, I've gone onstage in the L.A. comedy clubs and whirled off with an adolescent's delight about my grandma's projectile diarrhea."
But projectile diarrhea is just the beginning of what you can expect to hear in these specials. Gone is the wholesome sitcom father persona as Saget delves into the entertainment business and childhood memories with R-rated leanings. He engages with the audience, often slinging innuendos ("you're in the back, do you like it in the rear?") and occasionally whips our foul-mouthed comedy songs (one of which is titled "Butt Plug Made Of Leather").

Entourage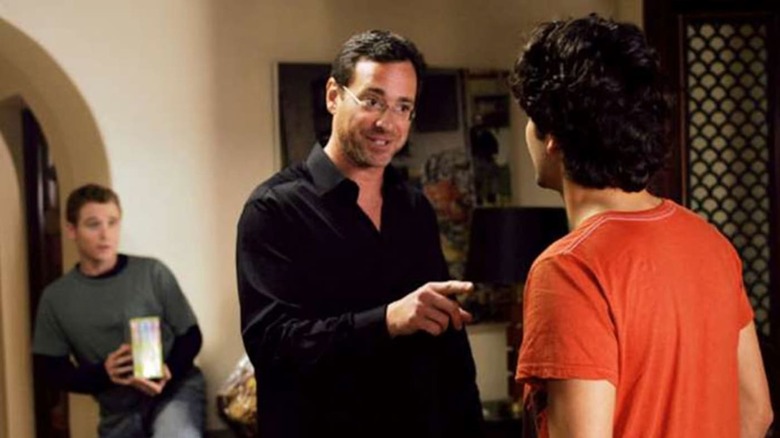 HBO Max
Where You Can Watch It: Streaming on HBO Max
Saget was not a series regular on HBO's comedy-drama "Entourage." In fact, he only made a few guest appearances throughout its 96-episode run (four, to be exact) but they were oh so glorious and can't go unmentioned. The series follows Hollywood up-and-comer Vincent Chase (Adrian Grenier), a young movie star navigating the pitfalls of stardom and running into many industry giants along the way. This included guest appearances from everyone from director James Cameron to stars like Val Kilmer and yes, Bob Saget. More often than not, these stars came aboard to play satirical versions of themselves. Given the two sides of his career — wholesome sitcom star vs. X-rated comic — the writers had plenty of fun with Saget's onscreen persona. They created a violent and suitably foul-mouthed version of Saget who becomes Vince's next-door neighbor. The ensuing events see Saget participating in all sorts of insanity, like signing to a new agency on the condition that he can have sex on the boss' desk and recounting his experience at a brothel. Saget appears in four episodes of "Entourage" overall: "Neighbors," "No More Drama," "Buzzed," and "Bottoms Up."
Benjamin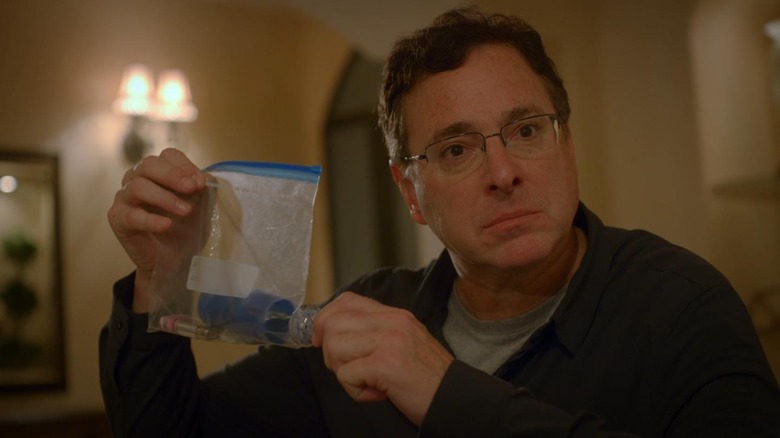 The Roku Channel
Where You Can Watch It: Streaming on The Roku Channel, Available to rent or buy on Prime Video and Apple TV
This 2018 dark comedy isn't just one of Saget's final onscreen performances, it also marks his final directorial effort. Saget stars as the patriarch of a big family going through a difficult time — which may sound familiar, but comes with a few satirical twists. The story begins with a gathering of family members, called to action when they suspect that Ed's (Saget) son, the titular Benjamin (Max Burkholder), is a drug addict. Instead, they uncover all the other scandals plaguing the dysfunctional family and the night erupts into "finger-pointing, petty thievery, adulterous backstabbing, and a seesaw of crooked emotional revelations — all leading to the misguided but sincere attempt to heal this dysfunctional family." Though it's a family drama through and through, "Benjamin" also lands on the raunchier side of comedy — in a way, it's a perfect mix of the two sides of Saget's career. He even described his "Benjamin" character as similar to that of Danny Tanner — if the patriarch had completely lost his mind. The film also stars Rob Corddry, Mary Lynn Rajskub, Max Burkholder, Kevin Pollak, Dave Foley, Jonny Weston, Peri Gilpin, Cheri Oteri, Clara Mamet, and David Hull.