New Top Gun: Maverick Image Shows Tom Cruise Teaching Trainees About The Need For Speed
Prepare to get "Danger Zone" by Kenny Loggins stuck in your head because there is a new image out from the upcoming "Top Gun: Maverick from USA Today (via Collider). It's going to make you feel the need ... the need for speed. If you haven't seen the original 1986 film, you might not get that, but there is time for you to fix the glaring hole in your life. The original film starred Tom Cruise as Pete "Maverick" Mitchell and Anthony Edwards as Nick "Goose" Bradshaw, students at the US Navy's Fighter Weapons School at Naval Air Station. Cruise is a hotshot young pilot who has a rivalry with Tom "Iceman" Kazansky, played by Val Kilmer. 
Blah, blah, I know what you really remember from "Top Gun." It wasn't the students, or the flying, or even the amazing soundtrack. It's that volleyball scene, with a bunch of shirtless and very buff young pilots ... well, just go watch it. The new image isn't of very well-cut abs, but it does give us a look at the new students who will be training with the now legendary Maverick.
Highway to the Danger Zone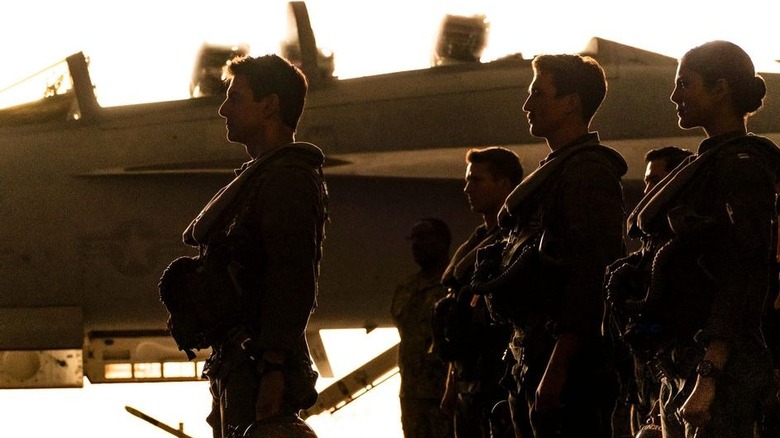 Paramount Pictures
In the pic, we have Cruise as well as young pilots Glen Powell as Hangman, Miles Teller as Rooster, and Monica Barbaro as Phoenix. Here is the official synopsis for the film:
After more than thirty years of service as one of the Navy's top aviators, Pete "Maverick" Mitchell (Tom Cruise) is where he belongs, pushing the envelope as a courageous test pilot and dodging the advancement in rank that would ground him. When he finds himself training a detachment of Top Gun graduates for a specialized mission the likes of which no living pilot has ever seen, Maverick encounters Lt. Bradley Bradshaw (Miles Teller), call sign: "Rooster," the son of Maverick's late friend and Radar Intercept Officer Lt. Nick Bradshaw, aka "Goose." Facing an uncertain future and confronting the ghosts of his past, Maverick is drawn into a confrontation with his own deepest fears, culminating in a mission that demands the ultimate sacrifice from those who will be chosen to fly it.
The film also stars Jennifer Connelly, Jon Hamm, Ed Harris, Anthony Edwards, Lewis Pullman, Jay Ellis, and Danny Ramirez. "Top Gun: Maverick" is directed by Joseph Kosinski. The script comes to us from Ehren Kruger, Eric Warren, and Christopher McQuarrie from a story by Peter Craig and Justin Marks.
I'll just leave this here for you. You're welcome.