Texas Chainsaw Massacre First Look: Meet The New Sally Hardesty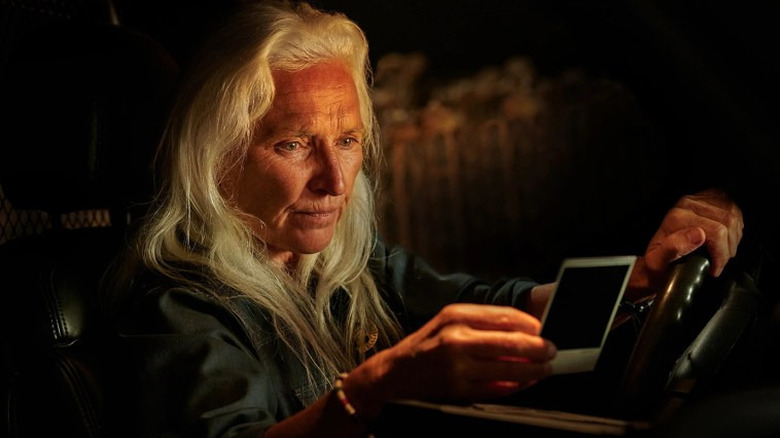 Legendary Pictures
Who's laughing now? Sally Hardesty earned her place as a final girl in 1974 when the character went toe-to-toe with the flesh-wearing Leatherface and the Sawyer Family in Tobe Hooper's "The Texas Chain Saw Massacre." The cannibal movie spawned eight sequels, prequels, and re-imaginings, the latest of which sees the return of the weary survivor in David Blue Garcia's "Texas Chainsaw Massacre" (that's one word for "chainsaw," two if you nerds are referring to the original 1974 film's title), coming to Netflix in 2022. USA Today had the first look at the Olwen Fouréré as Sally Hardesty. 
"Texas Chainsaw Massacre" is a direct sequel to Hooper's '74 film, taking place years after the events of August 18, 1973. Here's the synopsis:
Melody (Sarah Yarkin), her teenage sister Lila (Elsie Fisher), and their friends Dante (Jacob Latimore) and Ruth (Nell Hudson), head to the remote town of Harlow, Texas to start an idealistic new business venture. But their dream soon turns into a waking nightmare when they accidentally disrupt the home of Leatherface, the deranged serial killer whose blood-soaked legacy continues to haunt the area's residents — including Sally Hardesty (Olwen Fouéré), the sole survivor of his infamous 1973 massacre who's hell-bent on seeking revenge.
The original film left Sally as the sole survivor of her group; she, her paraplegic brother Franklin, and their friends, Jerry, Kirk, and Pam trekked to visit the grave of the Hardesty's grandfather after news reports of grave robbing in the area. After a harrowing run-in with the Sawyer family and their chainsaw-wielding Large Adult Son, a bloodied Sally escapes by the skin of her teeth, jumping onto the back of a passing truck and laughing maniacally as the credits roll. 
Fouéré slides into the role of Sally Hardesty following Marilyn Burns' death in 2014 (Burns also reprised the role in Kim Henkel's 1994 sequel "Texas Chainsaw Massacre: The Next Generation"). Now, it seems that Hardesty has had enough time to ruminate on her past, and like Laurie Strode of the "Halloween" franchise, she's ready to reckon with the monster in the closet.
What We Know So Far, and Why It Could Be Fun
There hasn't been much promotion for "Texas Chainsaw Massacre," which is a shame because Fede Álvarez is involved. The Uruguayan filmmaker's feature debut, a soft reboot within Sam Raimi's "Evil Dead" franchise, kicked open the door, displaying the director's bonkers energy and penchant for practical effects. Álvarez produces "Texas Chainsaw Massacre" with Bad Hombre's Rodolfo Sayagues, along with Kim Henkel (who co-wrote the '74 original and wrote and directed the third sequel in 1995), Ian Henkel, and Pat Cassidy, who produce under Exurbia Films. Alvarez co-wrote the story with frequent collaborator Rodo Sayagues ("Don't Breathe") for a screenplay that was adapted by Black List contributor Chris Thomas Devlin. David Blue Garcia ("Tejano") directs.
The concept is intriguing, one that worked out lucratively for Michael Myers and Blumhouse: what is the slasher icon like as he ages and starts taking Centrum Silver vitamins? A glimpse of Leatherface holding up a new skin mask in the trailer indicates that he hasn't lost his edge in the slightest, despite the AARP membership. After fifty years of laying low, one would assume that Leatherface was not killing during his hibernation. So it's safe to speculate that the slasher king has been making steady efforts to reform himself into a good boy, something that later sequels would explore by giving the killer a Frankenstein's creature-like sense of self-awareness and loneliness. 
But this is a "Texas Chain Saw" movie, so something must happen for the saw to start buzzing again. It'll be a treat to see what ticks Old Man Leatherface off enough to get the kids off his lawn this time around.