'Texas Chain Saw Massacre' Director Tobe Hooper Has Died At 74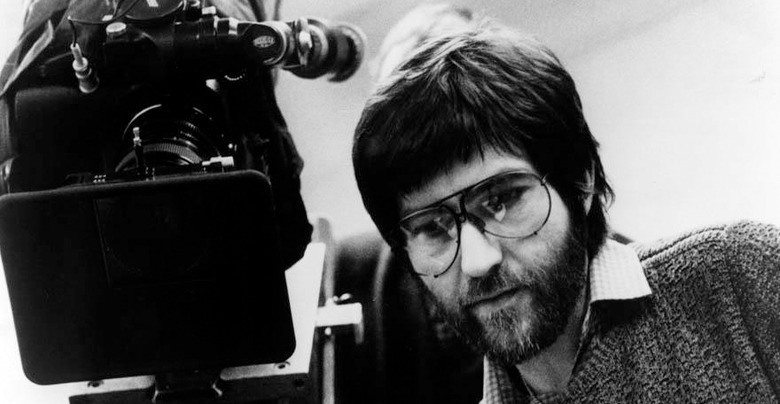 Tobe Hooper, director of one of the most revered horror films of all time, has passed away at 74.
Best known for directing The Texas Chain Saw Massacre in 1974, Tobe Hooper would go on to become a respected and influential horror filmmaker who also dabbled with directing episodes of hit TV shows as well. Below, we remember the career of Tobe Hooper.
News of Tobe Hooper dead comes from Variety, who confirmed the filmmaker died in Sherman Oaks, California by way of the Los Angeles County Coroner. However, a cause of death was not revealed at the time.
Tobe Hooper's career took off when he rounded up a cast made up of students and fellow teachers at his college in Austin, Texas to make a low budget horror movie inspired by Ed Gein, The Butcher of Plainfield. The film would follow a group of teenagers who are tormented by a family of cannibals, including one particular family member wielding a chainsaw. We know that chainsaw wielding maniac now as Leatherface, and the movie was The Texas Chain Saw Massacre.
The 1974 film was praised for being extremely realistic and raw, paving the way for slasher films like Halloween in 1978 and Friday the 13th in 1980. Shot on a budget under $300,000, The Texas Chain Saw Massacre went on to become one of the most profitable independent films of the 1970s, despite being banned in several countries for its extreme violence. It would also be the beginning of a franchise that still resurfaces each and every decade.
Very sad to hear of the passing of Tobe Hooper, another master of horror. He conjured some truly shattering, unforgettable moments in film. pic.twitter.com/6Kxw0gURzF

— edgarwright (@edgarwright) August 27, 2017
Tobe Hooper would follow up the original horror flick with The Texas Chainsaw Massacre 2 in 1986, though it injected a comedic touch to the proceedings, which wasn't quite as well received as the original. But the filmmaker still had success in the genre elsewhere.
Before returning to chainsaw murders, Tobe Hooper got behind the camera for the 1982 supernatural thriller Poltergeist, which was written and produced by Steven Spielberg. There have been countless stories crediting Spielberg as a co-director on the project because of how hands-on he was as a producer, so much that the Directors Guild of America had to make an inquiry about Poltergeist to clear things up. While Spielberg has acknowledged his creative involvement in the project after a story in The Los Angeles Times sparked the question of who was directing the movie, he ultimately wrote a letter apologizing to Tobe Hooper in The Hollywood Reporter:
"Regrettably, some of the press have misunderstood the rather unique, creative relationship which you and I shared throughout the making of 'Poltergeist.' I enjoyed your openness in allowing me, as producer and writer, a wide berth for creative involvement, just as I know you were happy with the freedom you had to direct Poltergeist so wonderfully.Through the screenplay you accepted a vision of this very intense movie from the start, and as the director, you delivered the goods. You performed responsibly and professionally throughout, and I wish you great success on your next project."
No matter how extensive Steven Spielberg's involvement may have been, Tobe Hooper has been credited by many members of the cast and crew for providing ample directing during the production, and if anything the film was a collaborative process between Spielberg and Hooper and a learning experience for both filmmakers who were still young filmmakers.
Tobe Hooper would continue to directing movies for the cult classic film company Cannon Films, including Lifeforce and a remake of the 1953 alien invasion movie Invaders from Mars. Hooper also found success on television with a CBS miniseries adaptation of Stephen King's novel Salem's Lot. The 1979 production is revered by fans, so much that it ended up getting a theatrical release in Europe.
Throughout the rest of his career, Hooper tackled movies like Spontaneous Combustion, Night Terrors, The Mangler and Toolbox Murders. Plus, he popped in to direct episodes of TV shows like The Equalizer, Dark Skies, Freddy's Nightmares, Tales from the Crypt, Night Visions, Amazing Stories and Masters of Horror, not to mention directing a segment in a horror series turned anthology film called Body Bags, in which Mark Hamill gouges his own eye out. Hooper even directed the music video for Billy Idol's song "Dancing with Myself."
Tobe Hooper's final film was the supernatural thriller Djinn in 2013. The filmmaker hasn't gotten behind the camera since then, but his legacy in cinema history has been solidified thanks to the invaluable contributions he made to horror.