Movies Like The Silence Of The Lambs You Really Need To See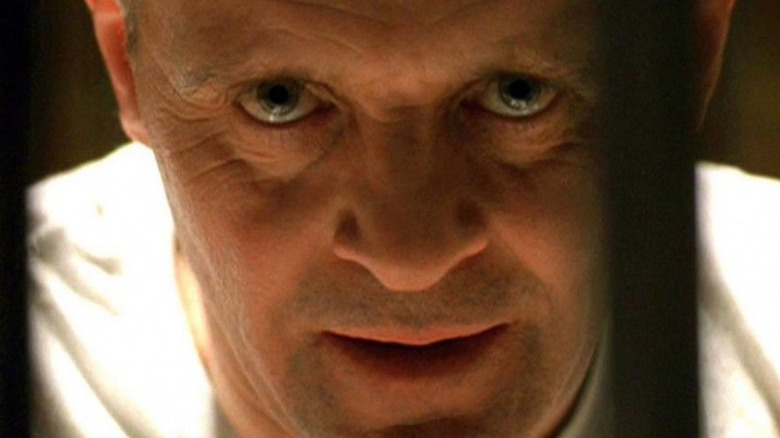 Orion Pictures
Jonathan Demme's "The Silence of the Lambs" may not have started America's long-standing obsession with serial killers, but it certainly helped fuel it. Part psychological drama, part horror-thriller, and part police procedural, the chilling masterpiece is generally considered to be a stone cold classic and remains a cultural touchstone, having influenced countless films that have come after it.
Based on the best-selling novel by Thomas Harris, "The Silence of the Lambs" stars Jodie Foster as FBI trainee Clarice Starling, who is sent to elicit clues from the incarcerated cannibal Hannibal Lecter (Anthony Hopkins) in an effort to help get inside the mind of another serial killer, Jame Gumb, aka "Buffalo Bill" (Ted Levine). But Lecter has a way of getting inside his opponents' minds, and if Clarice isn't careful, catching one killer may end up leading to the escape of another. "Quid pro quo," as Lecter likes to say.
Not only is "The Silence of the Lambs" the only horror film to have thus far won an Academy Award for best picture, it's also only the third film in history to win all "big five" Academy Awards. It also earned the Oscars for best director (Demme), best actor (Hopkins), best actress (Foster), and best adapted screenplay (Ted Tally), although there's a still fair amount of controversy about how it depicts the transgender experience.
As much as it has going for it, "The Silence of the Lambs" is not without peers. While not all of the following films are quite on its level, they all share similarities with "The Silence of the Lambs" that should keep fans entertained, disturbed, and perhaps a little frightened.
Manhunter
De Laurentiis Entertainment Group
"The Silence of the Lambs" wasn't the first movie made about Hannibal Lecter. That honor goes to Michael Mann's 1986 film, "Manhunter."
Based on "Red Dragon," an earlier novel by Thomas Harris, "Manhunter" stars William Peterson as former FBI profiler Will Graham, who went into retirement after being attacked by Dr. Hannibal Lecktor (Brian Cox), whom he captured. Graham's former boss, Jack Crawford (Dennis Farina), pays him a visit, asking for help tracking down Francis Dollarhyde (Tom Noonan), a serial killer dubbed "The Tooth Fairy." In an effort to get inside the mind of the killer, Graham decides to turn to the imprisoned Hannibal for help.
The hyper-stylized, moody, and very '80s "Manhunter" is full of Michael Mann's signature flair, including vivid dark blues, a sexy soundtrack, and even a tiger. Though it was considered a box office flop, it has been reappraised in recent years and is now considered a cult film that helped set the stage for the crime thrillers that followed.
Seven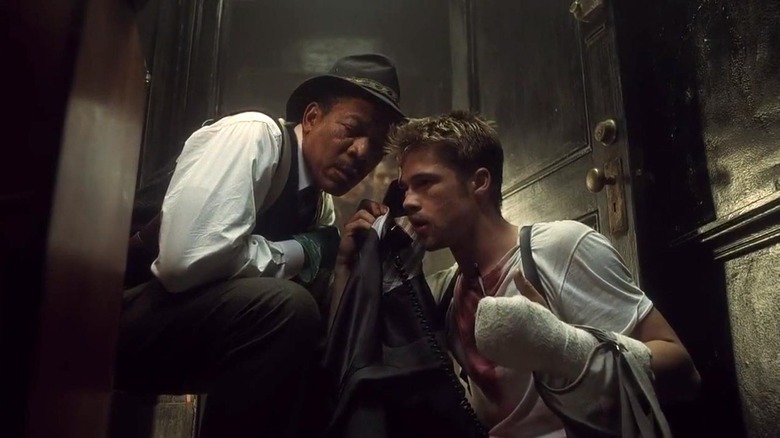 New Line Cinema
"What's in the box?" You'll have to watch David Fincher's "Seven" to find out, but it will be time well spent. Like "The Silence of the Lambs," "Seven" is generally considered to be one of the more compelling psychological thrillers not only of the '90s but of all time.
The gritty, noirish crime thriller follows two detectives, the soon-to-retire ​​William Somerset (Morgan Freeman) and the younger David Mills (Brad Pitt), as they become drawn into the case of a serial killer known as John Doe (Kevin Spacey), whose murders are inspired by the seven deadly sins, like sloth, greed and gluttony. As the men get closer to solving the crimes, they don't realize that they're becoming ensnared in the killer's sinister game.
The events of "Seven" culminate in a shocking and unforgettable ending, though an alternate ending was at one point considered. Although it was largely ignored by the Academy, as horror-skewing films often are, Richard Francis-Bruce did receive a nomination for best editing on the film, and Andrew Kevin Walker was nominated for a BAFTA for his excellent screenplay.
Zodiac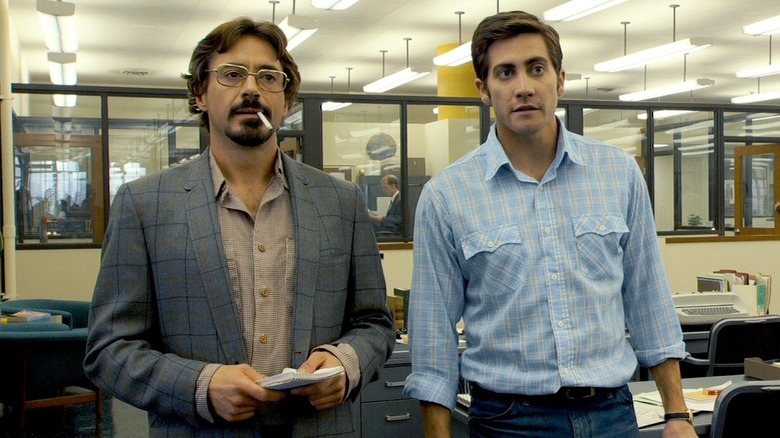 Paramount Pictures
David Fincher delivered another compelling film about an elusive serial killer in "Zodiac," a stylish and meticulously researched period drama about the self-named Zodiac Killer, who committed a series of crimes in Northern California in the '60s and '70s while leaving cryptic clues and cyphers behind.
"Zodiac" is based on a non-fiction book of the same name by political cartoonist Robert Graysmith, formerly of the San Francisco Chronicle. Played in the movie by Jake Gyllenhaal, Graysmith helped the team at the Chronicle decipher clues in the letters that the Zodiac Killer, played here by John Carroll Lynch, sent to them to be published. Robert Downey Jr. also stars as Chronicle crime reporter Paul Avery, while Mark Ruffalo plays San Francisco police inspector Dave Toschi.
Fincher, along with the film's screenwriter and producer, conducted his own extensive research into the Zodiac case prior to filming, adding to the authenticity and historical accuracy of the film, for which it has been widely praised. Graysmith's book and the film both point to a former teacher and registered sex offender named Arthur Leigh Allen as the main suspect, although in October 2021 an independent group claimed to have identified Air Force veteran Gary Allen Poste as the actual Zodiac Killer. As of this writing however, the case remains officially unsolved.
Memories of Murder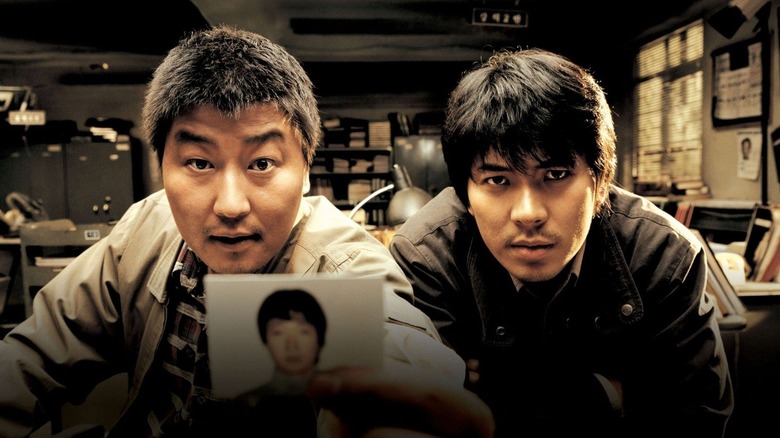 CJ Entertainment
Before South Korean director Bong Joon-Ho was collecting Oscars for his widely acclaimed "Parasite," he was directing other masterpieces of cinema, including 2003's "Memories of Murder."
The expertly-crafted crime thriller follows Park (Song Kang-Ho), a simple-minded small-town detective in rural South Korea who finds himself trying to track down whomever is responsible for a string of local rapes and murders. After teaming up with a younger, slicker detective from Seoul named Cho (Kim Roi-ha), the two men work together but find that their styles clash. Park believes he can identify the perpetrator by looking him in the eyes, while Cho has a more modern, higher-tech approach to fighting crime. As they sift through suspects, they begin to realize that this killer may be harder to find than they initially believed, culminating in a profoundly haunting ending.
"Memories of Murder" is loosely based on South Korea's first documented serial killer case, the Hwaseong Serial Murders, which took place in the late '80s and early '90s. At the time of filming, the murders had yet to be solved. However, in 2019, police identified a suspect who ultimately confessed to the killings.
Cure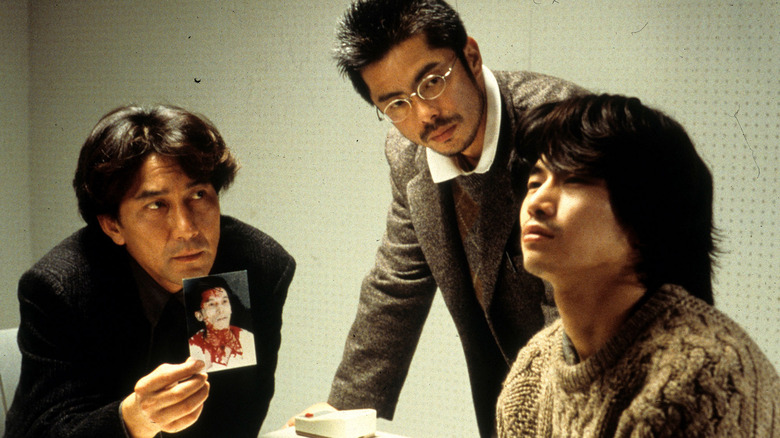 Janus Films
Another incredibly haunting crime thriller is Japanese director Kiyoshi Kurosawa's "Cure," which shares similarities with "Memories of Murder" in the way its protagonist is faced with tracking down a mysterious serial killer who remains frustratingly elusive.
Kōji Yakusho stars as detective Kenichi Takabe, who is baffled by a string of gruesome murders all committed by different people who don't remember perpetrating the crime, and in which each of the victims have an "X" carved into their necks. With the help of a psychologist, Takabe is led to Mamiya (Masato Hagiwara), a mysterious man with short-term memory loss who seems to be a master at evading questions, and who just may hold the key to the horrific happenings.
Hypnotic and unsettling, Cure is an underseen gem in the J-horror canon, a masterwork that has influenced filmmakers including Bong Joon-Ho and that has recently received a 4K restoration.
I Saw the Devil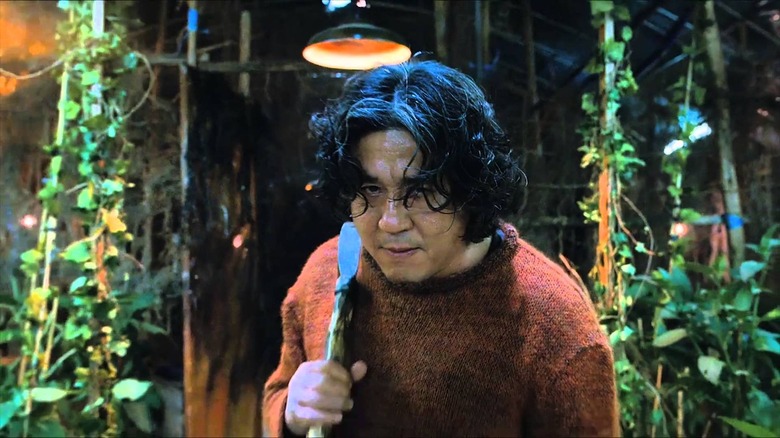 Magnet Releasing
Another Asian crime thriller that fans of "The Silence of the Lambs" should appreciate is South Korean director Kim Jee-woon's "I Saw the Devil."
A bit more action-heavy than some of the other entries on this list, "I Saw the Devil" follows inspector Kim Soo-hyun (Lee Byung-hun), whose fiancée has been brutally murdered by a serial killer, Jang Kyung-chul (Choi Min-sik). Soo-hyun hunts Kyun-chul down, hellbent not only on catching him, but on exacting revenge. Soon, Soo-hyun is carrying out his own grisly acts of violence in his quest for vengeance, the price for which may just be his soul.
"I Saw the Devil" is a grim, harrowing film that highlights the dark side of revenge. Squeamish viewers might struggle with its extreme violence, but "Silence of the Lambs" aficionados will appreciate this tense, grisly game of cat-and-mouse.
Angel Heart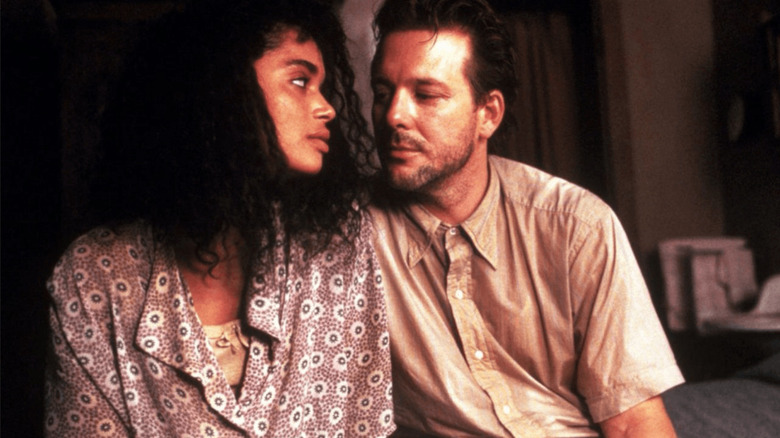 Tri-Star Pictures
The 1950s. New Orleans. Voodoo. The devil. Director Alan Parker's "Angel Heart" is a stylishly atmospheric neo-noir thriller that brings these elements together in eerie, dread-soaked fashion as it follows one New York City private investigator's personal descent into hell.
Mickey Rourke stars as the aforementioned P.I., Harry Angel, who is hired by a man named Louis Cypher (Robert De Niro) to track down a singer named Johnny Favorite. His mission leads him to New Orleans, where he meets Favorite's fiancée (Charlotte Rampling) and begins a steamy affair with Epiphany Proudfoot (Lisa Bonet), the daughter of one of Favorite's former lovers. But the mystery of Favorite's disappearance only deepens as dead bodies start turning up everywhere Harry goes.
The chillingly dark and twisty "Angel Heart" received mixed reviews upon its release. Critic Roger Ebert defended it, calling it "sensuous and depraved" but giving it three and half out of four stars. In more recent years, Christopher Nolan told Metropolis that it was an influence on his film "Memento," and Wired included it on its list of "The 25 best horror films of all time."
Shutter Island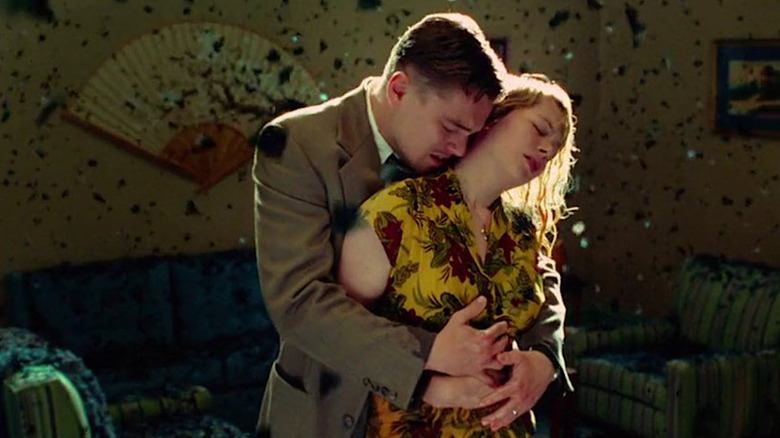 Paramount Pictures
Another atmospheric neo-noir mystery that will keep you guessing until the end is Martin Scorsese's "Shutter Island." In it, Leonardo DiCaprio stars as U.S. Marshall Edward "Teddy" Daniels, who, along with his new partner Chuck Aule (Mark Ruffalo), arrives on the titular island to investigate the escape of Rachel Solando (Patricia Clarkson) from her locked cell at the Ashecliffe Hospital for the criminally insane. While facing an uncooperative staff and sorting through cryptic clues, Teddy begins to have migraines and nightmares about his time in the army during WWII, as well as the death of his wife Dolores Chanal (Michelle Williams), who was killed in a fire set by an arsonist. As it turns out, confronting his own past may be the key to cracking the case.
Based on a novel by Thomas Lehane and influenced by the works of Alfred Hitchcock, "Shutter Island" is a delightfully pulpy big budget genre film, the likes of which don't get made very often. It may not be Scorsese's best movie, but it's worth the time for those inclined to appreciate such works.
Frailty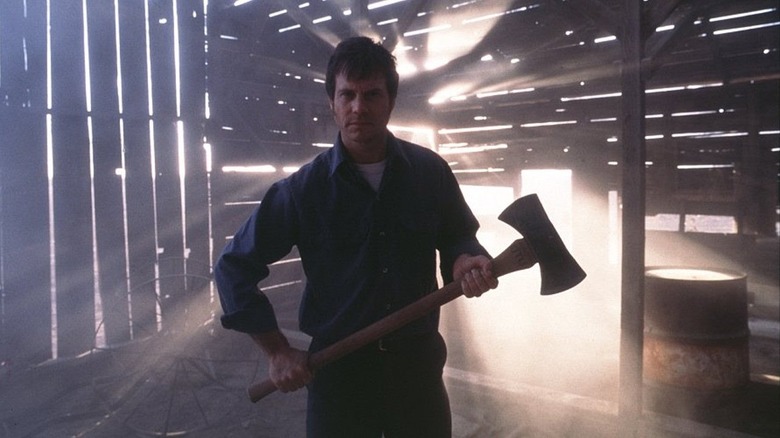 Lionsgate
The late, great Bill Paxton is known for his prolific career, but lesser known is the fact that he not only starred in but directed one heck of a horror film, 2001's "Frailty".
The psychological horror-thriller stars Matthew McConaughy as Fenton Meiks, who shows up at an FBI office in Texas and tells an agent (Powers Booth) that his now-deceased younger brother, Adam, is the serial killer known as the "Hand of God." He then relates the story of their childhood, and through flashbacks we learn that the boys' father (Paxton) told them that he was visited by an angel who tasked him with killing demons who are disguised in human forms. The kids' axe-wielding dad then commits a series of murders in the name of God while making the boys promise not to tell anyone. Fenton is horrified by his father's apparent madness, but Adam idolizes his father and dutifully falls in line.
An underseen genre gem, the twisty "Frailty" is a smart, unsettling work that highlights the dangers of fanaticism and of toxic parents in general.
Tenebrae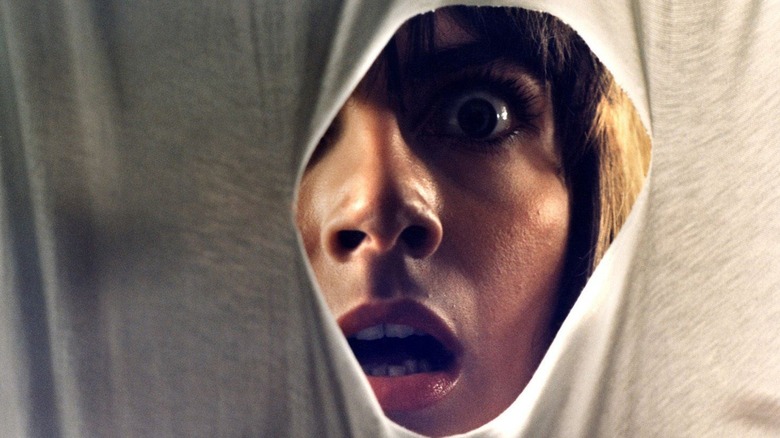 Titanus
When it comes to police procedurals and psychological horror films, Italian giallo cinema is a good place to turn, and Dario Argento's "Tenebrae" is one that fans of "The Silence of the Lambs" should appreciate.
Anthony Franciosa stars as Peter Neal, an American mystery novelist who travels to Rome with his agent (John Saxon) and assistant (Daria Nicolodi) to promote his latest book, only to become caught up in the hunt for a serial killer who has been inspired by his work to commit a string of gruesome murders. As the body count continues to grow, Neal slowly begins to unravel the killer's identity, but there are some big twists along the way, as well as quite a bit of blood.
In typical giallo fashion, "Tenebrae" is a stylish, visually stimulating work of horror, with a driving, pulse pounding soundtrack that adds to the overall relentless feel. Not for the squeamish, the bloody thriller was relegated in the U.K. upon its release to the bin of "video nasties," although it is now often cited as one of Argento's best works.
Insomnia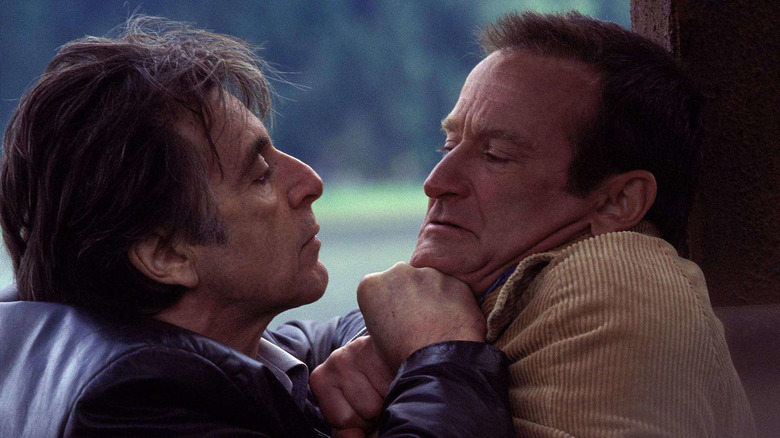 Warner Bros.
Christopher Nolan has proven himself to be a director with a keen interest in psychological thrillers. His third feature, "Insomnia," also doubles as a crime drama, putting it in the same space as "The Silence of the Lambs."
Al Pacino plays Los Angeles police detective Will Dormer, who is sent with his partner Hap (Martin Donovan) to the remote town of Nightmute, Alaska to investigate the murder of a teenage girl. While there, Hap tells Dormer that he's planning to testify against him in regards to one of his old cases. While chasing after the murder suspect, Walter Finch (Robin Williams), Dormer accidentally kills Hap, and, knowing how suspicious that looks, decides to cover up his actions by blaming Finch. Finch offers to help Dormer in exchange for help with his own case, but as Dormer's guilt grows, local detective Ellie (Hillary Swank) may end up foiling both of the men's plans.
A remake of the 1997 Norwegian film of the same name, Roger Ebert praised Nolan's work for being "not a pale retread, but a re-examination of the material, like a new production of a good play." Set against a backdrop of fog and the never-ending daylight of the land of the midnight sun, "Insomnia" is a grippingly tense thriller with great performances by its leads.
Prisoners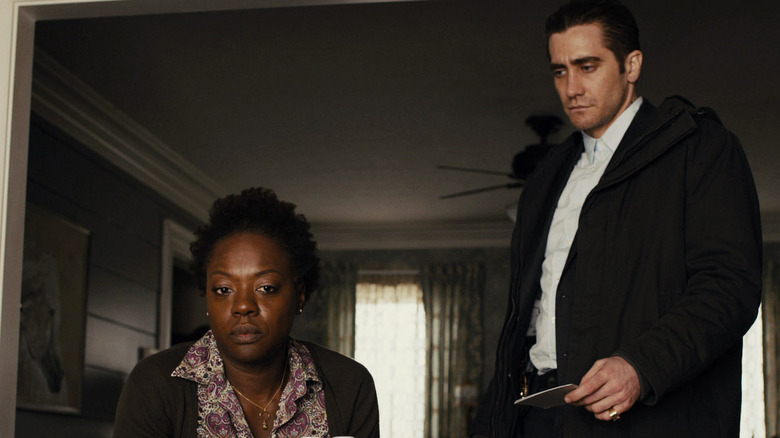 Warner Bros.
Before he became famous for directing epic sci-fi films like "Dune," "Arrival," and "Blade Runner 2049," Dennis Villeneuve was known for directing thrillers like 2013's "Prisoners."
Jake Gyllenhaal stars in "Prisoners" as Detective Loki, who is called in to investigate the kidnapping of two girls, one the daughter of Keller and Grace Dover (Hugh Jackman and Maria Bello), and one the daughter of Franklin and Nancy Birch (Terrence Howard and Viola Davis). When a suspect named Alex Jones (Paul Dano) is arrested and then released due to lack of evidence, the frustrated Keller decides to take matters into his own hands. Though Loki continues investigating new leads, Keller kidnaps Alex, and then, along with Franklin, begins torturing him.
"Prisoners" is a compelling, dark, and haunting edge-of-your-seat thriller, bolstered by its strong ensemble cast. Variety called it "spellbinding," noting its "complex moral center" and praising Gyllenhaal and Jackman's performances as career bests.
The Girl with the Dragon Tattoo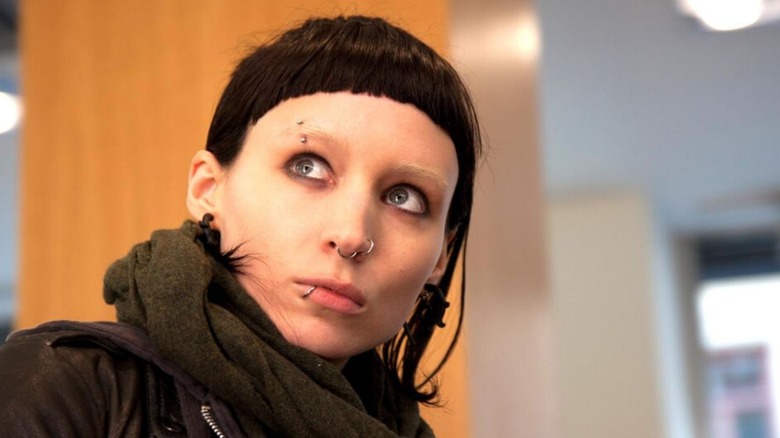 Sony Pictures Releasing
"The Girl with the Dragon Tattoo" is the third David Fincher film to make this list, and can you blame us? The man has a way with dark psychological crime thrillers.
Based on the bestselling novel by Swedish writer Stieg Larsson, "The Girl with the Dragon Tattoo" stars Daniel Craig as Mikael Blomkvist, a disgraced financial reporter who is recruited by a wealthy financier, Henrik Vanger (Christopher Plummer), to investigate the decades-old murder of his grandniece, which he suspects was committed by a family member, and which may also have some ties to the Nazis.
Blomkvist is aided in his investigation by the intelligent but emotionally guarded computer hacker Lisbeth Salander (Rooney Mara). She's the titular girl with the dragon tattoo, and she has some secrets of her own. It's her avenging spirit in the face of injustice, as well as Mara's mesmeric performance, that helps carry the slickly made thriller.
"The Girl with the Dragon Tattoo" received five Academy Award nominations, including one for Mara for best actress. Critical consensus on Rotten Tomatoes calls it "brutal yet captivating."