The Breaking Bad Reference You Missed In Better Call Saul's Theme Song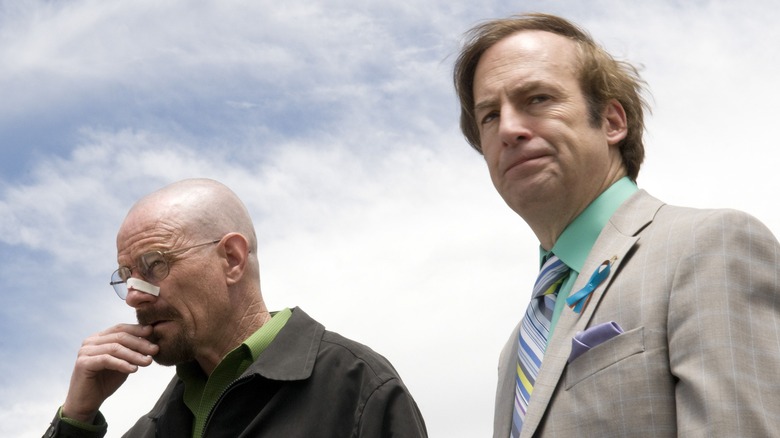 AMC
Music has always been important in the "Breaking Bad" universe. Several pivotal scenes are hard to divorce from the soundtrack that played underneath them. There's the moment Jesse navigates both an emotional breakdown and a go-kart track to the tune of Fever Ray's "If I Had a Heart." The haunting tune "Goodbye" by Apparat plays as Gus Fring takes his final meeting at the end of fourth season of "Breaking Bad." Netflix even made a music video recounting Jesse Pinkman's journey before the "El Camino" film came out.
But, did you know there was a secret nod to "Breaking Bad" within the theme song to its spin-off, "Better Call Saul"? 
Reworking a Tune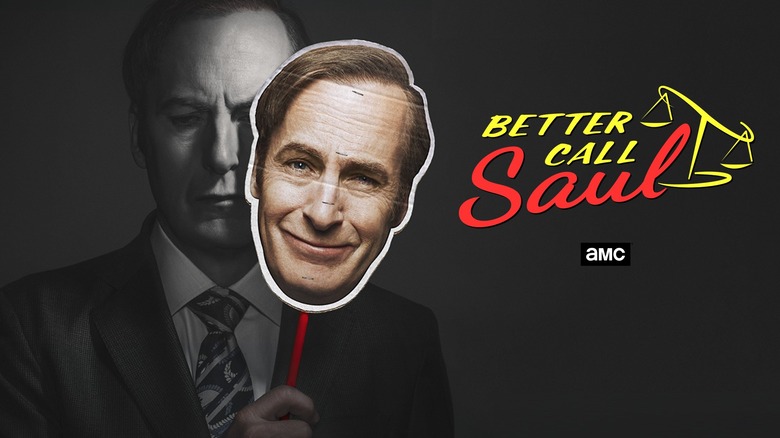 AMC
According to Dave Porter, the musical composer for "Better Call Saul," he took the same notes from the "Breaking Bad" theme and gave them more of a surfer music vibe. Those "Breaking Bad' title notes are hard to forget. They're just a few strums of an eerie, almost sour sounding dobro guitar, intertwined with quick, clean drum taps. The title sequence was brief, usually punctuating the end of a riveting opening scene, and always seemed to set the tone for the show with its placement. 
The "Saul" titles are more laidback, electric, like live music in a seedy bar. It's not immediately so as to catch your attention that it features the same notes as the "Breaking Bad" theme, disguised well with this overall shift in tone, but it's definitely there. As "Better Call Saul" sets up many events and characters in "Breaking Bad," it makes sense to connect them through similar music. The "Breaking Bad" theme feels ominous, laced with danger. "Better Call Saul's" theme is totally the opposite, chill and "go with the flow." 
So, next time you hear those cool riffs, take a second to focus, take a moment to appreciate hint of "bad" within the chords. On that note, how soon can viewer's expect to see Saul again? Production was delayed for COVID-19 reasons, but was then pushed back further after star Bob Odenkirk suffered a heart attack during filming in July of 2021. However, the actor recovered, much to the relief of fans gripped with anxiety over word of his illness. Odenkirk and the rest of the "Saul" team were back to work by September. 
"Better Call Saul" is on pace to return in 2022 for it's sixth (and final) season. If you need to catch up, check out our guide on where to find all the episodes.