Netflix Is Making An Anna Nicole Smith Documentary
In the wake of the #FreeBritney movement, there's been a serious public reckoning with the way Hollywood, the media, and society dealt with women in the public eye, but tragically, not all of those who were affected by the toxic time period are still with us to receive their overdue apology. Anna Nicole Smith was a former Playboy Playmate, Guess model, and reality television star who gained notoriety after marrying 89-year-old oil tycoon J. Howard Marshall II. Her life was turned into a walking punchline, she was brutally publicly humiliated at every turn, and somehow managed to push through it all. Unfortunately, Smith did not live to see her happy ending, as she died suddenly in 2007 at the age of 39 of an accidental drug overdose.
Now, Netflix is set to release a documentary chronicling the life of Anna Nicole Smith, highlighting the cultural icon while she juggled becoming a mother with being thrust into the global spotlight, by using never-before-seen footage from an unreleased documentary. Anna Nicole Smith is one of the most tragic casualties of the aughts, and a wildly misunderstood person who changed the cultural landscape in bigger ways than most realize. She deserves her flowers, she deserves empathetic understanding, and it's wonderful that Netflix is telling her story.
The First Lady of Reality Television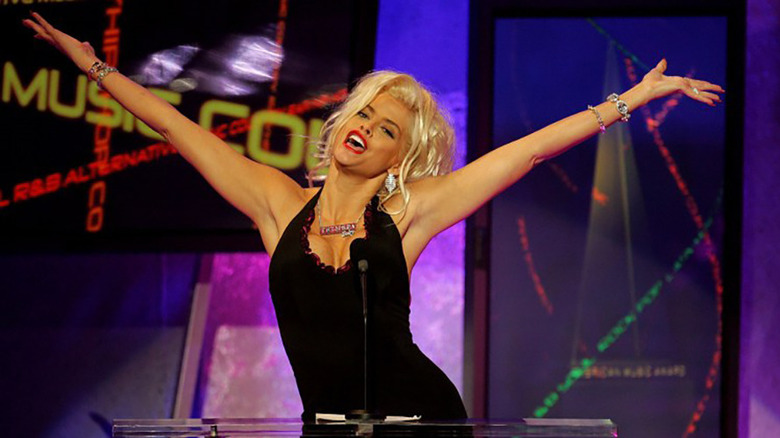 Fox
Born Vickie Lynn Hogan, Anna Nicole Smith was enjoying a successful life as a model before starting her relationship with J. Howard Marshall II. Soon, Smith found herself as a pop culture punching bag, with her marriage, the legal battle over her late husband's estate, her addiction issues, her body image, and her son's tragic and early death all mined by tabloids and comedians. Smith did her best to turn the overwhelming attention into something positive, and became one of the first notable stars of the early boom of reality TV with "The Anna Nicole Show" on E! Smith's slice-of-life reality show set the standard for shows like "The Girls Next Door," "The Simple Life," and even "Keeping Up with the Kardashians."
The film is being directed by Ursula Macfarlane, who also directed "The Lost Sons," about a man who was kidnapped from his mother's delivery room and the biting Harvey Weinstein documentary, "Untouchable." In a statement to Variety, Macfarlane stated, "Now feels like the right time to re-examine the life of yet another beautiful young woman whose life has been picked over and ultimately destroyed by our culture."
The film is currently in production and remains untitled, so no release date has been made available.