Scream Early Buzz: The Fifth Film Is A Bloody Good Time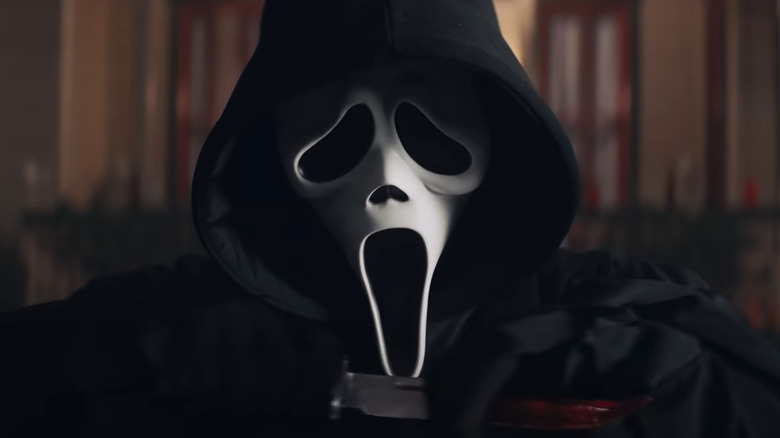 Paramount Pictures
"Everybody dies but us. We get to carry on and plan the sequel. 'Cause let's face it, baby, these days, you've gotta have a sequel!" The latest entry in the decades-spanning "Scream" franchise is upon us, and the early buzz is rolling in on social media.
In 1996, Miramax picked up Kevin Williamson's script for a cheeky slasher titled "Scary Movie," which would later become "Scream" after Wes Craven signed on to direct. Telling the tale of a young woman who becomes the target of a ghost-faced killer, the movie made a splash with its meta approach to a tired subgenre. Just one year before, the "Halloween" franchise would get its sixth entry and a year before that saw a "New Nightmare" for Freddy Krueger; another year before that, Jason Voorhees would go straight to Hell. Perhaps the greatest success of "Scream" is its ability to interrogate the slasher film while also functioning as one, a feat achieved by each of its subsequent three sequels.
Now, a fifth contribution to the Woodsboro saga comes by way of the terribly titled, "Scream," or "5cream" if you're feeling froggy. Now, twenty-five years after a handful of brutal murders rocked Woodsboro, California, a new killer puts on the Ghostface mask and slices and dices their way through a new crop of victims, revealing the town's darkest secrets and (as this franchise often does) forcing a reckoning with the past. Directed by Matt Bettinelli-Olpin and Tyler Gillett, the film is the first in the series since Wes Craven's death in 2015 and sees the return of franchise legacy characters Sidney Prescott (Neve Campbell), Gale Weathers (Courteney Cox), and Dewey Riley (David Arquette) for another dance with death. 
Today, social media reactions are coming in as film critics got an early look at the film. Here's what they're saying about "Scream."
It's A Scream, Baby!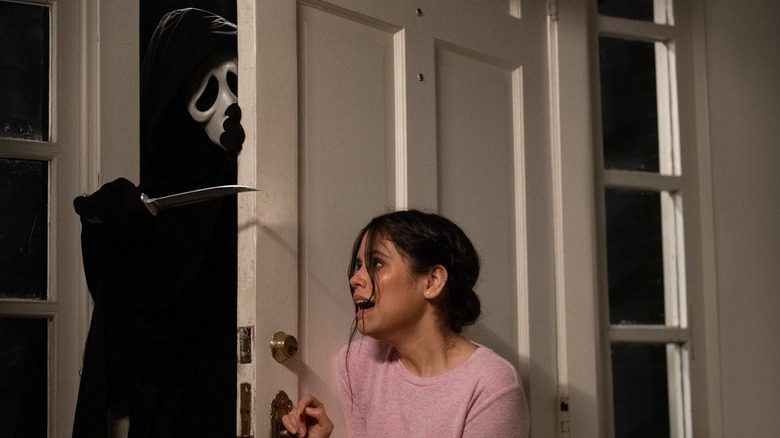 Paramount Pictures
Overall, it seems like the reactions to the latest installment are mostly positive, though /Film's Ariel Fisher had a more mixed reaction:
I enjoyed #Scream, but Craven's a tough act to follow. Despite being fun and surprisingly brutal, it plays it a little too safe to be truly great. The stakes and characters feel thin, and some strange decisions are made. Some major missed opportunities here.

— Ariel Fisher (@Afis8) January 7, 2022
Others, however, had nothing but love for "Scream":
The new #Scream is a BLAST & my favorite since the original. There's some sharp writing here – a nice balance of well-crafted scares & amusing commentary on modern horror. It also pokes a lot of fun at itself, too, while remaining a bloody whodunnit & a damn good time. I'm a fan! pic.twitter.com/QZiguvUIWo

— Erik Davis (@ErikDavis) January 7, 2022
#Scream is a bloody good time & serves as a touching homage/continuation to Wes Craven's iconic franchise and features some of the gruesomest, most original killings of the series. Legacy cast perfectly blends with the fresh meat. Jasmin Savoy Brown is the MVP 🔪🔪 🩸 pic.twitter.com/AbCTYands1

— Nate Adams (@TheOnlyCritic) January 7, 2022
#SCREAM (2021) is a fittingly loud, bloody good time at the movies. It takes a knife to the heart of the modern 'requel' machine, "elevated horror," and toxic online fandoms. Seriously, no major film franchise is safe. This is Scream at its best since the first sequel, easily. pic.twitter.com/lNYkpZcrLp

— Jon Negroni (@JonNegroni) January 7, 2022
What a welcome return to Woodsboro #Scream is! A razor sharp, bloody introspection on the genre and Wes Craven's legacy. All the feels and one hell of a genre start to 2022. My horror heart is so full.

— Meagan Navarro (@HauntedMeg) January 7, 2022
And Wes would be proud. ❤️ 🔪 #ScreamMovie #Scream https://t.co/VQmIByirwK

— Joel Meares (@joelmeares) January 7, 2022
SCREAM (2022): Definitely better than the sequels and in some ways even better than the original. After seeing what they could do with READY OR NOT, I shouldn't have doubted the Radio Silence creative team on this one! #Scream

— Marco Cerritos (@BigDumbMale) January 7, 2022
As someone who has been in love with this franchise for a little over 25 years now, I totally and completely loved @ScreamMovies. Brutal kills, fun mystery & both the Legacy cast & newbies were great. Wes would be proud. #ScreamMovie #Scream pic.twitter.com/EoMkeI1CtR

— Heather Wixson (@MMEFXBook out 10/20!) (@thehorrorchick) January 7, 2022
#Scream freakin' slays! It's a textbook example of how to revive and reinvigorate a franchise and do it in killer style. Brutal genius, it has the razor-sharp smarts of the finest entries in the series with a third act that absolutely nails it. Two thumbs way up! #ScreamMovie pic.twitter.com/ZMmCDUFUrj

— Simon Thompson (@ShowbizSimon) January 7, 2022
The new #Scream is the real deal. Such a well written script that keeps you guessing and wades into the treacherous waters of fandom in 2022. 'Scream' fans are going to love it. pic.twitter.com/caf2SqG0so

— Steven Weintraub (@colliderfrosty) January 7, 2022
My first, non-spoilery #Scream reaction below.
...
...
...
...
...
...
I really dug it! Took maybe 20 minutes or so to click in and then it really picks up and has a lot of very satisfying, clever elements. A worthy new addition to the franchise. (Don't ask me to rank yet! Need time)

— Eric Goldman (@TheEricGoldman) January 7, 2022
The new #ScreamMovie is a blast. 1st act was a little slow, but 2 and 3 really deliver. Wild twists, gnarly kills, and some mind-blowing moments for longtime fans. #WoodsboroForever pic.twitter.com/CvtifKDt8i

— Corey Chichizola (@CoreyChichizola) January 7, 2022
Scream is Good. Jenna Ortega and Jasmin Savoy Brown in particular stand out. That's all I'll say for now! #ScreamMovie

— Mary Beth McAndrews (@mbmcandrews) January 7, 2022
I have seen the new #Scream and it's a winner! Yes it's bloody, but also feels loaded with love and reverence for the original and the fandom it amassed ... and felt like it was talking to me (to a degree). pic.twitter.com/x1gDCM9MYH

— Perri Nemiroff (@PNemiroff) January 7, 2022
Not In My Movie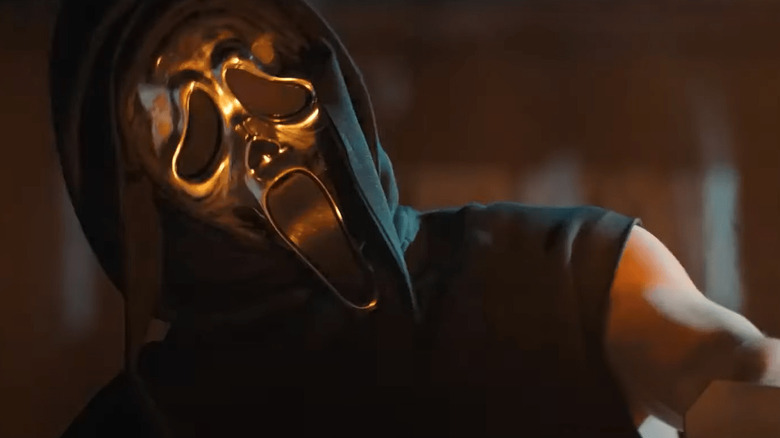 Paramount Pictures
For others, Bettinelli-Olpin and Gillett's entry simply did not live up to the hype, and not even a silver-faced flame-throwing Ghostface could save it. 
You want to know the REAL killer in #Scream? Bad acting, slow pacing, the absence of Marco Beltrami's essential score, and an almost maniacal lack of self-awareness that it's slicing its own throat with every obvious twist. pic.twitter.com/VQhcF5frZR

— The MN Movie Man (@joemnmovieman) January 7, 2022
Here is the synopsis for "Scream":
Twenty-five years after a streak of brutal murders shocked the quiet town of Woodsboro, a new killer has donned the Ghostface mask and begins targeting a group of teenagers to resurrect secrets from the town's deadly past.
"Scream" is directed by "Ready or Not" directors Matt Bettinelli-Olpin and Tyler Gillett and was written by James Vanderbilt ("Zodiac") and Guy Busick ("Ready or Not") based on Kevin Williamson's characters. Along with Campbell, Cox, and Arquette, Marley Shelton is back as Deputy Judy Hicks and Roger L. Jackson returns with his iconic voicework as Ghostface. Newcomers to the cast include Jack Quaid, Melissa Barrera, Mason Gooding, and Jenna Ortega.
"Scream" arrives in theaters on January 14, 2022.