The Book Of Boba Fett Lets Star Wars Be Horny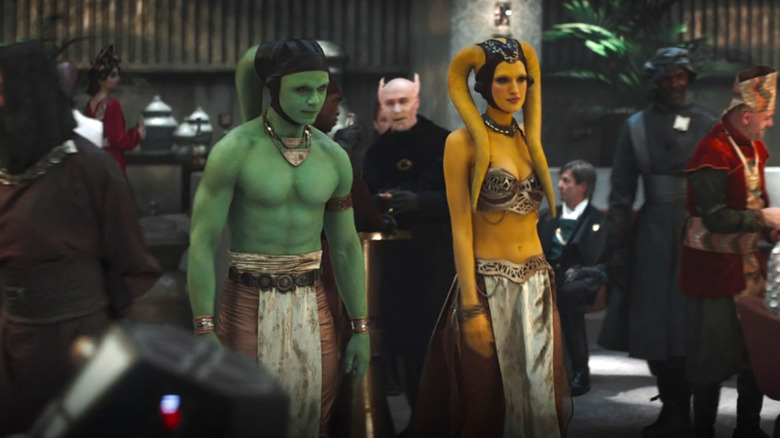 Lucasfilm
"Star Wars" has always been horny. For starters: there are no bras in outer space, but there are metal bikinis. Lando Calrissian (Billy Dee Williams/Donald Glover) is both horny enough and sexy enough to write an entire book about. Han and Leia's kiss? Hot. Twi'lek dancers? Hot. Kylo Ren (Adam Driver) shirtless and angry? Hot. Even the prequels are occasionally horny, giving rise to enough slash Obi-Wan/Qui-Gon fan-fiction to fill the Library of Congress. However, while there are some confirmed hotties on "The Mandalorian," there's just not a lot of sexiness going on over in that show. 
Thankfully, "The Book of Boba Fett" has the horny part of the galaxy covered. The series is a crime drama set in the "Star Wars" universe, with more of the adult trappings you'd expect from organized crime. Even if you don't end up loving "The Book of Boba Fett," it does make for compelling thirst-watching.
Two Episodes, Three Baths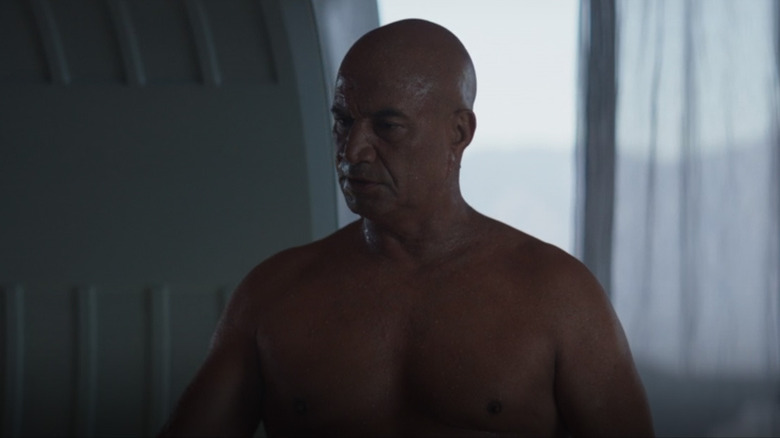 Lucasfilm
Shirtless men are a "Star Wars" tradition, and the beefier the better. Temuera Morrison has taken three bacta baths in only two episodes, and he's done a lot of dressing and undressing all the while. In "Chapter 2," he sits around talking to Fennec Shand (Ming-Na Wen) with his beautiful pectoral muscles on full display. While Adam Driver's Kylo Ren made perfect pecs a "Star Wars" meme to live in infamy, they've always been a part of the series. Remember shirtless Anakin (Hayden Christensen) in "Revenge of the Sith"? Or better yet, the original "Star Wars: A New Hope" poster, with Luke's (Mark Hamill) shirt billowing open, his chest gloriously bared while he holds a lightsaber to the sky? 
Even if showing these guys' muscles has more to do with demonstrating their strength than titillation, I'm thrilled so see some equal opportunity skin on display. After all, you can see almost all of Carrie Fisher in "Return of the Jedi," and those Twi'lek dancer costumes don't hide much, either. 
Hot Aliens Everywhere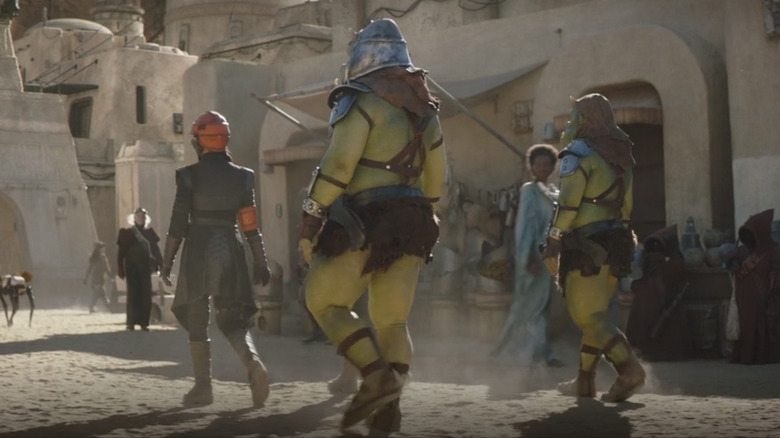 Lucasfilm
Speaking of Twi'lek dancers, there are hot aliens everywhere on "The Book of Boba Fett." The male and female Twi'leks in Madam Garsa's (Jennifer Beals) establishment are lovely to look at, but there's also plenty of more unconventional appreciation to be had. Just look at the legs and backsides of those Gamorreans! Tatooine is a very warm planet, which means sometimes people just don't wear a ton of clothing, and in the case of the dummy thicc Gamorreans, that's to the viewer's benefit. All kinds of body types are not only represented, but they're given the same kind of love the camera gives the hotties with rock-hard abs. Even Jabba's cousin gets to be a total power fantasy!
Maybe It's Something in the Black Melon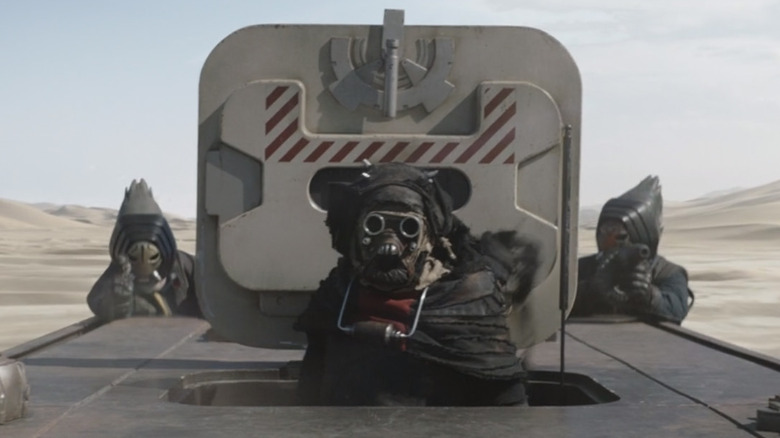 Lucasfilm
It turns out you don't need to show any flesh at all to be hot, however, because the Tuskens in "The Book of Boba Fett?" Several of them are sexy as all get out. Pedro Pascal taught many viewers that it's possible to be sexy while wearing a full suit of armor and a helmet in "The Mandalorian," and the Tusken warrior and chieftain in "Chapter 2" of "The Book of Boba Fett" just cemented that one can be sexy in a full face mask. The Tusken warrior who trains Fett is played by stunt performer Joanna Bennett, who has worked as a stunt double for a number of superheroines in both DC and Marvel properties. The chieftain is played by actor Xavier Jimenez, best known for playing Tinker on "Agents of S.H.I.E.L.D." Both are — you guessed it — absolute hotties, and they manage to bring sexy swagger to their characters with just their physical performances. These characters have BDE (Badass Desert Energy) and they're not afraid to use it. It turns out I would be dying from more than one kind of thirst on the deserts of Tatooine, if you know what I mean. 
Check out "The Book of Boba Fett" when it drops new episodes on Wednesdays on Disney+, but make sure you keep a fan and a big glass of water at the ready.