The Batman Teaser: Batman And Catwoman Are A Helluva Duet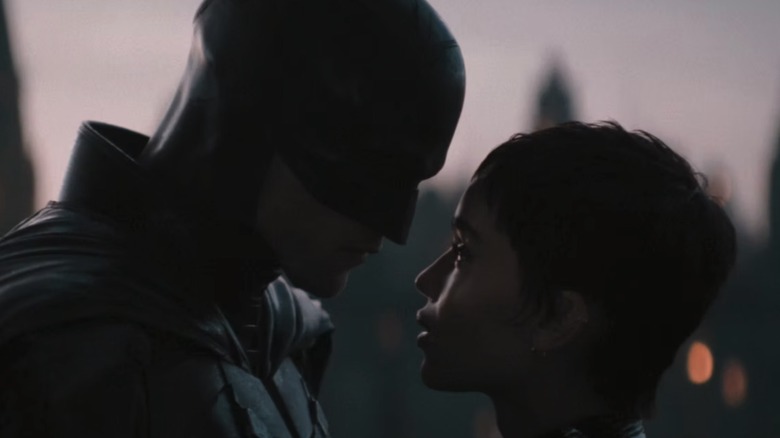 Warner Bros. Pictures
If you haven't watched the latest trailer for "The Batman," what's stopping you? It's dark and brooding, and it looks amazing! If you want all the goods, /Film has a breakdown for you. In the meantime, a new clip appeared on the official account for the film with just a smidge of new moments for us. Hey, I'll take anything I can get with this film. 
There is a lot that this clip revisits from the trailer, but there is a new line: "You guys are a hell of a duet here." Who says it? Well, you'd be forgiven if you didn't recognize Colin Farrell as Oswald "Oz" Cobblepot, aka The Penguin. It's really hard to believe the makeup here. It's as good (at least from what we've seen) as what they did with Gary Oldman in "Darkest Hour." That is to say, stunning. It's quick, but it starts at :17. Look at it and try to see Farrell in there. 
'Don't Worry Honey, I've Got Nine of Them'
It's a small thing in terms of new footage, but it does highlight one of the things that really stands out in the trailers we've seen so far. The chemistry between Catwoman (Zoë Kravitz) and Batman (Robert Pattinson) is palpable. I think I'm looking forward to that more than anything other than the fight scenes.
Here's the film's synopsis:
Two years of stalking the streets as the Batman (Robert Pattinson), striking fear into the hearts of criminals, has led Bruce Wayne deep into the shadows of Gotham City. With only a few trusted allies — Alfred Pennyworth (Andy Serkis), Lt. James Gordon (Jeffrey Wright) — amongst the city's corrupt network of officials and high-profile figures, the lone vigilante has established himself as the sole embodiment of vengeance amongst his fellow citizens.
When a killer targets Gotham's elite with a series of sadistic machinations, a trail of cryptic clues sends the World's Greatest Detective on an investigation into the underworld, where he encounters such characters as Selina Kyle/aka Catwoman (Zoë Kravitz), Oswald Cobblepot/aka the Penguin (Colin Farrell), Carmine Falcone (John Turturro), and Edward Nashton/aka the Riddler (Paul Dano). As the evidence begins to lead closer to home and the scale of the perpetrator's plans becomes clear, Batman must forge new relationships, unmask the culprit, and bring justice to the abuse of power and corruption that has long plagued Gotham City.
"The Batman" will hit theaters on March 4, 2022. I mean, right now it does. Nothing is certain in this world anymore. I'm pretty sure Batman would agree.