Chris Evans May Play Gene Kelly In John Logan-Penned Movie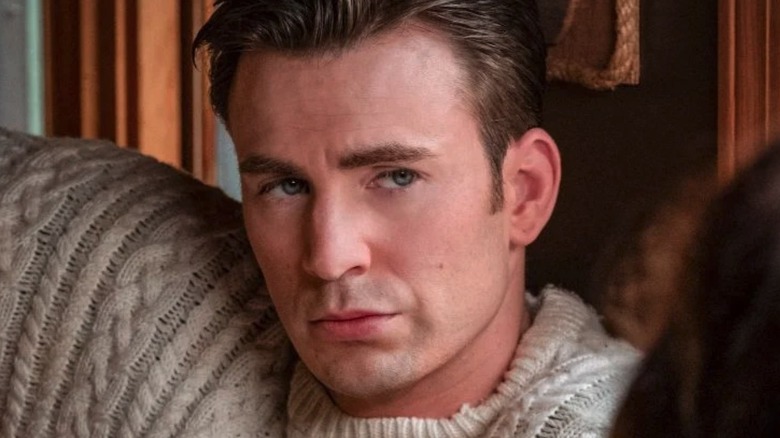 Lionsgate
Chris Evans and his palpable charm may soon be playing a dancing icon. According to Deadline, Evans is up for the role of Gene Kelly in an upcoming film. There is no title yet, but we do know a bit about the plot. The story is reportedly about a 12-year-old boy working at MGM on the studio's lot in 1952, and he imagines a friendship with the legendary dancer/actor/director Gene Kelly, who is working on his next film at the time. This is based on an original idea from Evans, and there has been no studio announcement yet. 
The site reports that Evans will produce the film with Mark Kassen, and that Rian Johnson and Ram Bergman's T-Street Productions will join as producers. John Logan, who has three Academy Awards to his name, is set to write the script and produce as well. If you recognize the shot above as one from "Knives Out," that is no accident. Johnson, Bergman, and Evans, who are all reuniting here, were all also involved with that film, which is getting multiple sequels.
Signin' In the Rain
This comes on the heels of the announcement of Tom Holland signing on to play another famous dancer/actor, Fred Astaire. The last few months haven't been kind to musicals, with Steven Spielberg's version of "West Side Story" underperforming in theaters, but with the star power of these two men, it's very likely that we'll see a lot of interest in both projects. (Maybe we'll see that musical number from "Hawkeye" performed by the actual Marvel stars? A girl can dream.)
Gene Kelly (1912-1996) is famous for his work in films like "Singin' in the Rain," (something Tom Holland recreated the beginning moments of right before dancing to Rihanna's "Umbrella" on Lip Sync Battles – it's all connected, folks!), "On the Town," "Hello, Dolly!," "An American in Paris," and so many more. He is an absolute legend, and if you've never watched the older films he stars in, now is the time. He was famous for playing very likable people, so having Chris Evans play him is sort of perfect. 
John Logan is known for writing "Gladiator," "The Aviator," "Hugo," and Tim Burton's adaptation of the musical "Sweeney Todd: The Demon Barber of Fleet Street." He's a two-time Tony nominee as well. Not a bad group to tackle a musical legend!